398
Canon EOS 7D Mark II: the speedy DSLR that offers many benefits for microscopy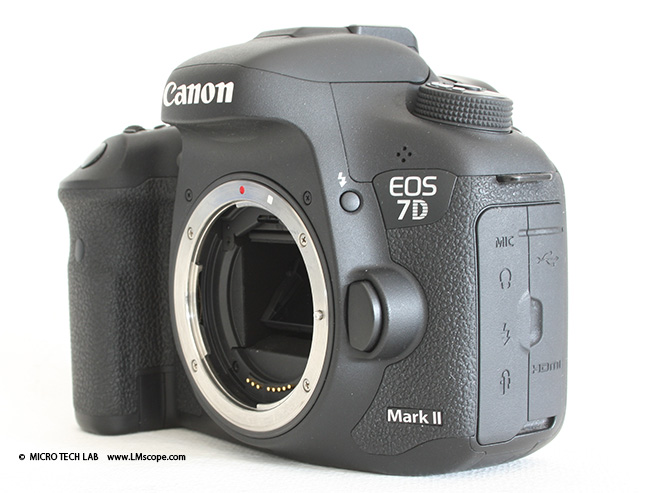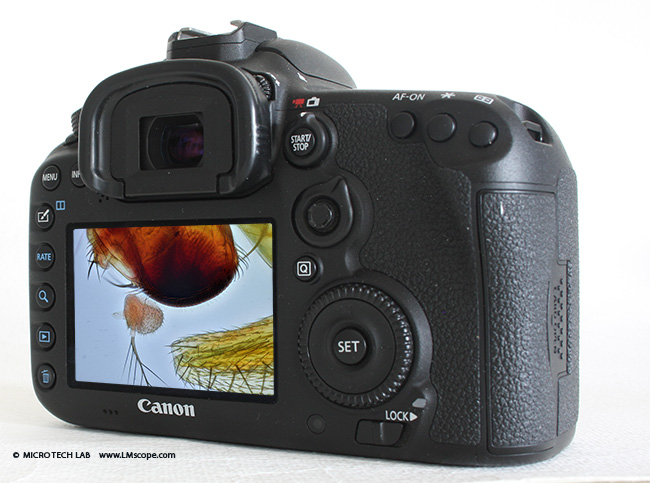 With its EOS 7D Mark II, Canon – again – introduced a top-class camera equipped with an APS-C sensor in early 2016. The EOS 7D Mark II is impressive because of its 20-megapixel CMOS sensor and ISO sensitivity capability of up to 51,200 (range of 100–51,200), which translates into excellent image quality even when lighting conditions are poor.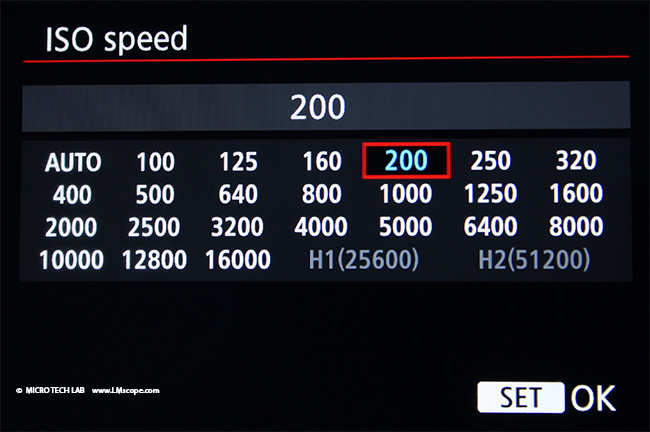 With an introductory price of around EUR 1,400, this camera is intended for the semi-professional and professional customer segment. At 850 grams, its magnesium alloy body is both comfortable to hold and quite sturdy.
Like the majority of semi-professional and professional cameras, the EOS 7D Mark II has a fixed, non-moveable screen. While this may seem like a disadvantage initially, for our purposes, it is more than offset by the software that accompanies the camera (Canon Utility). In the laboratory, the camera is controlled via USB 3, so there is no need to constantly look at the display. However, if you cannot avoid using the camera's screen, it is possible to work with a display mirror.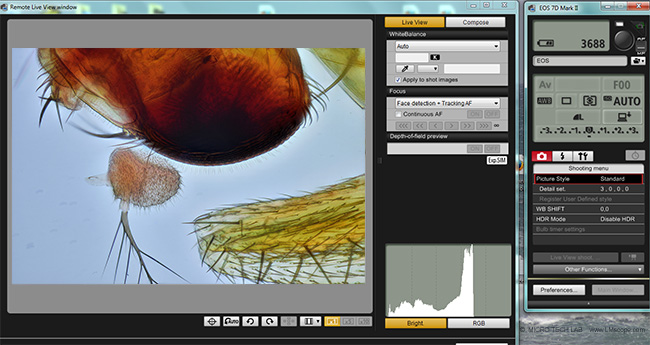 After fitting it to one of our LM DSLR adapters in a few easy steps, the camera is ready for use on a large number of microscopes in just a few seconds, and work can begin straight away via the Live View window on the monitor. Controlling the shutter release remotely from a PC or Mac eliminates the risk of mechanical vibrations.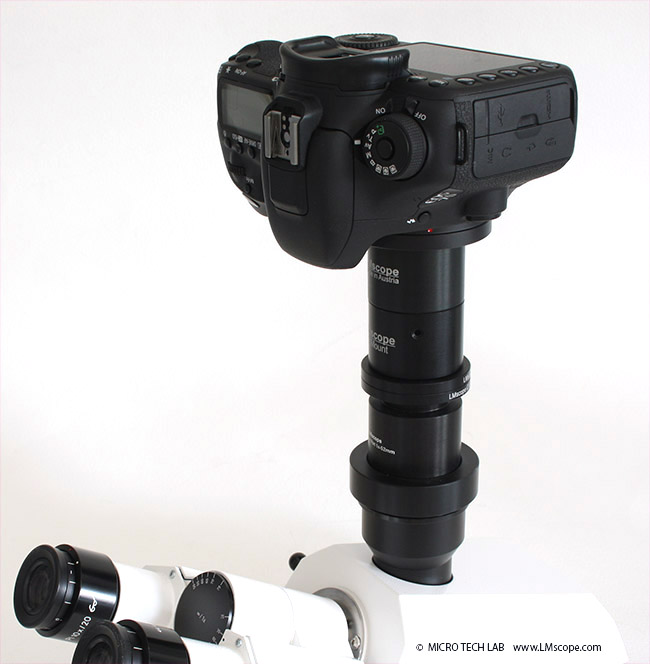 The 7D Mark II has full-HD video resolution (although 4k video capability would have been even better) with 60 frames per second and the option of transmitting the video signal uncompressed (without losses). This allows the user to display a live image on an external monitor without loss of quality or to record the digital video signal using an external HDMI recorder.
Using the camera's HDMI port (digital video interface for monitor control or video recordings) produces a better image quality on the monitor and adds the option to record the video signal using an external device. Display of the camera's information can be selected/deselected in the Live View image using the INFO button.
The frame rate for continuous shooting is up to 10 fps, which is very practical for documenting fast processes. The continuous shooting rate of the 7D Mark II is thus considerably faster than that of the EOS 70D.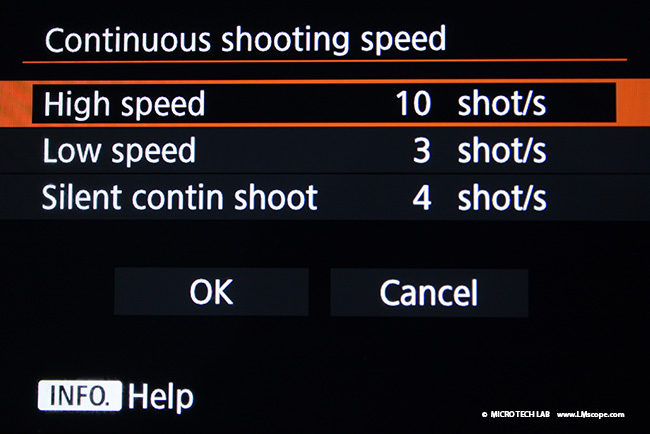 Compared to the lower priced Canon EOS models, the 7D Mark II offers the additional benefit that the power saving mode can be completely disabled. This is especially important for professional use in presentations and discussions that include the use of Live View videos, in which the camera is left running for lengthy periods and cannot be permitted to switch itself off automatically.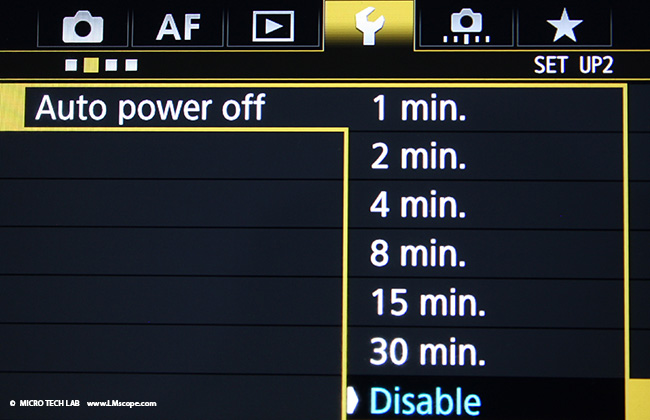 For our purposes in microscopy, the HDR mode of the Canon EOS 7D Mark II is a very important, if not nearly indispensable setting. This mode makes it possible to achieve optimum exposure and thus make more specimen details visible.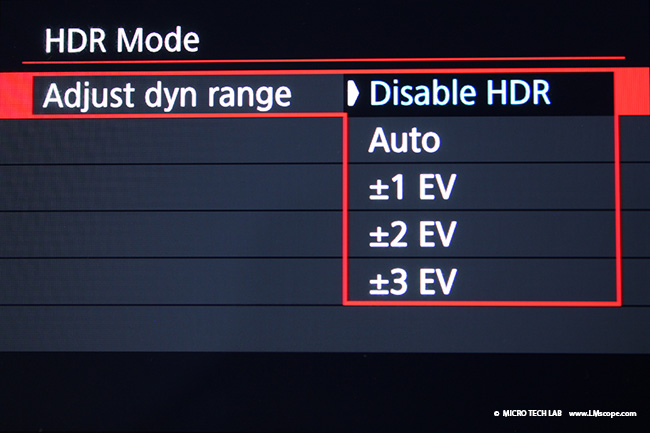 In the scientific field, for example in the case of fluorescence applications, long-duration shutter speeds are particularly important. With the 7D Mark II, it is very easy to set an exposure time of more than 30 seconds using the bulb mode (represented by a B on the selector dial). This mode also allows convenient operation of the camera from a computer using the Canon Utility software.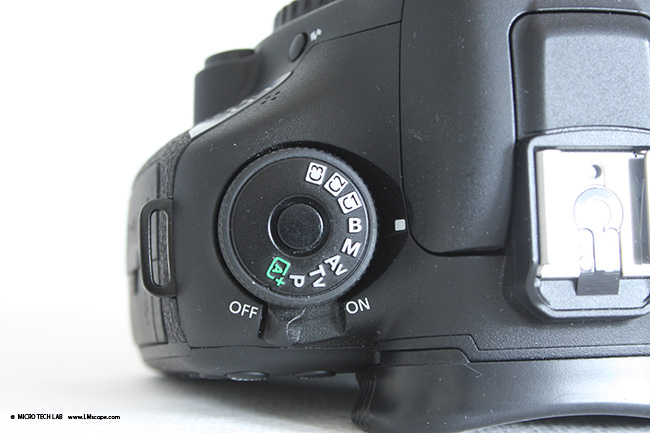 As with most DSLRs, the APS-C sensor heats up to as much as 42.9 degrees (measured at room temperature after 30 minutes in Live View mode). In contrast to that rather significant temperature increase, Sony's top model, the Alpha 7R II, is considerably cooler. This is important when long exposure times and/or high ISO settings are required (the signal-to-noise ratio improves with cooler cameras).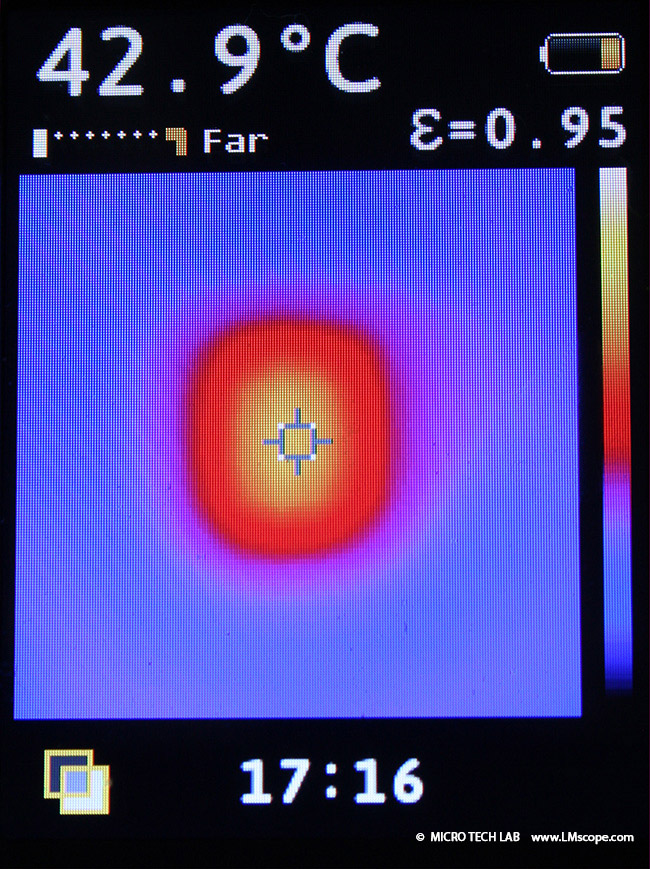 Conclusion: The Canon EOS 7D Mark II is very well suited for microscopy applications, even in professional environments. Its ease of use, especially due to the highly versatile Canon Utility software, makes it an excellent camera choice for our purposes. However, adding 4k video recording support would be a great improvement.

New LM Digital Adapter for:
Canon EOS R6 Mark II / Canon EOS R8 / Canon EOS R5 / Canon EOS R6 / Canon EOS R / Canon EOS Ra (Astro) / Canon EOS RP / Canon EOS R7 / Canon EOS R10 / Canon EOS 1D X Mark III / Canon EOS 1D X Mark II / Canon EOS 1D X / Canon EOS 90D / Canon EOS 5D Mark IV / Canon EOS 6D Mark II / Canon EOS M6 Mark II / Canon EOS 250D / Canon EOS 850D / Rebel T8i / Canon EOS 6D / Canon EOS M200 / Canon EOS 5DS R ( without low-pass filter) / Canon EOS 80D / Canon EOS M50 Mark II / Canon EOS 5DS / Canon EOS M50 / Canon EOS 70D / Canon EOS 200D / Canon EOS 800D / Rebel T7i / Canon EOS 77D / Canon EOS 5D Mark III /