504
Zeiss Axiotech – the technical microscope for metallographic investigation, quality control and materials research as a basis for photomicrography
Although the Zeiss Axiotech upright inspection microscope has been around for quite some time, it is still a reliable instrument that is also suited for photomicrography because it can be fitted with digital cameras (DSLR or system cameras) for taking pictures.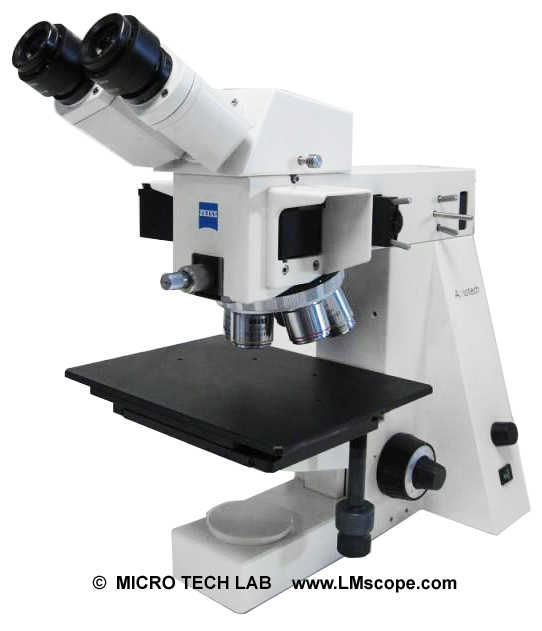 Thanks to its sophisticated modular design, the Axiotech offers many different features that satisfy a variety of application needs. All important contrasting techniques in reflected light, such as brightfield, darkfield, polarisation and DIC, are available. A transmitted light module can be added for fluorescence observation. The Axiotech has a sextuple revolving nosepiece that faces inward and features the renowned ICS optics system from Carl Zeiss, which guarantees excellent image quality. ICS stands for Infinity Colour-corrected System, which means that all objective lenses are corrected for an infinite image distance. The intermediate image is generated by the tube lens. Image aberrations are corrected up to the edge of the field of view. For high-quality photographic documentation we recommend the use of high-grade "Plan Neofluar" or the newer "EC Plan Neofluar" objectives. Owners of a Zeiss microscope are fortunate to have the option of using a variety of excellent original objectives.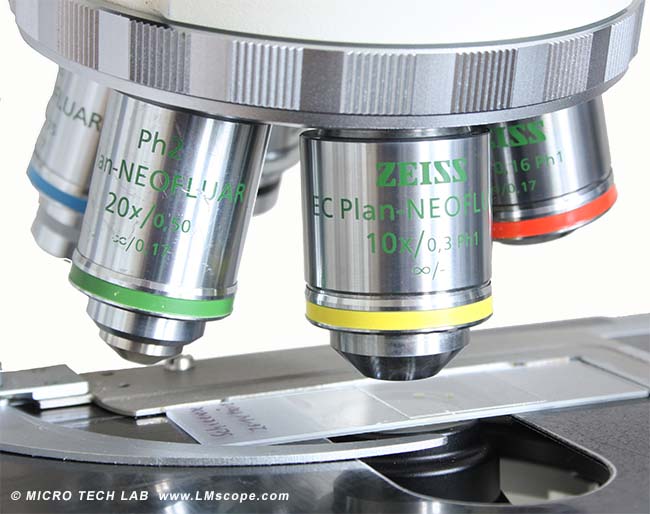 The Zeiss Axiotech is very similar to the Axioskop microscope (also from Zeiss), but has specially designed stage carriers for heavy loads and large working distances. Standard illumination is 25W, and a 100 watt halogen lamp can be provided upon request.

Binocular and trinocular (interface 44) tubes are available as options.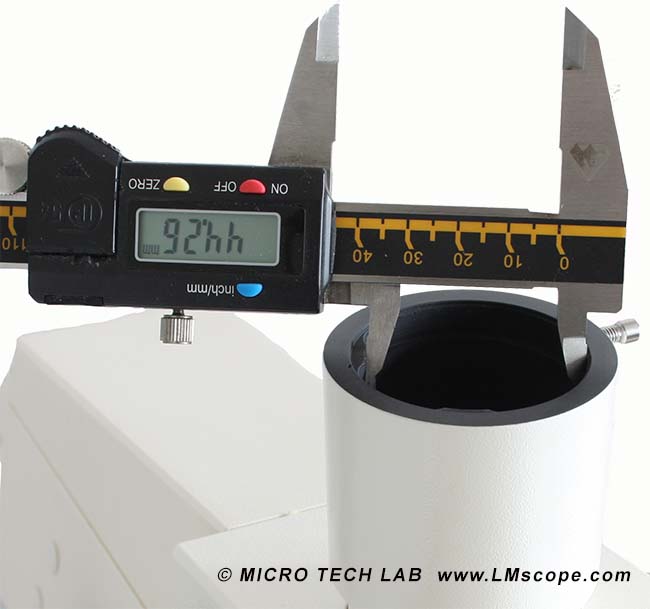 For taking pictures, we recommend the use of a trinocular tube; this makes working much more ergonomic, as the camera can remain permanently mounted to the microscope.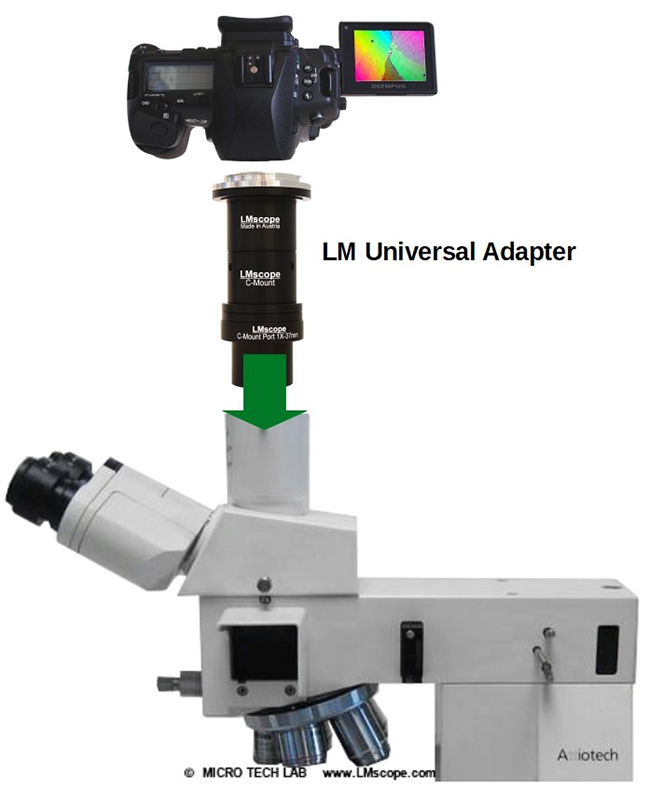 With our LM digital adapters, fitting digital photo systems to the Zeiss Axiotech is a quick and easy task. Digital SLR cameras (the advantages of which are described in more detail below) are best suited for use with microscopes, but digital system cameras, C-mount cameras, high speed cameras and 4K/6K video cameras can also be used without any difficulties.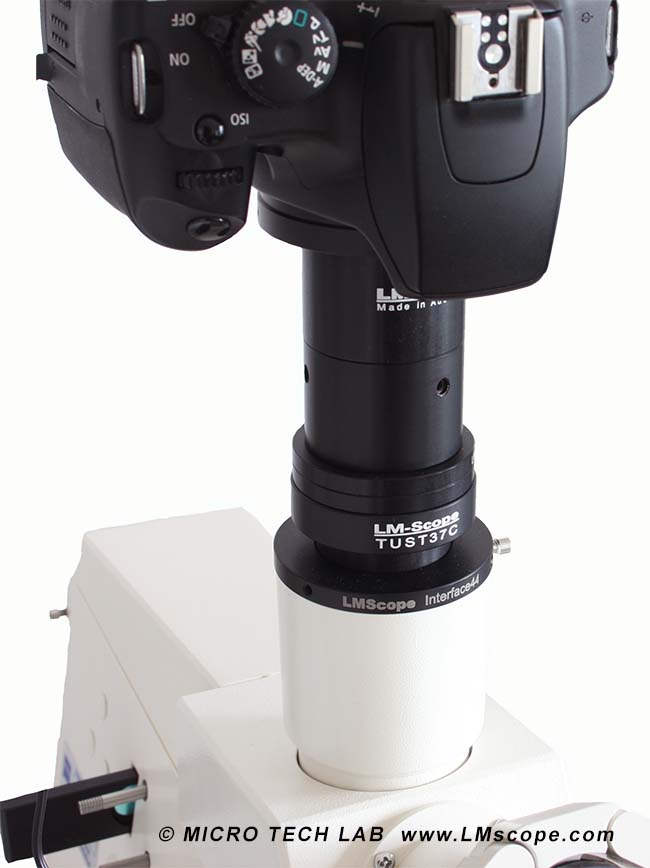 The observation eyepieces have a diameter of 30 mm and thus offer a large field of vision. If no phototube is available, it is also possible to use the eyepiece tube to install a camera unit thanks to our flexible LM digital adapter solutions.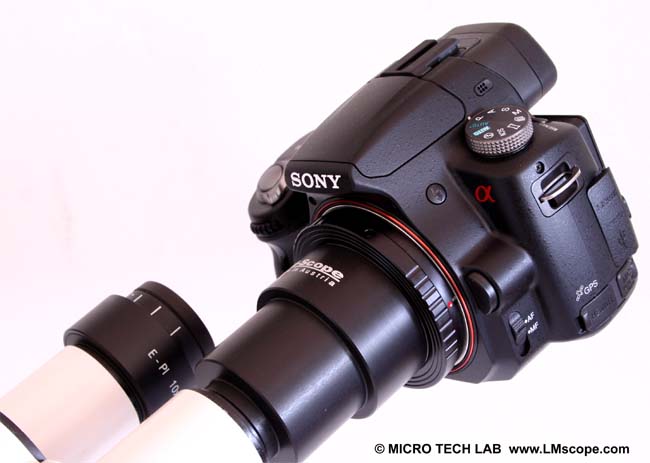 Conclusion: Although the Zeiss Axiotech is getting a bit long in the tooth, it is still an excellent instrument that enables top-quality photographic documentation. Especially when combined with modern camera systems, the Axiotech is a fairly priced option that produces excellent results.
Photography:
Fitting the microscope to digital single-lens reflex (DSLR), mirrorless interchangeable-lens cameras (MILC ), digital single-lens mirrorless (DSLM) or C-mount cameras is easy with our LM digital SLR adapters, which feature a plan achromatic optical system. Our products make it possible to capture top-quality microscope images. To help you select the adapter that is right for your camera, we have set up an online configurator on our website. You can also email us – ideally with attached photographs of your microscope.
Modern DSLR and single-lens mirrorless (DSLM) offer the latest technology and are generally very well suited for microscopy applications. Most of them can be controlled remotely via PC/Mac. Because of their high sales volumes, they offer an excellent price/performance ratio compared to special-purpose microscope cameras.
Features of top DSLR and single-lens mirrorless cameras (DSLM):
- Large, powerful full-frame sensors (36 x 24 mm)
- Sensor resolution of 61 megapixels or 240 megapixels with Pixel Shift technology
- High light sensitivity (ISO 400,000+)
- Extensive dynamic range (up to 15 aperture stops/f-stops)
- Short exposure times (1/8000 second) up to 1/32,000 seconds using the digital shutter
- 4K Ultra HD or 8K Ultra HD video function
- Live video capture on external monitors in ultra HD quality
In most cases, these cameras are significantly more powerful than microscope cameras with smaller sensors (1/2" or 2/3"). On our website you will find our current camera recommendations and a camera ranking which is specifically tailored to microscopy applications.

New LM Digital Adapter for:
Nikon Z9 / Nikon Z8 / Sony Alpha 7R V / Sony Alpha 1 / Sony FX3 Cinema Line / Sony Alpha 9 II (ILCE-9M2) / Sony Alpha 9 / Nikon D6 / Canon EOS R3 / Canon EOS R6 Mark II / Canon EOS R8 / Sony Alpha 7R IV / Canon EOS R5 / Sony Alpha 7S II / Sony Alpha 7S III / Sony Alpha 7R III / Canon EOS R6 / Nikon Z6 / Nikon Z6II / Sony Alpha 7R II / Nikon Z7 / Nikon Z7II / Canon EOS R / Canon EOS Ra (Astro) / Nikon Z5 / Sony Alpha 7C / Canon EOS RP / Sony Alpha 7S / Canon EOS R7 / Leica SL2-S / Canon EOS R10 / Canon EOS 1D X Mark III / Nikon Z50 / Nikon Z30 / Nikon Z fc / Nikon D850 / Canon EOS 1D X Mark II / Nikon D780 / Olympus OM-1 / Sony Alpha 7III / Olympus OM-D E-M1 Mark III / Canon EOS R100 / Sony Alpha 6700 / Nikon D5 / Sony Alpha 6600 / Fujifilm X-H2S / Fujifilm X-S10 / Fujifilm X-E4 / Fujifilm X-Pro3 / Olympus OM-D E-M1X / Sony Alpha 6400 /