308
Connecting a modern DSLR camera to the Nikon SMZ 10 stereo microscope
The Nikon SMZ-10TP (SMZ-10TD, SMZ-10TC) is a high-quality stereo microscope. Although a few years have passed since its market introduction (in the 1980s) it is still a very interesting instrument that offers many different working possibilities.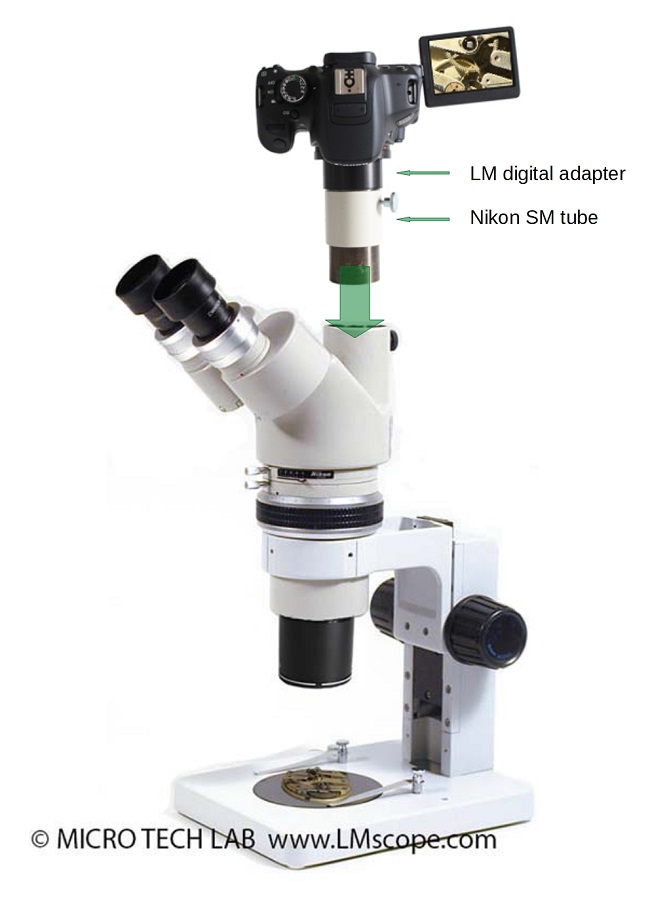 The Nikon SMZ-10 is a Greenough-type stereo microscope. This means that the two separate optical paths and the angular offset enable the human brain to generate a three-dimensional image.
The zoom body covers a magnification range of 6x, which, depending on the eyepiece (10x, 15x or 20x) and auxiliary lens (close-up lenses 0.53x and 2.0x) used, enables magnifications from 3.5x to 160x. The instrument is available with or without a phototube, and it is also possible to purchase an additional discussion tube.
The integrated aperture (Ø 16.0 mm → Ø 6.5 mm) ensures excellent image quality and high depth of field.
The coaxial lighting can optionally be replaced with transmitted light, a fibre light source or incident light. In addition, the microscope can also be equipped for polarisation microscopy.
Originally, the Nikon SMZ-10 was designed for the Nikon Microflex film equipment and TV cameras. However, using an LM digital adapter it can be adjusted for digital photography in no time at all. As it is only possible to capture images through one of the two optical paths, this has to be selected using the corresponding switch (left/right/binocular).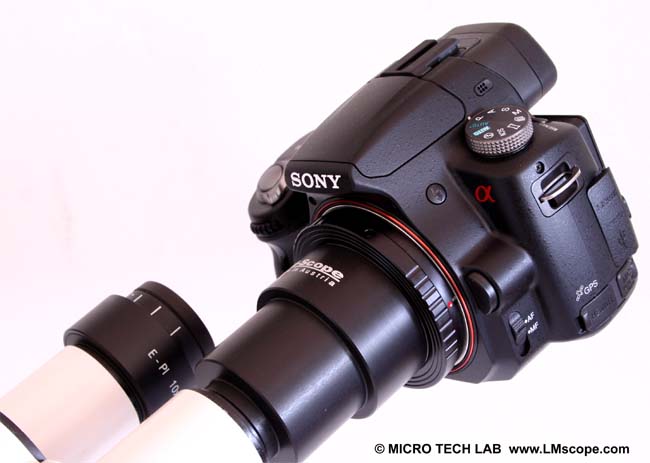 Symbolfoto
The microscope also features a photo tube. On this tube, the "Nikon SM" tube has to be attached: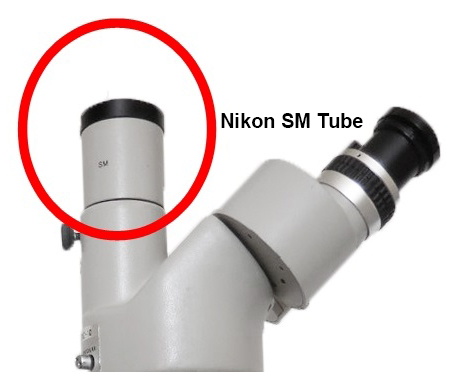 This SM tube has to be modified to achieve the best attachment possibility. On the modified port the camera-adapter unit can be fit.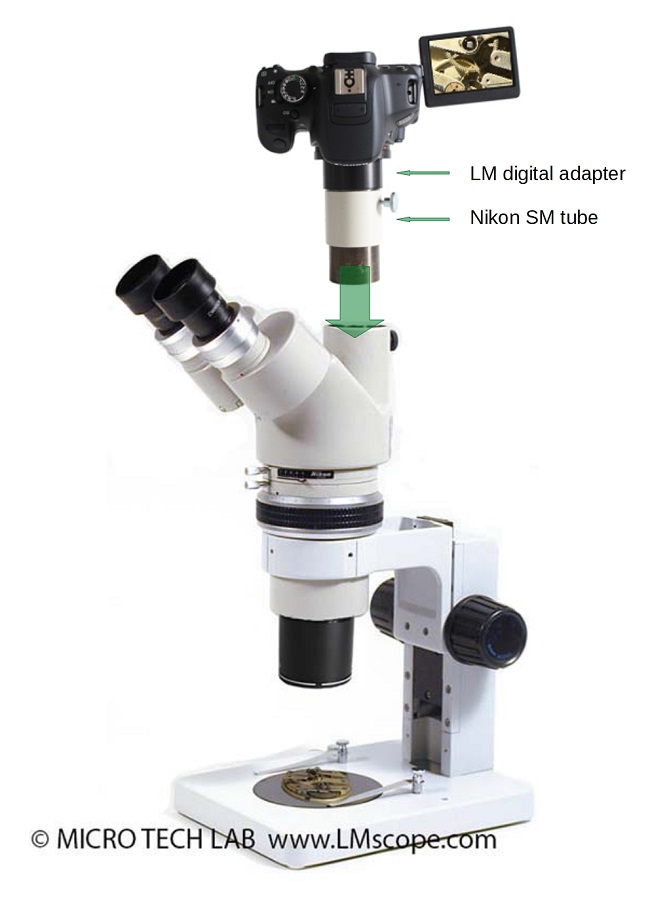 With this special adapter solution, which is available only in combination with the tube modification, we took the following photo of a mechanical clockwork: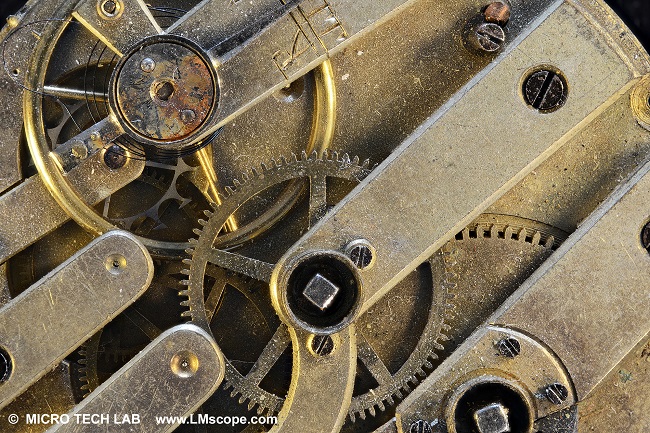 For more information, please contact us!
Photography:
Fitting the microscope to digital single-lens reflex (DSLR), system or C-mount cameras is easy with our LM digital SLR adapters, which feature a plan achromatic optical system. Our products make it possible to capture top-quality microscope images. To help you select the adapter that is right for your camera, we have set up an online configurator on our website. You can also email us – ideally with attached photographs of your microscope.
Modern DSLR and system cameras offer the latest technology and are generally very well suited for microscopy applications. Most of them can be controlled remotely via PC/Mac. Because of their high sales volumes, they offer an excellent price/performance ratio compared to special-purpose microscope cameras.
Features of top DSLR and system cameras:
- Large, powerful full-frame sensors (36 x 24 mm)
- Sensor resolution of 50 megapixels
- High light sensitivity (ISO 100,000+)
- Extensive dynamic range (up to 14 aperture stops/f-stops)
- Short exposure times (1/8000 second):
- Full/Ultra HD (4k) video function
- Live video capture on external monitors in ultra HD quality
In most cases, these cameras are significantly more powerful than microscope cameras with smaller sensors (1/2" or 2/3"). On our website you will find our current camera recommendations and a camera ranking which is specifically tailored to microscopy applications.

| | | | | |
| --- | --- | --- | --- | --- |
| Ordering code | Product description | Price | Price | Available |
| DSLRXT_Nikon_SMZ10 | LM Digital SLR Adapter with special hard anti-reflection coating, plan achromatic optics for Nikon SMZ10 Microscope , inclusive Canon Lens Mount Adapter, including service for modification of the Nikon SM tube (Please send the Nikon SM tube ) | | | |
For EU (European Union) VAT (IVA, TVA) not included
New LM Digital Adapter for:
Sony Alpha 9 II (ILCE-9M2) / Sony Alpha 9 / Nikon D6 / Sony Alpha 7R IV / Canon EOS R5 with Canon Adapter EF-EOS R / Sony Alpha 7S II / Sony Alpha 7R III / Canon EOS R6 with Canon Adapter EF-EOS R / Nikon Z6 / Nikon Z6II / Sony Alpha 7R II / Nikon Z7 / Nikon Z7II / Canon EOS R with Canon Adapter EF-EOS R / Canon EOS Ra (Astro) with Canon Adapter EF-EOS R / Nikon Z5 / Sony Alpha 7C / Canon EOS RP with Canon Adapter EF-EOS R / Sony Alpha 7S / Canon EOS 1D X Mark III / Nikon Z50 /