308
Connecting a modern DSLR camera to the Nikon SMZ 10 stereo microscope
The Nikon SMZ-10TP (SMZ-10TD, SMZ-10TC) is a high-quality stereo microscope. Although a few years have passed since its market introduction (in the 1980s) it is still a very interesting instrument that offers many different working possibilities. With our LM microscope adapter solutions, which are specially tailored to this microscope, you can capture fascinating images! We offer adapter solutions for DSLRs, mirrorless system (DSLM) cameras, C-mount industrial cameras and microscope cameras.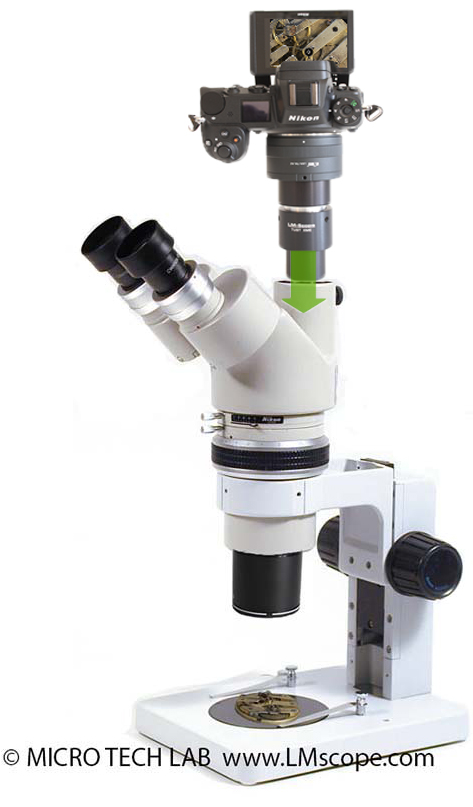 Due to their large sensor, DSLR and DSLM (mirrorless system cameras) deliver a much better image quality than comparable C-mount microscope cameras. The best way to connect a digital camera to the Nikon SMZ-10 is via the photo tube. Our high-quality, focusable LM adapter solution with plan achromatic precision optics enables the camera to capture a large image field without any vignetting. The adapter specially developed for this microscope can be equipped with a wide variety of bayonet mounts, which allows for impressive flexibility in terms of camera choice. We have created recommendations for choosing a camera and a camera ranking on our website.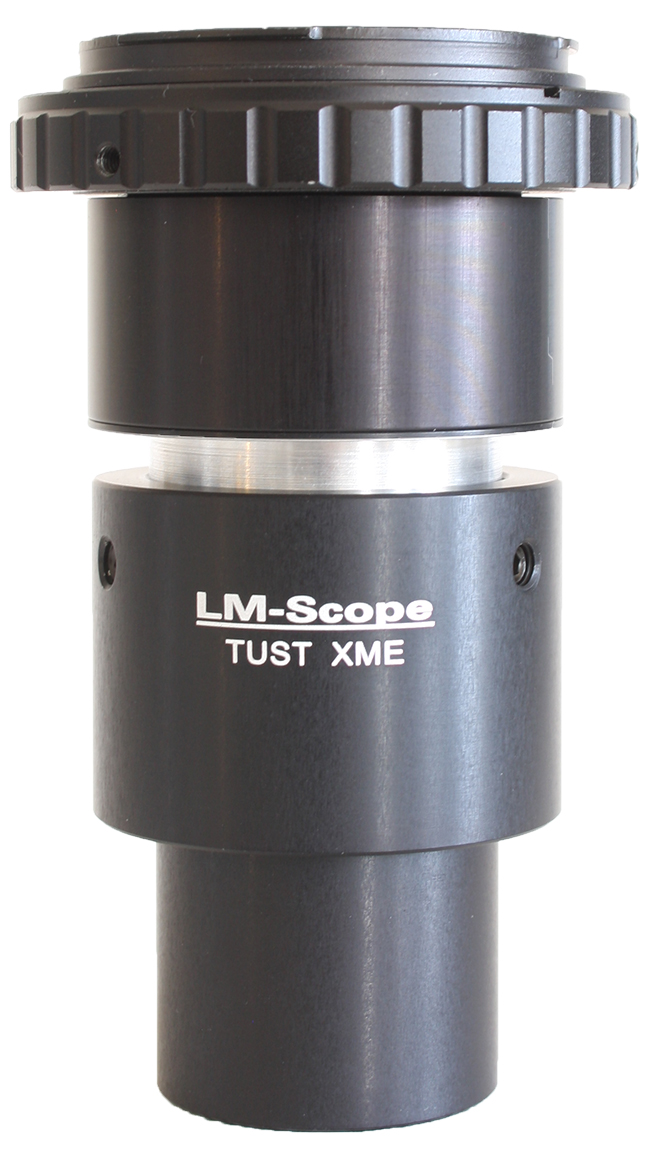 The old photo assembly with "SM" intermediate tube needs to be removed before installing the LM adapter solution. Our adapter solution is simply inserted and secured on the basic phototube with an inner diameter of 36 mm.
With this special adapter solution we took the following photo of a mechanical clockwork: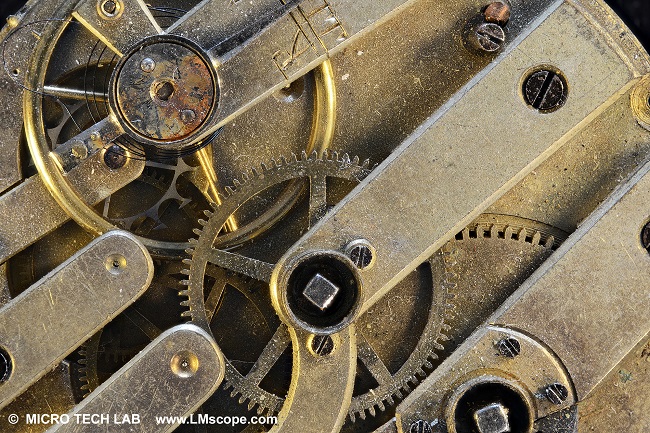 The Nikon SMZ-10 is a Greenough-type stereo microscope. This means that the two separate optical paths and the angular offset enable the human brain to generate a three-dimensional image. For photography applications it must be ensured that the light is directed to the phototube using the light path selector lever.
The zoom body covers a magnification range of 6x, which, depending on the eyepiece (10x, 15x or 20x) and auxiliary lens (close-up lenses 0.53x and 2.0x) used, enables magnifications from 3.5x to 160x. The microscope is available with or without a phototube, and it is also possible to purchase an additional discussion tube.
The integrated aperture (Ø 16.0 mm → Ø 6.5 mm) ensures excellent image quality and high depth of field.
The coaxial lighting can optionally be replaced with transmitted light, a fibre light source or incident light. In addition, the microscope can also be equipped for polarisation microscopy.
Originally, the Nikon SMZ-10 was designed for the Nikon Microflex film equipment and TV cameras.In addition to attaching the camera to the photo tube of the microscope, there is also the option of using the eyepiece tube.The image quality delivered by this option is just as good as that of the phototube, but it is not as convenient. The great advantage of attaching the camera to the eyepiece tube is that the adapter solution can also be used on other microscopes with an eyepiece tube diameter of 23.2mm or 30mm.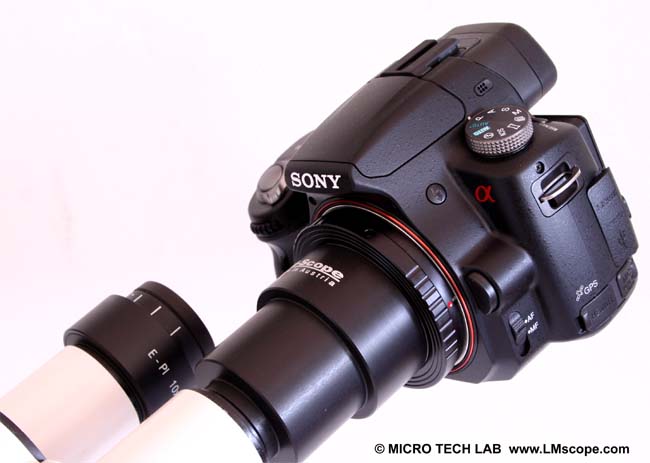 Symbolfoto
Photography:
Fitting the microscope to digital single-lens reflex (DSLR), mirrorless interchangeable-lens cameras (MILC ), digital single-lens mirrorless (DSLM) or C-mount cameras is easy with our LM digital SLR adapters, which feature a plan achromatic optical system. Our products make it possible to capture top-quality microscope images. To help you select the adapter that is right for your camera, we have set up an online configurator on our website. You can also email us – ideally with attached photographs of your microscope.
Modern DSLR and single-lens mirrorless (DSLM) offer the latest technology and are generally very well suited for microscopy applications. Most of them can be controlled remotely via PC/Mac. Because of their high sales volumes, they offer an excellent price/performance ratio compared to special-purpose microscope cameras.
Features of top DSLR and single-lens mirrorless cameras (DSLM):
- Large, powerful full-frame sensors (36 x 24 mm)
- Sensor resolution of 61 megapixels or 240 megapixels with Pixel Shift technology
- High light sensitivity (ISO 400,000+)
- Extensive dynamic range (up to 15 aperture stops/f-stops)
- Short exposure times (1/8000 second) up to 1/32,000 seconds using the digital shutter
- 4K Ultra HD or 8K Ultra HD video function
- Live video capture on external monitors in ultra HD quality
In most cases, these cameras are significantly more powerful than microscope cameras with smaller sensors (1/2" or 2/3"). On our website you will find our current camera recommendations and a camera ranking which is specifically tailored to microscopy applications.

Ordering code

Product description

Price

Price

Available




DSLRXT_Nikon_SMZ10

LM Digital SLR Adapter with special hard anti-reflection coating, plan achromatic optics for stereomicroscope Nikon SMZ10 Microscope, including camera bayonet



Data Sheet0
Operating Instructions1

For EU (European Union) VAT (IVA, TVA) not included
New LM Digital Adapter for:
Nikon Z9 / Nikon Z8 / Sony Alpha 7R V / Sony Alpha 1 / Sony FX3 Cinema Line / Sony Alpha 9 II (ILCE-9M2) / Sony Alpha 9 / Nikon D6 / Canon EOS R3 / Canon EOS R6 Mark II / Canon EOS R8 / Sony Alpha 7R IV / Canon EOS R5 / Sony Alpha 7S II / Sony Alpha 7S III / Sony Alpha 7R III / Canon EOS R6 / Nikon Z6 / Nikon Z6II / Sony Alpha 7R II / Nikon Z7 /