338
Panasonic Lumix DMC-GH4 with 4k video recording
Here it is: the first mirrorless system camera with 4k video recording! We were very excited to find out what the camera is capable of – especially in terms of modern photomicrography!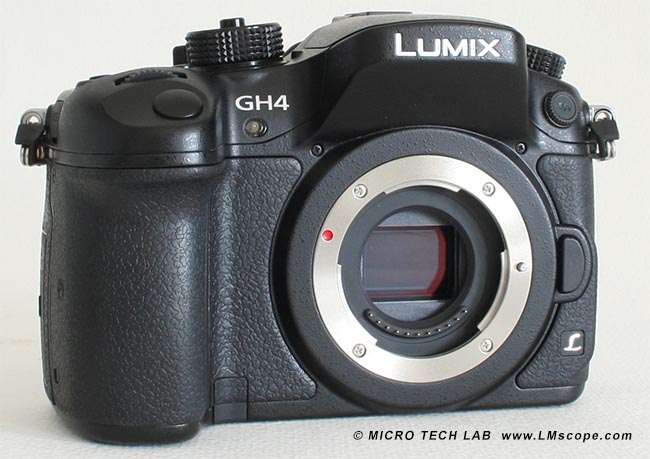 In general appearance, the Panasonic GH4 looks like a digital SLR camera. At 480 grams (camera body alone), it falls into the weight class of smaller DSLR cameras. The camera housing is very well made and sealed against dust and moisture.
The camera features a newly developed sensor (Live MOS) with 16 megapixel resolution and supports long exposures of up to 60 minutes. The colour depth is 36 bits and the light sensitivity ranges between ISO 100 and 25,600.
The Live View image can be displayed on an external monitor or a projector using the camera's HDMI port. That makes the Panasonic GH4 a viable option for discussions and presentations, where the focus is on live images with a high level of detail resolution. Videos can be recorded in 4k resolution. The 4k resolution has four times as many pixels as full HD! Videos in 4k quality can be recorded onto the SD card with a maximum frame rate of 200 Mbit (10-bit 4:2:2).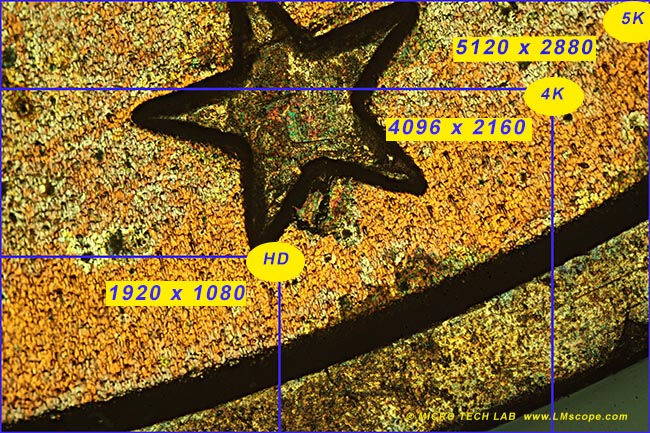 Attaching the Panasonic GH4 to a microscope is super easy with our LM digital adapters. We have tested both connection options: via the photo tube and via the eyepiece tube.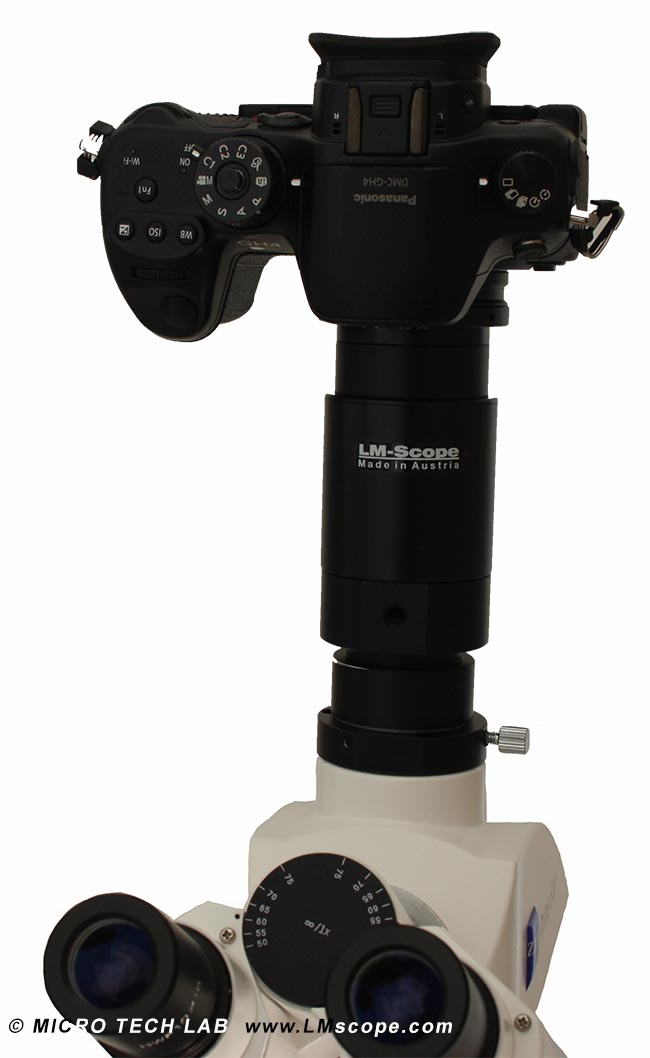 Image: Attaching the Panasonic GH4 to the photo tube of a microscope
The Panasonic GH4 comes with a rotating and pivoting display. A particularly positive feature is that the Live View image remains visible on the camera screen even if an external monitor is run from the HDMI port. Most other cameras disable their LCD screens in that situation.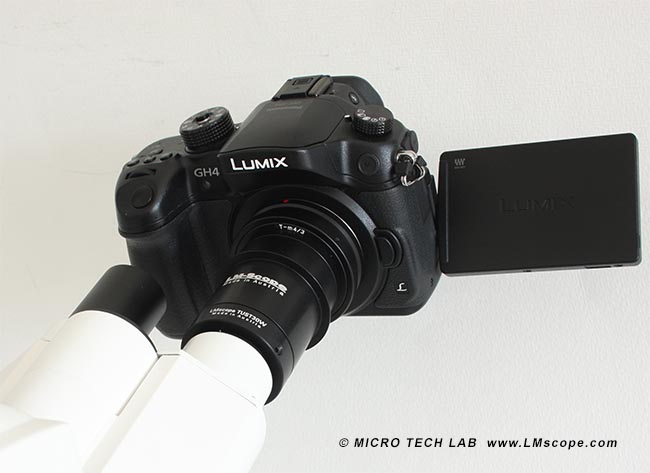 Image: Attaching the Panasonic GH4 to the eyepiece tube of a microscope
In addition, the Panasonic GH4 has a cutting edge WLAN function for communication with a tablet or smartphone. This is an extremely handy tool for image control and shutter release. The images can also be stored directly on the device used.
Unfortunately, Panasonic does not yet offer a software solution for remote control of the camera via PC or Mac. That would be an extremely useful feature, especially for professional use of the camera in stationary settings such as laboratories and/or photo studios. The competitors (Canon, Nikon und Olympus) have already made a substantial head start in that respect. Although a small control tool is available from a third-party manufacturer (USB Tether supplied by Promote Systems), it offers only a very limited range of features and, most importantly, no live preview.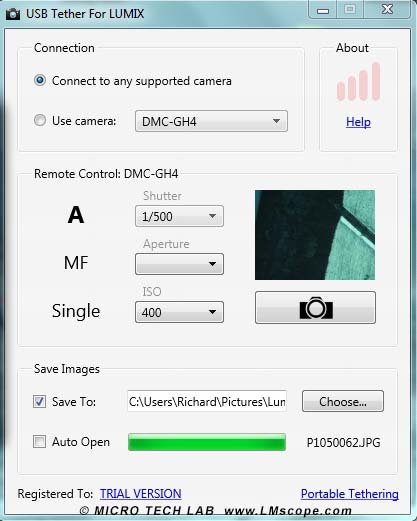 Unfortunately, the firmware on our test camera was outdated and we therefore had to perform a firmware update before we could install the remote control software. A particularly smart feature is that the firmware refuses to install unless the battery is fully charged as otherwise there would be a risk of damaging the camera!
Conclusion: The Panasonic GH4 is the first affordable camera that transmits Live View images to an external monitor in 4k resolution and is also capable of recording 4k images onto an SD card. It most definitely is one of the top models currently available on the market. The only thing missing for efficient use in photomicrography is a good remote control software – then we would be perfectly satisfied with the Panasonic GH4.
15.01.2015
New LM Digital Adapter for:
Panasonic Lumix DMC-GH4 / Panasonic Lumix DMC-GX7 / Panasonic Lumix DMC-GH3 / Panasonic Lumix DC-GH5 / Panasonic Lumix DMC-GH2 / Panasonic Lumix DMC-GX1 / Panasonic Lumix DMC-GF5 / Panasonic Lumix DMC-G2 / Panasonic Lumix DMC-GH1 / Panasonic Lumix DMC-GF2 / Panasonic Lumix DMC-GF3 / Panasonic Lumix DMC-G10 / Panasonic Lumix DMC-G1 / Panasonic Lumix DMC-GF1 / Panasonic Lumix DMC-FZ38 / Panasonic DMC-FT3 / Panasonic HDC-SD800 / Panasonic HDC-SD909 / Panasonic HDC-TM900 / Panasonic HDC-HS900 / Panasonic DMC-FS18 / Panasonic DMC-FS35 / Panasonic DMC-FS37 / Panasonic DMC-TZ22 / Panasonic DMC-FS16 / Panasonic DMC-TZ18 / Panasonic DMC-FX77 / Panasonic DMC-FT3 / Panasonic Lumix DMC-FS35 / Panasonic Lumix DMC-L10 / Panasonic Lumix DMC-FZ100 / Panasonic HDC-SD99 / Panasonic Lumix DMC-FX150 / Panasonic Lumix DMC-FS11 / Panasonic Lumix DMC-FS30 / Panasonic Lumix DMC-FS30 / Panasonic Lumix DMC-FX66 / Panasonic Lumix DMC-ZX3 / Panasonic Lumix DMC-FT2 / Panasonic DMC-FX70 /