403
The Leica DM 6000 B: a superb contender and every photomicrographer's dream
Excellent image brilliance, crisp contrast, ergonomic design, user-friendly software, fully motorised hardware – all of which Leica's DM 6000 B has – understandably comes at a price. Therefore, the DM 6000 B, which Leica introduced to the market in early 2000, is not a training microscope for use by hobby researchers, but rather a precision instrument designed for advanced use. Anyone who would like to work with a motorised, top-tier (priced from € 10,000 to € 40,000), cutting-edge, upright research microscope equipped with an infinity-corrected optical system need look no further. And our LM digital adapter can build the perfect bridge from this instrument to your camera!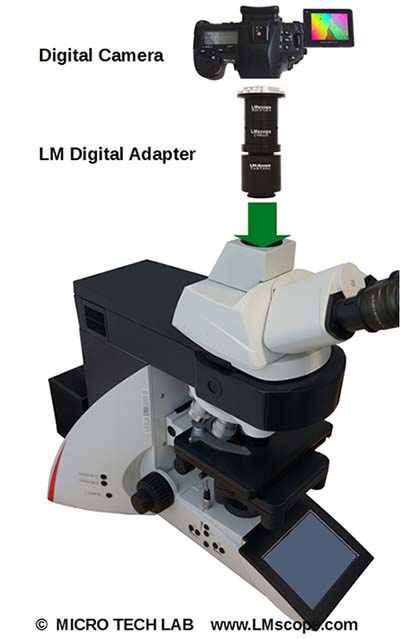 With the Leica DM 6000 B, almost every method of observation is possible: bright field, dark field, Nomarski, fluorescence, polarisation, phase contrast (transmitted light) as well as bright field and fluorescence with incident light. The motorised, absolute encoded 6x or 7x revolving nosepiece with M25 thread offers the capacity to accommodate a large selection of Leica objectives: Hl-Plan, N-Plan, FL-Plan, Plan-Fluorite, PlanApo. For a panoramic view (i.e. an extra-large field of view), Leica even offers a 1.25x scanning objective!
The microscope is supplied with either a fixed stage tube (30 mm) or an adaptable ergo tube that adjusts to the user's seated height (which facilitates a more relaxed body position when working on the microscope). The motorisation components enhance the DM 6000 B's ergonomic aspects even further: motorised aperture and luminous field diaphragms, motorised shutter, motorised fluorescence filter changer, field diaphragm and shutter, motorised reflector disk, motorised focus drive. The motorised focus drive enables quicker focussing, and the parfocal compensation can be saved for all objectives. If desired, a motorised stage (working range 76 x 50 mm) is also available. Thanks to their ceramic coating, all stages are scratch resistant. An LED information display is located in the base of the stand.
With the Leica DM 6000 B, users can take advantage of semi-automated and markedly simpler microscope work. The benefits include:
Constant colour intensity control: constant colour temperature is maintained at low lamp voltage
Automatic Köhler light management: the microscope automatically sets the best values for aperture, field diaphragm and light intensit
Fluorescence intensity manager: a method for fast, accurate and reproducible adaptation of the fluorescence intensity
Fully automated differential interference contrast (DIC): the correct prisms as well as polariser and analyser are automatically moved into the beam path
The microscope is operated via the external Leica ST6000 SmartTouch Panel, which allows the user to set all automated functions intuitively from every position at the workstation. The panel also offers a focus wheel for fine and coarse adjustment, operating controls for stage adjustments and eleven programmable function buttons. In addition, the instrument features USB 2.0 and I2C interfaces.
Using our LM digital adapters, the Leica DM 6000 B can be connected to state-of-the-art, high-resolution digital cameras in a few simple, easy steps. Particularly if recent camera technology is used, users can expect to obtain excellent quality (upgrading from older camera models produces significant improvements in quality).
Photography:
Fitting the microscope to digital single-lens reflex (DSLR), mirrorless interchangeable-lens cameras (MILC ), digital single-lens mirrorless (DSLM) or C-mount cameras is easy with our LM digital SLR adapters, which feature a plan achromatic optical system. Our products make it possible to capture top-quality microscope images. To help you select the adapter that is right for your camera, we have set up an online configurator on our website. You can also email us – ideally with attached photographs of your microscope.
Modern DSLR and single-lens mirrorless (DSLM) offer the latest technology and are generally very well suited for microscopy applications. Most of them can be controlled remotely via PC/Mac. Because of their high sales volumes, they offer an excellent price/performance ratio compared to special-purpose microscope cameras.
Features of top DSLR and single-lens mirrorless cameras (DSLM):
- Large, powerful full-frame sensors (36 x 24 mm)
- Sensor resolution of 61 megapixels or 240 megapixels with Pixel Shift technology
- High light sensitivity (ISO 400,000+)
- Extensive dynamic range (up to 15 aperture stops/f-stops)
- Short exposure times (1/8000 second) up to 1/32,000 seconds using the digital shutter
- 4K Ultra HD or 8K Ultra HD video function
- Live video capture on external monitors in ultra HD quality
In most cases, these cameras are significantly more powerful than microscope cameras with smaller sensors (1/2" or 2/3"). On our website you will find our current camera recommendations and a camera ranking which is specifically tailored to microscopy applications.

New LM Digital Adapter for:
Nikon Z8 / Sony Alpha 7R V / Sony Alpha 1 / Sony FX3 Cinema Line / Sony Alpha 9 II (ILCE-9M2) / Sony Alpha 9 / Nikon D6 / Canon EOS R3 / Canon EOS R6 Mark II / Canon EOS R8 / Sony Alpha 7R IV / Canon EOS R5 / Sony Alpha 7S II / Sony Alpha 7S III / Sony Alpha 7R III / Canon EOS R6 / Nikon Z6 / Nikon Z6II / Sony Alpha 7R II / Nikon Z7 / Nikon Z7II / Canon EOS R / Canon EOS Ra (Astro) / Nikon Z5 / Sony Alpha 7C / Canon EOS RP / Sony Alpha 7S / Canon EOS R7 / Leica SL2-S / Canon EOS R10 / Canon EOS 1D X Mark III / Nikon Z50 / Nikon Z30 / Nikon Z fc / Nikon D850 / Canon EOS 1D X Mark II / Nikon D780 / Olympus OM-1 / Sony Alpha 7III / Olympus OM-D E-M1 Mark III / Canon EOS R100 / Sony Alpha 6700 / Nikon D5 / Sony Alpha 6600 / Fujifilm X-H2S / Fujifilm X-S10 / Fujifilm X-E4 / Fujifilm X-Pro3 / Olympus OM-D E-M1X / Sony Alpha 6400 / Sony Alpha 6100 / Sony ZV-E10 / Canon EOS 1D X / Nikon D4s / Olympus OM-D E-M5 III / Canon EOS 90D / Canon EOS 5D Mark IV / Nikon D4 / Nikon D750 / Canon EOS 6D Mark II / Fujifilm X-T4 / Fujifilm X-T3 / Sony Alpha 6300 / Sony Alpha 6500 / Nikon D500 / Nikon D810 / Nikon D800 / Canon EOS M6 Mark II / Nikon D800E / Nikon Df / Panasonic Lumix DC-G9 / Nikon D610 / Nikon D600 / Canon EOS 250D / Canon EOS 850D / Rebel T8i / Canon EOS 6D / Sony Alpha 99 II (SLT-A99 II) / Canon EOS M200 / Canon EOS 5DS R ( without low-pass filter) / Olympus OM-D E-M1 Mark II / Canon EOS 80D / Canon EOS M50 Mark II / Canon EOS 5DS / Canon EOS M50 / Sony Alpha 77 II / Canon EOS 70D / Nikon D7200 / Pentax K-1 Mark II / Canon EOS 200D / Canon EOS 800D / Rebel T7i / Canon EOS 77D / Canon EOS 5D Mark III / Canon EOS 60D / Sony Alpha 7R / Sony Alpha 7 / Nikon DS-Qi2 (Microscope Camera) / Olympus OM-D E-M5 II / Nikon D3x / Olympus OM-D E-M1 / Pentax KP /