309
Upgrading the Olympus SZH10 stereo microscope for modern digital photographic work as quick as a flash
The Olympus SZH10 stereo microscope with a 10:1 zoom is a popular Olympus instrument from the 1990s. Originally designed for analogue photography, it can be adapted for high-level digital photographic documentation in no time at all.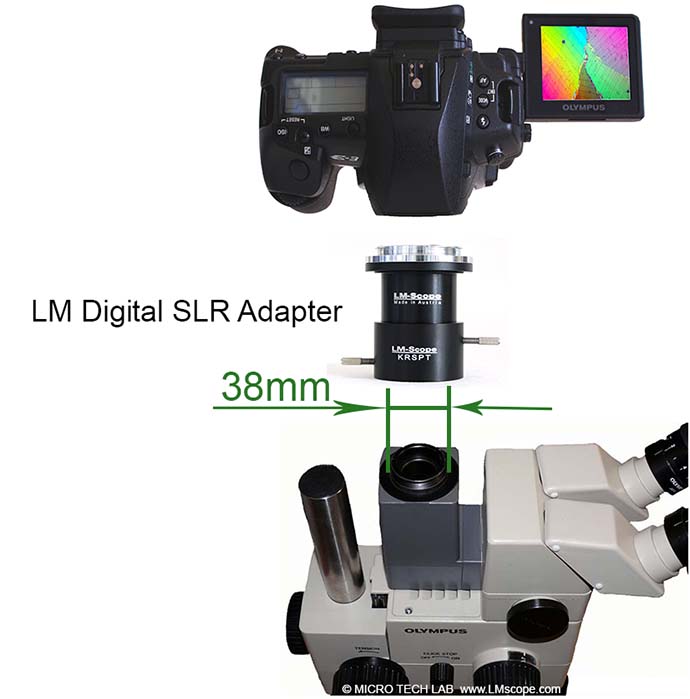 The Olympus SZH10 microscope is an all-rounder that is still available second hand for around € 4,000. Featuring a Greenough optical system, it is used in many different fields of application, such as
Mineralogy

Metallurgy

Semiconductor science

Biology

Inspection microscopy
The microscope body has a coarse and fine focus and allows a working distance of up to 50 mm. A revolver for two specimens is available as an option. The transmitted light model has a filter thread of 45 mm and a Koehler illumination system. This offers the advantage of a brighter image with a higher resolution. The light source consists of a 50W/12V halogen lamp.
The illumination type can be changed very quickly from bright field to dark field. In addition, a module for coaxial, vertical illumination is also available.
Different lenses, both plan apo objectives and apochromats for aberration-free images, are available.
| | | |
| --- | --- | --- |
| | N.A. | W.D. (mm) |
| SZH-D.F. Plan 0.5X | 0.042 | 198 |
| SZH-D.F. Plan 0.75X | 0.063 | 113 |
| SZH-D.F. Plan Apo 1X | 0.087 | 81 |
| SZH-D.F. Plan 1.5X | 0.125 | 48 |
| SZH-D.F. Plan 2X | 0.167 | 39 |
For photomicrographic images, we recommend the plan-apo-1 lens. When using high-grade cameras, this makes it possible to produce top-quality, aberration-free images.
The standard version of the Olympus SZH10 comes without a phototube, but another option with a phototube is available as well.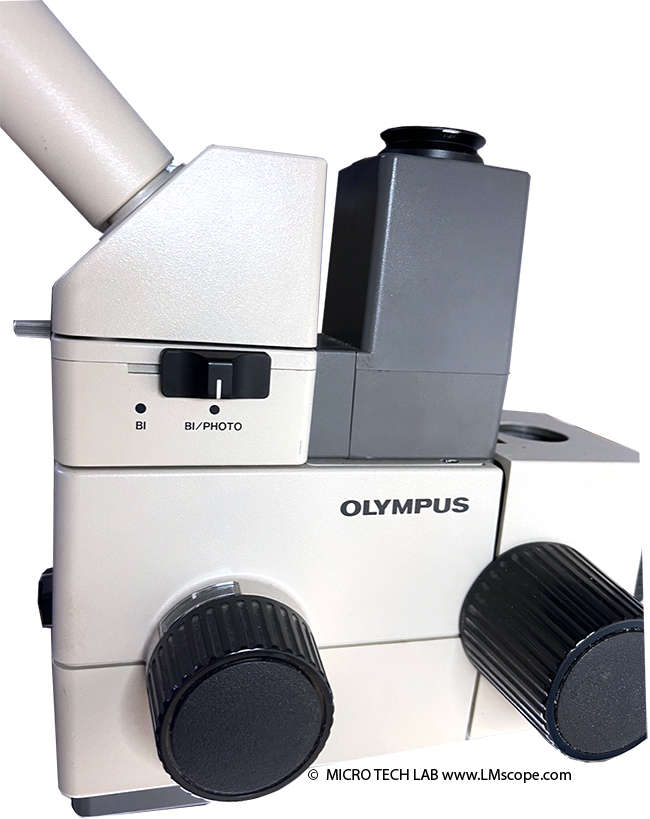 The Olympus SZH has a solid, stable stand and is thus well suited for even heavy camera systems.
The SZH-PT beam splitter with a dovetail ring (internal diameter: 38 mm) is available as an accessory for photomicrography. We offer a special conversion kit to enable almost every modern DSLR camera, mirrorless system camera and USB camera to be used on this microscope.
Photography:
Fitting the microscope to digital single-lens reflex (DSLR), mirrorless interchangeable-lens cameras (MILC ), digital single-lens mirrorless (DSLM) or C-mount cameras is easy with our LM digital SLR adapters, which feature a plan achromatic optical system. Our products make it possible to capture top-quality microscope images. To help you select the adapter that is right for your camera, we have set up an online configurator on our website. You can also email us – ideally with attached photographs of your microscope.
Modern DSLR and single-lens mirrorless (DSLM) offer the latest technology and are generally very well suited for microscopy applications. Most of them can be controlled remotely via PC/Mac. Because of their high sales volumes, they offer an excellent price/performance ratio compared to special-purpose microscope cameras.
Features of top DSLR and single-lens mirrorless cameras (DSLM):
- Large, powerful full-frame sensors (36 x 24 mm)
- Sensor resolution of 61 megapixels or 240 megapixels with Pixel Shift technology
- High light sensitivity (ISO 400,000+)
- Extensive dynamic range (up to 15 aperture stops/f-stops)
- Short exposure times (1/8000 second) up to 1/32,000 seconds using the digital shutter
- 4K Ultra HD or 8K Ultra HD video function
- Live video capture on external monitors in ultra HD quality
In most cases, these cameras are significantly more powerful than microscope cameras with smaller sensors (1/2" or 2/3"). On our website you will find our current camera recommendations and a camera ranking which is specifically tailored to microscopy applications.

New LM Digital Adapter for:
Nikon Z9 / Nikon Z8 / Sony Alpha 7R V / Sony Alpha 1 / Sony FX3 Cinema Line / Sony Alpha 9 II (ILCE-9M2) / Sony Alpha 9 / Nikon D6 / Canon EOS R3 / Canon EOS R6 Mark II / Canon EOS R8 / Sony Alpha 7R IV / Canon EOS R5 / Sony Alpha 7S II / Sony Alpha 7S III / Sony Alpha 7R III / Canon EOS R6 / Nikon Z6 / Nikon Z6II / Sony Alpha 7R II / Nikon Z7 /