427
Nikon Eclipse E400 and E600
Nikon's Eclipse microscopes were introduced to the market in the 1990s (the E400 in 1997 and the E600 in 1990). Both feature an infinity-corrected optical system and were designed for "workhorse" applications in clinical research.
All current DSLR and system cameras can be attached to Nikon's Eclipse series microscopes quickly and easily using LM digital adapters, which results in a maximum of image quality.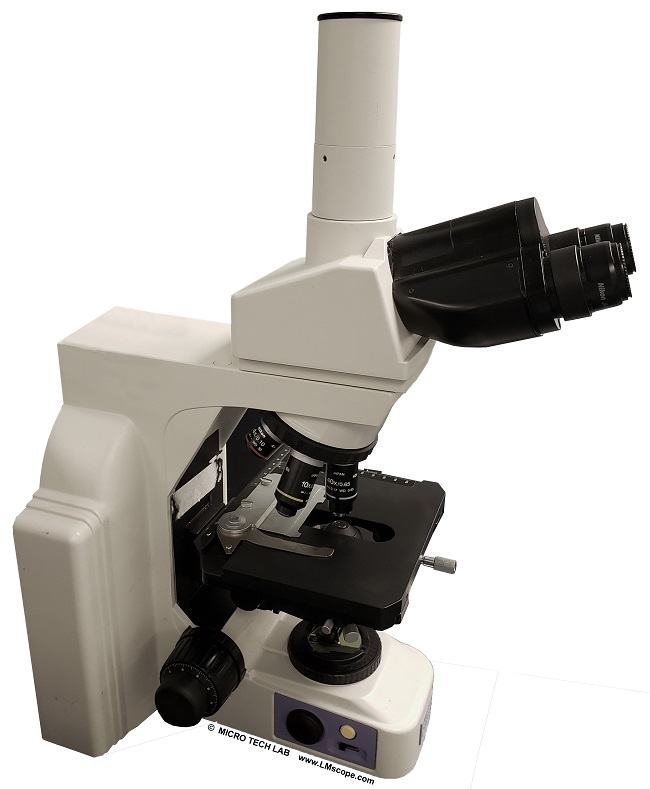 Nikon advertised its E400, which represents the mid-level price segment, as the "8-hour microscope" due to its excellent ergonomics and progressive design: all control knobs in a single line, new focussing system, low-profile stage and practical positioning of epi-fluorescence filters. Although the E400 was designed with stability in mind, it nevertheless features a compact design.
The E400's optical system features Nikon's acclaimed CFI-60 lenses, which offer the combined advantages of greater working distances and a higher numerical aperture. The series of universal objectives included with the system enable the use of various observation techniques (bright field, dark field, Nomarski DIC, epi-fluorescence or phase contrast) without the need to change objectives. The E400 features a quintuple revolving nosepiece, and the magnification capability of its optical system ranges from 10x to 1,500x for observation purposes.
The E600, another mid-tier instrument, also comes equipped with the CFI-60 optical system mentioned above, and users can opt for either a sextuple revolving nosepiece or a sextuple DIC nosepiece. The infinity-corrected optical system with a parallel optical path enables the use of a variety of components, such as filters, compensators, DIC prisms and reflectors.
Illumination on the E600 model is provided by a 12-volt, 100-watt halogen lamp, while the E400 comes with a 6-volt, 20-watt halogen lamp.
Nikon offers three tube types for its higher-grade Eclipse series microscopes (E400, E600 and E800). The key to properly attaching a DSLR or system camera to a microscope with our high-quality LM digital adapters is to choose the correct combination: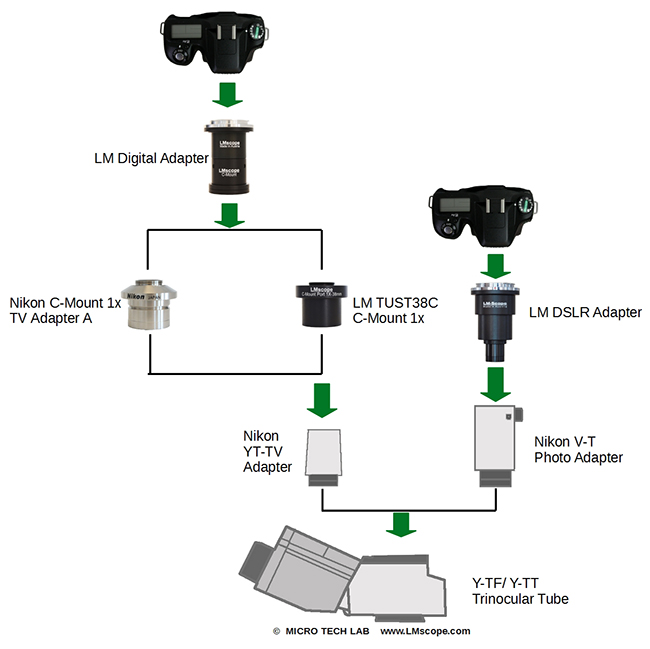 The following considerations need to be taken into account:
Does the tube have a Nikon YT-TV adapter (shorter) or a Nikon V-T photo adapter (longer)? These are essential for connecting attaching a camera to the microscope and cannot be bypassed!

The Nikon YT-TV adapter accepts either the TUST38C LM C-mount adapter or – if you already have one – the Nikon C-mount 1x adapter --> the LM digital adapter, which is connected to the camera, is then added to that combination.

The Nikon V-T photo adapter is directly attached to the LM DSLR adapter:

There are many tube types - here are three of them: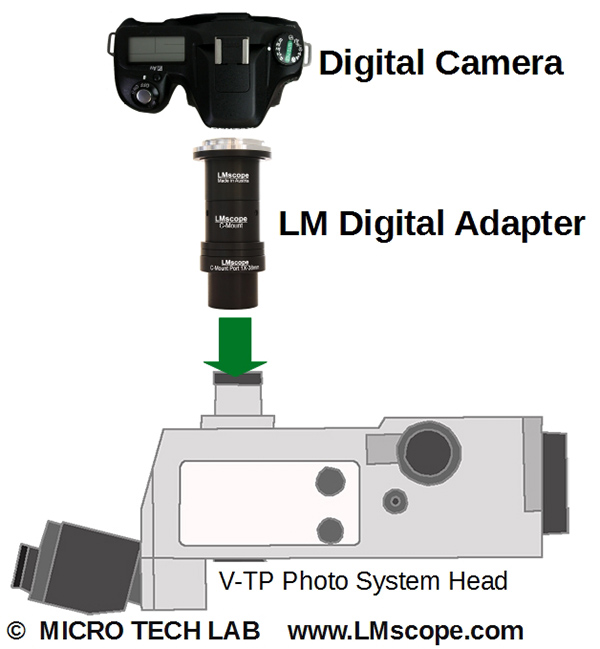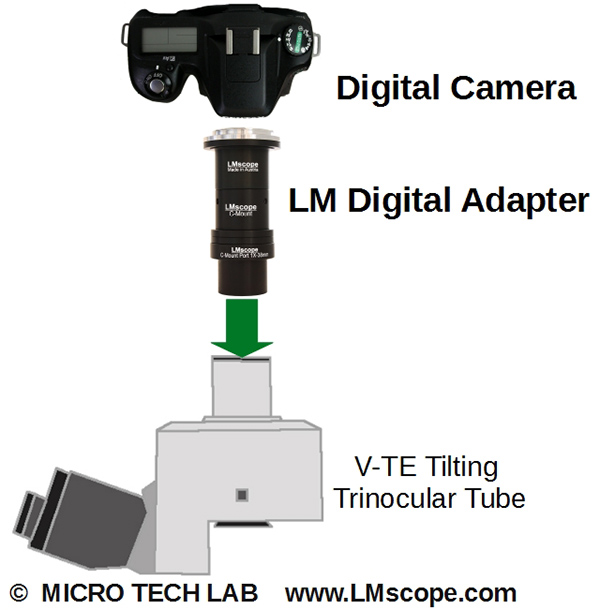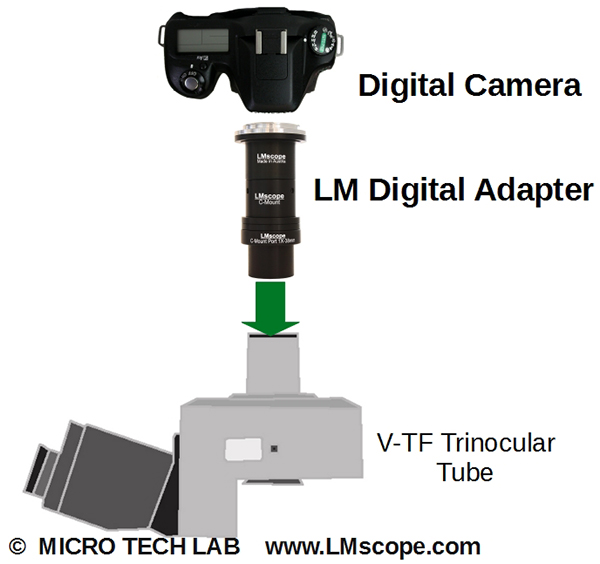 All of our digital adapters are equipped with a plan-achromatic optical system that ensures a flat field of view with no loss of focus at the edges. Since we correct the lenses of our LM digital adapters, they deliver images that are not affected by vignetting, chromatic aberrations (colour fringing) or barrel-shaped distortions. Additionally, they are equipped with an anti-reflex system that prevents glare, reflections and hot spots.
Auxiliary modules are available for both the E400 and E600 models, including an epi-fluorescence module, intermediate tube, eye-level raiser and others.
Photography:
Fitting the microscope to digital single-lens reflex (DSLR), mirrorless interchangeable-lens cameras (MILC ), digital single-lens mirrorless (DSLM) or C-mount cameras is easy with our LM digital SLR adapters, which feature a plan achromatic optical system. Our products make it possible to capture top-quality microscope images. To help you select the adapter that is right for your camera, we have set up an online configurator on our website. You can also email us – ideally with attached photographs of your microscope.
Modern DSLR and single-lens mirrorless (DSLM) offer the latest technology and are generally very well suited for microscopy applications. Most of them can be controlled remotely via PC/Mac. Because of their high sales volumes, they offer an excellent price/performance ratio compared to special-purpose microscope cameras.
Features of top DSLR and single-lens mirrorless cameras (DSLM):
- Large, powerful full-frame sensors (36 x 24 mm)
- Sensor resolution of 61 megapixels or 240 megapixels with Pixel Shift technology
- High light sensitivity (ISO 400,000+)
- Extensive dynamic range (up to 15 aperture stops/f-stops)
- Short exposure times (1/8000 second) up to 1/32,000 seconds using the digital shutter
- 4K Ultra HD or 8K Ultra HD video function
- Live video capture on external monitors in ultra HD quality
In most cases, these cameras are significantly more powerful than microscope cameras with smaller sensors (1/2" or 2/3"). On our website you will find our current camera recommendations and a camera ranking which is specifically tailored to microscopy applications.

New LM Digital Adapter for:
Nikon Z9 / Sony Alpha 1 / Sony FX3 Cinema Line / Sony Alpha 9 II (ILCE-9M2) / Sony Alpha 9 / Nikon D6 / Canon EOS R3 / Sony Alpha 7R IV / Canon EOS R5 / Sony Alpha 7S II / Sony Alpha 7S III / Sony Alpha 7R III / Canon EOS R6 / Nikon Z6 / Nikon Z6II / Sony Alpha 7R II / Nikon Z7 / Nikon Z7II / Canon EOS R / Canon EOS Ra (Astro) / Nikon Z5 / Sony Alpha 7C / Canon EOS RP / Sony Alpha 7S / Canon EOS R7 / Leica SL2-S / Canon EOS R10 / Canon EOS 1D X Mark III / Nikon Z50 / Nikon Z30 / Nikon D850 / Canon EOS 1D X Mark II / Nikon D780 / Olympus OM-1 / Sony Alpha 7III / Olympus OM-D E-M1 Mark III / Nikon D5 / Sony Alpha 6600 / Fujifilm X-H2S / Fujifilm X-S10 / Fujifilm X-E4 / Fujifilm X-Pro3 / Olympus OM-D E-M1X / Sony Alpha 6400 / Sony Alpha 6100 / Sony ZV-E10 / Canon EOS 1D X / Nikon D4s / Olympus OM-D E-M5 III / Canon EOS 90D / Canon EOS 5D Mark IV / Nikon D4 / Nikon D750 / Canon EOS 6D Mark II / Fujifilm X-T4 / Fujifilm X-T3 / Sony Alpha 6300 / Sony Alpha 6500 / Nikon D500 / Nikon D810 / Nikon D800 / Canon EOS M6 Mark II / Nikon D800E / Nikon Df / Panasonic Lumix DC-G9 / Nikon D610 / Nikon D600 / Canon EOS 250D / Canon EOS 850D / Rebel T8i / Canon EOS 6D / Sony Alpha 99 II (SLT-A99 II) / Canon EOS M200 / Canon EOS 5DS R ( without low-pass filter) / Olympus OM-D E-M1 Mark II / Canon EOS 80D / Canon EOS M50 Mark II / Canon EOS 5DS / Canon EOS M50 / Sony Alpha 77 II / Canon EOS 70D / Nikon D7200 / Pentax K-1 Mark II / Canon EOS 200D / Canon EOS 800D / Rebel T7i / Canon EOS 77D / Canon EOS 5D Mark III / Canon EOS 60D / Sony Alpha 7R / Sony Alpha 7 / Nikon DS-Qi2 (Microscope Camera) / Olympus OM-D E-M5 II / Nikon D3x / Olympus OM-D E-M1 / Pentax KP / Nikon D3S / Canon EOS 750D / Rebel T6i / Canon EOS 760D / Rebel T6s / Canon EOS 5D Mark II / Nikon D7100 / Pentax K-5 / Canon EOS 1D Mark IV /