435
Nikon's Eclipse models MA100 and MA200: by adding current DSLR or system cameras, these microscopes deliver exceptional results in digital photomicrography
The Eclipse MA100/MA100L and MA200, Nikon's series of inverted metallurgical microscopes, vary remarkably from one another in terms of features and capabilities. The MA100 is a very compact (the LED illuminated model weighs in at 7.2 kg while the halogen illuminated variant weighs 8.4 kg) inverted bright-field microscope designed for the observation of metallurgical samples and electronic components as well as failure analysis, materials science and quality control tasks.
Despite the differences among these Nikon models, they share an important feature: with the help of our LM digital adapters, they can be connected to current DSLR and system cameras quickly and easily. This combination makes it possible to use state-of-the-art camera technology to achieve exceptional digital photographic documentation.
The hallmark of the MA200 is its unique box design.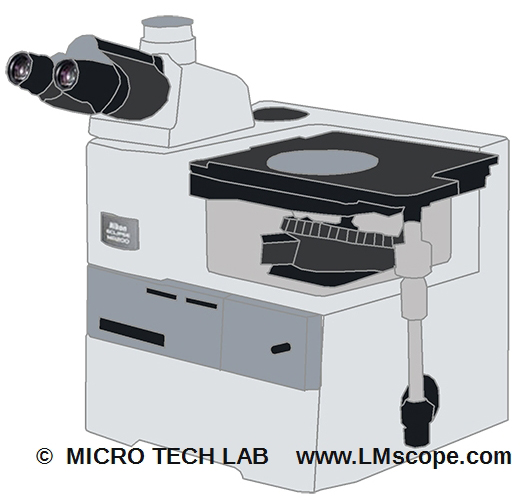 This microscope accommodates a wide range of observation techniques such as bright field, dark field, simple polarisation, DIC and fluorescence observation. In contrast, the MA100 offers only bright field and simple polarisation. Thanks to Nikon's acclaimed CFI60-2 optics, our LM digital adapters can help achieve outstanding results when used to acquire digital microscopic images.
Because the differences between the two models are quite significant, we prefer to describe these two microscope types separately:
Nikon Eclipse MA100/MA100L
The Eclipse MA100 features a quintuple nosepiece and incorporates Nikon's renowned CFI60-2 optical system, which not only delivers excellent image results, but also offers outstanding quality for a microscope in this price range. The MA100 comes equipped with a 6V/30W halogen lamp, and an LED illuminated option (MA100L) is also available. The illuminator comes with a variable aperture diaphragm, but a module that facilitates polarisation microscopy is available as well. Different stage options allow users to configure the instrument to suit their individual needs. Also evident is the Siedentopf-type eyepiece tube with adjustable interpupillary distance and a comfortable 45-degree incline, which demonstrates that the MA100 was engineered with ergonomic standards in mind.

Nikon Eclipse MA200
As mentioned previously, the key characteristic of Nikon's Eclipse MA200 is its unique box design, which reduces the footprint of this instrument to about one-third that of conventional models. All of the important controls are on the front of this microscope, which permits easy access to the revolving quintuple, sixtuple or septuple nosepiece as well as the sample on the stage. With the correct combination of eyepiece and objective lens, samples of up to 25 mm in diameter can be observed in one field of view. Using our LM digital adapters, all types of DSLR and system cameras can be attached to the camera port of the Siedentopf-type trinocular tube (ergo tube).

Two types of control units are available as accessories for both models: the stand-alone DS-L3 controller with integrated touch panel monitor, and the PC-based DS-U3 controller for advanced image processing and analysis. Combined with Nikon's new NIS-Elements microscope imaging software, even focus stacking becomes an easy task.
Photography:
Fitting the microscope to digital single-lens reflex (DSLR), mirrorless interchangeable-lens cameras (MILC ), digital single-lens mirrorless (DSLM) or C-mount cameras is easy with our LM digital SLR adapters, which feature a plan achromatic optical system. Our products make it possible to capture top-quality microscope images. To help you select the adapter that is right for your camera, we have set up an online configurator on our website. You can also email us – ideally with attached photographs of your microscope.
Modern DSLR and single-lens mirrorless (DSLM) offer the latest technology and are generally very well suited for microscopy applications. Most of them can be controlled remotely via PC/Mac. Because of their high sales volumes, they offer an excellent price/performance ratio compared to special-purpose microscope cameras.
Features of top DSLR and single-lens mirrorless cameras (DSLM):
- Large, powerful full-frame sensors (36 x 24 mm)
- Sensor resolution of 61 megapixels or 240 megapixels with Pixel Shift technology
- High light sensitivity (ISO 400,000+)
- Extensive dynamic range (up to 15 aperture stops/f-stops)
- Short exposure times (1/8000 second) up to 1/32,000 seconds using the digital shutter
- 4K Ultra HD or 8K Ultra HD video function
- Live video capture on external monitors in ultra HD quality
In most cases, these cameras are significantly more powerful than microscope cameras with smaller sensors (1/2" or 2/3"). On our website you will find our current camera recommendations and a camera ranking which is specifically tailored to microscopy applications.

New LM Digital Adapter for:
Nikon Z9 / Sony Alpha 1 / Sony FX3 Cinema Line / Sony Alpha 9 II (ILCE-9M2) / Sony Alpha 9 / Nikon D6 / Canon EOS R3 / Sony Alpha 7R IV / Canon EOS R5 / Sony Alpha 7S II / Sony Alpha 7S III / Sony Alpha 7R III / Canon EOS R6 / Nikon Z6 / Nikon Z6II / Sony Alpha 7R II / Nikon Z7 / Nikon Z7II / Canon EOS R / Canon EOS Ra (Astro) / Nikon Z5 / Sony Alpha 7C / Canon EOS RP / Sony Alpha 7S / Canon EOS R7 / Leica SL2-S / Canon EOS R10 / Canon EOS 1D X Mark III / Nikon Z50 / Nikon Z30 / Nikon D850 / Canon EOS 1D X Mark II / Nikon D780 / Olympus OM-1 / Sony Alpha 7III / Olympus OM-D E-M1 Mark III / Nikon D5 / Sony Alpha 6600 / Fujifilm X-H2S / Fujifilm X-S10 / Fujifilm X-E4 / Fujifilm X-Pro3 / Olympus OM-D E-M1X / Sony Alpha 6400 / Sony Alpha 6100 / Sony ZV-E10 / Canon EOS 1D X / Nikon D4s / Olympus OM-D E-M5 III / Canon EOS 90D / Canon EOS 5D Mark IV / Nikon D4 / Nikon D750 / Canon EOS 6D Mark II / Fujifilm X-T4 / Fujifilm X-T3 / Sony Alpha 6300 / Sony Alpha 6500 / Nikon D500 / Nikon D810 / Nikon D800 / Canon EOS M6 Mark II / Nikon D800E / Nikon Df / Panasonic Lumix DC-G9 / Nikon D610 / Nikon D600 / Canon EOS 250D / Canon EOS 850D / Rebel T8i / Canon EOS 6D / Sony Alpha 99 II (SLT-A99 II) / Canon EOS M200 / Canon EOS 5DS R ( without low-pass filter) / Olympus OM-D E-M1 Mark II / Canon EOS 80D / Canon EOS M50 Mark II / Canon EOS 5DS / Canon EOS M50 / Sony Alpha 77 II / Canon EOS 70D / Nikon D7200 / Pentax K-1 Mark II / Canon EOS 200D / Canon EOS 800D / Rebel T7i / Canon EOS 77D / Canon EOS 5D Mark III / Canon EOS 60D / Sony Alpha 7R / Sony Alpha 7 / Nikon DS-Qi2 (Microscope Camera) / Olympus OM-D E-M5 II / Nikon D3x / Olympus OM-D E-M1 / Pentax KP / Nikon D3S / Canon EOS 750D / Rebel T6i / Canon EOS 760D / Rebel T6s / Canon EOS 5D Mark II / Nikon D7100 / Pentax K-5 / Canon EOS 1D Mark IV /