603
Bring your Nikon Optiphot microscope into the modern age – with adapter solutions for digital cameras from LMscope!
Combined with modern mirrorless system cameras, this robust microscope, which features a finite optical system, can show off its strengths to full effect.
The Nikon Optiphot series of microscopes, produced in the 1980s, were top-of-the-line upright research microscopes. They are built very sturdily and it is not uncommon to see them still used every day in various working environments. Our LM digital camera adapter solutions are the perfect choice for combining reliable microscope quality with modern camera systems.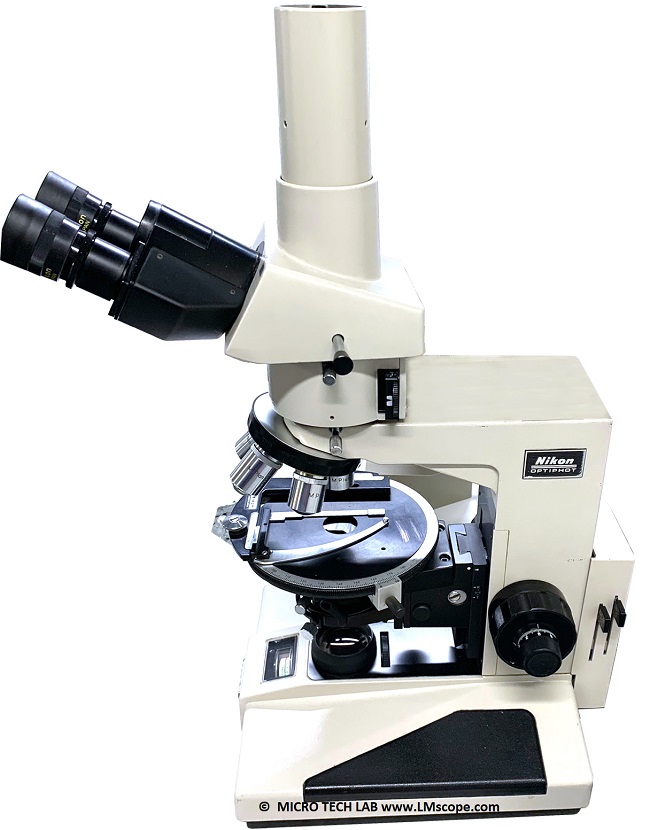 The Optiphot microscopes utilise the Nikon CF finite optical system that was common at that time and yields high-quality images. Most models have a quintuple revolving nosepiece which accommodates the following lens types: plan-achromats, plan-apochromats and objectives for epi-fluorescence.
The light path is optimised for Koehler illumination. The standard light source consists of a 50W/12V halogen lamp.
The instruments in the Optiphot series are expandable for phase contrast, polarisation, DIC, episcopic illumination and epi-fluorescence, which allows for flexible use in many different fields, such as biology, metallurgy or mineralogy.
The Optiphot microscopes have a vertical Nikon V-T phototube with 42 mm internal diameter, which can be easily controlled using a calliper.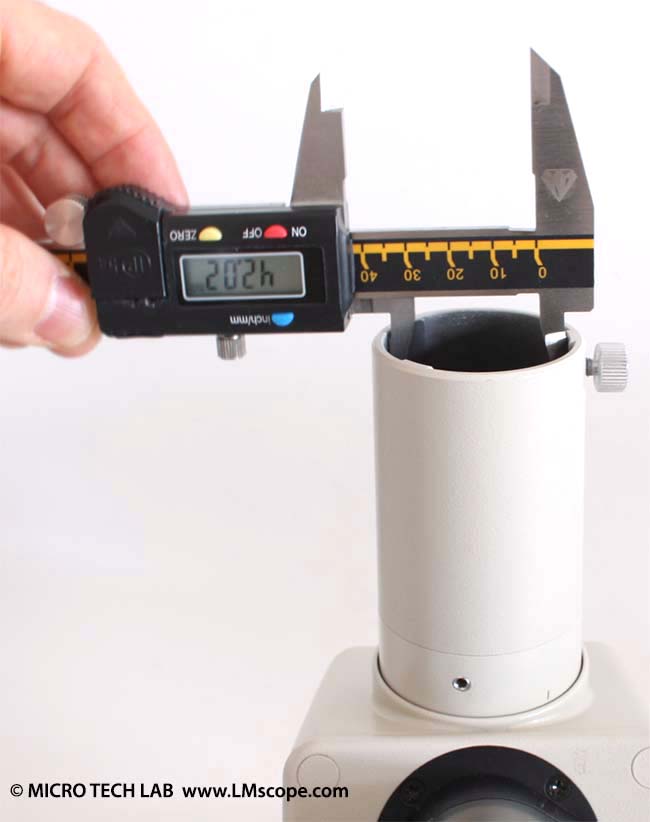 Modern DSLR or mirrorless system cameras (DSLMs) can be attached to this phototube with our LM digital adapter in order to make use of the latest technological advancements of these cameras. This is quick and easy to do.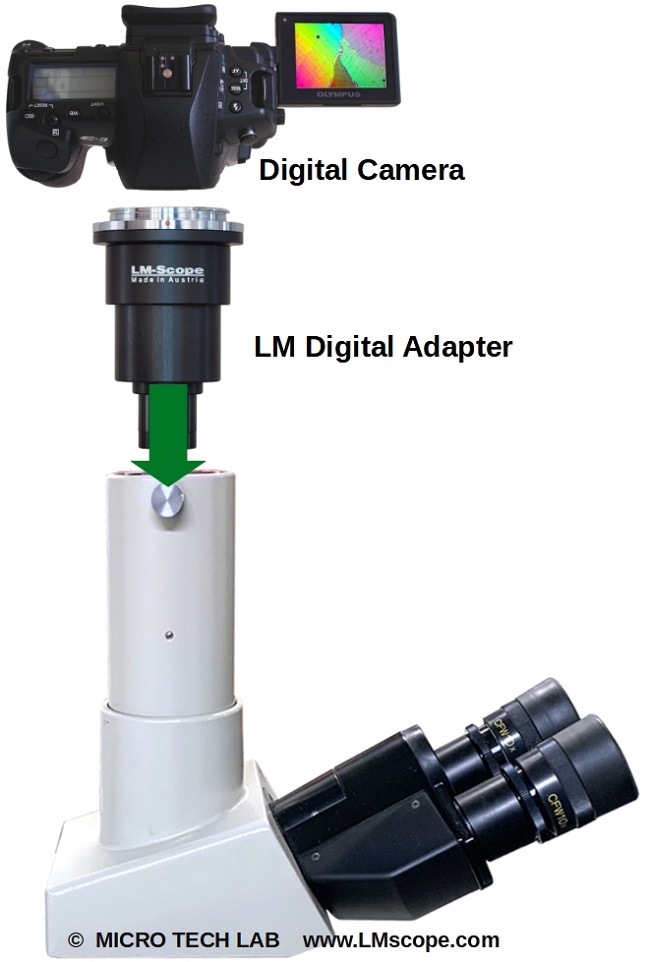 We generally recommend commercially available digital cameras with large (APS-C or full-frame) sensors because they deliver much better image quality than conventional microscope cameras. Another bonus is that they can be controlled remotely from a PC/Mac using the software that is often included for free with the camera. With the image processing tools included in these software packages, you can get the very best out of your shots.
The Labophot and Optiphot series were nearly contemporaries, with the Optiphot being the earlier and more capable of the two. Based on the experience gained with the Optiphot, the Labophot series was improved and features an improved, brighter built-in diascopic illuminator and the ability to adjust the height of the specimen stage.
More information about selecting the camera that is right for you can be found in our camera recommendations and our camera ranking. On request, we will also be happy to advise you individually.

20.05.2022
Photography:
Fitting the microscope to digital single-lens reflex (DSLR), mirrorless interchangeable-lens cameras (MILC ), digital single-lens mirrorless (DSLM) or C-mount cameras is easy with our LM digital SLR adapters, which feature a plan achromatic optical system. Our products make it possible to capture top-quality microscope images. To help you select the adapter that is right for your camera, we have set up an online configurator on our website. You can also email us – ideally with attached photographs of your microscope.
Modern DSLR and single-lens mirrorless (DSLM) offer the latest technology and are generally very well suited for microscopy applications. Most of them can be controlled remotely via PC/Mac. Because of their high sales volumes, they offer an excellent price/performance ratio compared to special-purpose microscope cameras.
Features of top DSLR and single-lens mirrorless cameras (DSLM):
- Large, powerful full-frame sensors (36 x 24 mm)
- Sensor resolution of 61 megapixels or 240 megapixels with Pixel Shift technology
- High light sensitivity (ISO 400,000+)
- Extensive dynamic range (up to 15 aperture stops/f-stops)
- Short exposure times (1/8000 second) up to 1/32,000 seconds using the digital shutter
- 4K Ultra HD or 8K Ultra HD video function
- Live video capture on external monitors in ultra HD quality
In most cases, these cameras are significantly more powerful than microscope cameras with smaller sensors (1/2" or 2/3"). On our website you will find our current camera recommendations and a camera ranking which is specifically tailored to microscopy applications.