379
First-class image quality with current DSLR cameras (fullframe and APS-C sensors) and Nikon Multizoom AZ100
Nikon Multizoom AZ100 reserach microscopes provides a large range of microscopis special methods, as flourescence and Nomarski-DIC.
As standard it is equipped with a c-mount port 0.6x, which has a built-in reducing optics. This is ideally for taking microphotographics with special microscope cameras with small sensors. But unfortunatelly c-mountcameras with small sensor sizes (0,5" and 2/3") are often overwhelmed by the Nikon AZ100's performance capability and can't show all informations on the pictures. We have developed a special LM digital adapter which produces excellent images with high resolution and quality when used with currend DSLR- and systemcameras!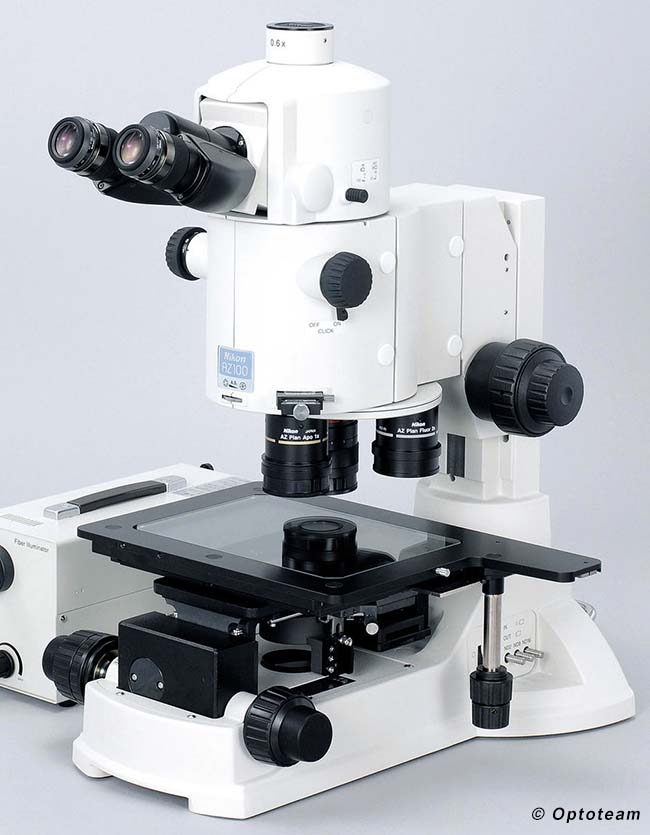 Optical Path: (tele-) centric
Microscope Methods: transmitted light, incident light, Normaski DIC, epi-flourescence
Microscope Stand: Research microscope, no Display
Optics: infinite
Optical Zoom: 8x
Magnification Range: 5 to 500
Focus Adjustment: manually, mechanically (X,Y)
Manual Aperture Diaphragm: yes
Lightsource: LED, halogen, for epi-fluorescence: quicksilver lamp
Objectives: PlanApo, Plan Fluor
Revolving Nosepiece: 3 objectives
Eyepieces: W 10x / 22
Eyepiece tubes: 30mm
Range of Application: Research, inspection, quality control
Weight: 28 kg
Recommended Tubes: AZ-TE80 ergonomic trinocular tube 80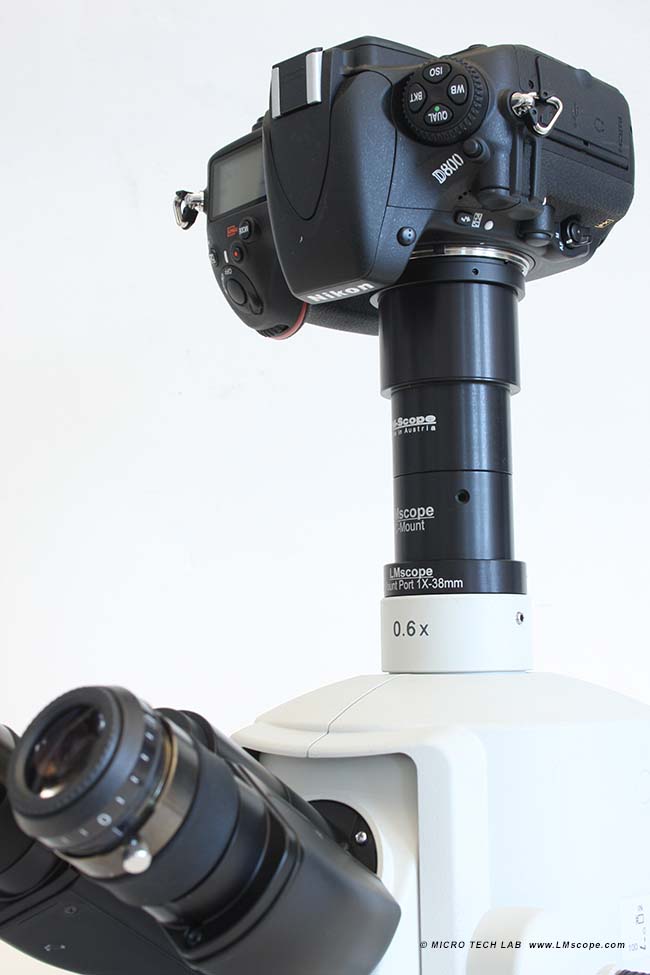 Photography:
Cameras with large sensors (fullframe / Nikon FX) provide more power capabilities. They provide:
high resolution

high dynamic range

short exposure time

high ISO sensibility
All current fullframe cameras, common DSLR- and the new mirrorless system cameras as well as special cameras (as Nikon DS-Ri2) can be used with our LM digital microscope Pro-adapters with the Nikon AZ100 without any restriction concerning image quality.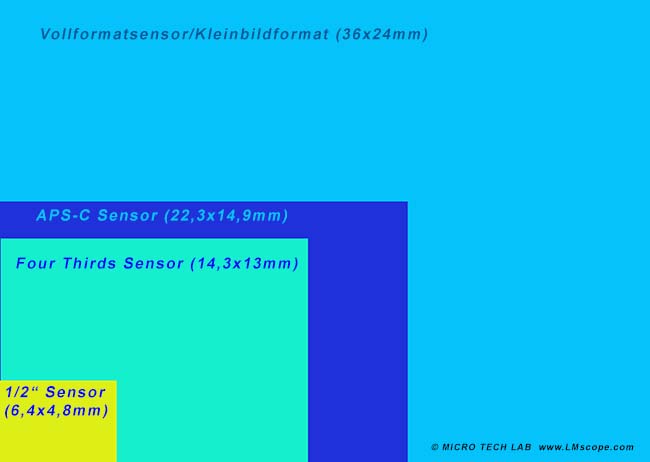 More information about this issue: Homepage.
Our LM digital adapter, especially designed for the Nikon AZ100, provide planachromatic optics and can be mounted on the vertical photo tube. We even offer LM digital adapters for the eyepiece tubes. With LM digital adapters photomicrographs of high quality can be achieved. Detailed informations and prices or our LM adapter solutions can be found via our online-configurator. You are welcome to contact us per e-mail , best sending us images of your microscope
On our website you can find as well our camera recommendation and a cameraranking for microscopic application.
19.02.2016
New LM Digital Adapter for:
Nikon Z9 / Nikon Z8 / Sony Alpha 7R V / Sony Alpha 1 / Sony FX3 Cinema Line / Sony Alpha 9 II (ILCE-9M2) / Sony Alpha 9 / Nikon D6 / Canon EOS R3 / Canon EOS R6 Mark II / Canon EOS R8 / Sony Alpha 7R IV / Canon EOS R5 / Sony Alpha 7S II / Sony Alpha 7S III / Sony Alpha 7R III / Canon EOS R6 / Nikon Z6 / Nikon Z6II / Sony Alpha 7R II / Nikon Z7 / Nikon Z7II / Canon EOS R / Canon EOS Ra (Astro) / Nikon Z5 / Sony Alpha 7C / Canon EOS RP / Sony Alpha 7S / Canon EOS R7 / Leica SL2-S / Canon EOS R10 / Canon EOS 1D X Mark III / Nikon Z50 / Nikon Z30 / Nikon Z fc / Nikon D850 / Canon EOS 1D X Mark II / Nikon D780 / Olympus OM-1 / Sony Alpha 7III / Olympus OM-D E-M1 Mark III / Canon EOS R100 / Sony Alpha 6700 / Nikon D5 / Sony Alpha 6600 / Fujifilm X-H2S / Fujifilm X-S10 / Fujifilm X-E4 / Fujifilm X-Pro3 / Olympus OM-D E-M1X / Sony Alpha 6400 / Sony Alpha 6100 / Sony ZV-E10 / Canon EOS 1D X / Nikon D4s / Olympus OM-D E-M5 III / Canon EOS 90D / Canon EOS 5D Mark IV / Nikon D4 / Nikon D750 / Canon EOS 6D Mark II /