613
Using the Motic SM7 stereo microscope for digital photomicrography
The Motic SM7 stereo microscope was launched in 2020 and features a Galilean optical system based on the working principle of the telescope. Combined with a high-quality plan apo objective, it is a very interesting option for photomicroscopy.
With our LM adapter systems, high-quality modern mirrorless system cameras, DSLRs and also C-mount cameras can be stably attached to the Motic SM7.
Unlike Greenough stereo microscopes, microscopes of the Galilean type are infinity corrected. They only have one single large objective lens which is shared by both optical paths (left and right eye). The observer's brain fuses the two images viewed simultaneously with each eye into a three-dimensional image with high depth of field. Microscopes featuring this design are a much better choice for photomicrography than Greenough-type microscopes.
Key features of the Motic SM7:
Zoom stereo microscope with zoom ratio 7:1, 0.8x to 5.6x
Galileian infinity optical system with common main objective (CMO) design

Plan achromat or plan apochromat objective lenses

Long working distance (distance between front lens and specimen)

LED transmitted & reflected illumination, 3W

Trinocular head with C-mount 1x connector available (Motic product code 1101.0117.00201)

Well suited for digital photomicrography
The quality of the objective plays a particularly important role. Both plan achromats and the higher-quality plan apochromats (1x) are available for the SM7. Objective lenses with a plan apochromatic design provide an image that is almost entirely free from chromatic aberrations.
The SM7 is available with a binocular or trinocular viewing head and is designed for users in the fields of biology, medicine and industry. For the trinocular tube (with a beam split of 80% trinocular/20% eyepieces), a C-mount 1x connector is available (Motic product code 1101.0117.00201). This head is ideal for using our LM adapter solutions with plan achromatic precision optics.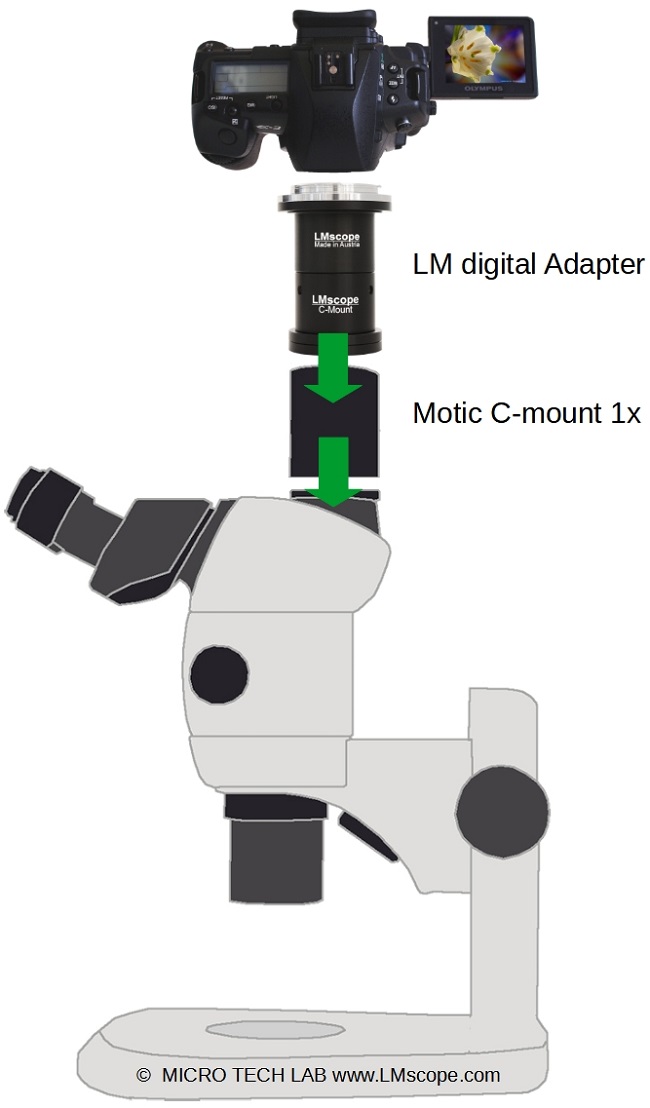 With a 7:1 zoom ratio, the SM7 achieves magnification ranges from 4x to 112x, depending on the lenses used and the microscope's eyepieces.
Working distance (depending on the objective lens)
| Objective | Working distance [mm] |
| --- | --- |
| ACH 1X (Standard Objektiv) | 90mm |
| PLAPO 1X | 81mm |
| ACH 0.5X | 198.5mm |
| ACH 2X | 33.5mm |
The long working distance with standard 1x objectives is particularly advantageous for applications where manual work is required. However, the larger the working distance, the lower the resolution, which in turn impacts the image quality to a certain extent. To maximise resolution at higher magnification levels, we therefore recommend the stronger ACH 2X objective.
For photography through the microscope we generally recommend digital mirrorless system cameras or SLR cameras with large sensors. Due to the excellent quality of the image sensors on these cameras (high dynamic range and light sensitivity, fast shutter speed), they deliver considerably better image quality than cameras with small sensors (C-mount microscope cameras). Especially at lower magnifications, a large, high-quality sensor is definitely an advantage when it comes to making even the smallest details clearly visible in the photograph. More information and useful tips can be found in our camera recommendations and our camera ranking.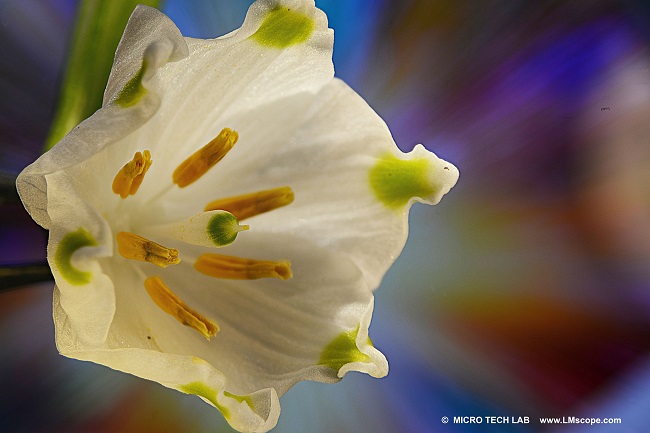 The SM7 stereo microscope has 3W LEDs for both types of illumination (transmitted and reflected light), which can be controlled separately. In photomicroscopy, illumination is a key factor. Flexible light sources help to avoid shadows when taking images. A good way to provide shadow-free illumination is to use gooseneck LED spotlights. For the SM7, an LED ring light is also available as an alternative.
Our "Pro" series LM widefield adapters also accommodate additional optical filters, which means that the Motic SM7 can be upgraded to a polarising microscope, for example. This opens up a whole new field of possibilities for the user.
LM microscope adapters have been developed to meet the most demanding requirements of professional imaging applications and get the maximum image quality out of both microscope and camera.
Adapter features of the "Pro" series microscope adapters:
Widefield optics for maximum field of view without peripheral darkening
Precision optics for superior resolution and light gathering power
Focusable to enable an optical alignment of the eyepiece image with that of the phototube

Modular design facilitating maximum flexibility

Option of adding optical filters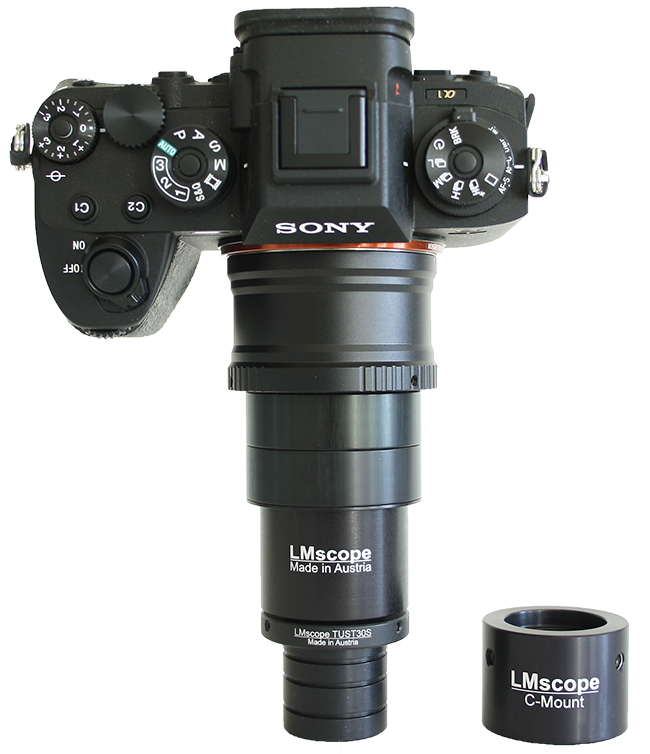 Image: Sony A1 mirrorless system camera with adapter solution for eyepiece tube and C-mount connection
Conclusion: The Motic SM7 microscope is very well built, delivers superior image quality and, combined with our LM microscope adapters, is ideally suited for photomicroscopy. If you're looking for a more budget-friendly alternative, take a closer look at its little brother, the SMZ 171.
28.06.2022
Photography:
Fitting the microscope to digital single-lens reflex (DSLR), mirrorless interchangeable-lens cameras (MILC ), digital single-lens mirrorless (DSLM) or C-mount cameras is easy with our LM digital SLR adapters, which feature a plan achromatic optical system. Our products make it possible to capture top-quality microscope images. To help you select the adapter that is right for your camera, we have set up an online configurator on our website. You can also email us – ideally with attached photographs of your microscope.
Modern DSLR and single-lens mirrorless (DSLM) offer the latest technology and are generally very well suited for microscopy applications. Most of them can be controlled remotely via PC/Mac. Because of their high sales volumes, they offer an excellent price/performance ratio compared to special-purpose microscope cameras.
Features of top DSLR and single-lens mirrorless cameras (DSLM):
- Large, powerful full-frame sensors (36 x 24 mm)
- Sensor resolution of 61 megapixels or 240 megapixels with Pixel Shift technology
- High light sensitivity (ISO 400,000+)
- Extensive dynamic range (up to 15 aperture stops/f-stops)
- Short exposure times (1/8000 second) up to 1/32,000 seconds using the digital shutter
- 4K Ultra HD or 8K Ultra HD video function
- Live video capture on external monitors in ultra HD quality
In most cases, these cameras are significantly more powerful than microscope cameras with smaller sensors (1/2" or 2/3"). On our website you will find our current camera recommendations and a camera ranking which is specifically tailored to microscopy applications.

New LM Digital Adapter for:
Nikon Z9 / Nikon Z8 / Sony Alpha 7R V / Sony Alpha 1 / Sony FX3 Cinema Line / Sony Alpha 9 II (ILCE-9M2) / Sony Alpha 9 / Nikon D6 / Canon EOS R3 / Canon EOS R6 Mark II / Canon EOS R8 / Sony Alpha 7R IV / Canon EOS R5 / Sony Alpha 7S II / Sony Alpha 7S III / Sony Alpha 7R III / Canon EOS R6 / Nikon Z6 / Nikon Z6II / Sony Alpha 7R II / Nikon Z7 / Nikon Z7II / Canon EOS R / Canon EOS Ra (Astro) / Nikon Z5 / Sony Alpha 7C / Canon EOS RP / Sony Alpha 7S / Canon EOS R7 / Leica SL2-S / Canon EOS R10 / Canon EOS 1D X Mark III / Nikon Z50 / Nikon Z30 / Nikon Z fc / Nikon D850 / Canon EOS 1D X Mark II / Nikon D780 / Olympus OM-1 / Sony Alpha 7III / Olympus OM-D E-M1 Mark III / Canon EOS R100 / Sony Alpha 6700 / Nikon D5 / Sony Alpha 6600 / Fujifilm X-H2S / Fujifilm X-S10 / Fujifilm X-E4 / Fujifilm X-Pro3 / Olympus OM-D E-M1X / Sony Alpha 6400 / Sony Alpha 6100 / Sony ZV-E10 / Canon EOS 1D X / Nikon D4s / Olympus OM-D E-M5 III / Canon EOS 90D / Canon EOS 5D Mark IV / Nikon D4 / Nikon D750 / Canon EOS 6D Mark II / Fujifilm X-T4 / Fujifilm X-T3 / Sony Alpha 6300 / Sony Alpha 6500 / Nikon D500 / Nikon D810 / Nikon D800 / Canon EOS M6 Mark II / Nikon D800E / Nikon Df / Panasonic Lumix DC-G9 / Nikon D610 / Nikon D600 / Canon EOS 250D / Canon EOS 850D / Rebel T8i / Canon EOS 6D / Sony Alpha 99 II (SLT-A99 II) / Canon EOS M200 / Canon EOS 5DS R ( without low-pass filter) / Olympus OM-D E-M1 Mark II / Canon EOS 80D / Canon EOS M50 Mark II / Canon EOS 5DS / Canon EOS M50 / Sony Alpha 77 II / Canon EOS 70D / Nikon D7200 / Pentax K-1 Mark II / Canon EOS 200D / Canon EOS 800D / Rebel T7i / Canon EOS 77D / Canon EOS 5D Mark III / Canon EOS 60D / Sony Alpha 7R / Sony Alpha 7 / Nikon DS-Qi2 (Microscope Camera) / Olympus OM-D E-M5 II / Nikon D3x / Olympus OM-D E-M1 / Pentax KP /