312
The laboratory microscope Euromex Oxion tested for use in photomicrography
Can the entry-level laboratory microscope Euromex Oxion be tuned for high-quality photographic work? We were very interested to find an answer to that question, especially since the microscope's price is really attractive and Euromex usually offers products of a reliable quality.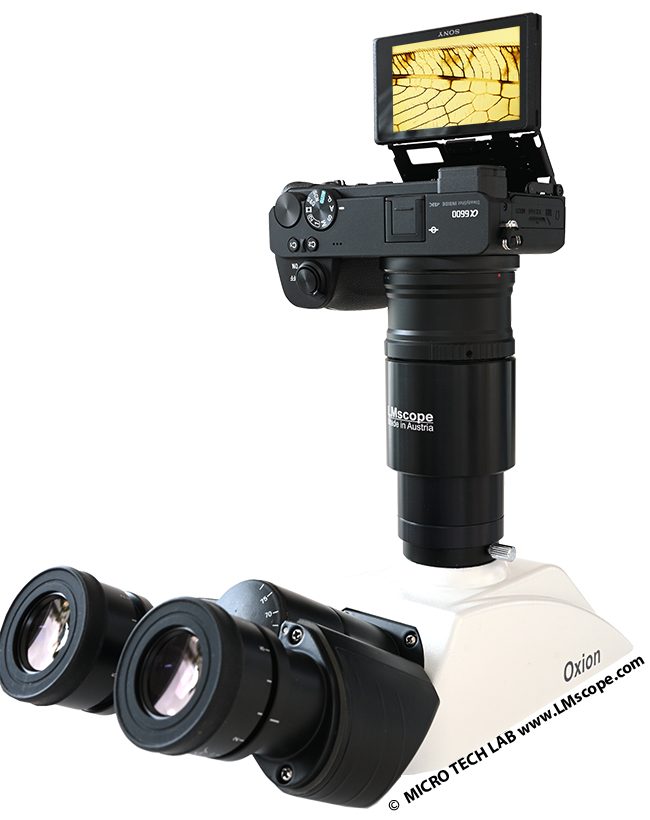 You can already see when setting up the microscope that it is well built. The design is modern and very appealing. Eyepieces of 30 mm internal diameter, for example, are standard on the Euromex Oxion, instead of the smaller 23.2 mm eyepiece tubes. Using the 10x/22 HWF eyepiece thus results in a conveniently large image field.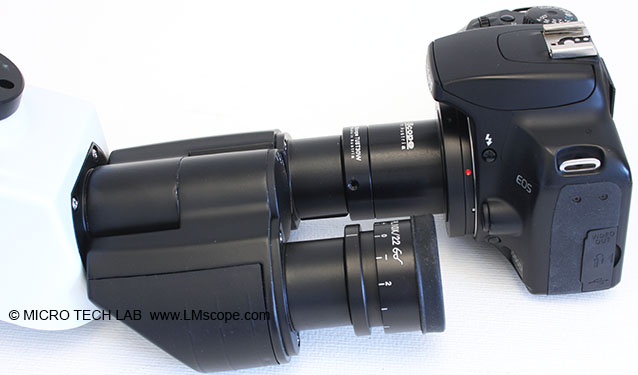 The microscope is available in a trinocular version (with phototube) and in a binocular version (without phototube). Unless you are absolutely sure you won't use it for photography, you should definitely opt for the phototube version. The optical characteristics of the Euromex Oxion are very good, with infinity-corrected lenses.
The Euromex Oxion has a very broad range of applications, making it suitable for phase contrast, dark field, bright field, contrast, polarisation or fluorescence imaging.
If you would also like to take appealing microscope photos, we recommend using a modern digital SLR camera. Cameras that have a smaller sensor (e.g. compact or C-mount cameras) produce a significantly inferior image quality, with lower resolutions and generally dull, blurry images. C-mount cameras have no focal plane shutter, so precise electronic control of the exposure time is impossible. When the image is read from the sensor, it is re-exposed while the information is being read, since there is no cover or shutter that blocks the sensor. That is especially noticeable in the case of moving objects, which cannot usually be captured without blurring. Such problems can be avoided by using a DSLR camera. All advantages of modern DSLR-cameras are described below.
An LM adapter solution is available for both the phototube version and the eyepiece of the microscope. The optical characteristics are equally good in both options, but using the adapter with the phototube is more convenient because you don't have to remove the camera when you want to look through the eyepiece.
Conclusion: You can produce very good photomicrographic images with the Euromex Oxion, especially if you use a modern DSLR camera. The microscope stands out for its optical characteristics, which carries over very well to photography.
Photography:
Fitting the microscope to digital single-lens reflex (DSLR), mirrorless interchangeable-lens cameras (MILC ), digital single-lens mirrorless (DSLM) or C-mount cameras is easy with our LM digital SLR adapters, which feature a plan achromatic optical system. Our products make it possible to capture top-quality microscope images. To help you select the adapter that is right for your camera, we have set up an online configurator on our website. You can also email us – ideally with attached photographs of your microscope.
Modern DSLR and single-lens mirrorless (DSLM) offer the latest technology and are generally very well suited for microscopy applications. Most of them can be controlled remotely via PC/Mac. Because of their high sales volumes, they offer an excellent price/performance ratio compared to special-purpose microscope cameras.
Features of top DSLR and single-lens mirrorless cameras (DSLM):
- Large, powerful full-frame sensors (36 x 24 mm)
- Sensor resolution of 61 megapixels or 240 megapixels with Pixel Shift technology
- High light sensitivity (ISO 400,000+)
- Extensive dynamic range (up to 15 aperture stops/f-stops)
- Short exposure times (1/8000 second) up to 1/32,000 seconds using the digital shutter
- 4K Ultra HD or 8K Ultra HD video function
- Live video capture on external monitors in ultra HD quality
In most cases, these cameras are significantly more powerful than microscope cameras with smaller sensors (1/2" or 2/3"). On our website you will find our current camera recommendations and a camera ranking which is specifically tailored to microscopy applications.

Ordering code

Product description

Price

Price

Available




DD2XZEU24

LM Direct Imager SLR Adapter with special hard anti-reflection coating, plan achromatic optics for Euromex Micoscope with phototube with an inside diameter of 24 mm, with Camera Lens Mount



Operating Instructions0
Data Sheet1

For EU (European Union) VAT (IVA, TVA) not included
New LM Digital Adapter for:
Nikon Z9 / Sony Alpha 7R V / Sony Alpha 1 / Sony FX3 Cinema Line / Sony Alpha 9 II (ILCE-9M2) / Sony Alpha 9 / Nikon D6 / Canon EOS R3 / Canon EOS R6 Mark II / Canon EOS R8 / Sony Alpha 7R IV / Canon EOS R5 / Sony Alpha 7S II / Sony Alpha 7S III / Sony Alpha 7R III / Canon EOS R6 / Nikon Z6 / Nikon Z6II / Sony Alpha 7R II / Nikon Z7 / Nikon Z7II /