294
Canon EOS-1D X
At long last it is time for us to submit our hotly anticipated test report on Canon's professional DSLR EOS-1D X camera. Since its market introduction in April 2012, it has been number 1 in our camera ranking, with a lead of 2,000 points over its comparable competitor model, the Nikon D4. We have now taken a closer look at the Canon EOS-1D X and, as always, have focussed particularly on the camera's suitability for microscopy.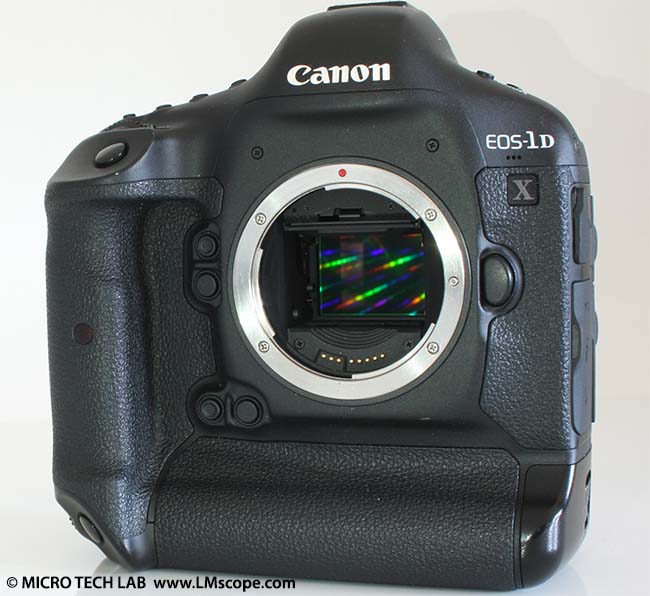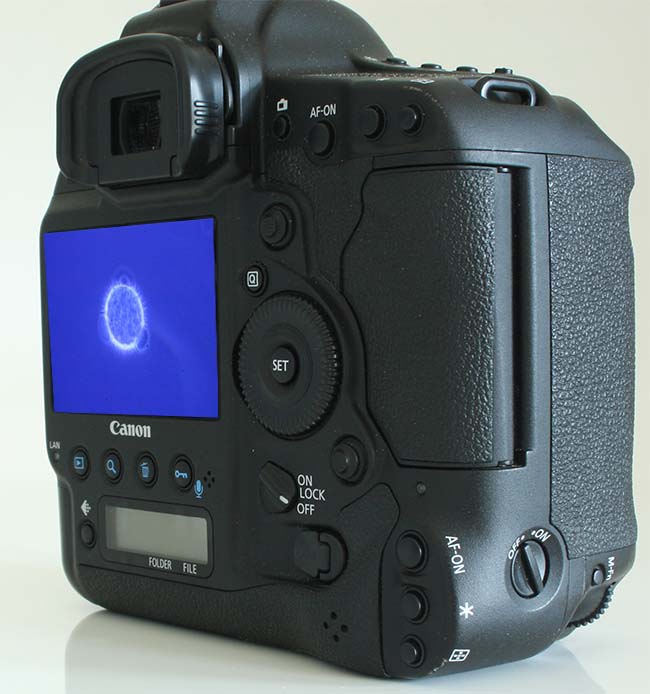 It is apparent from the very first glance that the Canon EOS-1D X is a weighty instrument. In terms of shape it is very similar to the Nikon D4, but that is no surprise considering that they both need to satisfy the same requirements. In view of its heavy weight (the body alone is a hefty 1.5 kg), once again we are very happy that we can attach the camera to a microscope and do not need to exert our muscles! The housing is made from a magnesium alloy and is, of course, manufactured to a highly sophisticated standard. The camera is designed for continuous operation, which is another reason for its heavy weight, as it requires thermal reserves. Otherwise, unlimited use of the Live View mode would not be possible, as the sensor would become too hot.
The rear of the camera has a very clear layout. Some controls are duplicated so that they can be easily operated in both portrait and landscape format. There are also two displays, which can even be lit at the push of a button when it is dark. At 3.2" (720 x 480 pixels), the monitor size is very large in comparison to other cameras. It is also interesting that Canon guarantees a shutter life expectancy of 400,000 exposures. We found both joysticks rather difficult to control. One slight criticism is that the camera does not have a rotating display, but then again, neither does the Nikon D4. It would seem that the main target group for this camera does not need one. And the fact of the matter is that if you operate the camera from your computer, then you don't need one in microscopy or macroscopy either.
In the design of the full frame sensor, the emphasis has been placed on high speed and a high signal-to-noise ratio. The sensor is only 18.1 megapixels, but it delivers low-noise, sharp images with natural colour reproduction. Since the sensor only has a limited number of megapixels, these are especially large and can therefore capture more light, which in turn supports higher ISO numbers. This makes the camera suitable for documenting moving objects and for use in poor light conditions, such as in fluorescence microscopy.
According to Canon, the Canon EOS-1D X is only sold through Canon professional dealers and currently costs around € 6,100 (body only).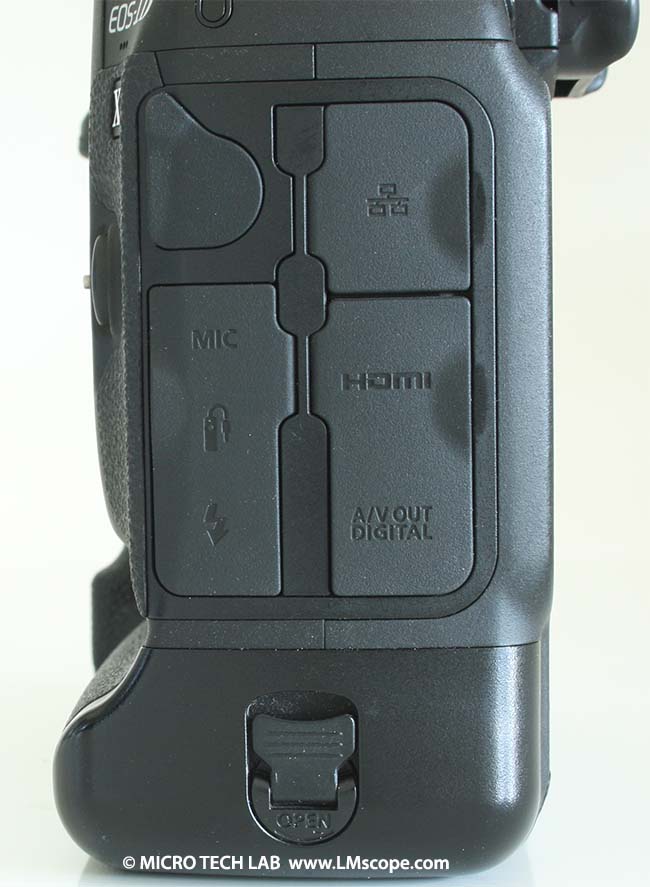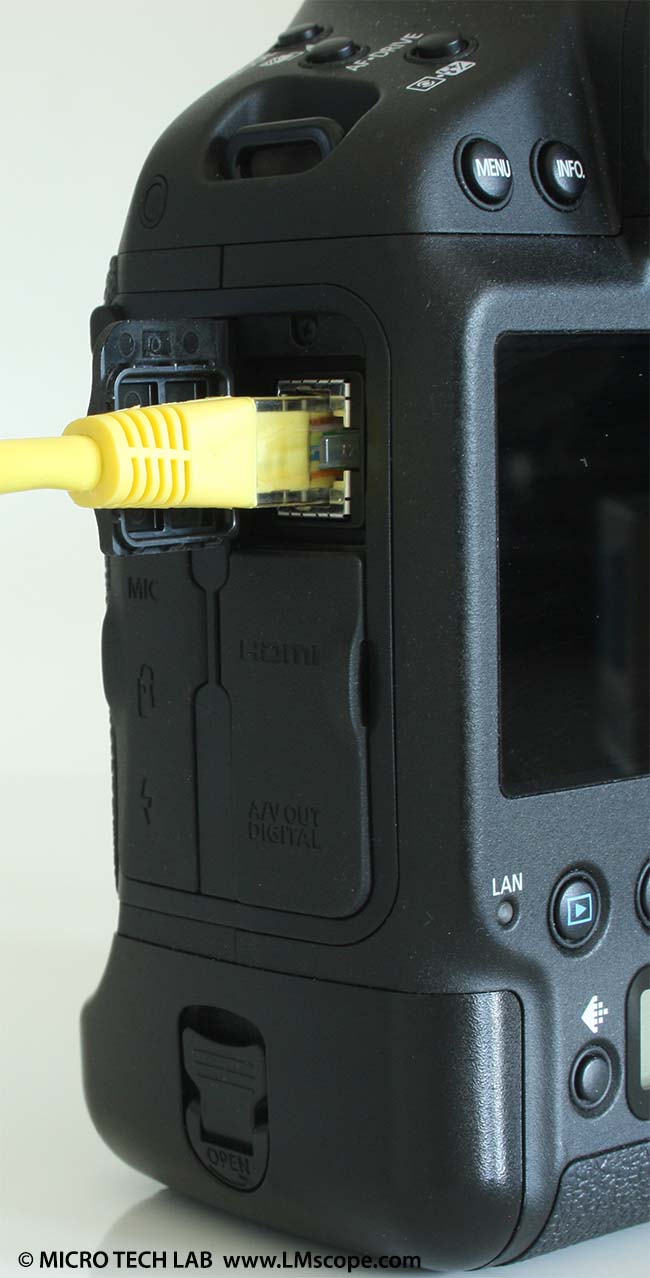 The terminals are located on the side of the camera. The Canon EOS-1D X has a network terminal (LAN cable) and, of course, also an HDMI terminal. Furthermore, it features a USB terminal and, as an alternative, also connects to a traditional AV cable (in stereo sound). For studio use, there are also flash synch and remote control sockets.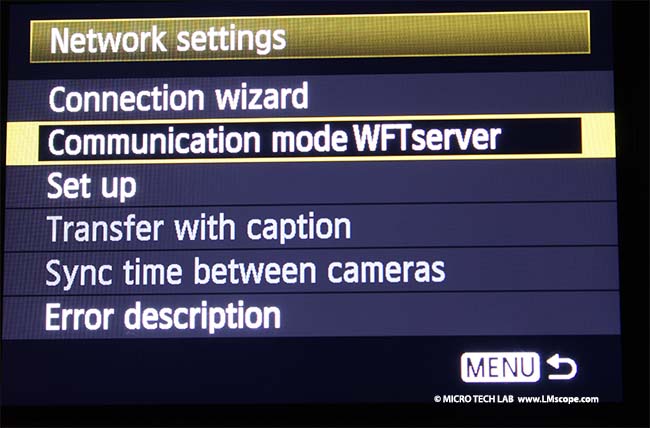 Additionally, the camera has an Ethernet port, which makes it possible to use the remote shooting function via the network with the Canon EOS Utility. The Ethernet port can also be used to save captured images directly to a server.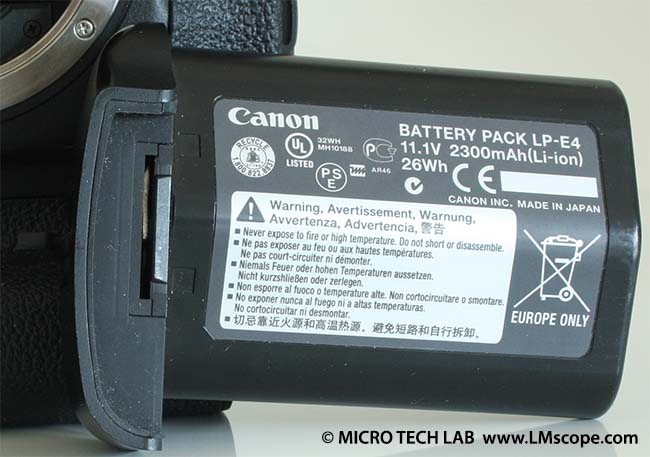 The battery is very large (26 Wh), and the charger that comes with the camera is able to charge two batteries simultaneously and also shows the residual charging time, both of which are very useful features. For our purposes, however, it would be better if the battery were a little smaller and lighter. When using the camera in a studio, it is sensible to have a mains power supply. The Canon EOS-1D X has two CompactFlash card slots, which means that there is plenty of memory capacity available. In the menu, the user can control how the memory cards are used (for example sequentially or in parallel). Unfortunately, it is not possible to use SD or XQD cards.
For our series of tests we used a Zeiss Axioskop microscope. We connected the Canon EOS-1D X to the phototube of the microscope with an Interface44, an LM TUST37C and an LM DSLRCFTC_Pro wide-field adapter.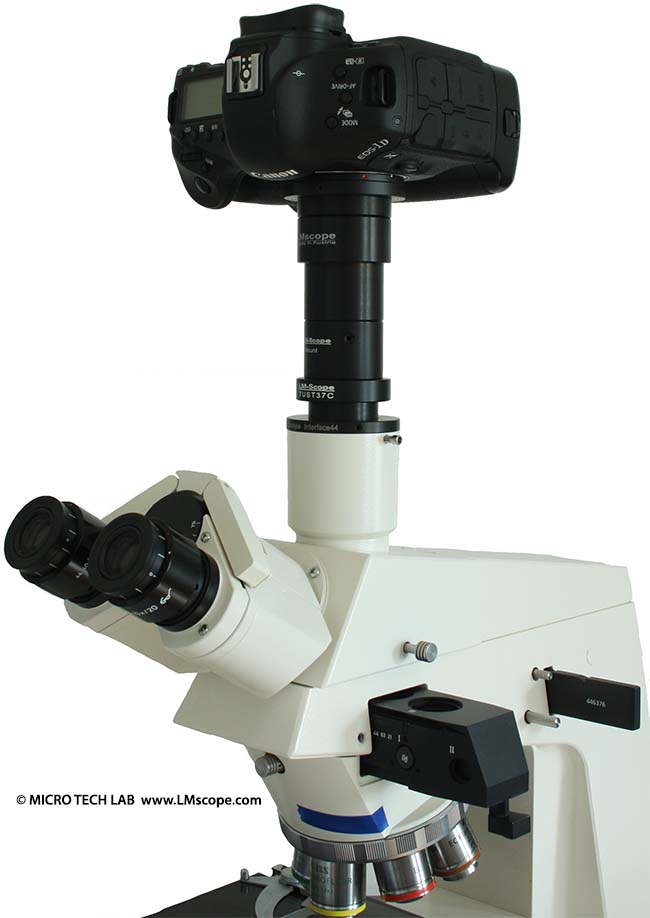 We do not recommend that you attach the Canon EOS-1D X to the eyepiece tube due to its heavy weight. This could result in an unfavourable lever action on the eyepiece tube, which might cause damage.
We used the following firmware: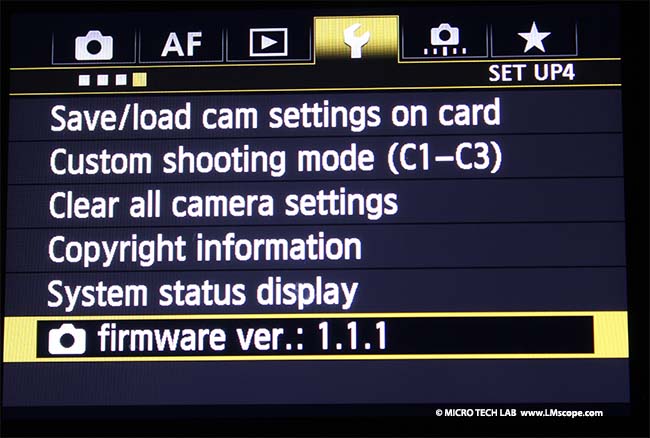 The Canon EOS-1D is designed for highly ambitious photographers, for which reason there is also no program selector dial. However, automatic program, shutter priority and aperture priority control as well as manual exposure are available. The camera offers many possibilities to individually adjust the settings depending on the user's requirements. The manual ISO range can, for example, be set between 50 and 204,800, and even the minimum and maximum settings of the automatic ISO range can be controlled (100 to 51,200). While the Nikon D4 also has an ISO range of 204,800 in manual mode, in automatic mode it only goes up to 12,800, which is why it has 2,000 fewer points than the Canon EOS-1D X in our ranking.
The colour depth of the camera is 42 bits. The Canon EOS-1D X is identical to the Nikon D4 in terms of both ISO sensitivity and colour depth.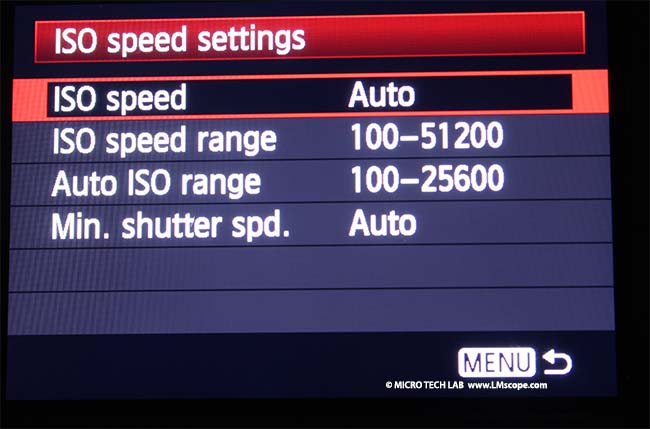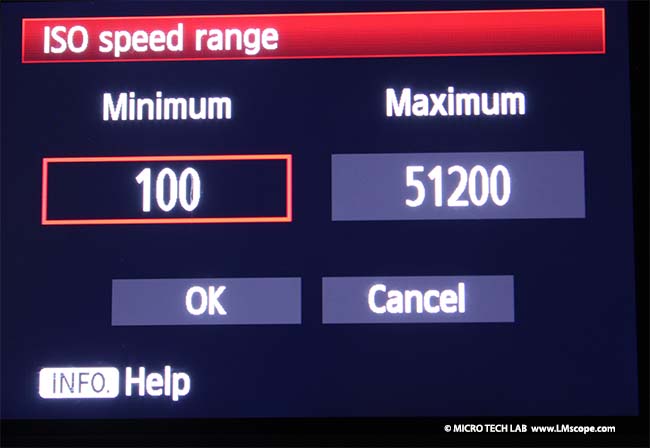 Particularly at higher ISO speeds, it is worthwhile using the noise reduction feature.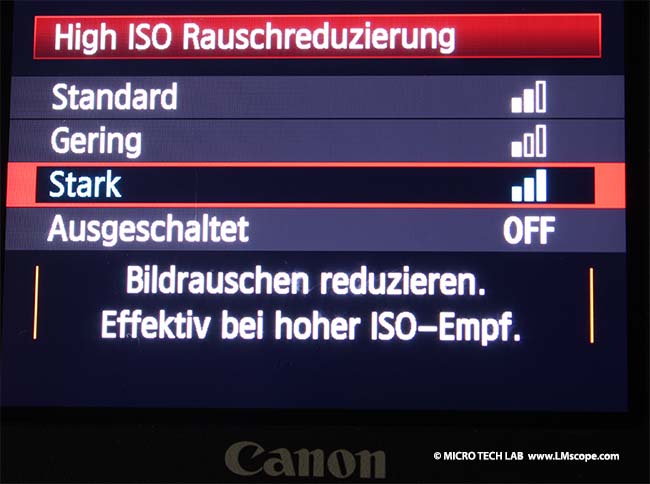 To save battery power, it is also possible to set the length of time after which the camera will automatically turn of if it is idle.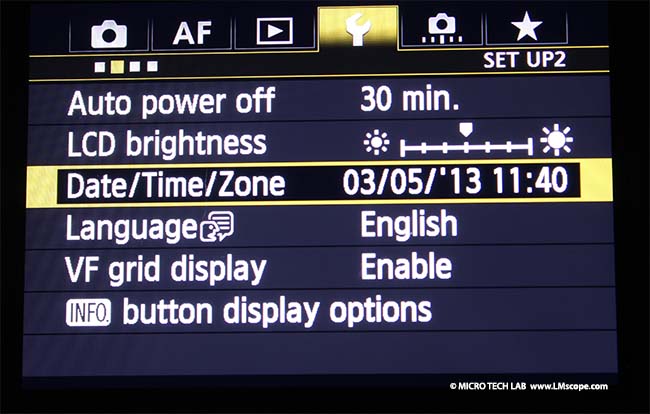 To prevent troublesome vibrations that may lead to blurred, unfocussed images, the user can select a quiet mode (Canon calls this "silent shooting").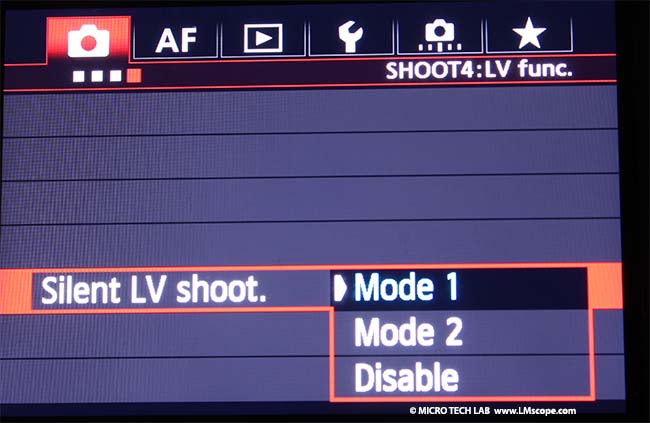 The Canon EOS-1D X is a lot of fun to work with. Another great feature is that, as with the Nikon D4, the Live View time is not limited. This is especially useful for presentations and lectures. The camera is also unbelievably fast; it shoots as quickly as a machine gun and also makes a similar noise, which can, however, be significantly reduced by using the mirror lockup function. If the mirror is folded up, the camera shoots even more quickly and with fewer vibrations. It is therefore possible to shoot continuously at speeds of up to 14 frames/second if the mirror is folded up. We compared the shortest possible exposure times of several cameras with one another: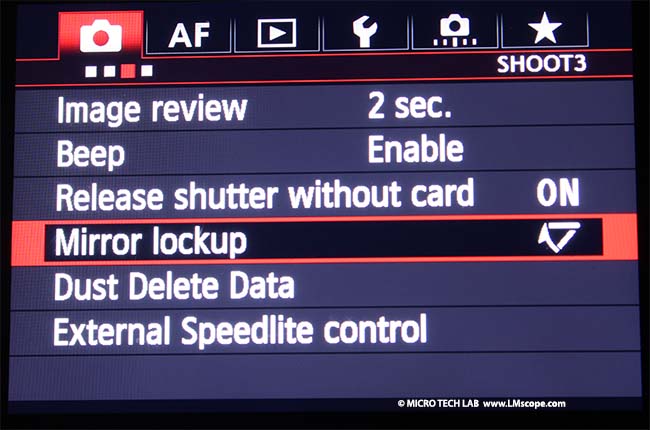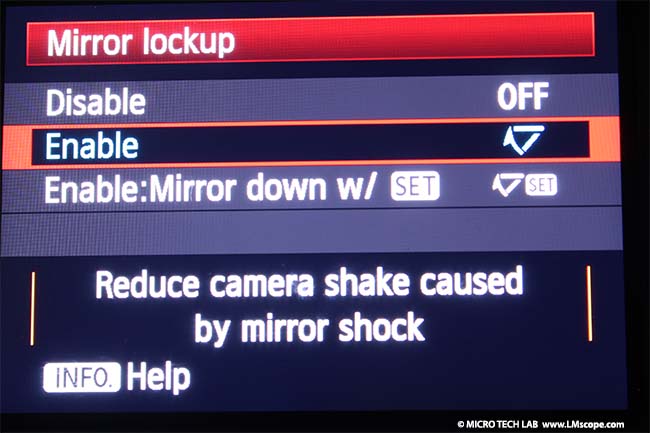 The continuous shooting function is very efficient. The user can select between two speed levels: at "high speed" 12 images per second are possible, while 3 images per second can be taken at "low speed". The maximum possible number of consecutive shots is limited to 99.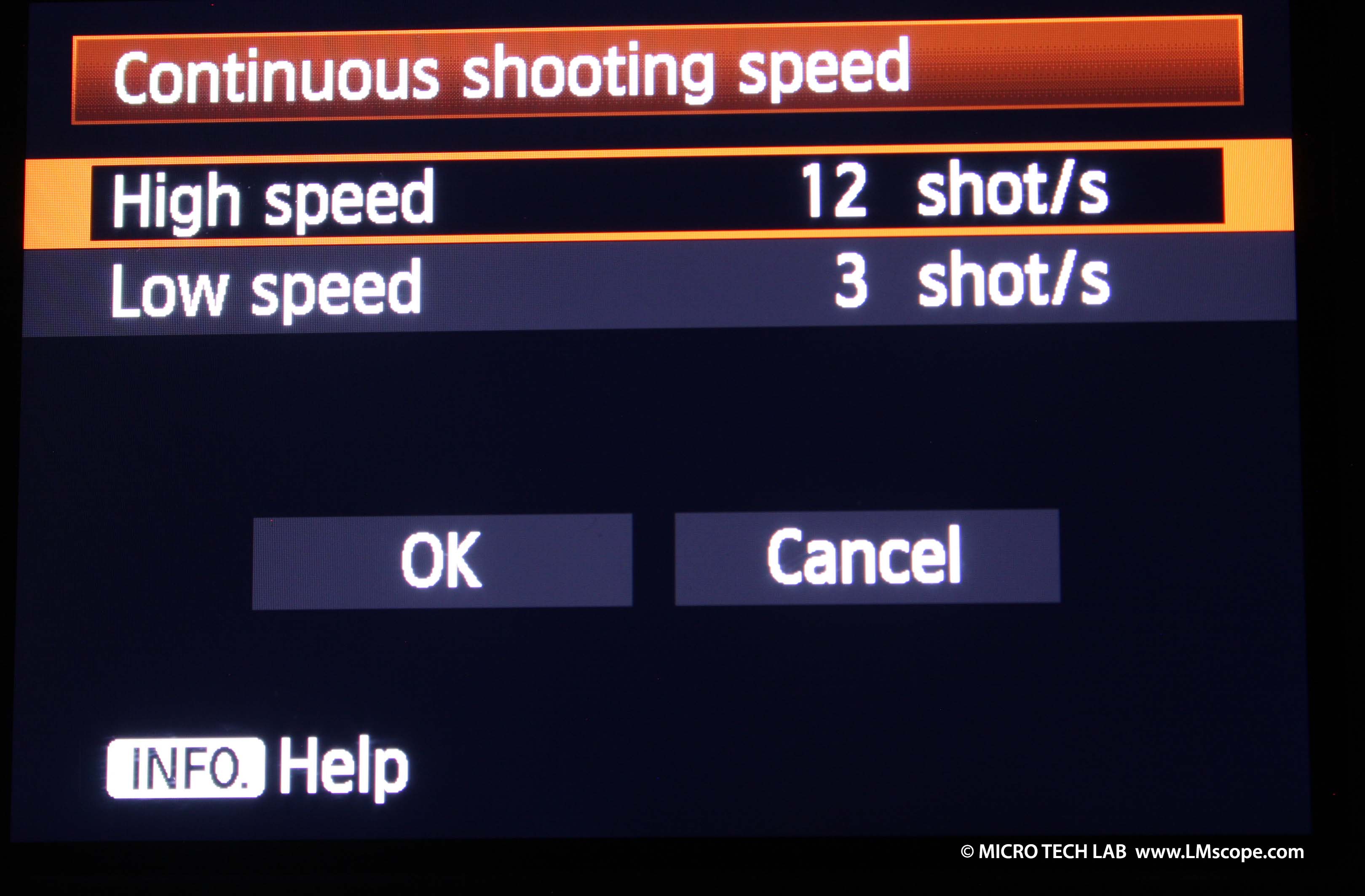 The camera is able to show off all of its strong points in studio operation if the Canon EOS Utility software program is used to control it.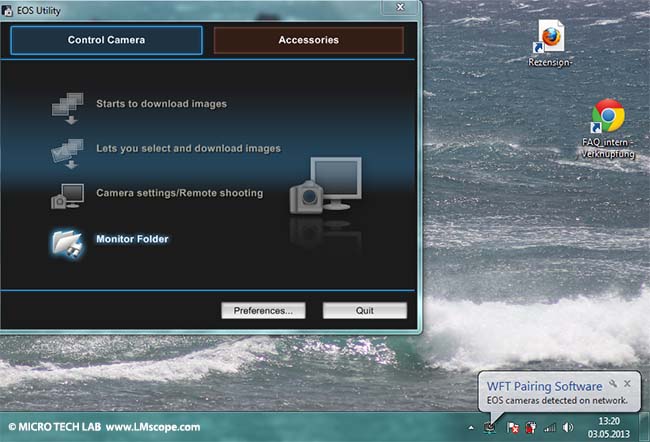 Conclusion: This camera impressed us: it really is a top-class piece of equipment. Of course, however, it is overdimensioned for standard microscopy purposes, both in terms of size and price. Due to its heavy weight, the microscope used also needs to be correspondingly heavy and solid. It is extremely quick, offers unlimited use of the Live View mode and delivers very good, low-noise photos. It is able to show off its strengths especially well with moving objects (such as native sperm, water samples, microorganisms, etc.) and with applications in very poor light conditions, such as in fluorescence microscopy. In any case it is one of our favourite cameras and if you can afford the price tag, then you really should consider purchasing one.
27.06.2013
New LM Digital Adapter for:
Canon EOS R6 Mark II / Canon EOS R8 / Canon EOS R5 / Canon EOS R6 / Canon EOS R / Canon EOS Ra (Astro) / Canon EOS RP / Canon EOS R7 / Canon EOS R10 / Canon EOS 1D X Mark III / Canon EOS 1D X Mark II / Canon EOS 1D X / Canon EOS 90D / Canon EOS 5D Mark IV / Canon EOS 6D Mark II /