629
LM universal widefield adapter with C-mount connection for Zeiss microscopes with trinocular phototube (52 mm external thread)
The adapter solution is equipped integrated widefield precision optics. A standardised C-mount 1x connector (without built-in optics) on the Zeiss microscope is the basis for the LM universal widefield adapter. The adapter, which is highly versatile, simply needs to be attached to this C-mount connector and is immediately ready to use. If you don't have a suitable C-mount 1x connector, we are able to provide you with one.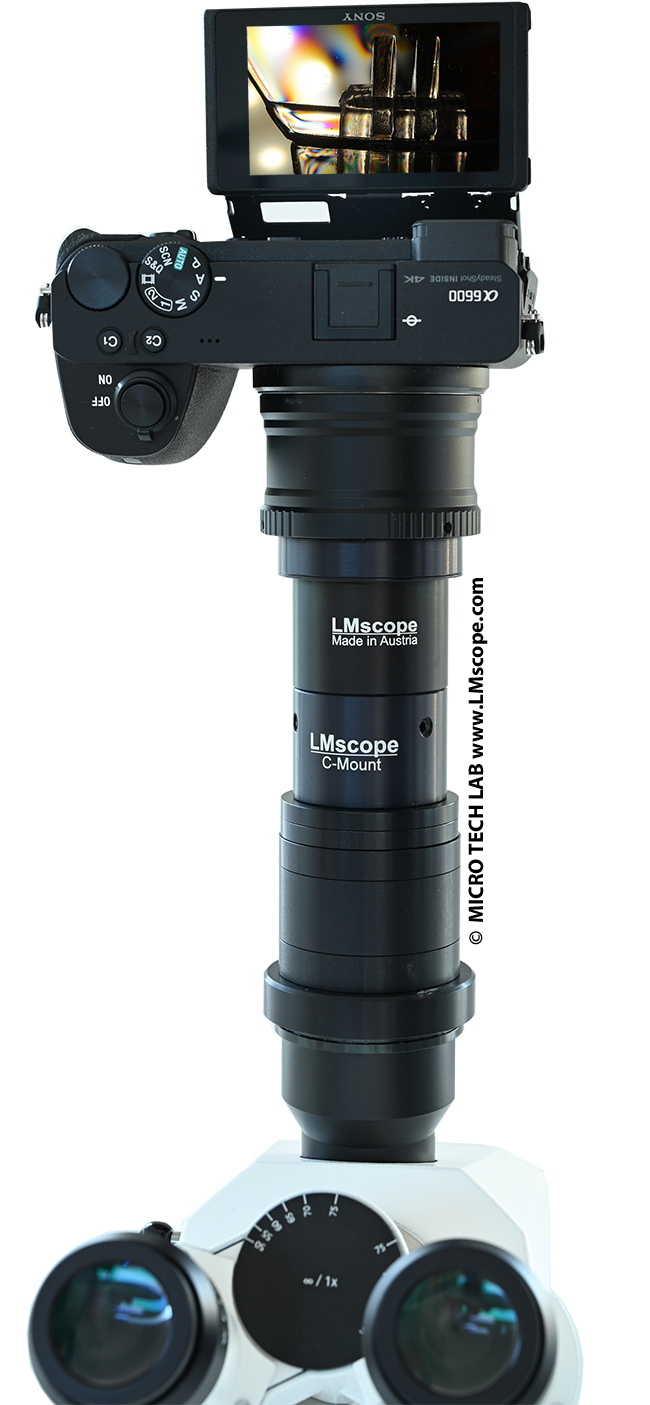 The LM widefield adapter with plan achromatic precision optics has been designed for professional use and is compatible with nearly all commercially available microscopes. The adapter can be focused to match the focus of the image observed through the eyepiece with that of the image the camera sees through the phototube. Thanks to its modular design, the adapter is highly versatile and can be used on either the phototube of the microscope or in place of one of the eyepieces. The adapters of our "Pro" series are equipped with high-quality widefield optics, which enable the camera to capture a large field of view without any peripheral darkening. The LM widefield adapter comes in different versions, depending on the sensor format of the camera. We offer a wide range of accessories for image optimisation, such as microscope connectors and diaphragms, which provide increases in depth of field and resolution.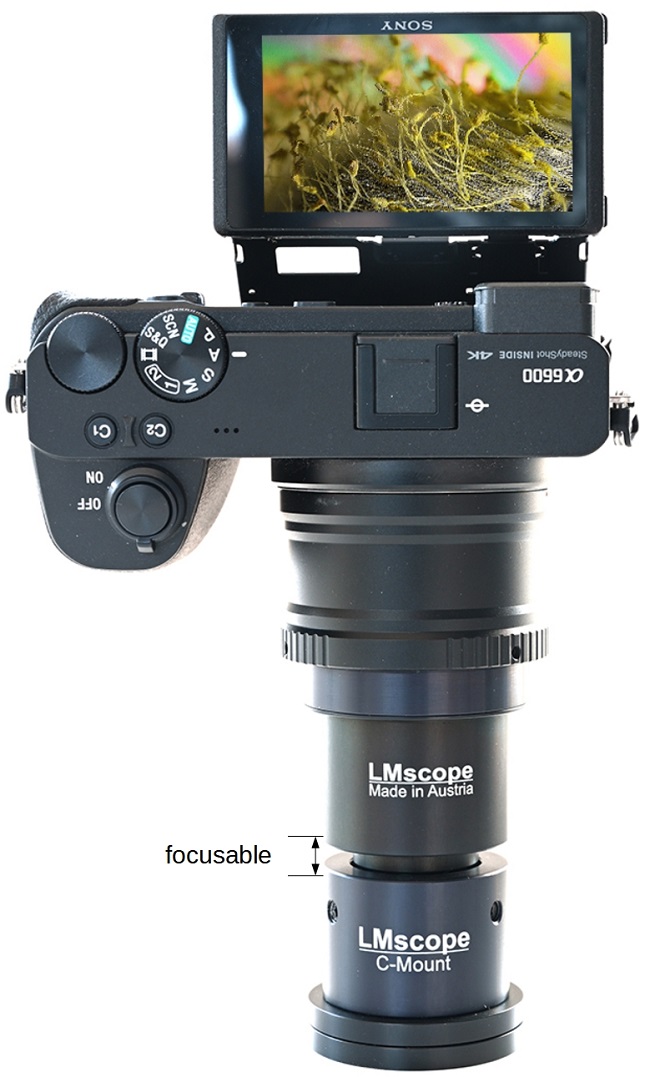 Demo photo using an LM adapter with integrated polarisation filter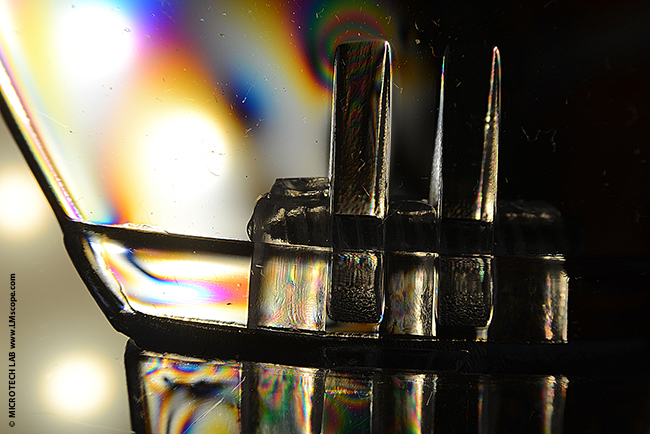 Our adapter can be attached directly to the C-mount 1x connector. If this part is not available, we can also offer our modular LM C-mount 1x connector for Zeiss microscopes with 52 mm external thread phototubes.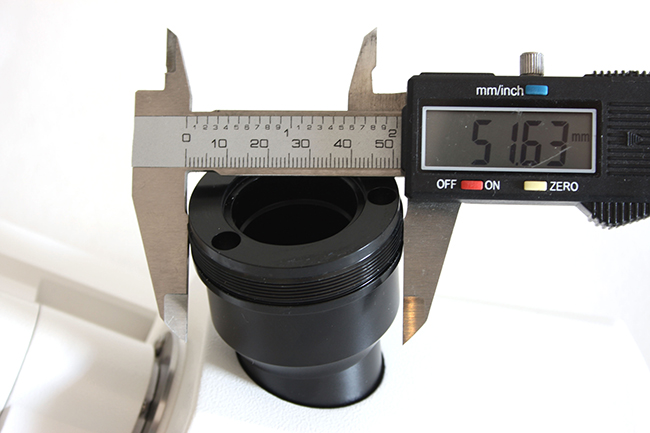 Due to its modular build, the C-mount 1x adapter is highly versatile, and it also accommodates a range of additional accessories. The adapter comes with a filter holder with a 37 mm internal thread as standard, which offers the option of adding a variety of optical filters (polarising filters, UV filters, grey filters, etc.) for image optimisation.
Example application and setup of an LM C-mount 1x connector with circular polarising filter: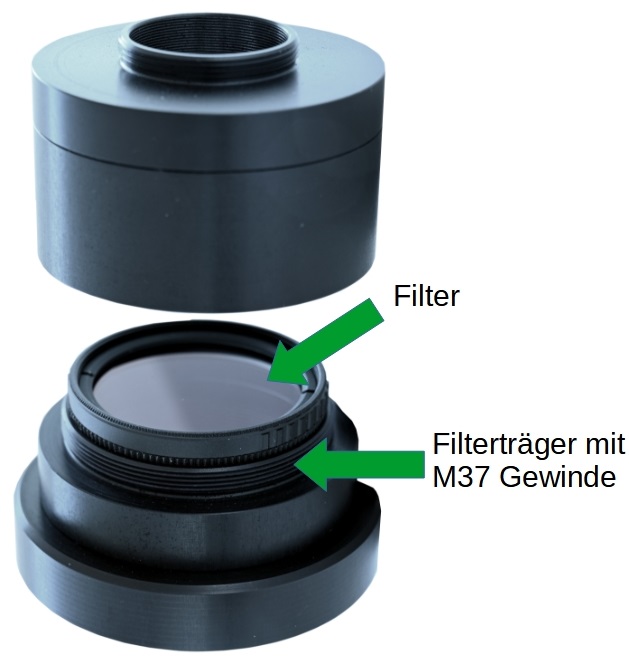 Below: LM C-mount 1x adapter plus polarising filter attached to the phototube: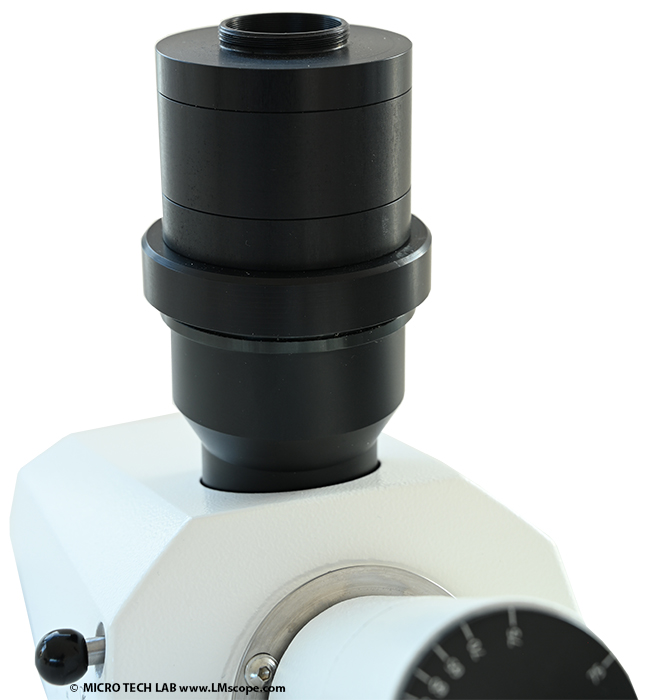 Summary: Advantages of LM "Pro" series digital adapters with C-mount connection:
Integrated widefield precision optics
Maximum image quality and large field of view without peripheral darkening

Focusable: the image observed through the eyepiece can be aligned with that of the phototube

Modular design for maximum versatility and adaptability

Optional use on eyepiece tube or phototube

Can be used on many microscopes (some accessory parts are required)
As an alternative to this focusable "Pro" universal solution, we can also offer a compact LM direct special adapter solution.
21.03.2023
Photography:
Fitting the microscope to digital single-lens reflex (DSLR), mirrorless interchangeable-lens cameras (MILC ), digital single-lens mirrorless (DSLM) or C-mount cameras is easy with our LM digital SLR adapters, which feature a plan achromatic optical system. Our products make it possible to capture top-quality microscope images. To help you select the adapter that is right for your camera, we have set up an online configurator on our website. You can also email us – ideally with attached photographs of your microscope.
Modern DSLR and single-lens mirrorless (DSLM) offer the latest technology and are generally very well suited for microscopy applications. Most of them can be controlled remotely via PC/Mac. Because of their high sales volumes, they offer an excellent price/performance ratio compared to special-purpose microscope cameras.
Features of top DSLR and single-lens mirrorless cameras (DSLM):
- Large, powerful full-frame sensors (36 x 24 mm)
- Sensor resolution of 61 megapixels or 240 megapixels with Pixel Shift technology
- High light sensitivity (ISO 400,000+)
- Extensive dynamic range (up to 15 aperture stops/f-stops)
- Short exposure times (1/8000 second) up to 1/32,000 seconds using the digital shutter
- 4K Ultra HD or 8K Ultra HD video function
- Live video capture on external monitors in ultra HD quality
In most cases, these cameras are significantly more powerful than microscope cameras with smaller sensors (1/2" or 2/3"). On our website you will find our current camera recommendations and a camera ranking which is specifically tailored to microscopy applications.