634
A professional, focusable direct image microscope-camera adapter provides a customised solution for modern Olympus microscopes
In microscopy, cameras with large sensors – such as mirrorless system cameras, DSLR cameras, special-purpose microscope cameras or high-speed cameras – are increasingly used for demanding imaging tasks. Their large sensors produce excellent image quality. With our adapter solutions, you can maximise your camera's potential on Olympus microscopes with 42 mm internal diameter phototubes.


Olympus microscopes are generally robust, high-quality instruments. The LM direct image adapter DD2XZ42VAR presented on this page has been specially developed for modern Olympus microscopes with 42 mm internal diameter phototubes. Like all our products, the LM direct image adapter is equipped with high-quality precision optics and offers optical excellence and high light gathering power thanks to the large lens diameter.
The modular design has another advantage: the adapter can be focused to match the focus of the digital image to the image seen through the eyepieces.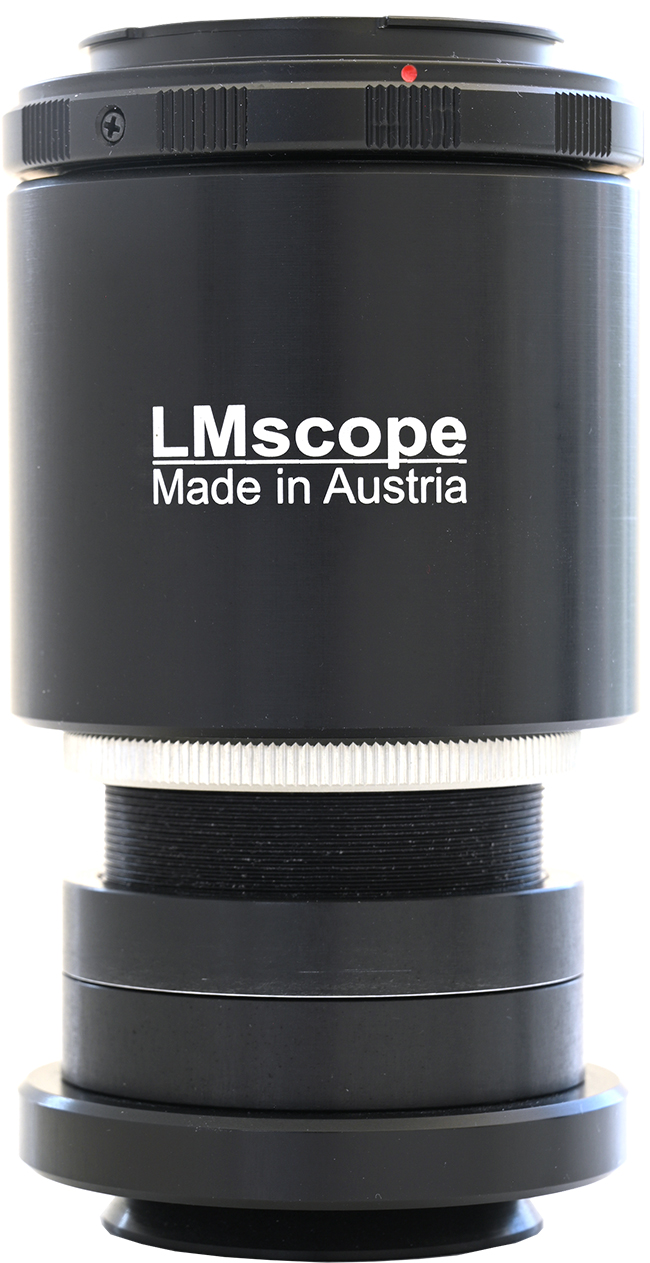 Advantages of the LM direct image SLR adapter:
Integrated precision optics for superior image quality

Focusable: the adapter enables an optical alignment of the image observed through the eyepieces with the image the camera sees through the phototube

Large field of view without peripheral darkening

Compact, low-profile design

High light-gathering power
The adapter has been designed for professional use and features a compact, short design. It delivers excellent image quality, is sturdily built and weighs about 350 grams.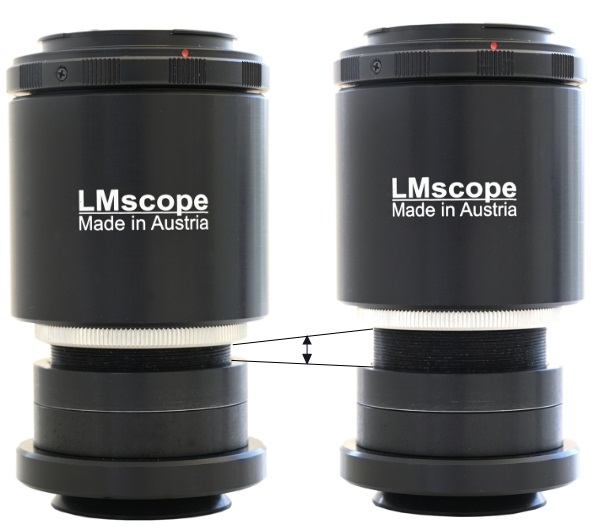 Image: Focusable Direct Image Microscope Camera Adapter
We recommend the LM direct image adapter for sensor formats ranging from full-frame (36 mm x 24 mm) to APS-C and Micro Four Thirds (MFT/µFT). With a full-frame camera, the largest possible FOV (100%) can be obtained, while the FOV is slightly smaller (70%) with an APS-C sensor camera.
Comparison of FOV size: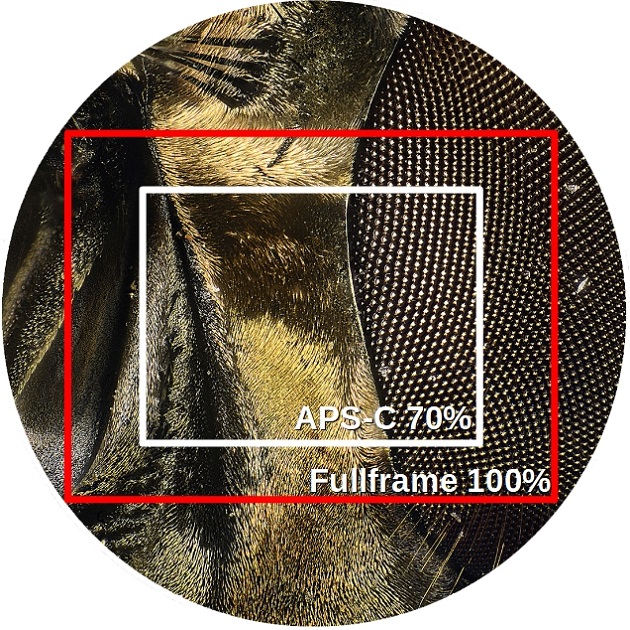 Thanks to its modular design, switching to another camera brand is very easy – the only thing that needs to be changed out is the bayonet adapter.
This special adapter is compatible with the following Olympus microscopes, among others:
AX70

​CKX31, CKX41

​CX 21, CX40, ​CX41

​BX 40, BX41, ​BX45, BX50, ​BX51, ​BX52, BX 61

​FV1000

​IX50 / IX70

​IX51 / IX71 / IX81

​SZX2, ​SZX7, ​SZX9, ​SZX10, ​SZX12, ​SZX16
31.05.2023
Ordering code

Product description

Price

Price

Available




DD2XZ42VAR

Focusable LM Direct Imager SLR Adapter with special hard anti-reflection coating, plan achromatic optics for Olympus microscopes with phototube with an inside diameter of 42 mm, with Camera Lens Mount



Operating Instructions0
Data Sheet1

For EU (European Union) VAT (IVA, TVA) not included
New LM Digital Adapter for:
Nikon Z9 / Nikon Z8 / Sony Alpha 7R V / Sony Alpha 1 / Sony FX3 Cinema Line / Sony Alpha 9 II (ILCE-9M2) / Sony Alpha 9 / Nikon D6 / Canon EOS R3 / Canon EOS R6 Mark II / Canon EOS R8 / Sony Alpha 7R IV / Canon EOS R5 / Sony Alpha 7S II / Sony Alpha 7S III / Sony Alpha 7R III / Canon EOS R6 / Nikon Z6 / Nikon Z6II / Sony Alpha 7R II / Nikon Z7 / Nikon Z7II / Canon EOS R / Canon EOS Ra (Astro) / Nikon Z5 / Sony Alpha 7C / Canon EOS RP / Sony Alpha 7S / Canon EOS R7 / Leica SL2-S / Canon EOS R10 / Canon EOS 1D X Mark III / Nikon Z50 / Nikon Z30 / Nikon Z fc / Nikon D850 / Canon EOS 1D X Mark II / Nikon D780 / Olympus OM-1 / Sony Alpha 7III / Olympus OM-D E-M1 Mark III / Canon EOS R100 / Sony Alpha 6700 / Nikon D5 / Sony Alpha 6600 / Fujifilm X-H2S / Fujifilm X-S10 / Fujifilm X-E4 / Fujifilm X-Pro3 / Olympus OM-D E-M1X / Sony Alpha 6400 /