630
Attaching top-notch digital cameras to the Nikon Eclipse Ei with LM microscope adapters
Modern mirrorless system cameras, SLR cameras, high-speed cameras, fluorescence cameras or C-mount microscope cameras – all of them with large sensors – are able to capture the full potential of this affordable educational microscope. Our LM microscope adapters with built-in optics ensure optimal field-of-view adjustment and deliver the best image quality possible.
The Nikon Eclipse Ei is an educational microscope for students and novice users. It features an infinity optical system and is well suited for producing striking photos and video recordings of microscopic images. This upright laboratory microscope was placed on the market in 2020 and is available at a price starting at EUR 1,300. Weighing in at 5.5 kilograms, its solid craftsmanship and ergonomic design allow for comfortable work over extended periods of time in research and educational environments. Illumination is provided by an infinitely adjustable LED light source.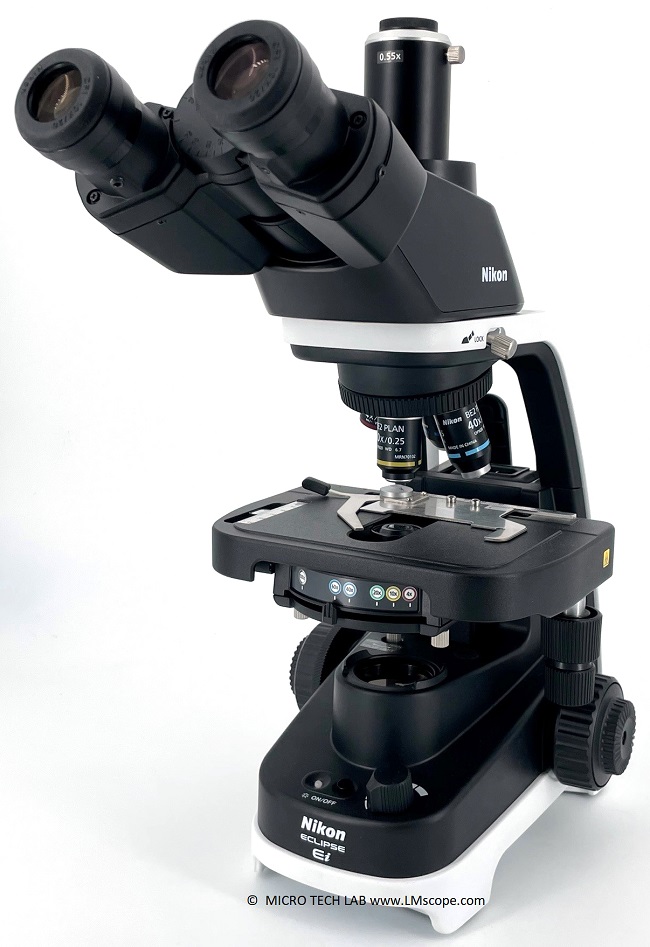 The Nikon Eclipse Ei is equipped with a reversed-type quadruple nosepiece. A series of plan achromat objectives with RMS thread and magnifications ranging from 4x to 100x (oil) is offered specifically for this microscope. The 4x objective provides a maximum working distance of 25 mm. The lever positions of the manual aperture are colour-coded and matching the objectives, enabling novice users to intuitively set the best aperture at any given time. The conventional microscope objectives of the Nikon Eclipse series are not compatible with the Eclipse Ei due to its compact design.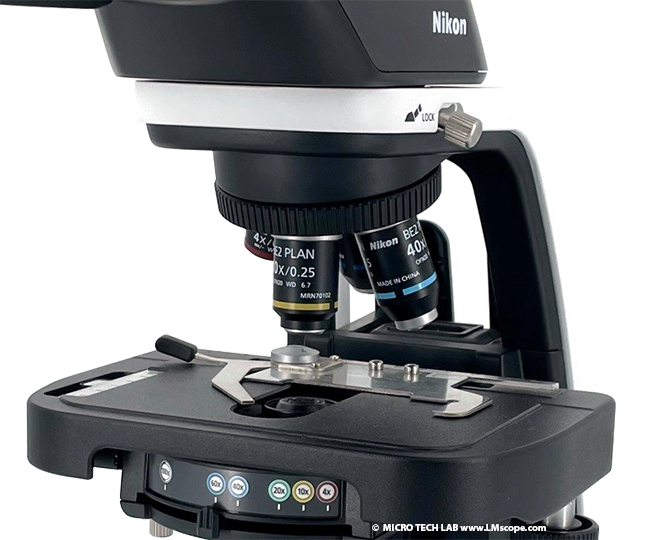 For microscope photography, we recommend using the trinocular version with phototube (EC-T-TF tube, 0.55x) and standardised C-mount connection. The LMscope adapter solution with built-in optics is attached to this C-mount. We recommend camera systems with large sensors, such as full-frame microscope cameras, DSLRs or modern mirrorless system cameras. These cameras offer high image quality and an excellent price-performance ratio. In addition, they can usually be controlled remotely from a computer in Live View. Nikon itself also offers high-quality microscope cameras with large sensors (Nikon DS-Ri2, Digital Sight 10, DS-Qi2) in its lineup.
The eyepiece tubes are equipped with standard eyepieces (30 mm external diameter). If you have the binocular version of the Eclipse Ei, you can use our LM adapter solution for eyepiece tubes to attach a camera to the microscope. You just need to remove one eyepiece and put the camera-adapter combination into its place. An Allen key is required to remove the eyepiece.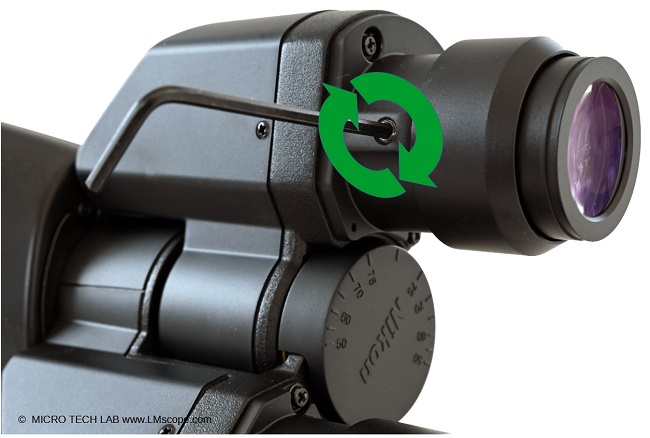 The high-quality design of our eyepiece adapter solution guarantees a solid connection between microscope and camera, even with heavy camera systems.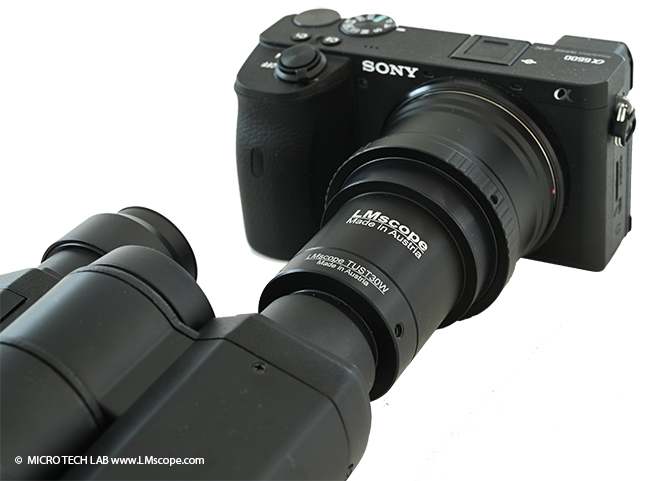 Conclusion: With a powerful modern digital camera, you can unlock the full potential of this affordable entry-level microscope and achieve great photo and video quality. For more information on making a camera selection, please see this info page:
03.03.2023
Photography:
Fitting the microscope to digital single-lens reflex (DSLR), mirrorless interchangeable-lens cameras (MILC ), digital single-lens mirrorless (DSLM) or C-mount cameras is easy with our LM digital SLR adapters, which feature a plan achromatic optical system. Our products make it possible to capture top-quality microscope images. To help you select the adapter that is right for your camera, we have set up an online configurator on our website. You can also email us – ideally with attached photographs of your microscope.
Modern DSLR and single-lens mirrorless (DSLM) offer the latest technology and are generally very well suited for microscopy applications. Most of them can be controlled remotely via PC/Mac. Because of their high sales volumes, they offer an excellent price/performance ratio compared to special-purpose microscope cameras.
Features of top DSLR and single-lens mirrorless cameras (DSLM):
- Large, powerful full-frame sensors (36 x 24 mm)
- Sensor resolution of 61 megapixels or 240 megapixels with Pixel Shift technology
- High light sensitivity (ISO 400,000+)
- Extensive dynamic range (up to 15 aperture stops/f-stops)
- Short exposure times (1/8000 second) up to 1/32,000 seconds using the digital shutter
- 4K Ultra HD or 8K Ultra HD video function
- Live video capture on external monitors in ultra HD quality
In most cases, these cameras are significantly more powerful than microscope cameras with smaller sensors (1/2" or 2/3"). On our website you will find our current camera recommendations and a camera ranking which is specifically tailored to microscopy applications.

New LM Digital Adapter for:
Nikon Z9 / Nikon Z8 / Sony Alpha 7R V / Sony Alpha 1 / Sony FX3 Cinema Line / Sony Alpha 9 II (ILCE-9M2) / Sony Alpha 9 / Nikon D6 / Canon EOS R3 / Canon EOS R6 Mark II / Canon EOS R8 / Sony Alpha 7R IV / Canon EOS R5 / Sony Alpha 7S II / Sony Alpha 7S III / Sony Alpha 7R III / Canon EOS R6 / Nikon Z6 / Nikon Z6II / Sony Alpha 7R II / Nikon Z7 / Nikon Z7II / Canon EOS R / Canon EOS Ra (Astro) / Nikon Z5 / Sony Alpha 7C / Canon EOS RP / Sony Alpha 7S / Canon EOS R7 / Leica SL2-S / Canon EOS R10 / Canon EOS 1D X Mark III / Nikon Z50 / Nikon Z30 / Nikon Z fc / Nikon D850 / Canon EOS 1D X Mark II / Nikon D780 / Olympus OM-1 / Sony Alpha 7III / Olympus OM-D E-M1 Mark III / Canon EOS R100 / Sony Alpha 6700 / Nikon D5 / Sony Alpha 6600 / Fujifilm X-H2S / Fujifilm X-S10 / Fujifilm X-E4 / Fujifilm X-Pro3 / Olympus OM-D E-M1X / Sony Alpha 6400 /