452
Brilliant pictures of your teeth? Not a problem with our new LM digital adapter and the Leica M320 dental microscope.
The Leica M320 is a dental microscope equipped with apochromatic optics and two LEDs to deliver powerful illumination. A 5-step magnification changer and a broad range of objective lenses help to achieve the best possible results. A choice of two binocular tube options is available: 45 degree angle and 180 degree movement. Additional accessories allow for enhanced ergonomics.

A beam splitter module with a standard c-mount port (f=55) is also available for the M320. Unfortunately, the c-mount optics (which features a built-in reduction lens) cannot be changed. Integrated c-mount optical systems with factors of less than 1x reduce the field of view, which is necessary for c-mount cameras with small sensors. Usually, when cameras with full-frame or APS-C sensors are used to take pictures through a microscope – provided it is even possible to attach the camera to the microscope – the image quality is poor, with peripheral darkening, blurring and colour fringing.

So far, standard adapter solutions have failed to adequately deal with this problem. However, our new LM adapter solution eliminates the limitations of the built-in c-mount reduction optics and makes it possible to use large-sensor cameras (such as DSLRs with full-frame sensors or mirrorless system cameras) for taking pictures through the Leica M320 and still achieve excellent image quality. More information on our new adapter solution is available here.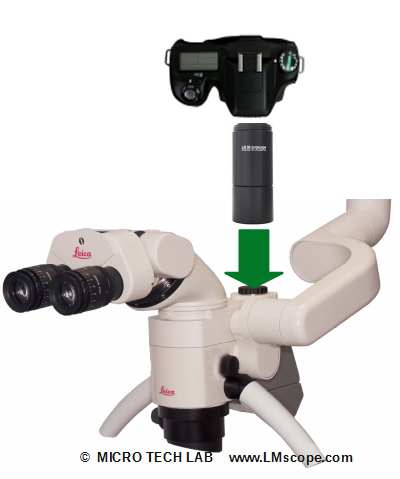 Here an example of use in OP with a Canon EOS 200D DSLR: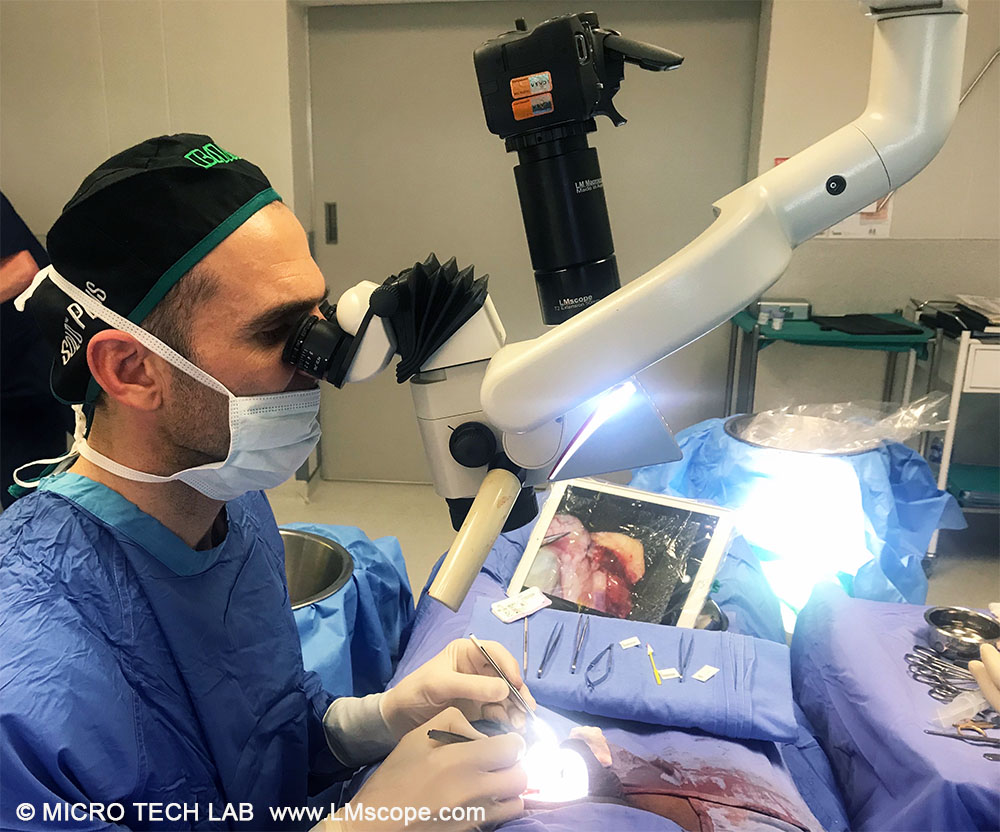 Photography:
Fitting the microscope to digital single-lens reflex (DSLR), mirrorless interchangeable-lens cameras (MILC ), digital single-lens mirrorless (DSLM) or C-mount cameras is easy with our LM digital SLR adapters, which feature a plan achromatic optical system. Our products make it possible to capture top-quality microscope images. To help you select the adapter that is right for your camera, we have set up an online configurator on our website. You can also email us – ideally with attached photographs of your microscope.
Modern DSLR and single-lens mirrorless (DSLM) offer the latest technology and are generally very well suited for microscopy applications. Most of them can be controlled remotely via PC/Mac. Because of their high sales volumes, they offer an excellent price/performance ratio compared to special-purpose microscope cameras.
Features of top DSLR and single-lens mirrorless cameras (DSLM):
- Large, powerful full-frame sensors (36 x 24 mm)
- Sensor resolution of 61 megapixels or 240 megapixels with Pixel Shift technology
- High light sensitivity (ISO 400,000+)
- Extensive dynamic range (up to 15 aperture stops/f-stops)
- Short exposure times (1/8000 second) up to 1/32,000 seconds using the digital shutter
- 4K Ultra HD or 8K Ultra HD video function
- Live video capture on external monitors in ultra HD quality
In most cases, these cameras are significantly more powerful than microscope cameras with smaller sensors (1/2" or 2/3"). On our website you will find our current camera recommendations and a camera ranking which is specifically tailored to microscopy applications.

Ordering code

Product description

Price

Price

Available




DD6XC

LM Digital SLR Adapter for full frame sensor with special hard anti-reflection coating, plan achromatic optics with C-Mount thread, inclusive Camera Lens Mount Adapter



Info

For EU (European Union) VAT (IVA, TVA) not included