575
Nikon microscopes with 38 mm phototubes: Connection options for DSLRs, mirrorless system cameras and C-mount cameras with the LM special adapter
Nikon is one of the leading manufacturers of high-quality stereo and laboratory microscopes. Depending on the configuration of the microscope and the user's requirements, we offer different adapter options for phototube connections.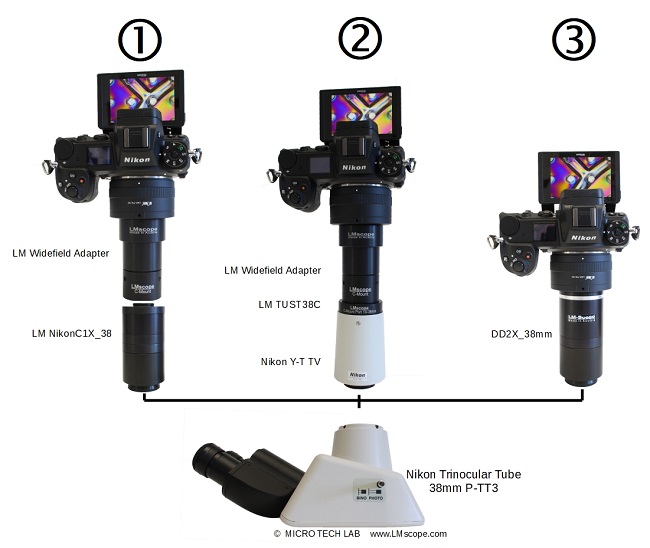 The basis for all adapter options described here is the Nikon P-TT3 trinocular tube with an inner diameter of 38 mm.
1.) Powerful "Pro" line wide-field adapter solution with the LM C-mount adapter: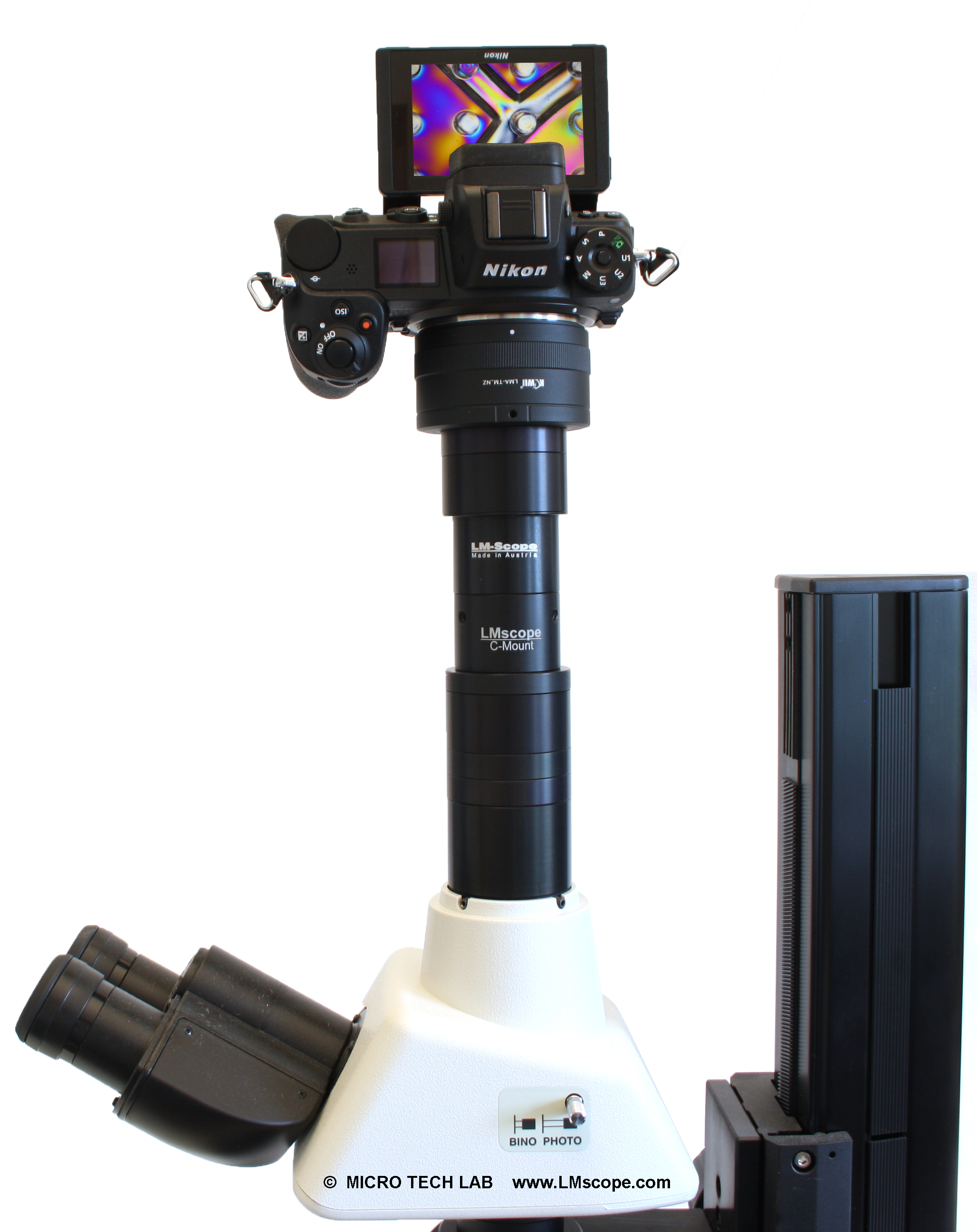 This is a multi-part adapter equipped with plan achromatic wide-field optics. The modular construction of this adapter solution facilitates maximum flexibility and the best possible image quality. It consists of the LM NikonC1X_38 C-mount adapter with a 1x optical factor and the LM wide-field adapter with integrated wide-field optics as the main adapter. The most important advantage of this adapter solution is its high degree of flexibility, as it allows both camera and microscope to be changed. If, for example, the lab has several microscopes, the adapter-camera-unit can easily be moved from one microscope to the next, thus allowing several microscopes to be operated with the same adapter.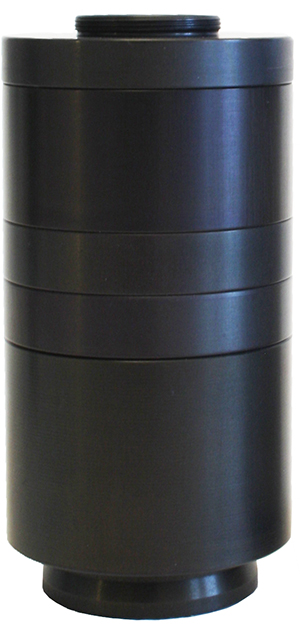 The C-mount adapter has a modular design and accommodates a selection of optical filters (polarisation filters, gray filters, UV filters, IR filters, etc.) because it offers the option of adding a filter holder. This does not change the height of the adapter solution. With this filter holder option, even basic microscopes can be used for special imaging applications such as polarisation microscopy (see image below) - a budget-friendly upgrade for any instrument.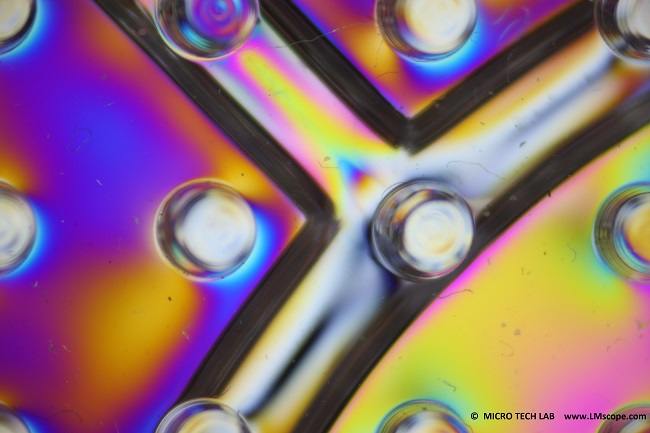 The overall solution is focusable, which enables an optical alignment of the image observed through the eyepiece with the image the camera sees through the phototube. On the camera side, the LM DSLR adapter with plan achromatic optics can be equipped with a wide range of different bayonet adapters. We offer bayonet adapters for a wide range of cameras.
This adapter solution is compatible with cameras that have an APS-C or a full-frame sensor. When using an APS-C camera system, the field of view is slightly smaller (see below).
2.) Powerful "Pro" line wide-field adapter solution with the original Nikon Y-T TV adapter: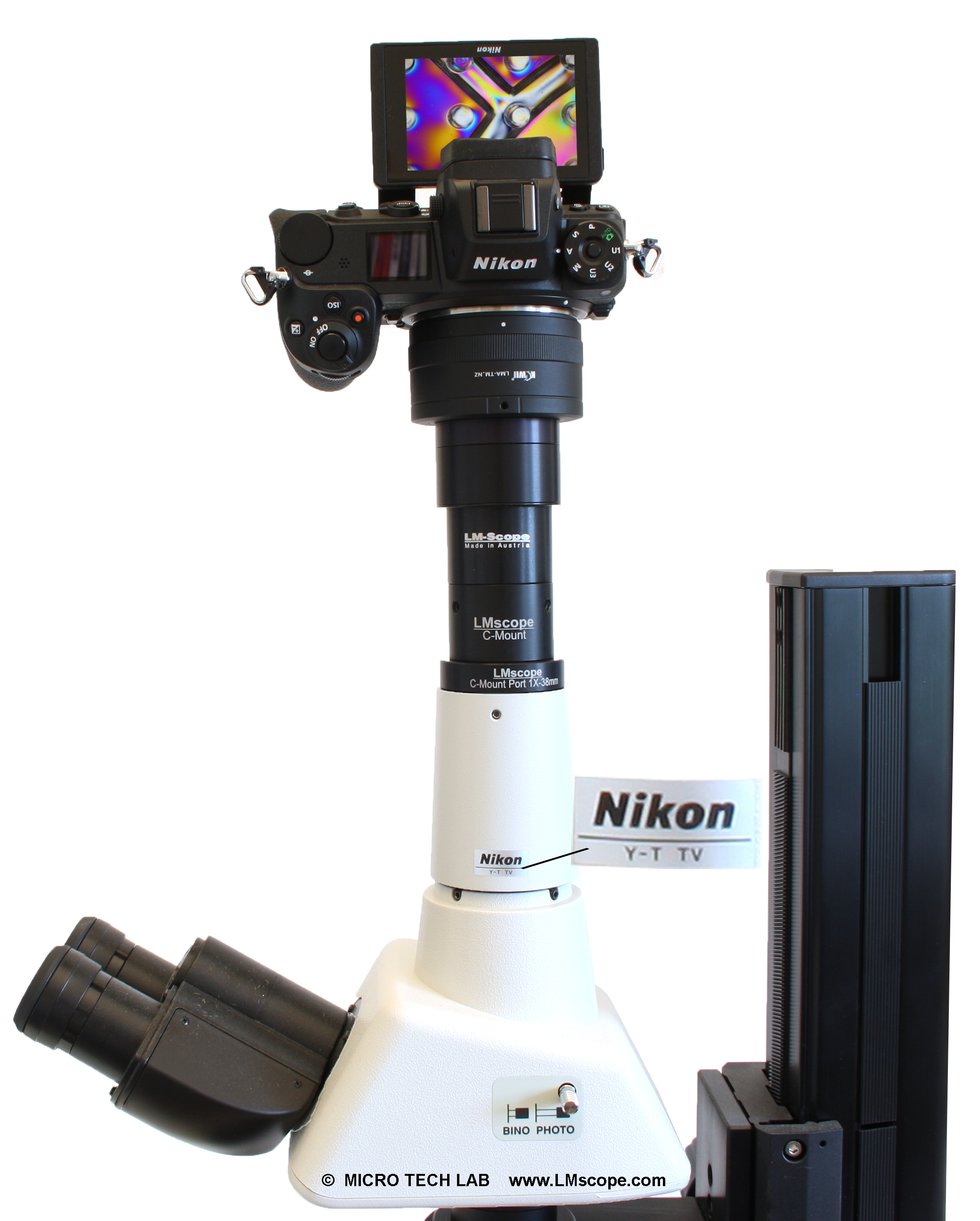 If you already have an original Nikon Y-T TV adapter, you can use our TUST38C intermediate adapter to connect it directly to the LM wide-field adapter. You can also add an optional filter holder to this setup.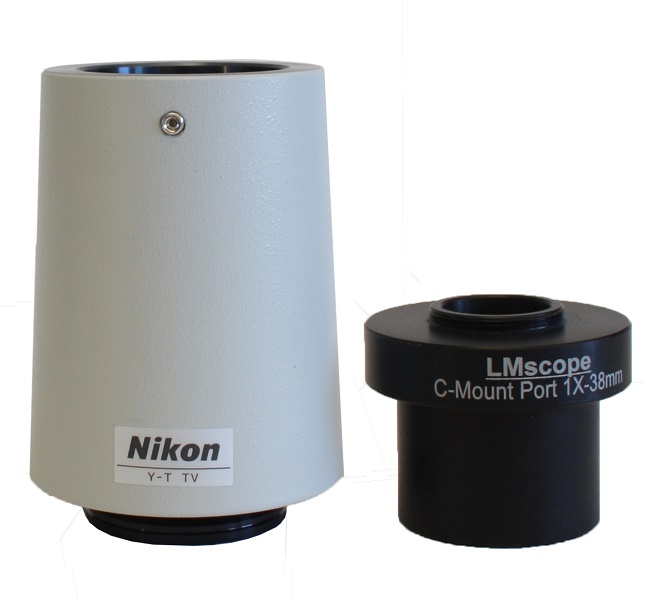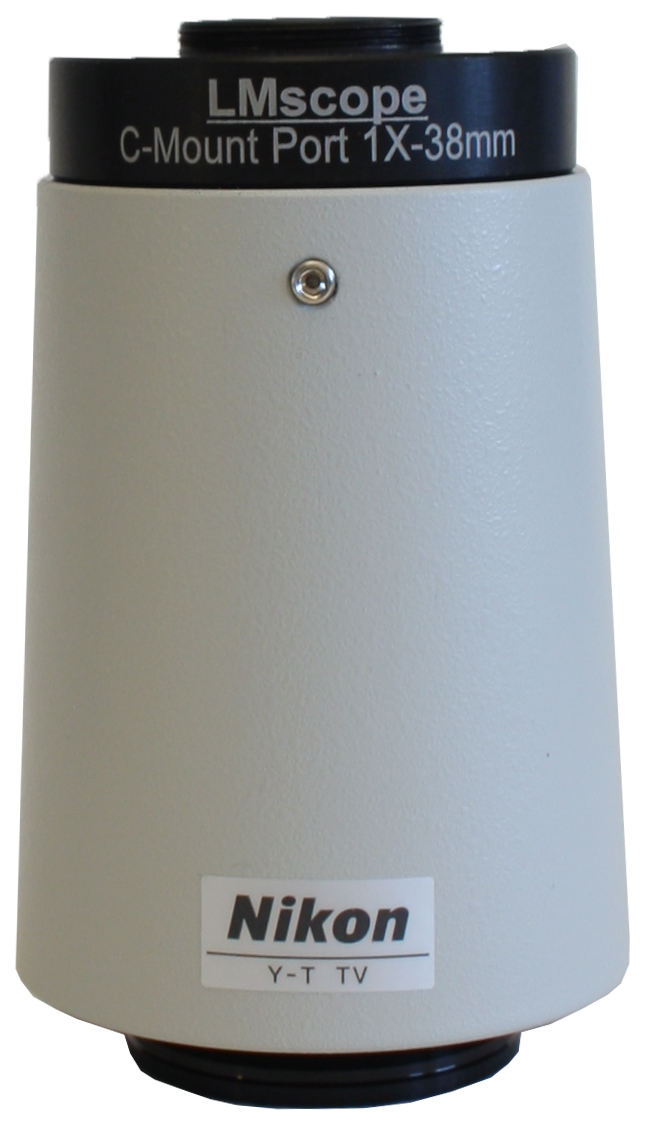 3.) DD2X_Nikon38 compact special adapter solution: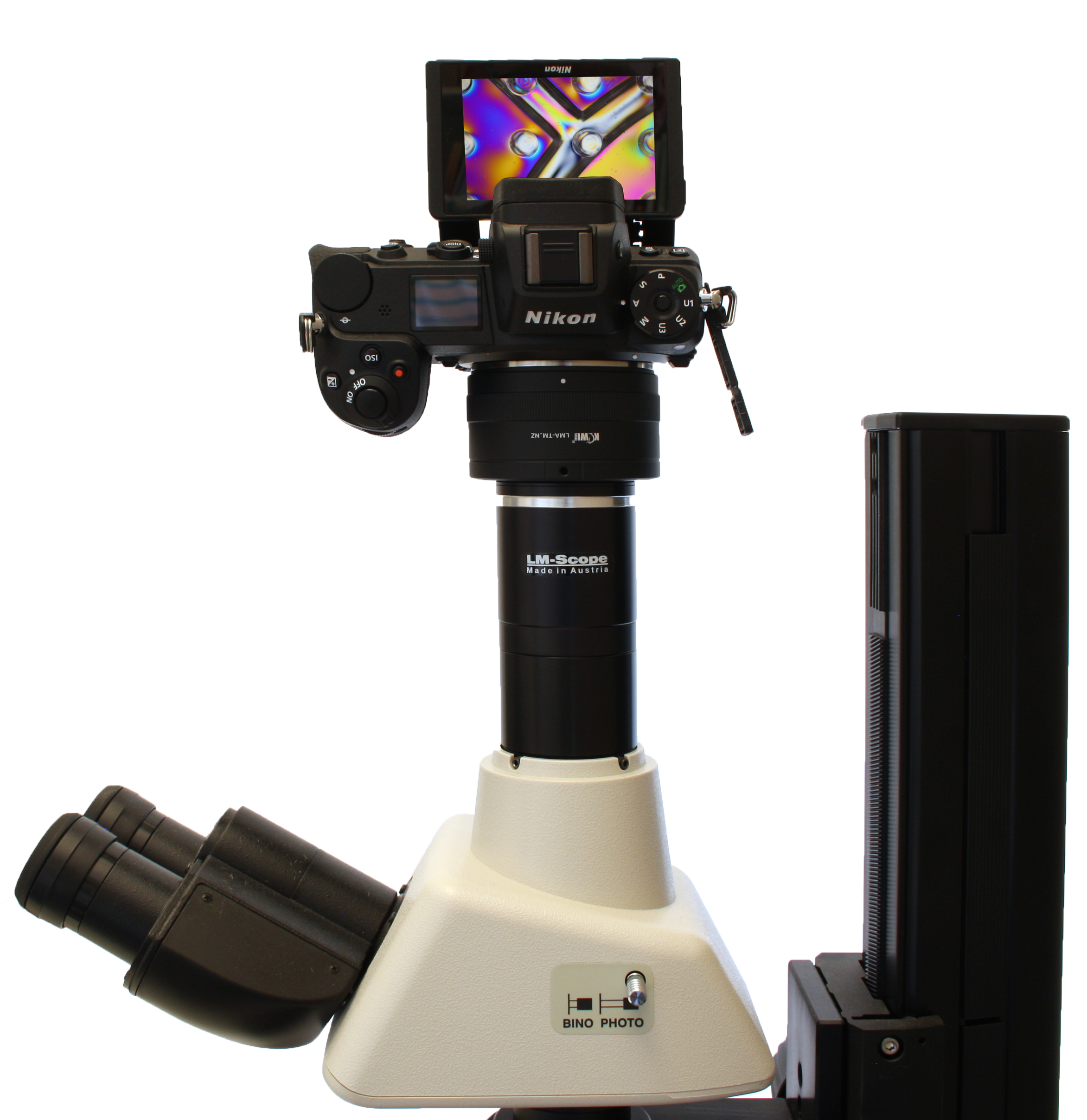 Our DD2X_Nikon38 adapter solution, which was specially developed for the Nikon phototube, is the most efficient connection option. The adapter has a plan achromatic precision optical system, which provides excellent image quality. This adapter model is highly compact, but has no focusing capability. However, it is a very good fit for the Nikon P-TT3 phototube. As with all of our products, it is possible to assemble the adapter solution in just a few steps.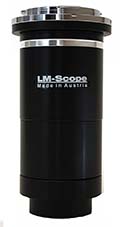 The LM Direct Image SLR adapter DD2X is suited for cameras with both APS-C and full-frame sensors and achieves the largest possible (100%) field of view without any vignetting. With APS-C sensor cameras, a field of view of 69% can be obtained at maximum image quality.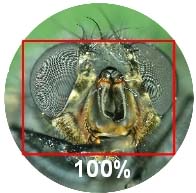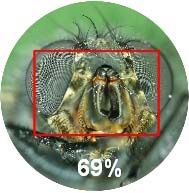 Full-frame sensor v. APS-C sensor field of view
For more information about this special adapter, please visit this info page.
These adapter solutions are compatible with the following Nikon microscopes, among others: Eclipse E100, E200, E400/ E600, ME600 und 50i/55i.
If you would like more information about the three adapter solutions presented here, please contact us.
23.10.2020
New LM Digital Adapter for:
Nikon Z9 / Sony Alpha 1 / Sony FX3 Cinema Line / Sony Alpha 9 II (ILCE-9M2) / Sony Alpha 9 / Nikon D6 / Canon EOS R3 / Sony Alpha 7R IV / Canon EOS R5 / Sony Alpha 7S II / Sony Alpha 7R III / Canon EOS R6 / Nikon Z6 / Nikon Z6II / Sony Alpha 7R II / Nikon Z7 / Nikon Z7II / Canon EOS R / Canon EOS Ra (Astro) / Nikon Z5 / Sony Alpha 7C / Canon EOS RP / Sony Alpha 7S / Canon EOS 1D X Mark III / Nikon Z50 / Nikon D850 / Canon EOS 1D X Mark II / Nikon D780 / Sony Alpha 7III / Nikon D5 / Sony Alpha 6600 / Sony Alpha 6400 / Sony Alpha 6100 / Sony ZV-E10 / Canon EOS 1D X / Nikon D4s / Olympus OM-D E-M5 III / Canon EOS 90D / Canon EOS 5D Mark IV / Nikon D4 / Nikon D750 / Canon EOS 6D Mark II / Fujifilm X-T4 / Fujifilm X-T3 / Sony Alpha 6300 / Sony Alpha 6500 / Nikon D500 / Nikon D810 / Nikon D800 / Canon EOS M6 Mark II / Nikon D800E /