375
Easy, quick and simple upgrading of the Nikon Eclipse 55i and 50i microscopes for photography
With our LM digital adapters, Nikon's two research microscopes Eclipse 55i and 50i (infinity-corrected) with Y-T TV tube can be equipped with modern DSLR and system cameras for high-quality photographic work in no time.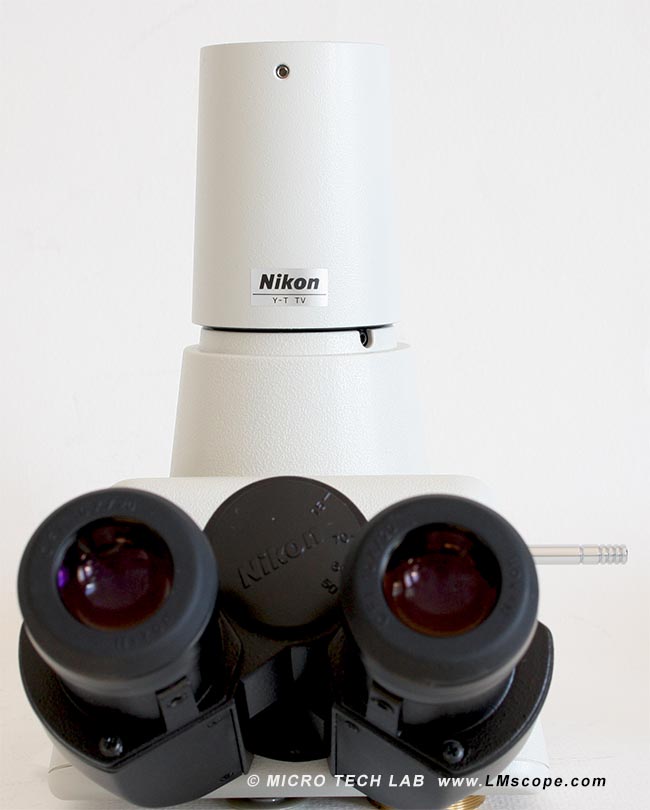 The Eclipse 55i and 50i are two laboratory microscopes from Nikon which are widely used in hospitals and research centres. Both microscopes are available with an ergo tube, which allows to set the viewing angle between 10 and 30 degrees. The binocular tube (C-TE Ergonomic Binocular Tube) with horizontal rear-facing camera port and C-mount unit (C-TEP DSC) has been designed specifically for cameras with 2/3-inch sensors. The C-TEP DSC port includes a built-in lens with a reduction factor of 0.7x, which cannot be removed. If cameras with larger sensors are attached to the DSC port, this will result in a loss of image quality. We therefore recommend using the trinocular eyepiece tubes Y-TF or Y-TT with Nikon Y-TV TV tubes (38 mm internal diameter) if you would like to attach cameras with larger sensors to these microscopes.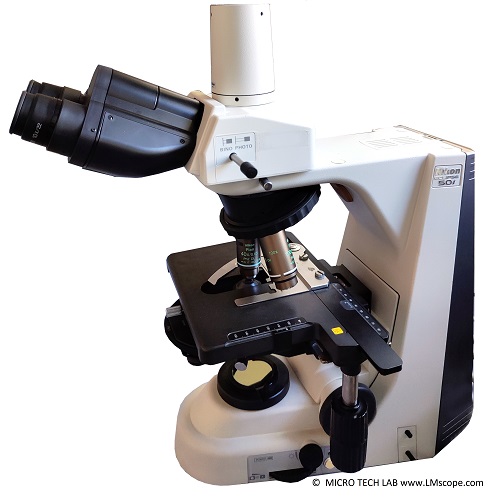 Imaging methods: epi-fluorescence, dark field, polarisation, phase contrast
Microscope stand: upright stand
Weight: 10.4 kg/9.9 kg
Dimensions: 208 x 355 x 330 mm
Optical system: CF design, infinity-corrected
Focus drive: manual, coarse (13.8 mm per rotation) and fine (0.1 mm per rotation) alignment
Specimen stage: high-quality manual cross stage
Light source: Nikon 50i: halogen lamp (6V-30W/100-240V)
Nikon 55i: LED illuminator: constant colour temperature, independent intensity control, low energy consumption
Revolving nosepiece: accommodates six objectives, motorised option, 10x to 40x
Eyepieces: CFI 10X / 22
Additional information: Available with an ergo tube that allows a variable viewing angle of 10 to 30 degrees.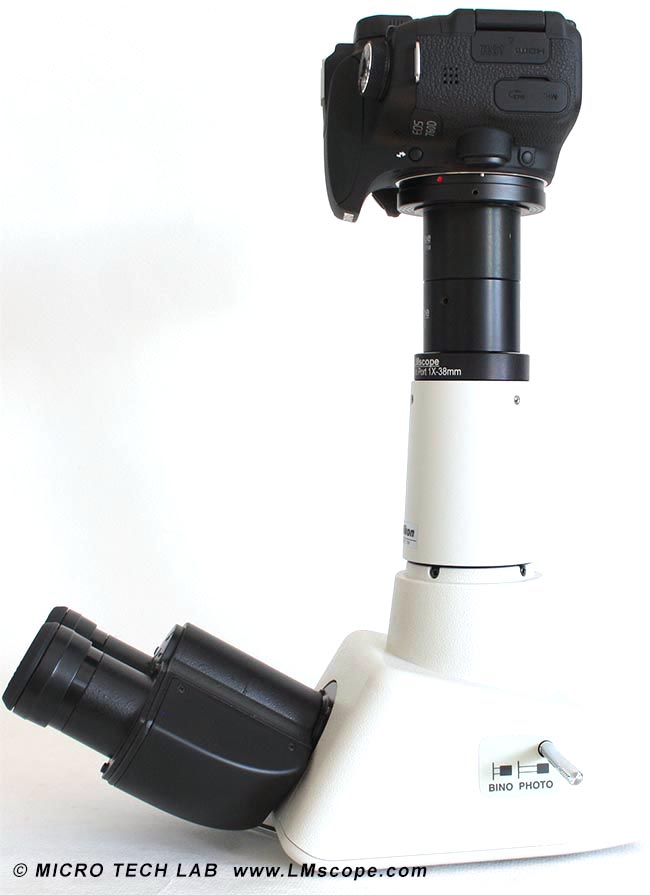 Image above: DSLR camera attached to a Nikon Y-T TV phototube (effective length 76.5 mm / + 8.2 mm) using an LM digital adapter.
Photography:
Fitting the microscope to digital single-lens reflex (DSLR), mirrorless interchangeable-lens cameras (MILC ), digital single-lens mirrorless (DSLM) or C-mount cameras is easy with our LM digital SLR adapters, which feature a plan achromatic optical system. Our products make it possible to capture top-quality microscope images. To help you select the adapter that is right for your camera, we have set up an online configurator on our website. You can also email us – ideally with attached photographs of your microscope.
Modern DSLR and single-lens mirrorless (DSLM) offer the latest technology and are generally very well suited for microscopy applications. Most of them can be controlled remotely via PC/Mac. Because of their high sales volumes, they offer an excellent price/performance ratio compared to special-purpose microscope cameras.
Features of top DSLR and single-lens mirrorless cameras (DSLM):
- Large, powerful full-frame sensors (36 x 24 mm)
- Sensor resolution of 61 megapixels or 240 megapixels with Pixel Shift technology
- High light sensitivity (ISO 400,000+)
- Extensive dynamic range (up to 15 aperture stops/f-stops)
- Short exposure times (1/8000 second) up to 1/32,000 seconds using the digital shutter
- 4K Ultra HD or 8K Ultra HD video function
- Live video capture on external monitors in ultra HD quality
In most cases, these cameras are significantly more powerful than microscope cameras with smaller sensors (1/2" or 2/3"). On our website you will find our current camera recommendations and a camera ranking which is specifically tailored to microscopy applications.

New LM Digital Adapter for:
Nikon Z9 / Nikon Z8 / Sony Alpha 7R V / Sony Alpha 1 / Sony FX3 Cinema Line / Sony Alpha 9 II (ILCE-9M2) / Sony Alpha 9 / Nikon D6 / Canon EOS R3 / Canon EOS R6 Mark II / Canon EOS R8 / Sony Alpha 7R IV / Canon EOS R5 / Sony Alpha 7S II / Sony Alpha 7S III / Sony Alpha 7R III / Canon EOS R6 / Nikon Z6 / Nikon Z6II / Sony Alpha 7R II / Nikon Z7 /