375
Child's play to use Nikon Eclipse 55i and 50i Microscopes for photography
With our LM digital adapter Nikon Eclipse 55i and 50i laboratory microscopes (infinite optics) with photo tubes (Y-T TV)can be in to time at all be equipped with modern DSLR-, system or c-mount cameras for high professionel photo documentation.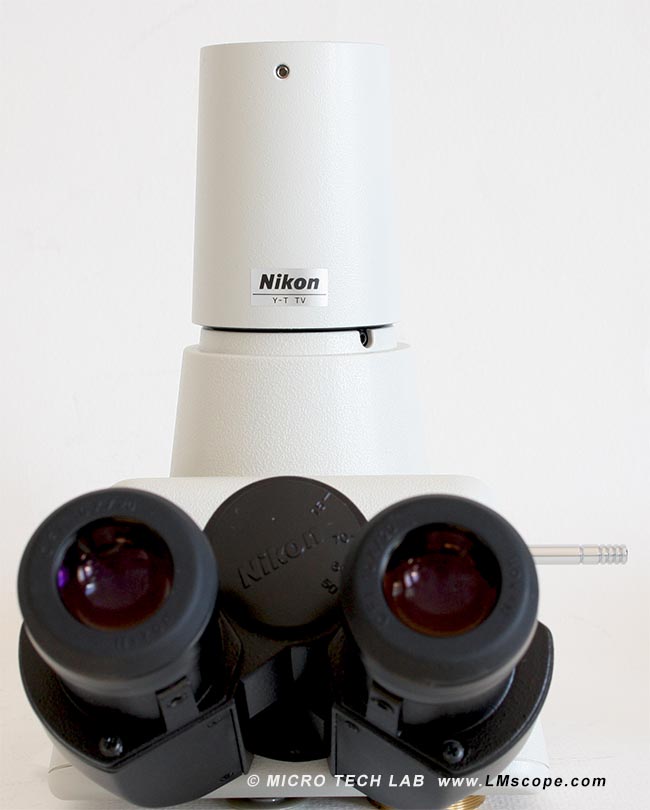 Nikon Eclipse 55i and 50i are very often used in clinical and reserach centres. The laboratory microscopes are available with Ergo Tube, which enables angles between 10° and 30°. The Binoculartube (C-TE Ergonomic Binocular Tube) has an horizontal orientated backward photo port and c-mount (C-TEP DSC). This one is especially built for c-mountcameras with 2/3" sensors. THe C-TEP DSC port has a built-in reducing optic (factor 0.7x) and unfortunatelly can't be removed. On this port only cameras with small sensor sizes can be used without any loss of quality. For mounting cameras with larger sensor sizes we recommend the trinoculare tubes Y-TF or Y-TT with Y-TV TV tubes (38mm inside diameter).
Microscopy Methods: epi-fluorescence, dark field, polarisation, phasecontrast
Microscope Stand: upright
Weight: 10,4 kg and 9,9kg
Dimensions: 208 x 355 x 330 mm
Optics: CF design, infinite
Focus Adjustment: manual, coarse adjustment (13,8mm per rotation)- and fine focus (0,1mm per rotation)
Specimen stage: high quality manually adjustable cross table
Lightsource:
Nikon 50i: Halogen (6V -30W or 100-240V)
Nikon 55i: LED illumination: constant colour temperature independant, lightness adjustment, low energy consumption
Revolving Nosepiece: 6 objectives, motorised optionally 10x to 40x
Eyepieces: CFI 10X / 22
Miscellaneous: Ergo tube with angle between 10° and 30° is as well available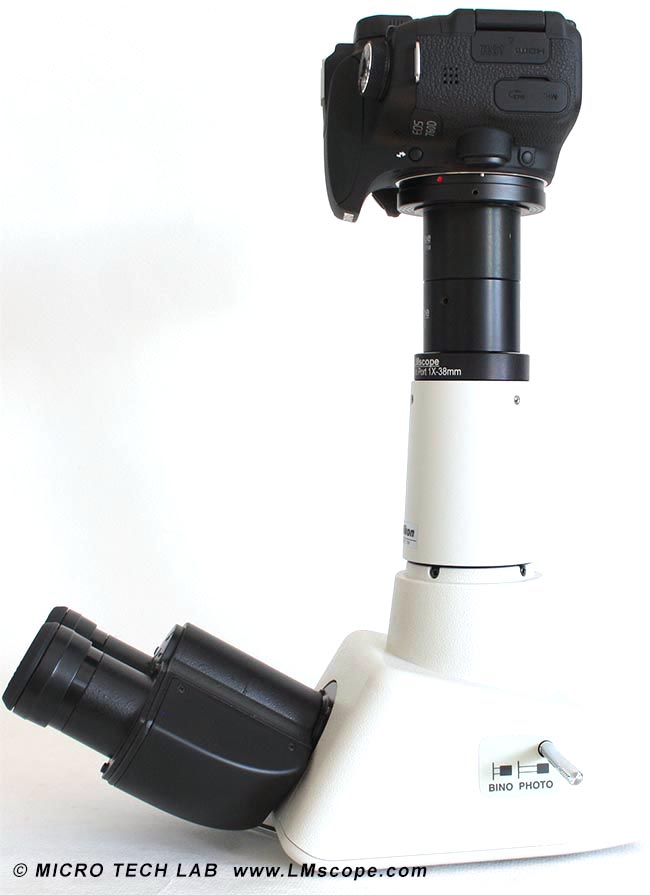 Image above: DSLR camera with LM digital adapter on top of Nikon Y-T-TV photo tube (effective length 76,5mm / +8,2mm)
Photography:
Fitting the microscope to digital single-lens reflex (DSLR), system or C-mount cameras is easy with our LM digital SLR adapters, which feature a plan achromatic optical system. Our products make it possible to capture top-quality microscope images. To help you select the adapter that is right for your camera, we have set up an online configurator on our website. You can also email us – ideally with attached photographs of your microscope.
Modern DSLR and system cameras offer the latest technology and are generally very well suited for microscopy applications. Most of them can be controlled remotely via PC/Mac. Because of their high sales volumes, they offer an excellent price/performance ratio compared to special-purpose microscope cameras.
Features of top DSLR and system cameras:
- Large, powerful full-frame sensors (36 x 24 mm)
- Sensor resolution of 50 megapixels
- High light sensitivity (ISO 100,000+)
- Extensive dynamic range (up to 14 aperture stops/f-stops)
- Short exposure times (1/8000 second):
- Full/Ultra HD (4k) video function
- Live video capture on external monitors in ultra HD quality
In most cases, these cameras are significantly more powerful than microscope cameras with smaller sensors (1/2" or 2/3"). On our website you will find our current camera recommendations and a camera ranking which is specifically tailored to microscopy applications.

New LM Digital Adapter for:
Sony Alpha 9 / Canon EOS R with Canon Adapter EF-EOS R / Canon EOS RP with Canon Adapter EF-EOS R / Sony Alpha 7S II / Sony Alpha 7R III / Nikon Z6 with F-Mount Adapter FTZ / Sony Alpha 7R II / Nikon Z7 with F-Mount Adapter FTZ / Sony Alpha 7S / Nikon D850 / Canon EOS 1D X Mark II / Sony Alpha 7III / Nikon D5 / Canon EOS 1D X / Nikon D4s / Canon EOS 5D Mark IV / Nikon D4 / Nikon D750 / Canon EOS 6D Mark II / Sony Alpha 6300 / Sony Alpha 6500 /