585
Nikon Eclipse E400: upgrade this "workhorse" microscope for digital photography
The Nikon Eclipse E400 was introduced to the market in the 1990s. With its infinity-corrected optical system, it is particularly well suited for microscope photography. We recommend using the phototube version, because this does not interfere with the observer's work routine.
With our LM digital adapters it is possible to attach almost any modern camera to this microscope. To achieve a high level of image quality, we recommend – depending on the requirements and budget in each individual case – camera systems with large sensors such as APS-C or, even better, full-frame. DSLRs or mirrorless system cameras are the first choice for high-resolution videos and photos. We are happy to provide tailored advice. For more information, please also visit our two info pages: current camera recommendations and camera ranking.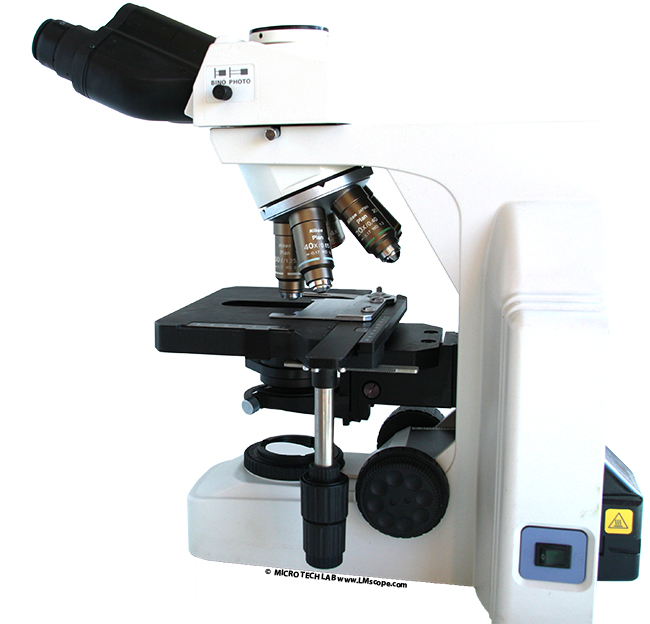 The Eclipse E400 is an upright laboratory microscope which is used for a wide range of observation tasks. Its solid build and rigid frame help reduce vibrations, a characteristic that is particularly advantageous during imaging for photomicrography applications. Although designed for stability, it features a compact and space-saving design. The controls were selected and designed with ergonomic functionality in mind: a low-profile stage facilitates specimen manipulation and enables operation of the control knobs with a single hand. The eyepiece tube angle is low, and the microscope also has an intermediate tube to raise the eye level. An ergo tube with adjustable eyepieces is available as well (Y-TE ergo binocular tube). Depending on the tube type, the eyepieces have a field number of 22 or 25 (wide-field).
The Eclipse E400 is equipped with Nikon's acclaimed CFI-60 lenses, which offer the combined advantages of large working distances and a high numerical aperture – this in turn allows improved image quality. The series of universal objectives included with the system enable the use of various observation techniques – brightfield, darkfield, Nomarski DIC (using the Senarmont method to fine-tune image contrast), epi-fluorescence or phase contrast – without the need to change objectives. The E400 features a reverse angle quintuple revolving nosepiece, and the magnification capability of its optical system ranges from 10x to 1,500x for observation purposes, depending on the observation method used. The infinity-corrected optical system enables the use of a variety of intermediate tubes and accessories, such as filters, analysers, compensators, DIC prisms and reflectors, which are inserted between the objective and convergent tube lens without degrading the image. As long as they are plane parallel, infinity beams are not affected by the thickness of the components. Illumination is provided by a 6V/30W halogen lamp.
The E400 can be rounded out by a range of accessories, such an epi-fluorescence module, a polarisation set, discussion tubes or a drawing tube.
Nikon offers different tube types for its Eclipse E400, E600 and E800 series microscopes – and we can provide a suitable adapter solution for each version. For more information, click here.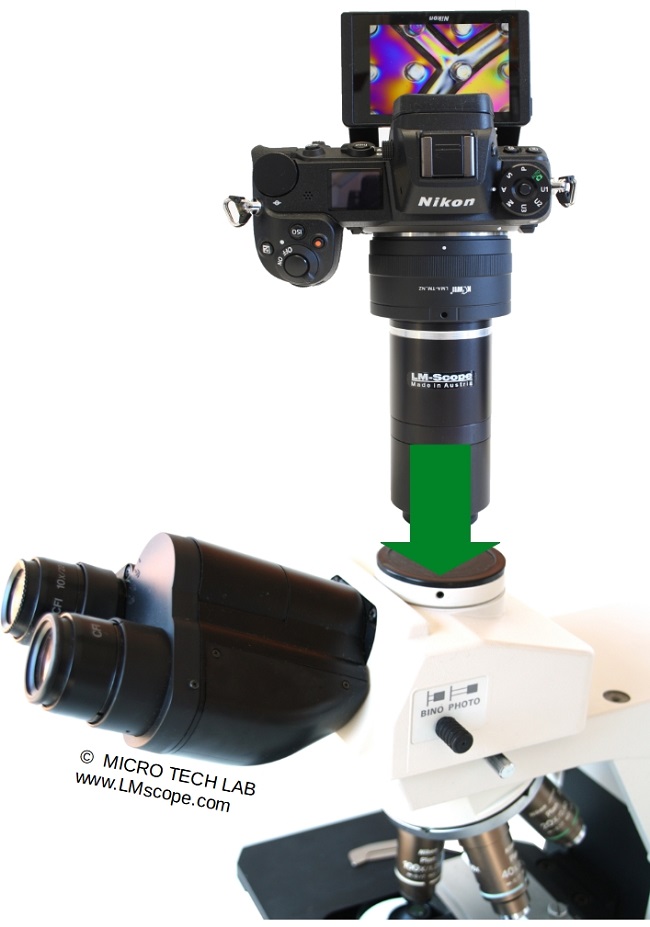 We generally recommend using the phototube (if available) to attach the camera, because this way, both eyepieces are left available for normal viewing. With our adapter solutions, almost any DSLR and mirrorless system camera can be attached to the E400 in no time at all. Inexpensive models with large (APS-C) sensors are available on the market starting at around EUR 300 – these are excellently suited for use with a microscope.
As an alternative, we also offer an adapter solution for the eyepiece tube. It works by removing one eyepiece and putting the camera-adapter combination into its place. This method is particularly suitable for binocular tubes without phototube: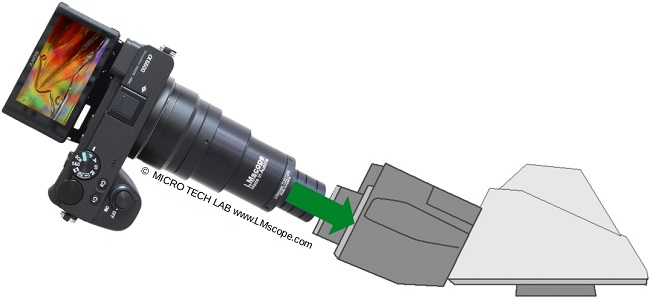 Y-TB Binocular tube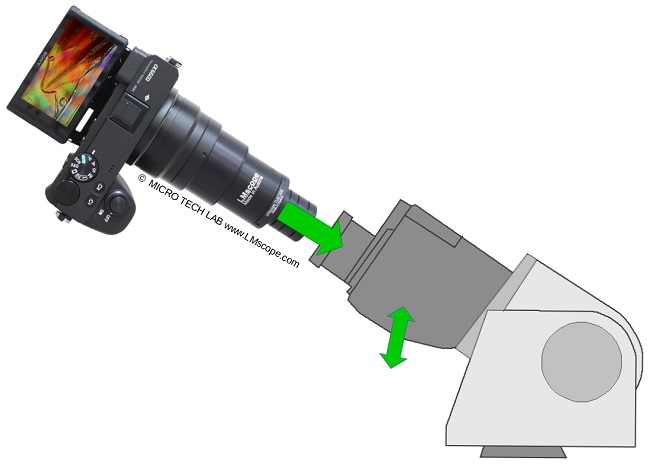 Y-TE Ergo binocular tube
All our digital adapter solutions are equipped with a plan-achromatic optical system, which ensures a flat field of view with no loss of focus at the edges. Since we correct the lenses of our LM digital adapters, they deliver images that are not affected by vignetting, chromatic aberrations (colour fringing) or barrel-shaped distortions. Additionally, they are equipped with an anti-reflex system that prevents glare, reflections and hot spots.
Conclusion: The Eclipse E400 is another high-quality microscope in Nikon's line-up, whose capabilities are valued in clinical research and beyond. Since its launch in 1997, the E400 has been updated at regular intervals. Combined with new Nikon lenses and modern cameras, it delivers superb image quality.
For more information about choosing a camera that is right for you, please see our current camera recommendations and our camera ranking. We are also happy to provide tailored advice.

12.05.2022
Photography:
Fitting the microscope to digital single-lens reflex (DSLR), mirrorless interchangeable-lens cameras (MILC ), digital single-lens mirrorless (DSLM) or C-mount cameras is easy with our LM digital SLR adapters, which feature a plan achromatic optical system. Our products make it possible to capture top-quality microscope images. To help you select the adapter that is right for your camera, we have set up an online configurator on our website. You can also email us – ideally with attached photographs of your microscope.
Modern DSLR and single-lens mirrorless (DSLM) offer the latest technology and are generally very well suited for microscopy applications. Most of them can be controlled remotely via PC/Mac. Because of their high sales volumes, they offer an excellent price/performance ratio compared to special-purpose microscope cameras.
Features of top DSLR and single-lens mirrorless cameras (DSLM):
- Large, powerful full-frame sensors (36 x 24 mm)
- Sensor resolution of 61 megapixels or 240 megapixels with Pixel Shift technology
- High light sensitivity (ISO 400,000+)
- Extensive dynamic range (up to 15 aperture stops/f-stops)
- Short exposure times (1/8000 second) up to 1/32,000 seconds using the digital shutter
- 4K Ultra HD or 8K Ultra HD video function
- Live video capture on external monitors in ultra HD quality
In most cases, these cameras are significantly more powerful than microscope cameras with smaller sensors (1/2" or 2/3"). On our website you will find our current camera recommendations and a camera ranking which is specifically tailored to microscopy applications.