324
Sensor heating in Nikon DSLR cameras in Live View mode
The impact of sensor heating on image noise, and thus on image quality, cannot be denied. We wanted to take a closer look at this physical phenomenon and document it.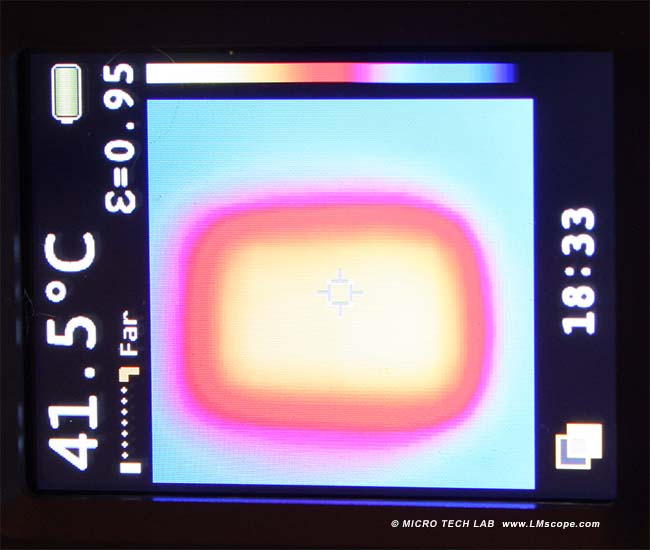 The image above shows the thermal image of a Nikon full frame sensor in Live View mode without lens.
Every electronic device warms up during operation. This is of special interest in digital cameras as there is a connection between image quality and camera temperature. For some applications it definitely makes sense to use cooled camera systems to achieve the best image quality. The signal-to-noise ratio, for example, plays an important role in fluorescence microscopy. In this special form of microscopy, only a small amount of light reaches the camera sensor. For such types of application, camera sensors deliver the best results at cool temperatures.
In the case of photographic documentation, it may very well happen that cameras are running over an extended period of time, especially in poor light conditions, when long exposure times and high ISO settings are required. The images created appear grainy, and tiny coloured dots or specks are visible, particularly in the darker areas. These effects are the result of the camera's sensor heating up.
We wanted to document sensor heating by using several Nikon cameras (Nikon DF, Nikon D5300, Nikon D610) and therefore took measurements over the course of an hour with a thermal camera. The cameras were set to Live View mode, which is the standard mode in microscopy, and had no lenses attached. If a lens is used, the sensor becomes even hotter than our measurements report.
Temperature increase of the sensor in °C in Live View mode within an hour: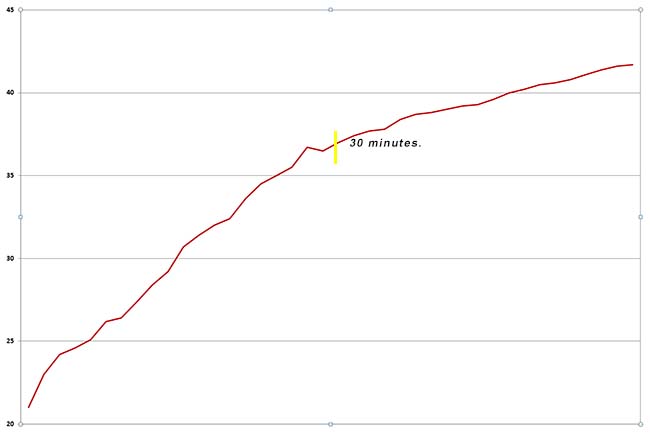 The curve shows very clearly that the temperature continuously increases over the course of one hour of operation. At the outset, the sensor showed a temperature of 21°C; after an hour, this had already increased to 41.7°C. The sharpest spike in temperature occurred within the first 15 minutes (by 12.6°C). We measured the increase in the temperature of the camera's sensor in Live View mode. In this mode, the camera uses a lot of power because the integrated electronics are busy processing the data transmitted to the digital signal processor (DSP) in order to transfer the Live View image to the camera display.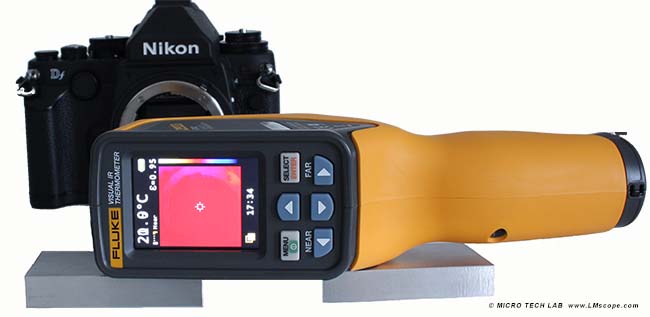 Camera manufacturers continuously improve the sensor quality of their cameras in order to minimise the impact of image noise at room temperature and achieve a better signal-to-noise ratio. These efforts are reflected in the ever increasing ISO ranges. ISO values in excess of 200,000 are no longer a rarity. Nevertheless, the correlation between sensor heating and image noise remains a challenge, especially in extreme physical situations, where each photon is to be captured.
In the field of "life science imaging", for example, fluorescence microscopy places the highest demands on cameras by capturing images of cell cultures, tissues marked with fluorescent dyes, or genetically altered insects that glow of their own accord.
Up until just a few years ago, almost all high-end cameras had to be cooled to reduce the impact of image noise. Several astrophotography enthusiasts even retrofitted commercially available DSLR cameras with a cooling system that reduced the sensor temperature to far below the freezing point.
Conclusion:
Especially when it comes to capturing images in extreme physical situations, it is advisable to refrain from using the Live View mode and to select the lowest ISO settings possible. Furthermore, the user should make sure that the camera is cool (room temperature or below) when working with it. If the camera has already heated up, it should be turned off and only turned back on after it has returned to room temperature. In "everyday" photography, no precautions are necessary, as the influence of sensor heating on image quality is very low.
28.07.2014
New LM Digital Adapter for:
Nikon Z9 / Nikon Z8 / Sony Alpha 7R V / Sony Alpha 1 / Sony FX3 Cinema Line / Sony Alpha 9 II (ILCE-9M2) / Sony Alpha 9 / Nikon D6 / Canon EOS R3 / Canon EOS R6 Mark II / Canon EOS R8 / Sony Alpha 7R IV / Canon EOS R5 / Sony Alpha 7S II / Sony Alpha 7S III / Sony Alpha 7R III / Canon EOS R6 / Nikon Z6 / Nikon Z6II / Sony Alpha 7R II / Nikon Z7 / Nikon Z7II / Canon EOS R / Canon EOS Ra (Astro) / Nikon Z5 / Sony Alpha 7C / Canon EOS RP / Sony Alpha 7S / Canon EOS R7 / Leica SL2-S / Canon EOS R10 / Canon EOS 1D X Mark III / Nikon Z50 / Nikon Z30 / Nikon Z fc / Nikon D850 / Canon EOS 1D X Mark II / Nikon D780 / Olympus OM-1 / Sony Alpha 7III / Olympus OM-D E-M1 Mark III / Canon EOS R100 / Sony Alpha 6700 / Nikon D5 / Sony Alpha 6600 / Fujifilm X-H2S / Fujifilm X-S10 / Fujifilm X-E4 / Fujifilm X-Pro3 / Olympus OM-D E-M1X / Sony Alpha 6400 / Sony Alpha 6100 / Sony ZV-E10 / Canon EOS 1D X / Nikon D4s / Olympus OM-D E-M5 III / Canon EOS 90D / Canon EOS 5D Mark IV / Nikon D4 / Nikon D750 / Canon EOS 6D Mark II / Fujifilm X-T4 / Fujifilm X-T3 / Sony Alpha 6300 / Sony Alpha 6500 / Nikon D500 / Nikon D810 / Nikon D800 / Canon EOS M6 Mark II / Nikon D800E / Nikon Df / Panasonic Lumix DC-G9 / Nikon D610 / Nikon D600 / Canon EOS 250D / Canon EOS 850D / Rebel T8i / Canon EOS 6D / Sony Alpha 99 II (SLT-A99 II) / Canon EOS M200 / Canon EOS 5DS R ( without low-pass filter) / Olympus OM-D E-M1 Mark II / Canon EOS 80D / Canon EOS M50 Mark II / Canon EOS 5DS / Canon EOS M50 / Sony Alpha 77 II / Canon EOS 70D / Nikon D7200 / Pentax K-1 Mark II / Canon EOS 200D / Canon EOS 800D / Rebel T7i / Canon EOS 77D / Canon EOS 5D Mark III / Canon EOS 60D / Sony Alpha 7R / Sony Alpha 7 / Nikon DS-Qi2 (Microscope Camera) / Olympus OM-D E-M5 II / Nikon D3x / Olympus OM-D E-M1 / Pentax KP /