The Sony Handycam FDR AXP33 delivers incredible 4k ultra HD video quality
We were very excited to find out what the image quality of Sony's small compact camcorder, the Handycam FDR AXP33, would be like when used on a microscope. Until that point, we were unconvinced by the performance of any compact device in this particular application, but announcements about 4k resolution video recording capability piqued our curiosity.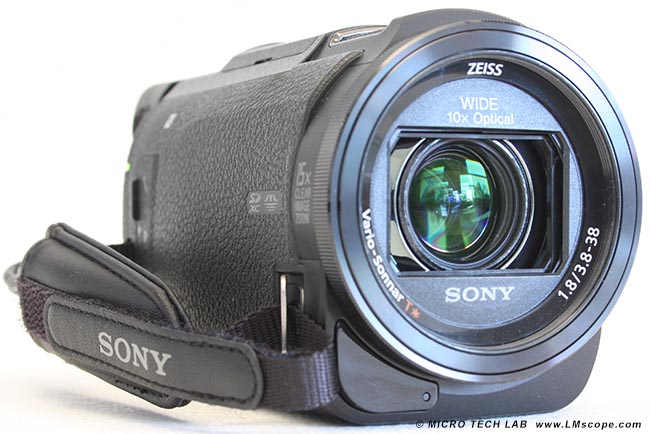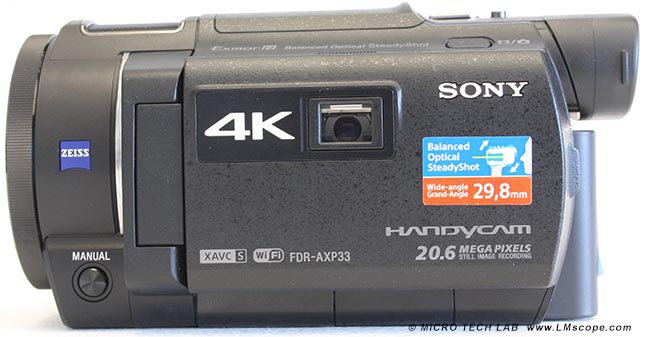 Technical Data:
1/2.3 sensor with 20,6 megapixel

Images in 4K Ultra HD (3.840 x 2.160)

Built-in LED projector

Filter thread (55mm) for accessories

Optical image stabilizer - "Balanced Optical SteadyShotTM"

Movable lens

High-quality Zeiss Vario-Sonnar® T* lens (1.8/3.8-38)
The compact Sony FDR AXP33 camcorder is very small in size (75 x 78.5 x 155 mm) and sits well in the hand, partly also due to its exceptionally low weight of just 725 grams. Where image quality is concerned, Sony's FDR AXP33 is particularly interesting because it features a powerful image stabilisation system and a Zeiss lens. The camcorder also includes a convenient filter thread (52 mm) that enables it to be attached firmly to a microscope.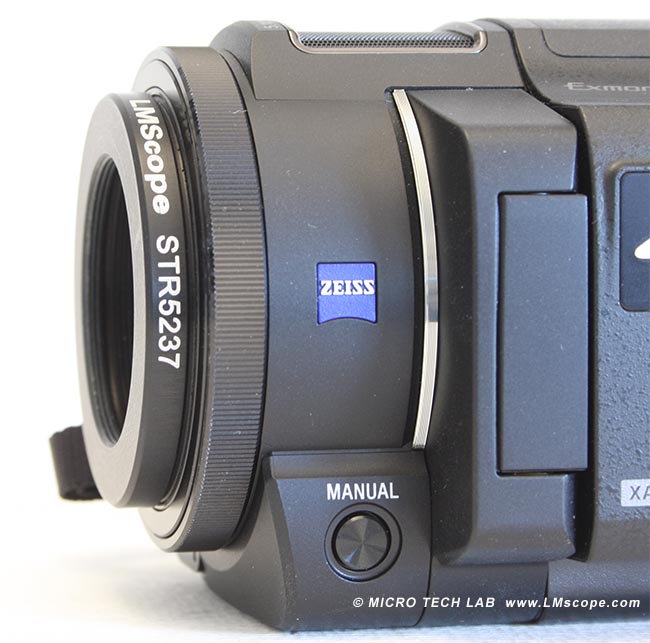 We used a step-down ring to connect the Sony FDR AXP33 to an LM wide-field adapter developed specifically for camcorders. The LM adapter solution works both on photo tubes and eyepiece tubes (23.3 mm or 30 mm internal diameter). Microscope attachment is very simple and only takes a few minutes.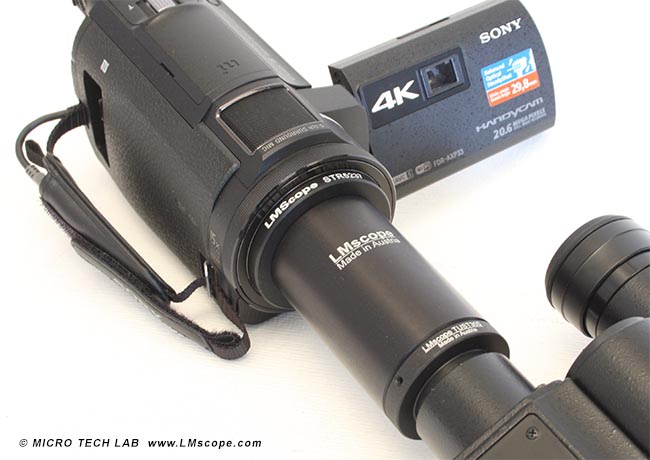 The Zeiss lens is integrated into the camcorder housing and does not extend when zooming. This makes the Sony FDR AXP33 easier to use with a microscope, as a firm mechanical connection can be established which prevents the infiltration of stray light from outside.
The image results we noted were nothing short of outstanding. In the upper zoom range, the Sony FDR AXP33 delivers a field of view that nearly corresponds to the image viewed through the eyepiece. The superb quality of the Zeiss lens line-up contributes significantly to image quality, which is characterised by excellent levels of detail and rich contrast.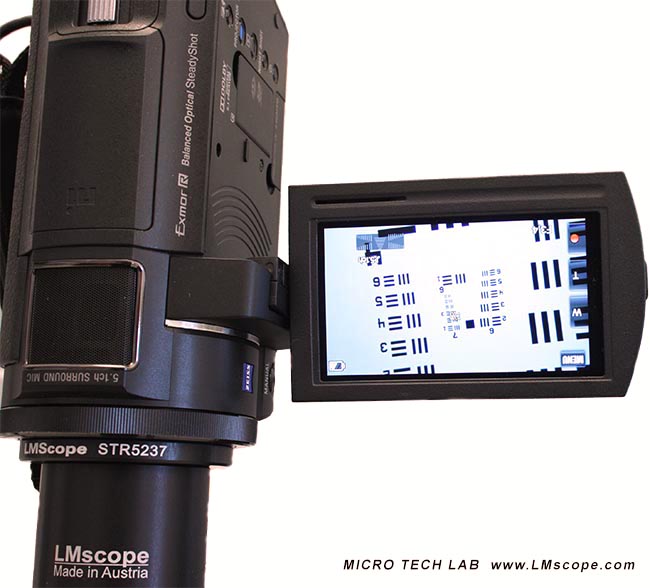 The camcorder yields a flat field of view with edge-to-edge sharpness and no chromatic aberrations. Its impressive LCD screen, which provides an outstanding display from every angle, is another highlight of Sony's FDR AXP33. The screen measures 75 mm diagonally and has tilt and swivel capabilities. A built-in LED projector is situated on the back of the screen.
Conclusion:
For an all-round camera with a fixed integrated lens, the Sony FDR AXP33 shows strong performance in microscopy. It is quite well suited for occasional use with microscopes and mobile 4k video recording. The image-stabilised Zeiss lens and LED video projector are features that make this small, handy camcorder a standout. Even so, anyone looking for a camera that will be used on a microscope on a daily basis would be better served by a DSLR or system camera that features an interchangeable lens mount system. Today, many of the cameras in this product segment can also shoot 4k videos and deliver image quality that surpasses that of the Sony FDR AXP33 camcorder.
16.03.2016
New LM Digital Adapter for:
Sony Alpha 9 / Sony Alpha 7S II / Sony Alpha 7R II / Sony Alpha 7R III / Sony Alpha 7S / Sony Alpha 6300 / Sony Alpha 6500 / Sony Alpha 77 II / Sony Alpha 7R / Sony Alpha 7 / Sony SLT-A99 / Sony Alpha 7II / Sony Alpha 6000 / Sony Alpha 77V / Sony Alpha 580 / Sony Alpha 5100 / Sony Alpha 5000 / Sony Alpha 55 / Sony Alpha 33 / Sony Alpha 35 / Sony NEX-7 / Sony NEX-6 / Sony Alpha 57 / Sony Alpha 37 / Sony NEX-5N / Sony NEX-C3 / Sony NEX-F3 / Sony NEX-5 / Sony NEX-3 / Sony Alpha 65V /

Related Links

--