579
Upgrade your Olympus SZ series microscope (SZ40, SZ60 and SZ11) for digital photomicrography – it's worth it.
The high-quality trinocular microscopes of the Olympus SZ series (SZ4045TR, SZ6045TR, SZ1145TR) can quickly and easily be upgraded for digital photography with DSLR cameras and/or mirrorless system cameras.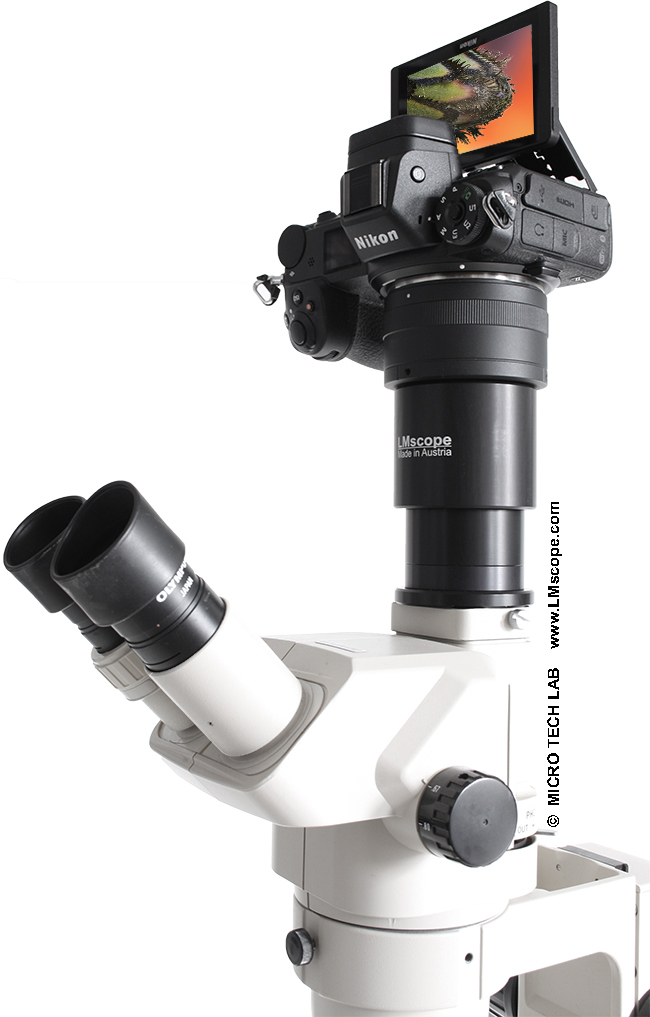 When the Olympus SZ microscopes (SZ = Zoom Stereo) were introduced to the market, digital photography was still in its infancy. For this reason, they were configured for analogue photography. However, it is really easy to convert the three microscope models Olympus SZ4045TR, Olympus SZ6045TR and Olympus SZ1145TR, which all have a phototube, for digital photographic documentation. To optimise the upgrade, we recommend modern DSLR and mirrorless system cameras with large sensors (APS-C or full-frame). They deliver considerably better image quality than comparable C-mount cameras with small sensor formats.
We recommend attaching the camera to the phototube of the microscope. For this purpose, we have developed a new adapter that connects directly to the phototube. It is optimised for full-frame APS-C and MFT sensors and offers maximum light intensity thanks to its large lens diameter. Combining a good stereo microscope with the high-quality, plan-achromatic precision optics of our adapter and the latest camera technology enables remarkable video and image quality. Of course, cameras with a vari-angle screen are a plus in ergonomic terms. We generally recommend controlling the camera remotely from the PC/Mac using a software program. Focusing, adjusting the settings and triggering the shutter on a large screen is much more convenient and allows a greater degree of precision. The "Live View Shooting" function is particularly interesting for microscopy.
The adapter solution features a compact, short design. Additional adapters, such as the Olympus SZ-CTV or the Olympus SZ-PT tube adapter, are no longer required. Particularly the Olympus SZ-CTV is not ideally suited for using DSLRs or system cameras, as it reduces the image (factor 0.5x). Other elements, such as the NFK projective lens, are also replaced by our adapter and thus no longer necessary.
Of course, it is also possible to attach the camera to the eyepiece tube of the microscope by removing one eyepiece and putting the camera-adapter combination into its place. The optical image quality is equally good as that produced when attaching the camera to the phototube.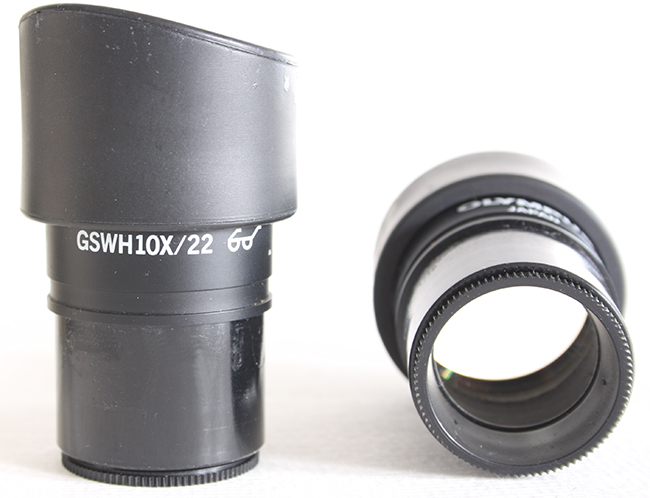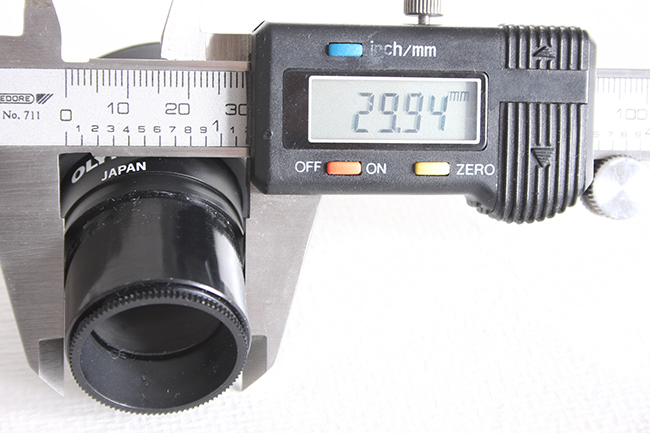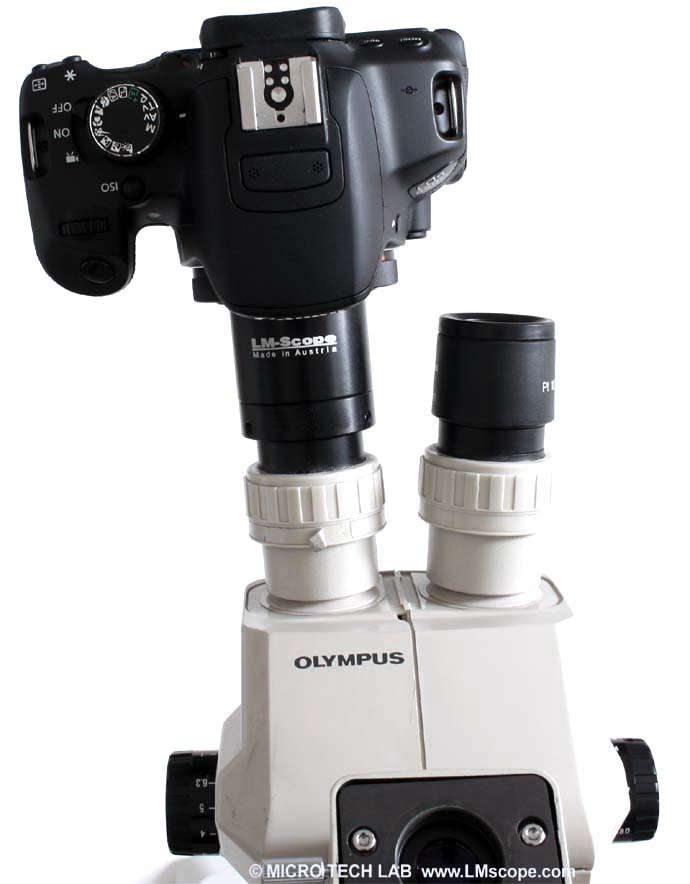 The main difference between the three trinocular microscopes of the SZ series (SZ4045TR, SZ6045TR and SZ1145TR) is the zoom factor.
SZ4045TR: 0.67x - 4x (working distance 110 mm)

SZ6045TR: 1x - 6.3x (working distance100 mm)

SZ1145TR: 1.8x - 11x (working distance 73mm)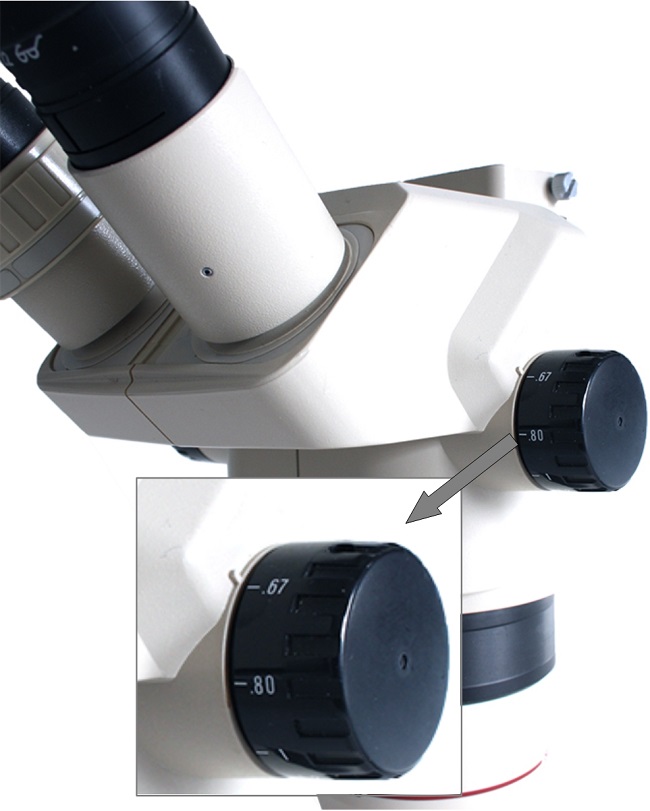 Shown in the image: 0.67x zoom setting
The microscopes feature a Greenough optical system, which means that they have two completely separate optical paths.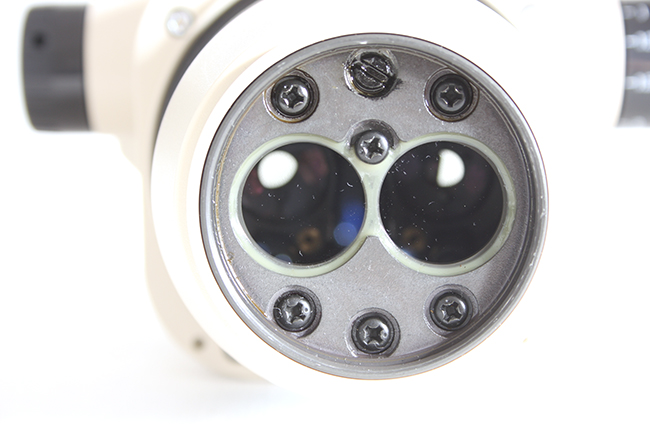 They strike the object with a difference in angle of 15º, which is created by two lenses situated in a common mount. The human brain is able to generate a three-dimensional image through the optical path and the angular offset. When taking photographs, however, the camera can only use one optical path, and therefore only the centre of the image is optimally focussed. For this reason, the microscope is switched to photo mode when taking pictures.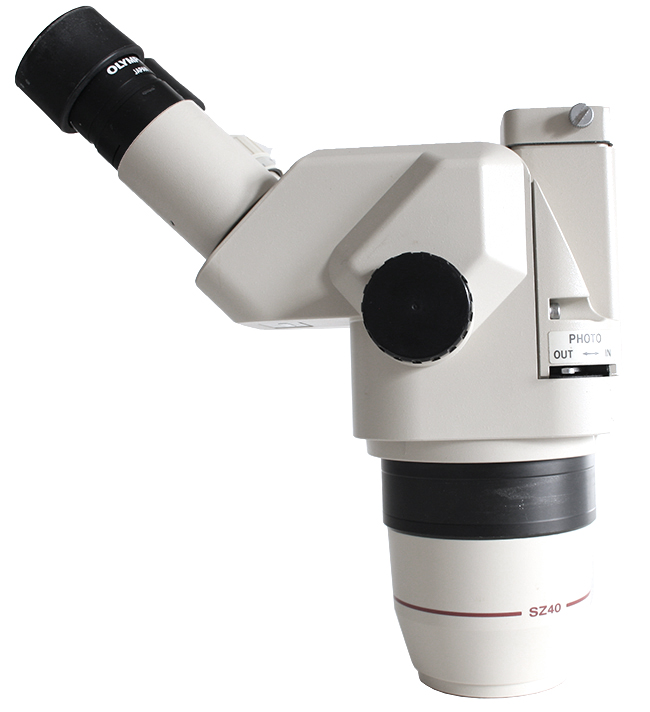 This mode only uses one optical path. Therefore, the image viewed through the eyepiece does not match the actual photograph and the three-dimensional effect is difficult to convey in the image. However, there are several methods and tricks a photographer can use to get better results.
Alternatively, we offer a two-part adapter solution with 1X C-mount connection and specific camera adapter with integrated optics. The two-part modular design has the advantage that the basis adapter with integrated optics can also be used with accessory parts on other microscopes.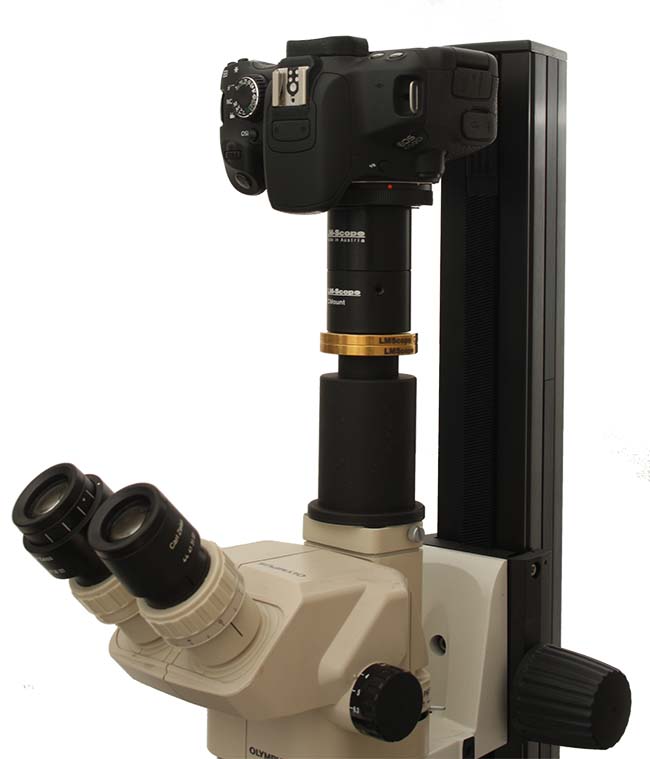 As a final point, a tip from us: Our LM macroscopes with parallax-free, centric optical path and high-quality precision optics are a replacement for all conventional stereo microscopes with parallel, non-centric optical paths in photographic documentation.
30.03.2021
Photography:
Fitting the microscope to digital single-lens reflex (DSLR), mirrorless interchangeable-lens cameras (MILC ), digital single-lens mirrorless (DSLM) or C-mount cameras is easy with our LM digital SLR adapters, which feature a plan achromatic optical system. Our products make it possible to capture top-quality microscope images. To help you select the adapter that is right for your camera, we have set up an online configurator on our website. You can also email us – ideally with attached photographs of your microscope.
Modern DSLR and single-lens mirrorless (DSLM) offer the latest technology and are generally very well suited for microscopy applications. Most of them can be controlled remotely via PC/Mac. Because of their high sales volumes, they offer an excellent price/performance ratio compared to special-purpose microscope cameras.
Features of top DSLR and single-lens mirrorless cameras (DSLM):
- Large, powerful full-frame sensors (36 x 24 mm)
- Sensor resolution of 61 megapixels or 240 megapixels with Pixel Shift technology
- High light sensitivity (ISO 400,000+)
- Extensive dynamic range (up to 15 aperture stops/f-stops)
- Short exposure times (1/8000 second) up to 1/32,000 seconds using the digital shutter
- 4K Ultra HD or 8K Ultra HD video function
- Live video capture on external monitors in ultra HD quality
In most cases, these cameras are significantly more powerful than microscope cameras with smaller sensors (1/2" or 2/3"). On our website you will find our current camera recommendations and a camera ranking which is specifically tailored to microscopy applications.

Ordering code

Product description

Price

Price

Available




DD2XOSZ38

LM Direct Imager SLR Adapter with special hard anti-reflection coating, plan achromatic optics for Olympus microscopes with phototube with an inside diameter of 38 mm, with Camera Lens Mount



Operating Instructions0
Data Sheet1

For EU (European Union) VAT (IVA, TVA) not included
New LM Digital Adapter for:
Nikon Z9 / Sony Alpha 7R V / Sony Alpha 1 / Sony FX3 Cinema Line / Sony Alpha 9 II (ILCE-9M2) / Sony Alpha 9 / Nikon D6 / Canon EOS R3 / Canon EOS R6 Mark II / Canon EOS R8 / Sony Alpha 7R IV / Canon EOS R5 / Sony Alpha 7S II / Sony Alpha 7S III / Sony Alpha 7R III / Canon EOS R6 / Nikon Z6 / Nikon Z6II / Sony Alpha 7R II / Nikon Z7 / Nikon Z7II / Canon EOS R / Canon EOS Ra (Astro) / Nikon Z5 / Sony Alpha 7C / Canon EOS RP / Sony Alpha 7S / Canon EOS R7 / Leica SL2-S / Canon EOS R10 / Canon EOS 1D X Mark III / Nikon Z50 / Nikon Z30 / Nikon Z fc / Nikon D850 / Canon EOS 1D X Mark II / Nikon D780 / Olympus OM-1 / Sony Alpha 7III / Olympus OM-D E-M1 Mark III / Nikon D5 / Sony Alpha 6600 / Fujifilm X-H2S / Fujifilm X-S10 / Fujifilm X-E4 / Fujifilm X-Pro3 / Olympus OM-D E-M1X / Sony Alpha 6400 / Sony Alpha 6100 / Sony ZV-E10 / Canon EOS 1D X / Nikon D4s / Olympus OM-D E-M5 III / Canon EOS 90D / Canon EOS 5D Mark IV / Nikon D4 / Nikon D750 / Canon EOS 6D Mark II / Fujifilm X-T4 / Fujifilm X-T3 / Sony Alpha 6300 / Sony Alpha 6500 / Nikon D500 / Nikon D810 / Nikon D800 / Canon EOS M6 Mark II / Nikon D800E / Nikon Df / Panasonic Lumix DC-G9 / Nikon D610 / Nikon D600 /