474
With our LM digital adapters, conventional DSLRs and mirrorless system cameras can be attached to Nikon's Ci series of research microscopes to produce excellent photos of microscopic images.
Ergonomic design, easy operation and great optics – that is our first impression of Nikon's Ci microscopes for clinical and laboratory use. The compact research microscopes of Nikon's Ci series (the motorised Ci-E weighs 15.4 kg, the CI-L 13.4 kg) offer an extensive range of modules to support a variety of observation methods and applications used for research and inspection. The following imaging techniques are supported: brightfield, epi-fluorescence, darkfield, phase contrast, simple polarising, sensitive colour polarising.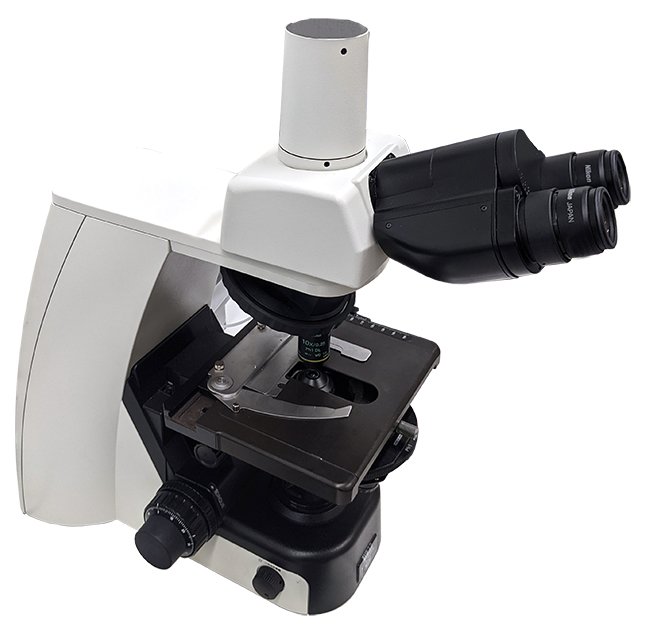 Image: Nikon Ci-E with trinocular tube Y-T TV
The ergonomic design features of the Ci series include an ergonomic binocular tube with adjustable eyepiece angle and extension, as well as height-adjustable microscope parts. The LED illuminator is a low-power-consuming illumination system that produces intense brightness, is long-lasting and does not heat up. This is a real benefit for photomicrography, since no heat rises up from the lamp to the camera, which reduces the occurrence of thermal noise. Combined with Nikon's acclaimed CFI lenses and a good-quality DSLR camera, you can create stunning images of your specimens. All you need to do is attach the camera body directly to the microscope using one of our LM digital adapters.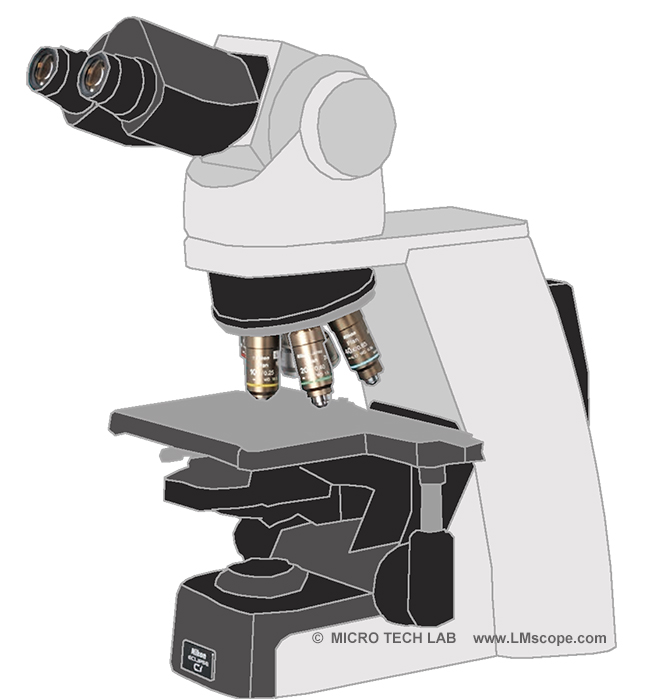 Image: Nikon Ci-E with binocular tube
Different types of tubes are available for the Ci series: a binocular tube (here, our adapter solution is attached directly to the eyepiece tube), various types of trinocular tubes and special ports for C-mount cameras. If you use our LM adapter solutions to attach a camera to one of the trinocular tubes, you need the Nikon Y-T TV tube, which usually comes included with the microscope and is essential for photomicrography applications. A C-mount adapter 1x is attached to this tube, and then the LM DSLR adapter is added to this combination. If the Y-T TV tube has not been provided by Nikon, we can also offer a suitable C-mount adapter: the TUST38C.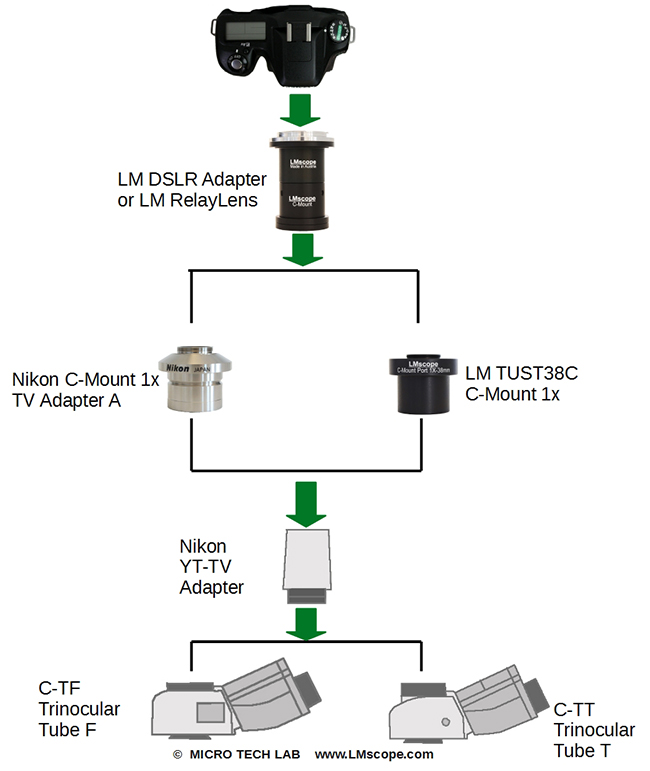 The C-TEP2 DSC port for the C-TE2 ergonomic binocular tube is a special case: the adapter solution required for this port needs to be custom-built because of the port's fixed reduction factor of 0.6x. If your microscope has this type of tube, please order our DD6XC adapter solution.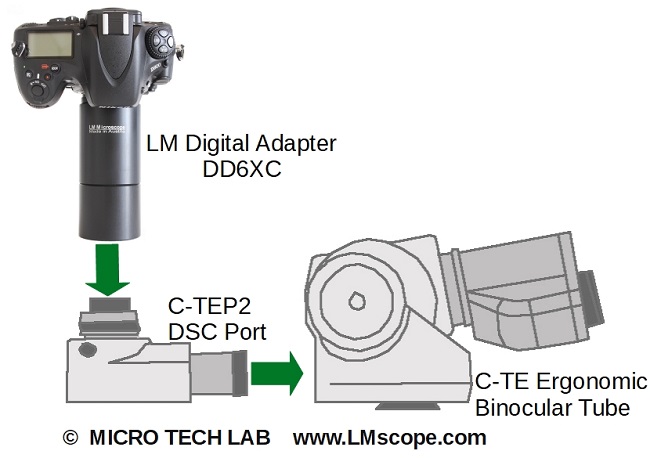 Using a remote control software makes the process of capturing images a lot easier. If you have a Nikon camera, you can use Nikon's dedicated NIS software, and there are lots of other programs available from other camera manufacturers (reviews for many of them are available on our website).
The Ci-E microscope model offers motorised components such as a button for magnification switching during observation, a motorised six-position nosepiece, and automatic reproduction of light intensity.

Photography:
Fitting the microscope to digital single-lens reflex (DSLR), mirrorless interchangeable-lens cameras (MILC ), digital single-lens mirrorless (DSLM) or C-mount cameras is easy with our LM digital SLR adapters, which feature a plan achromatic optical system. Our products make it possible to capture top-quality microscope images. To help you select the adapter that is right for your camera, we have set up an online configurator on our website. You can also email us – ideally with attached photographs of your microscope.
Modern DSLR and single-lens mirrorless (DSLM) offer the latest technology and are generally very well suited for microscopy applications. Most of them can be controlled remotely via PC/Mac. Because of their high sales volumes, they offer an excellent price/performance ratio compared to special-purpose microscope cameras.
Features of top DSLR and single-lens mirrorless cameras (DSLM):
- Large, powerful full-frame sensors (36 x 24 mm)
- Sensor resolution of 61 megapixels or 240 megapixels with Pixel Shift technology
- High light sensitivity (ISO 400,000+)
- Extensive dynamic range (up to 15 aperture stops/f-stops)
- Short exposure times (1/8000 second) up to 1/32,000 seconds using the digital shutter
- 4K Ultra HD or 8K Ultra HD video function
- Live video capture on external monitors in ultra HD quality
In most cases, these cameras are significantly more powerful than microscope cameras with smaller sensors (1/2" or 2/3"). On our website you will find our current camera recommendations and a camera ranking which is specifically tailored to microscopy applications.

New LM Digital Adapter for:
Nikon Z9 / Nikon Z8 / Sony Alpha 7R V / Sony Alpha 1 / Sony FX3 Cinema Line / Sony Alpha 9 II (ILCE-9M2) / Sony Alpha 9 / Nikon D6 / Canon EOS R3 / Canon EOS R6 Mark II / Canon EOS R8 / Sony Alpha 7R IV / Canon EOS R5 / Sony Alpha 7S II / Sony Alpha 7S III / Sony Alpha 7R III / Canon EOS R6 / Nikon Z6 / Nikon Z6II / Sony Alpha 7R II / Nikon Z7 / Nikon Z7II / Canon EOS R / Canon EOS Ra (Astro) / Nikon Z5 / Sony Alpha 7C / Canon EOS RP / Sony Alpha 7S / Canon EOS R7 / Leica SL2-S / Canon EOS R10 / Canon EOS 1D X Mark III / Nikon Z50 / Nikon Z30 / Nikon Z fc / Nikon D850 / Canon EOS 1D X Mark II / Nikon D780 / Olympus OM-1 / Sony Alpha 7III / Olympus OM-D E-M1 Mark III / Canon EOS R100 / Sony Alpha 6700 / Nikon D5 / Sony Alpha 6600 / Fujifilm X-H2S / Fujifilm X-S10 / Fujifilm X-E4 / Fujifilm X-Pro3 / Olympus OM-D E-M1X / Sony Alpha 6400 / Sony Alpha 6100 / Sony ZV-E10 / Canon EOS 1D X / Nikon D4s / Olympus OM-D E-M5 III / Canon EOS 90D / Canon EOS 5D Mark IV / Nikon D4 / Nikon D750 / Canon EOS 6D Mark II / Fujifilm X-T4 / Fujifilm X-T3 / Sony Alpha 6300 / Sony Alpha 6500 / Nikon D500 / Nikon D810 / Nikon D800 / Canon EOS M6 Mark II / Nikon D800E / Nikon Df /