387
Nikon NIS-Elements - Imaging Software
Nikon's NIS-Elements software is a comprehensive microscopy imaging solution designed for Windows-based PCs that allows users to comfortably capture, analyse and archive images taken with Nikon cameras. Functionalities range from image capture using a C-mount microscope camera, integrated control of the motorised Nikon microscope, image analysis and data management all the way to report generation and documentation.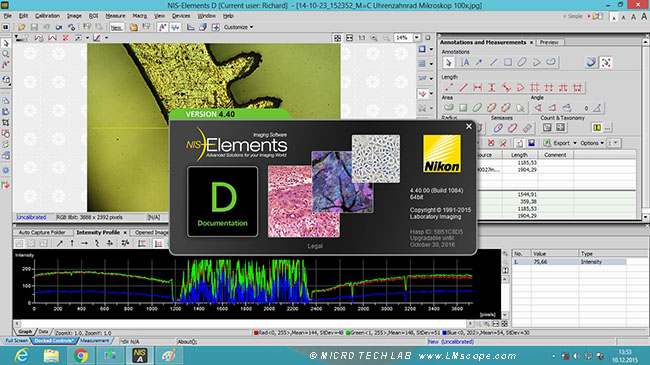 For our test, we used NIS-Elements version 4.4, which comes with a USB dongle for copy protection. The software installs quickly and easily, and includes options to add a variety of drivers for C-mount cameras and microscopes. Unfortunately, interfaces for other devices (such as wdmi or twain scanner drivers) are not supported.
The following is a brief summary of the features included in the Nikon NIS-Elements suite:
Automation of microscope and camera operations

Capturing

Visualisation

​Multichannel

Z-stacks

Time lapse

Multipoint experiments

Image stitching (combining multiple smaller frames to produce a single, high-resolution image)

Multidimensional imaging

Display and data processing

​Multidimensional image display

Various filters and colour adjustment

Arithmetic operations

Z-series image display

Deconvolution (re-focusing of blurred images)

Extended depth of focus

Analysis

​Manual and auto measurement

Histogram measurement

Time measurement

Object tracking
We tested the software with two different cameras: the Nikon DS-Fi2 and the Nikon Imaging Source DFK72. Supported C-mount cameras can be controlled directly via the software interface. The Live View image is displayed within the application window. Two display modes can be selected.
Possible settings:
Auto white balance and auto exposure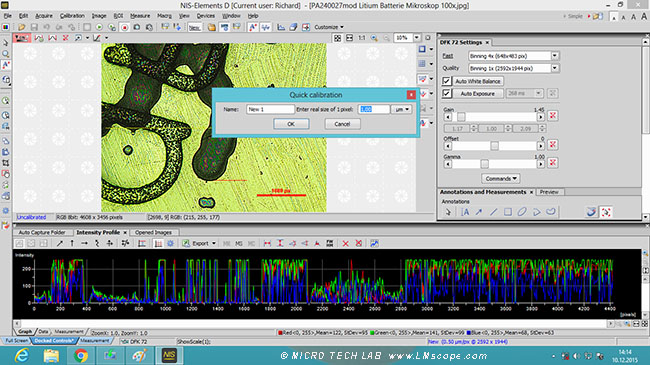 Basis for measuring options: image calibration 1 pixel --> definition of length. The software offers comprehensive measurement options, such as length, area, radius, angles, etc.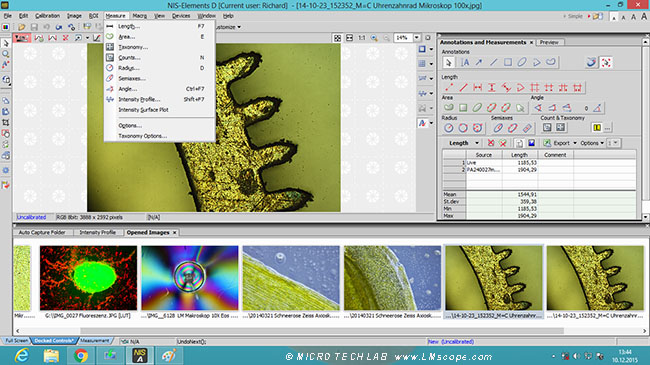 The NIS-Elements suite also offers powerful image analysis features: intensity line profile (which depicts the colour intensity distribution on a defined line)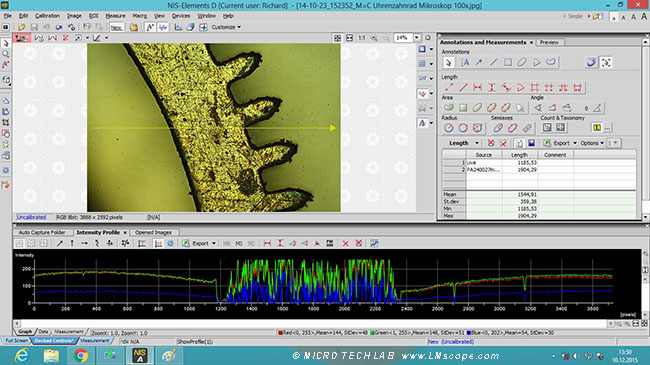 Histograms:

Focus stacking: compilation of a z-stack of individual frames, which are then merged into a single image with high depth of field. If the microscope being used is motorised, this function can be calculated automatically. Alternatively, it can also be performed manually, with a fixed focusing rail with micrometer adjustment for going through the focusing range.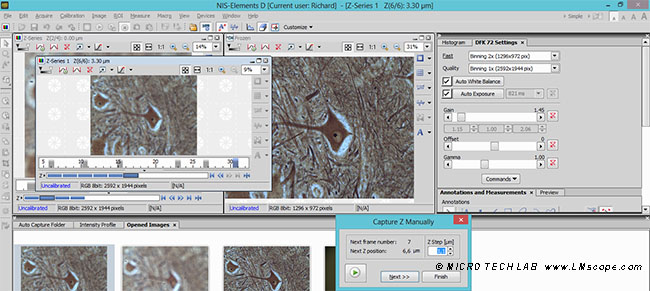 Image enhancement options: contrast, adjust image, sharpen, size, convert, etc.

Automotion: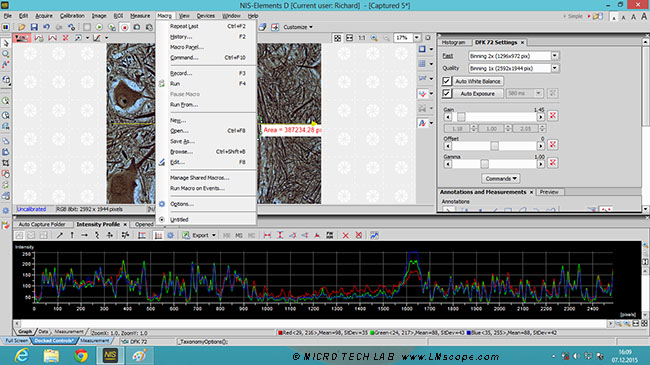 Visualisation controls: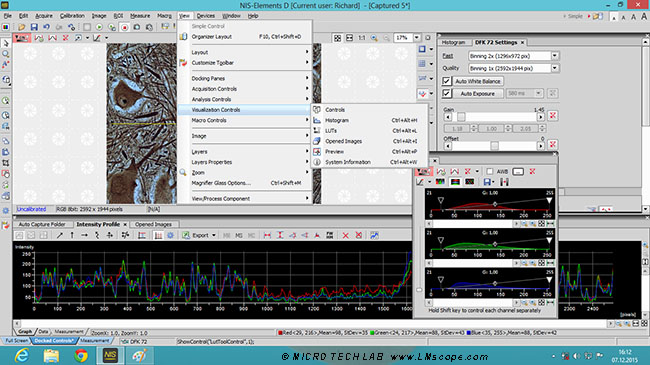 The NIS-Elements software offers a wide range of powerful features and supports Nikon C-mount cameras, third-party C-mount cameras and Nikon full-frame microscope cameras (DS-Ri2, DS-Qi2). Unfortunately, DSLR cameras cannot interface with the software. However, existing images can be imported into NIS-Elements using the "open" dialogue. This makes importing images from external sources a possible, but somewhat complicated alternative.
If cameras supported directly by NIS-Elements are used, the Live View image is displayed in near-real time by combining 4 pixels (binning 4 x 648 x 643 pixels) into a single, larger one. This aggregation of data (at the expense of decreased quality) enables transfer of the live signal to the computer with only minimal delay.
1x binning yields the maximum resolution at a reduced frame/second rate, which makes focusing more difficult. The delay is caused by the USB2 port, which cannot stream this data from the camera to the PC.
Conclusion: Nikon's NIS-Elements software is a powerful tool for professional microscopy. To take complete advantage of the full range of its features, however, a motorised microscope is imperative. Unfortunately, the software only supports a very limited number of cameras, and universal drivers, such as wdmi or twain, are not supported at all. Another downside is that normal, standard cameras (DSLR, system and compact cameras) cannot interface with the software. The only alternative is to import previously captured images from external sources – a process that, while possible, is rather complicated.
Nikon NiS supports the following cameras:
Nikon Cameras
DS-Ri2
DS-Qi2
CCU: DS-U2/L2 (for camera head DS-2Mv/Vi1/2MBW/2MBWc/5M/5Mc/Fi1/
Fi1c/Qi1/Ri1)
CCU: DS-U3/L3 (for camera head DS-Vi1/Fi1/Fi1c/Qi1/Ri1/Fi2)
DQC-FS*2
Third-party Cameras
Photometrics
Evolve
QuantEM
CoolSNAP HQ2
CoolSNAP ES*2
Cascade 128+*2
Cascade II 512*2
Cascade 1K*2
Andor Technology
Luca S, Luca R
iXon+ 897, 888, 885
iXon X3
iXon Ultra
iKon-M
Clara
Neo sCMOS
Neo 5.5 sCMOS
Zyla 5.5 sCMOS (3-Tap, 10-Tap)
Zyla 4.2 sCMOS
QImaging
Retiga EXi Aqua/Blue
Retiga 2000R - Mono/Color
Retiga SRV + RGB-HM-S Slide
Rolera EMC2
QICLick
QICAM
Hamamatsu
ImagEM
ImagEM 1K
ImagEM X2
ORCA-R2
ORCA-Flash2.8
ORCA-Flash4.0
ORCA-Flash4.0 LT
ORCA-D2
ORCA
C9100-02, C9100-12
Imaging Source
DFK/DMK 31,41,51,72 series
DFK/DMK 23U274
DFK/DMK 23UP031
DMK 23UM021
DFK 23U445
TWAIN Device ( Not compatible with 64 bit version OS !!!)
28.04.2016
New LM Digital Adapter for:
Nikon Z9 / Nikon Z8 / Sony Alpha 7R V / Sony Alpha 1 / Sony FX3 Cinema Line / Sony Alpha 9 II (ILCE-9M2) / Sony Alpha 9 / Nikon D6 / Canon EOS R3 / Canon EOS R6 Mark II / Canon EOS R8 / Sony Alpha 7R IV / Canon EOS R5 / Sony Alpha 7S II / Sony Alpha 7S III / Sony Alpha 7R III / Canon EOS R6 / Nikon Z6 / Nikon Z6II / Sony Alpha 7R II / Nikon Z7 / Nikon Z7II / Canon EOS R / Canon EOS Ra (Astro) / Nikon Z5 / Sony Alpha 7C / Canon EOS RP / Sony Alpha 7S / Canon EOS R7 / Leica SL2-S / Canon EOS R10 / Canon EOS 1D X Mark III / Nikon Z50 / Nikon Z30 / Nikon Z fc / Nikon D850 / Canon EOS 1D X Mark II / Nikon D780 / Olympus OM-1 / Sony Alpha 7III / Olympus OM-D E-M1 Mark III / Canon EOS R100 / Sony Alpha 6700 / Nikon D5 / Sony Alpha 6600 / Fujifilm X-H2S / Fujifilm X-S10 / Fujifilm X-E4 / Fujifilm X-Pro3 / Olympus OM-D E-M1X / Sony Alpha 6400 /