LM Direct Image C-Mount Port 1x with C-Mount connection (Ordering Code:TUST30C) for Zeiss microscopes with phototube

Tube socket with C-mount connection for Zeiss microscope tubes with 30 mm internal diameter (Interface 60).

Universally applicable C-mount connection with 1X factor for C-mount cameras or video cameras with sensor sizes of 3/4" to 1". These cameras can be directly mounted onto the TUST30C. All other cameras with different sensor sizes or other connections (bayonet, filter thread, etc.) can be connected using the LM digital adapter.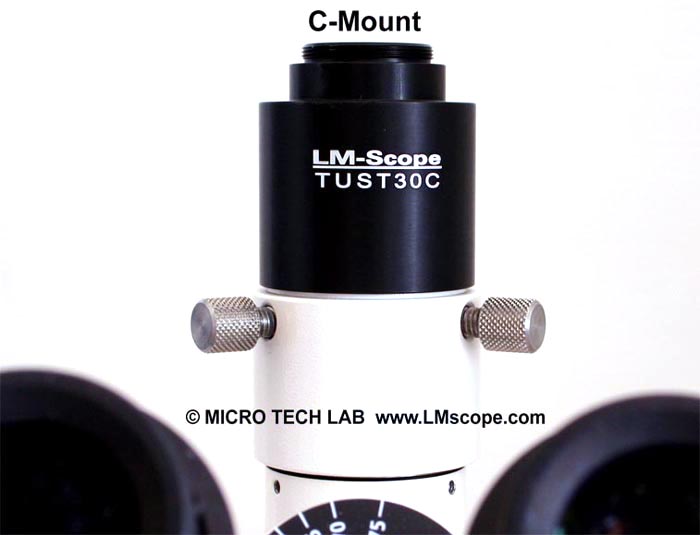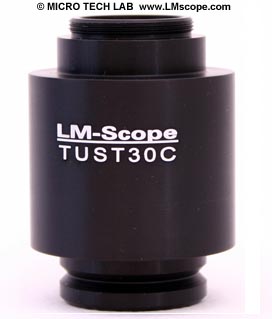 Compatible Zeiss Microscopes
Nikon D850 / Sony Alpha 7III / Sony Alpha 9 / Nikon D5 / Sony Alpha 7S II / Sony Alpha 7R III / Sony Alpha 7R II / Sony Alpha 7S / Canon EOS 5D Mark IV / Nikon D750 / Canon EOS 6D Mark II / Sony Alpha 6300 / Sony Alpha 6500 / Nikon D500 / Canon EOS 1D X / Nikon D810 / Nikon D4s / Nikon D800 / Nikon D800E / Nikon D4 / Nikon Df / Nikon D610 / Nikon D600 / Canon EOS 6D / Sony Alpha 99 II (SLT-A99 II) / Canon EOS 5DS R ( without low-pass filter) / Olympus OM-D E-M1 Mark II / Canon EOS 80D / Canon EOS 5DS / Sony Alpha 77 II / Canon EOS 70D / Nikon D7200 / Pentax K-1 Mark II / Canon EOS 200D / Canon EOS 800D / Rebel T7i / Canon EOS 77D / Canon EOS 5D Mark III / Canon EOS 60D / Sony Alpha 7R / Sony Alpha 7 / Nikon DS-Qi2 (Microscope Camera) /

Related Links

digital SLR , Digital single lens reflex camera , Digital single lens reflex cameras , digicam , DSLR , D-SLR , D'SLR , Camcorder , HD Camcorder , HD Video , Videocamera , USB-Camera , Compact digital cameras , c-mount adapter plate , 30mm standard eyepiece adapter , Directly fits any DSLR / SLR Cameras , stereo-microscope / Stereomicroscopes , capturing microscopic image and hd videos , lmscope microscope coupler , intermediate tube , clamp , photoeyepiece , conversion lens adapter , inspection microscope , mounting bayonet , film camera , retinal camera / Fundus camera , APS-frame camera , phototube body , Variable C-Mount Adapter , , Stacking Close-Up Lenses ,