192
LM Direct Image C-Mount Port 1x with C-Mount connection (Ordering Code:TUST30C) for Zeiss microscopes with phototube

Tube socket with C-mount connection for Zeiss microscope tubes with 30 mm internal diameter (Interface 60).

Universally applicable C-mount connection with 1X factor for C-mount cameras or video cameras with sensor sizes of 3/4" to 1". These cameras can be directly mounted onto the TUST30C. All other cameras with different sensor sizes or other connections (bayonet, filter thread, etc.) can be connected using the LM digital adapter.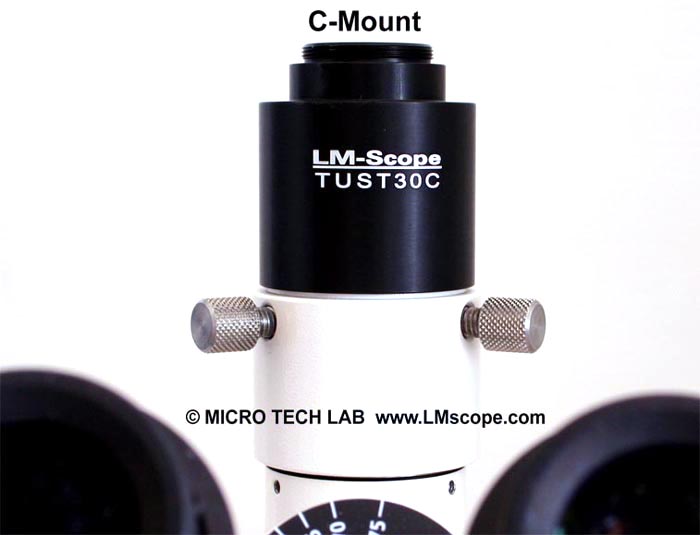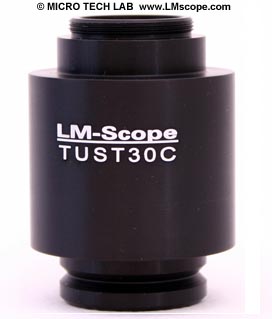 Compatible Zeiss Microscopes
Axiolab,
Axioplan 2
Axioskop 2 MOT
Axioskop 2 Plus
Axioskop 2 FS MOT
Axioskop 2 FS Plus
Axioskop 40
Axioskop 40 A Pol
Axioskop 40 FL
Axioskop 40 Pol
Axiostar plus
Axiostar plus FL
Axiotech
Axiotech vario
Axiovert 100
Axiovert S 100
Axiovert 100 A

Axiovert 135
Axiovert 135 M
Axiovert 200
Axiovert 200 for incident light fluorescence with "ApoTome"
Axiovert 200 M
Axiovert 200 M for incident light fluorescence with "ApoTome"
Axiovert 200 M MAT
Axiovert 200 MAT
PALM CombiSystem
PALM MicroBeam
PALM MicroTweezers
Stemi 2000 C
Stemi 2000 C for KS ELISPOT
Stemi 2000 CS
Stemi SV 6
Stemi SV 11
Stemi SV 11 Apo
| | |
| --- | --- |
| | This Zeiss camera connection with 30 mm internal diameter (tube connector with 30 mm dovetail ring) is called the Interface 60 by Zeiss. |

For further information and prices see our database. Please select a camera model.


New LM Digital Adapter for:
Sony Alpha 9 II (ILCE-9M2) / Sony Alpha 9 / Nikon D6 / Sony Alpha 7R IV / Sony Alpha 7S II / Sony Alpha 7R III / Nikon Z6 / Sony Alpha 7R II / Nikon Z7 / Canon EOS R with Canon Adapter EF-EOS R / Canon EOS Ra (Astro) with Canon Adapter EF-EOS R / Canon EOS RP with Canon Adapter EF-EOS R / Sony Alpha 7S / Canon EOS 1D X Mark III / Nikon Z50 / Nikon D850 / Canon EOS 1D X Mark II / Nikon D780 / Sony Alpha 7III / Nikon D5 / Sony Alpha 6600 / Sony Alpha 6400 / Sony Alpha 6100 / Canon EOS 1D X / Nikon D4s / Olympus OM-D E-M5 III / Canon EOS 90D / Canon EOS 5D Mark IV / Nikon D4 / Nikon D750 / Canon EOS 6D Mark II / Fujifilm X-T4 / Fujifilm X-T3 / Sony Alpha 6300 / Sony Alpha 6500 / Nikon D500 / Nikon D810 / Nikon D800 / Nikon D800E / Nikon Df / Panasonic Lumix DC-G9 /