192
Interface 60: Zeiss microscopes with photo tube with 30mm internal diameter
Zeiss microscopes with a 30mm inner diameter phototube (Interface 60) can be equipped with digital SLR or system cameras for microphotography in next to no time. Digital SLR cameras are very suitable for microphotography and deliver very high photo quality with an unbeatable price / performance ratio. With our LM products there are several ways to get the instruments ready for photo documetation.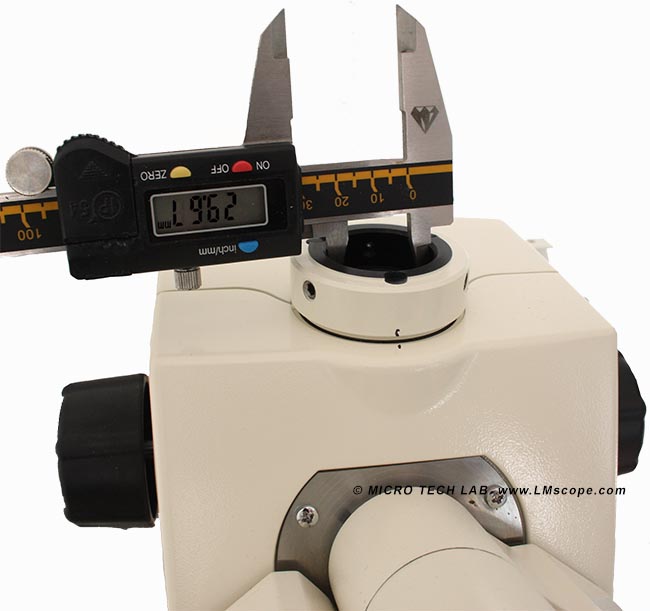 Zeiss microscopes with the Interface 60 (photo tube with 30mm inner diameter) are very good instruments that are definitely worth equipping them for photography. There are two possibilities for the adaptation.
Option 1)
Installation of a digital camera with our LM digital adapters. This variant is by far the most flexible. The photo port is equipped with a TUST30C (C-Mountport 1x as a basic adapter) and the LM digital adapter/ camera unit is then mounted on this. The advantage of this solution is that the LM digital adapter can be operated on most commercially available microscopes. Ideal if you have several microscopes and do not want to equip each with its own camera device! In addition, the adapter can be focused, which means that the parfocality can be adjusted very easily. There is also the possibility of adapting the image field size to customer requirements.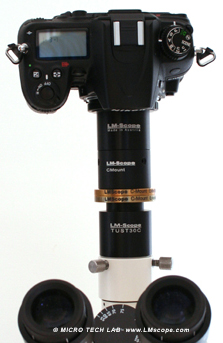 Option 2)
Mounting a digital camera with LM Direct SLR adapter. With this option, the LM Direct SLR adapter is installed directly in the photo port of the Zeiss microscope. The adapter is very compact and has a short design. This adapter line can only be mounted on Zeiss instruments with an Interface 60. Suitable if you just want to equip one microscope with a photo device. The big advantage of this adapter is the very attractive price.

Compatible Zeiss Microscopes
Axiolab,
Axioplan 2
Axioskop 2 MOT
Axioskop 2 Plus
Axioskop 2 FS MOT
Axioskop 2 FS Plus
Axioskop 40
Axioskop 40 A Pol
Axioskop 40 FL
Axioskop 40 Pol
Axiostar plus
Axiostar plus FL
Axiotech
Axiotech vario
Axiovert 100
Axiovert S 100
Axiovert 100 A

Axiovert 135
Axiovert 135 M
Axiovert 200
Axiovert 200 for incident light fluorescence with "ApoTome"
Axiovert 200 M
Axiovert 200 M for incident light fluorescence with "ApoTome"
Axiovert 200 M MAT
Axiovert 200 MAT
PALM CombiSystem
PALM MicroBeam
PALM MicroTweezers
Stemi 2000 C
Stemi 2000 C for KS ELISPOT
Stemi 2000 CS
Stemi SV 6
Stemi SV 11
Stemi SV 11 Apo
For further information and prices see our database. Please select a camera model.

New LM Digital Adapter for:
Nikon Z9 / Nikon Z8 / Sony Alpha 7R V / Sony Alpha 1 / Sony FX3 Cinema Line / Sony Alpha 9 II (ILCE-9M2) / Sony Alpha 9 / Nikon D6 / Canon EOS R3 / Canon EOS R6 Mark II / Canon EOS R8 / Sony Alpha 7R IV / Canon EOS R5 / Sony Alpha 7S II / Sony Alpha 7S III / Sony Alpha 7R III / Canon EOS R6 / Nikon Z6 / Nikon Z6II / Sony Alpha 7R II / Nikon Z7 / Nikon Z7II / Canon EOS R / Canon EOS Ra (Astro) / Nikon Z5 / Sony Alpha 7C / Canon EOS RP / Sony Alpha 7S / Canon EOS R7 / Leica SL2-S / Canon EOS R10 / Canon EOS 1D X Mark III / Nikon Z50 / Nikon Z30 / Nikon Z fc / Nikon D850 / Canon EOS 1D X Mark II / Nikon D780 / Olympus OM-1 / Sony Alpha 7III / Olympus OM-D E-M1 Mark III /