502
Test of the Leica S9 stereo microscope – a powerful optical system for high-definition images.
With our LM microscope adapters you can use state-of-the-art DSLR and DSLM cameras on your microscope – a combination that delivers exceptional resolution, dynamic range and light sensitivity.
The Leica S9 is an excellent stereo microscope that meets the highest quality standards. The optical system of the Leica S9 APO is particularly well suited for photomicrography applications – if you keep a few basic principles in mind.
Like all stereo microscopes, the Leica S9 has two optical paths, and it also features Leica's patented FusionOpticsTM technology for improved depth of focus without loss of resolution. In stereo microscopes, the three-dimensional effect is achieved when the human brain compiles the information it receives from the two optical paths into a single image. The optical paths in the Leica S9 vary in size. The microscope's right beam path provides a high-resolution image while the left beam path shows an image with great depth of field. This means that the human brain can combine the highly detailed information it obtains from both channels to produce a single image that offers high depth of field and a high degree of resolution.
In addition, the Leica S9 has been optimised for a working distance of 122 mm (75 mm for the S9 APO), thus leaving ample space between the lens and the specimen surface. These specifications make it a highly interesting tool for photographic documentation. In photomicrography, high standards are demanded of our LM digital adapter and the camera system that is being used. While the human brain can use the information it gathers from the two optical paths, the camera system can draw from just one image path, which is why stereo microscope photography is always challenging.
Both the S9D and the S9 APO have a photo port with a thread size of 37 mm. Our customised adapter solution is attached to that port.
To obtain the maximum possible field of view in the image, you need to use the following adapter solution: First, attach our "TUST37C" mechanical C-mount port 1x to the Leica C1XTH 1x port. Then, add the LM "DSLRXTCW_Pro" wide-field adapter to this combination.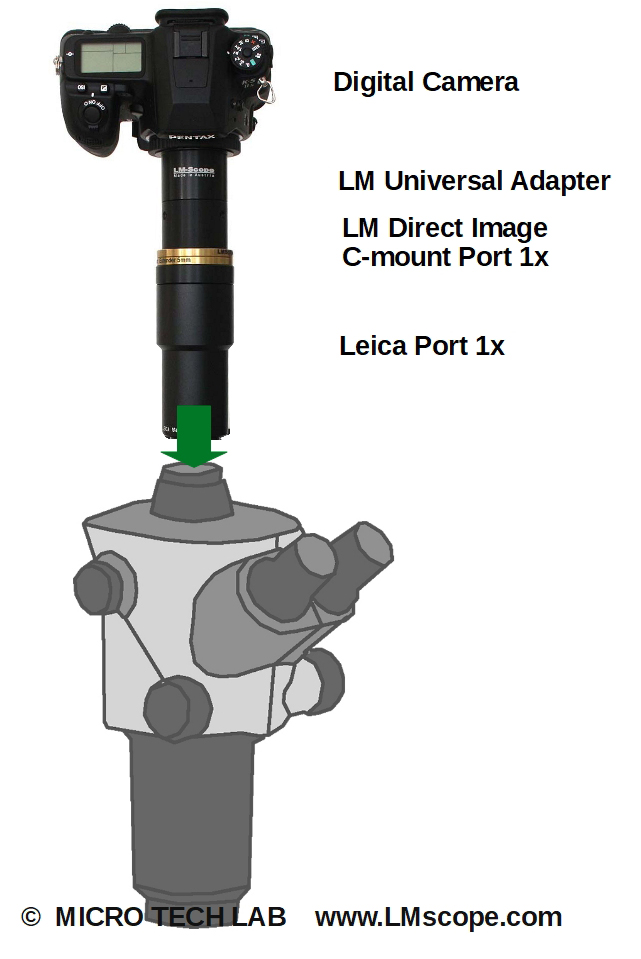 Our adapter solutions are equipped with a plan achromatic optical system, and their modular construction allows for easy pairing with different microscopes by simply changing some small accessory parts. Our adapters have an M42 thread on the camera side, which couples easily with a variety of different camera connections. We carry bayonet adapters that fit the most current DSLR and DSLM cameras.
When it comes to depth of field, you need to reach into your photographer's bag of tricks if you want to capture truly high-quality shots. As mentioned previously, since the camera can use just one optical path, the depth of field depicted in photographic images is not the same as what appears when looking through the eyepieces. However, by taking several shots and merging them into one photograph using specialised software (z-stacks/3D microscopy), it is possible to create images with a depth of field that is very high.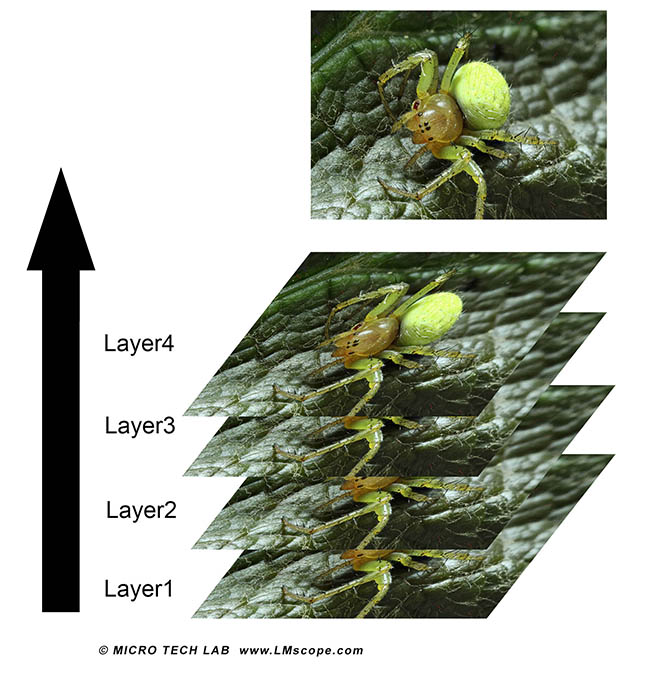 Conclusion: With our adapter solution and a little trick called focus stacking, the powerful optical system of the Leica S9 series of microscopes can be used effectively and flexibly to produce excellent images. To help you find the camera that is best suited for microscopy, we have put together a guide and a list of camera rankings. The criteria we focused on were each camera's performance in operation and its price/performance ratio –and we got some very interesting results.
Photography:
Fitting the microscope to digital single-lens reflex (DSLR), system or C-mount cameras is easy with our LM digital SLR adapters, which feature a plan achromatic optical system. Our products make it possible to capture top-quality microscope images. To help you select the adapter that is right for your camera, we have set up an online configurator on our website. You can also email us – ideally with attached photographs of your microscope.
Modern DSLR and system cameras offer the latest technology and are generally very well suited for microscopy applications. Most of them can be controlled remotely via PC/Mac. Because of their high sales volumes, they offer an excellent price/performance ratio compared to special-purpose microscope cameras.
Features of top DSLR and system cameras:
- Large, powerful full-frame sensors (36 x 24 mm)
- Sensor resolution of 50 megapixels
- High light sensitivity (ISO 100,000+)
- Extensive dynamic range (up to 14 aperture stops/f-stops)
- Short exposure times (1/8000 second):
- Full/Ultra HD (4k) video function
- Live video capture on external monitors in ultra HD quality
In most cases, these cameras are significantly more powerful than microscope cameras with smaller sensors (1/2" or 2/3"). On our website you will find our current camera recommendations and a camera ranking which is specifically tailored to microscopy applications.

New LM Digital Adapter for:
Nikon Z9 / Sony Alpha 1 / Sony FX3 Cinema Line / Sony Alpha 9 II (ILCE-9M2) / Sony Alpha 9 / Nikon D6 / Canon EOS R3 / Sony Alpha 7R IV / Canon EOS R5 / Sony Alpha 7S II / Sony Alpha 7R III / Canon EOS R6 / Nikon Z6 / Nikon Z6II / Sony Alpha 7R II / Nikon Z7 / Nikon Z7II / Canon EOS R / Canon EOS Ra (Astro) / Nikon Z5 / Sony Alpha 7C / Canon EOS RP / Sony Alpha 7S / Canon EOS R7 / Canon EOS R10 / Canon EOS 1D X Mark III / Nikon Z50 / Nikon D850 / Canon EOS 1D X Mark II / Nikon D780 / Olympus OM-1 / Sony Alpha 7III / Olympus OM-D E-M1 Mark III / Nikon D5 / Sony Alpha 6600 / Olympus OM-D E-M1X / Sony Alpha 6400 / Sony Alpha 6100 / Sony ZV-E10 / Canon EOS 1D X / Nikon D4s / Olympus OM-D E-M5 III / Canon EOS 90D / Canon EOS 5D Mark IV / Nikon D4 / Nikon D750 / Canon EOS 6D Mark II / Fujifilm X-T4 / Fujifilm X-T3 / Sony Alpha 6300 / Sony Alpha 6500 /