268
Digital photographic documentation with the Euromex Novex RZ series stereo zoom microscope
We frequently receive questions from our customers about the Euromex Novex stereo zoom microscope. For this reason, we have put together a summary of our experience using this instrument, and in particular when combined with our adapters for photo documentation.
The Euromex Novex Zoom is a high-quality stereo microscope that offers a sound price/performance ratio. It is available with either a binocular or trinocular stereo head. The trinocular head is equipped with a vertical phototube (with integrated lens) and C-mount thread (see figure 3) for connecting a camera to the microscope. The Novex RZ is equipped with a 0.65x4.5x zoom lens. Magnifications of 6.5x to 45x can be achieved with the WF 10x/20 wide field eyepieces, which come with the microscope as standard equipment.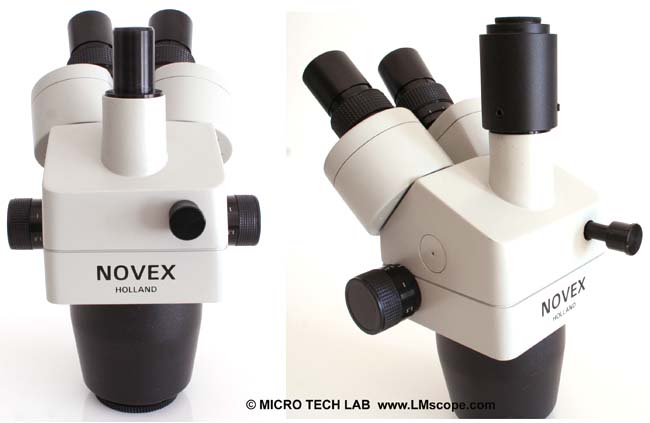 Image left: Euromex Novex Zoom trinocular head with pin for C-mount connection
Image right: Euromex Novex Zoom trinocular head with LM Direct Image C-Mount Port 1x
The construction of the Euromex Novex RZ series stereo zoom microscope is based on the Greenough principle, which means that it has two completely separate optical paths (see image 2). With these two optical paths, the object is viewed from two different directions which correspond to the convergence angle of both eyes for short-distance visual accommodation. This leads to a "plastic vision" effect which is particularly advantageous when working with slides. In microphotography, however, it is only possible to capture images through one optical path, which is why the microphotographic image differs from the image observed through the eyepieces.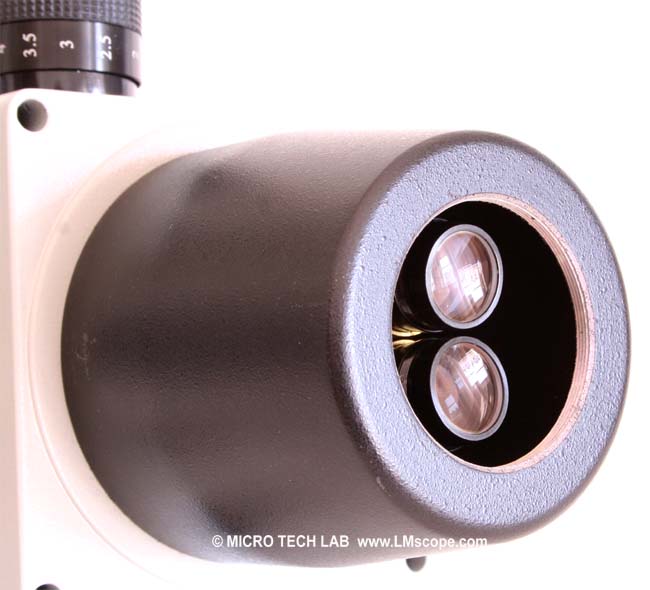 Image 2) Optical path of Euromex Novex Zoom Stereomikroskop RZ-Reihe
If you wish to take photographs through the phototube on the Euromex Novex RZ, then you will need to use a slider so that all (100%) of the left optical path leads to the camera system. As a consequence, the left eyepiece will no longer receive an image. Somewhat more expensive microscopes offer the possibility of a semi-transparent deflection (e.g. 50% : 50% or 70% : 30%). This makes working with the microscope easier, as it means that a stereo image is still available (via the eyepieces).
If you are using a camera with APS-C or four-thirds sensors for taking photographs through the microscope, then our standard adapter is the best choice. The image shows an Olympus E-620 mounted with our DSLROTC_Pro LM universal digital adapter and an LM direct image C-mount port 1x without built-in lens (see figure 3). For C-mount cameras with a 1/2" sensor or smaller, the C-mount port included with the Euromex Novex can be used, which has a built-in lens (see image 3).
Euromex Novex Zoom with LM Direct Image C-Mount Port 1x, LM Universal digital Adapter DSLROTC_Pro and Olympus E-620
For instruments with a phototube (see image 3), the LM direct image C-mount port 1x is attached to the phototube (23 mm exterior thread) and secured (image 4). Then, the appropriate LM digital adapter with the camera is attached to the assembly.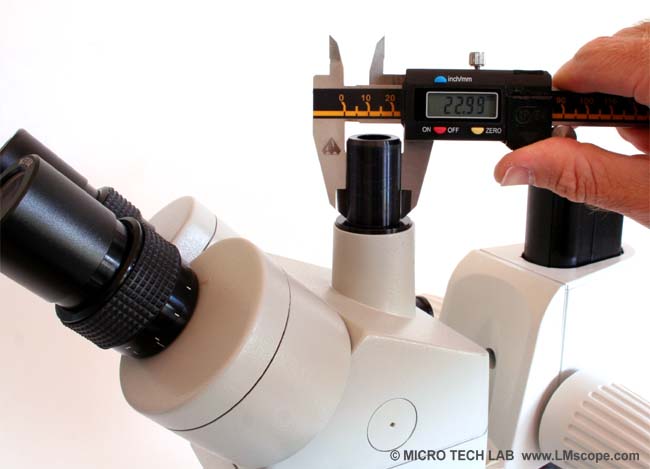 Euromex Novex Zoom trinocular head with thread for C-Mount (23 mm diameter)
For instruments without a phototube, we offer an adapter solution via an eyepiece tube (image 5). With this option, the optical quality of the images is just as good as with the solution using the C-mount connection.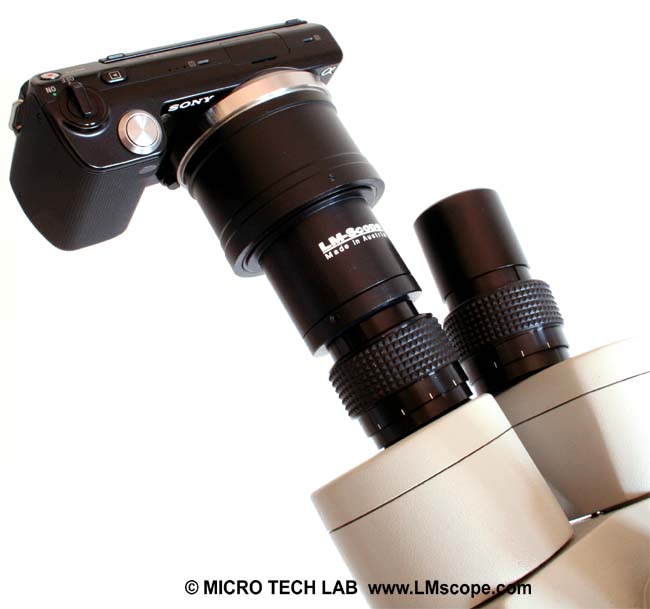 Euromex Novex Zoom binocular head with LM digital SLR Adapter DSLRET, TUST30.5S, Sony NEX-5
It is also possible to use the original Euromex photo adapter.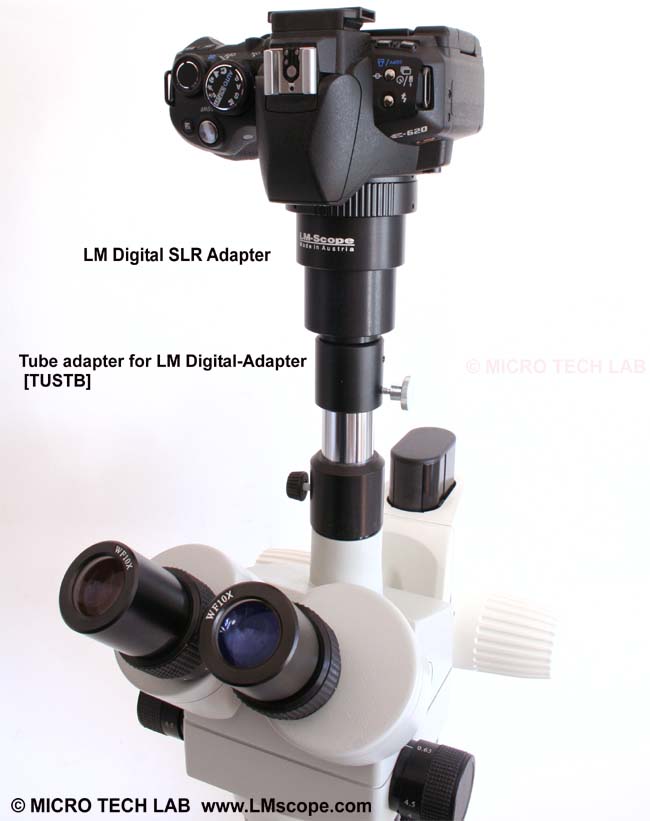 Euromex Novex Zoom trinocular head with original photoadapter (Artikelnr: 65.818) 23,2 mm phototube for RZT (trinocular) Types, TUST B, LM Universal digital Adapter DSLROTC_Pro, Olympus E-620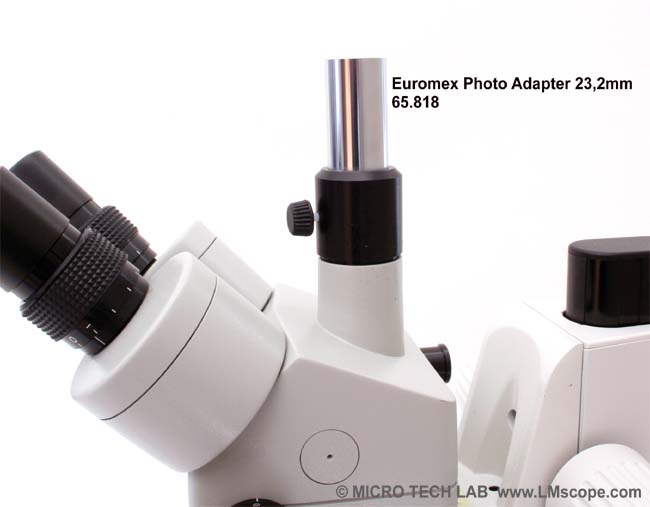 Euromex Novex Zoom trinocular head with original photoadapter (Artikelnr: 65.818) 23,2 mm phototube for RZT (trinocular) Types
Choosing the right camera for microscopy can be very difficult. For users who prefer to spend less than € 1,000 for their camera equipment, in the majority of cases, modern DSLR cameras and system cameras offer the best alternative. These cameras have a large number of pixels (> 30 megapixels), good colour depth (> 42 bits) and a high signal-to-noise ratio. Particularly at low magnification (6.5x), significantly more details can be displayed than when using USB cameras. In comparison with USB cameras, they also possess many features that make working with a microscope considerably easier (e.g. Live View feed in HD quality to a monitor or projector, HDMI connection, remote control from the PC, etc.).
Information concerning choosing the right camera you can find below.
On the other hand, USB cameras are the better solution if images need to be captured over a longer period of time (several days or even weeks). USB cameras also have special software solutions that are not available in this form for DSLRs and system cameras. The image quality, however, is considerably more inferior – especially with cheaper USB cameras – than with DSLRs or system cameras. Due to their much smaller sensor they have a significantly lower colour depth, in most cases only 24 or 30 bits. The number of pixels is also much lower, as is the signal-to-noise ratio. It is very easy to use USB cameras with the Euromex: The camera simply needs to be attached to the C-mount connection that comes with the microscope.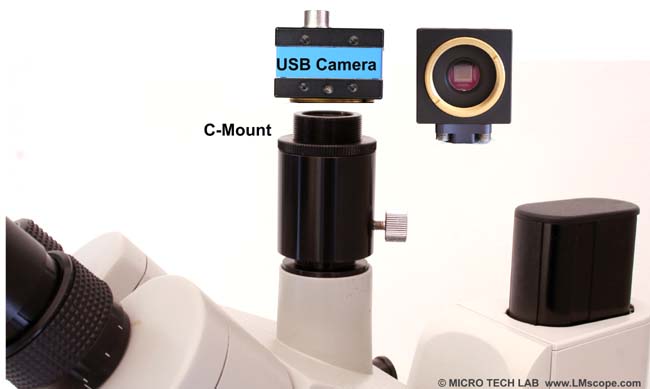 Euromex Novex Zoom trinocular head with original C-Mount thread (integrated optics) and USB camera with a sensor max. 1/2"
The quality of the photographic documentation obtained with the Euromex Novex RZ cannot, of course, be compared with that from high-quality branded microscopes. The barrel-shaped distortions can be clearly seen in the photograph and even appear at weak magnifications (in this case 6.5x); up to the maximum magnification they are ever more faintly visible.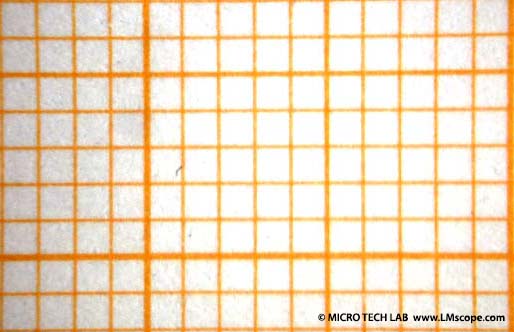 At magnification factors of around 25x and up, the field curvature (blurring at the edges) increases considerably; this is particularly evident with planar objects.
The zoom lens no longer shows any further details when the magnification factor exceeds a value of around 30x (empty magnification). When capturing images with cameras that have a high number of pixels (over 15 megapixels), the magnification should therefore not be set higher than 30x, as there will be no increase in the resolution.
As mentioned previously, the Euromex Novex RZ features a Greenough optical system. For this reason, only a small area of the image is depicted in sharp focus.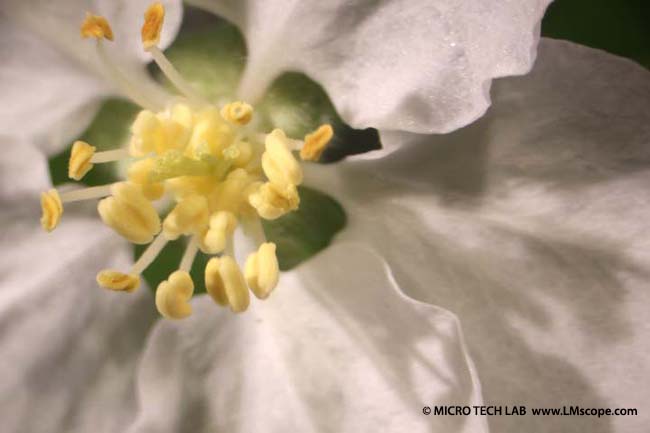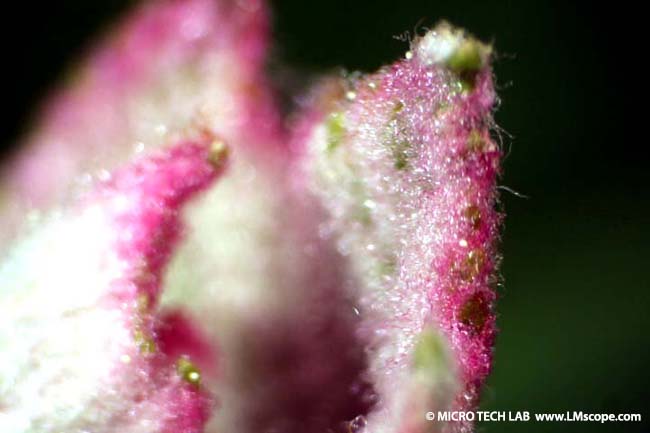 Unfortunately, there is no manual aperture to increase the depth of field, so it is only possible to achieve acceptable photographic results by using special depth of field software.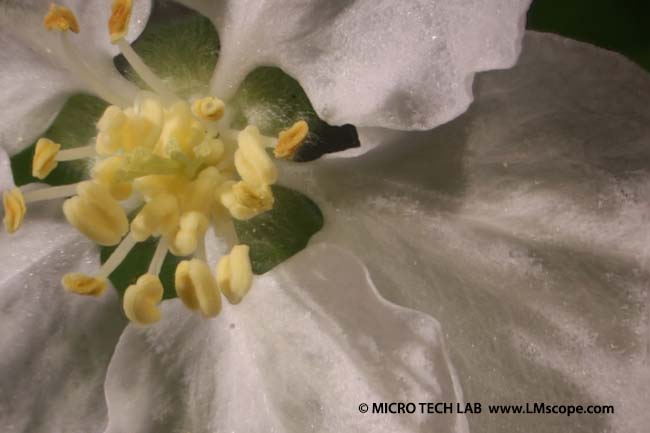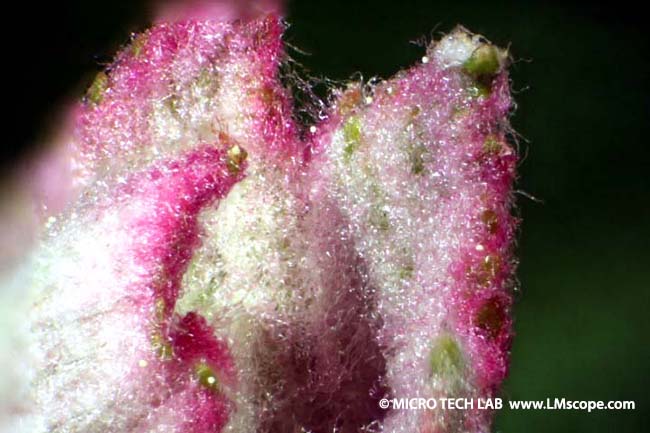 Advantages of slightly higher priced branded microscopes such as the Nikon SMZ745 or the Olympus SZ61:
no barrel-shaped distortions at minimal magnifications

low chromatic image flaws (colour fringing)

phototube with beam splitting mirror offering a ratio of, for example, 50% : 50%

higher resolution capability at highest magnifications

better-quality lenses
Of course, it is important to take into consideration that all of these advantages come at a price (the Euromex Novex RZ costs around € 700, while the Nikon SMZ745 and the Olympus SZ61 come at a price of around € 2,500.)
Conclusion:
At this point, we need to emphasise once again that for microscope photographic documentation, systems with a centric optical path are more suitable. The Euromex Novex RZ is a reasonably priced entry-level instrument for examination and preparative work. However, the main area of use for this microscope is not photo documentation. However, we also achieved very good results with the Euromex Novex stereo zoom microscope. Basically, almost all digital cameras (full format, APS-C or four-thirds sensor) can be used. All you need is our LM standard adapter and a C-mount port 1x. For C-mount cameras with a very small sensor (max. 1/2"), you don't need any additional equipment at all. Instead, you can use the original C-mount port that comes with the microscope and has a built-in lens.
Photography:
Fitting the microscope to digital single-lens reflex (DSLR), mirrorless interchangeable-lens cameras (MILC ), digital single-lens mirrorless (DSLM) or C-mount cameras is easy with our LM digital SLR adapters, which feature a plan achromatic optical system. Our products make it possible to capture top-quality microscope images. To help you select the adapter that is right for your camera, we have set up an online configurator on our website. You can also email us – ideally with attached photographs of your microscope.
Modern DSLR and single-lens mirrorless (DSLM) offer the latest technology and are generally very well suited for microscopy applications. Most of them can be controlled remotely via PC/Mac. Because of their high sales volumes, they offer an excellent price/performance ratio compared to special-purpose microscope cameras.
Features of top DSLR and single-lens mirrorless cameras (DSLM):
- Large, powerful full-frame sensors (36 x 24 mm)
- Sensor resolution of 61 megapixels or 240 megapixels with Pixel Shift technology
- High light sensitivity (ISO 400,000+)
- Extensive dynamic range (up to 15 aperture stops/f-stops)
- Short exposure times (1/8000 second) up to 1/32,000 seconds using the digital shutter
- 4K Ultra HD or 8K Ultra HD video function
- Live video capture on external monitors in ultra HD quality
In most cases, these cameras are significantly more powerful than microscope cameras with smaller sensors (1/2" or 2/3"). On our website you will find our current camera recommendations and a camera ranking which is specifically tailored to microscopy applications.

New LM Digital Adapter for:
Nikon Z9 / Nikon Z8 / Sony Alpha 7R V / Sony Alpha 1 / Sony FX3 Cinema Line / Sony Alpha 9 II (ILCE-9M2) / Sony Alpha 9 / Nikon D6 / Canon EOS R3 / Canon EOS R6 Mark II / Canon EOS R8 / Sony Alpha 7R IV / Canon EOS R5 / Sony Alpha 7S II / Sony Alpha 7S III / Sony Alpha 7R III / Canon EOS R6 / Nikon Z6 / Nikon Z6II / Sony Alpha 7R II / Nikon Z7 / Nikon Z7II / Canon EOS R / Canon EOS Ra (Astro) / Nikon Z5 / Sony Alpha 7C / Canon EOS RP / Sony Alpha 7S / Canon EOS R7 / Leica SL2-S / Canon EOS R10 /