533
The LM DSLR DSLM tuning adapter and the affordably priced Bresser Science ETD201 stereo microscope: a great combination to get every last bit of performance from your microscope!
The Bresser Science ETD201 zoom stereo microscope is a very good instrument for its price tag (just under EUR 700), whose quality rivals and even exceeds that of brand-name microscopes. It is available in binocular and trinocular configurations.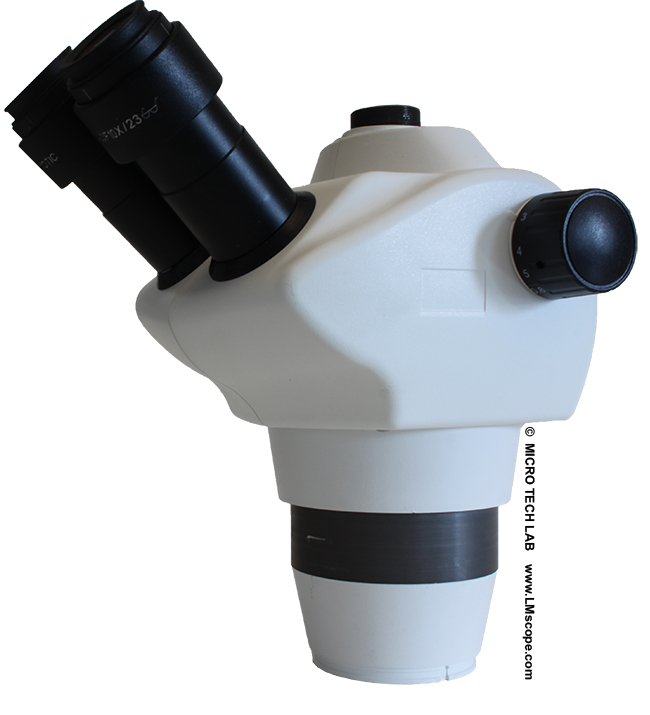 Our LM digital adapter solutions with integrated plan-achromatic precision optics allow you to attach almost any DSLR camera or system camera to your microscope – you decide which camera you want to use. You can also take advantage of the capabilities offered by large-sensor cameras: they deliver considerably better image quality than comparable C-mount cameras with small sensors and are often available at a lower price point. Our adapter solutions for DSLRs and DSLMs (mirrorless system cameras) can be used on the eyepiece tube and the phototube of the microscope, thus allowing for maximum flexibility of use.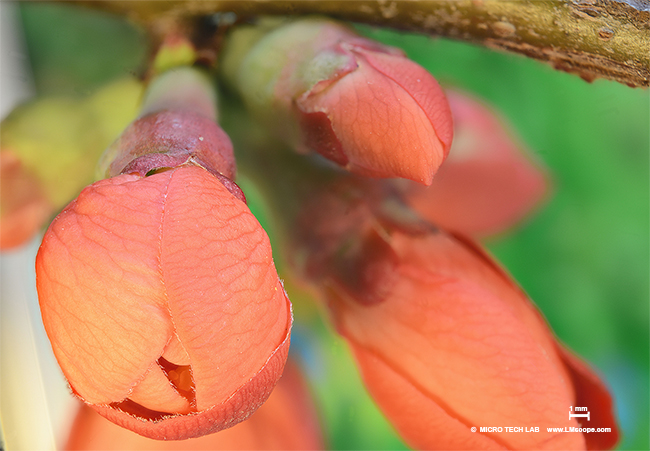 To choose the right eyepiece adapter, you need to know the internal diameter of the tube after the eyepiece has been removed. The eyepiece tubes of most newer microscopes have an internal diameter of 30 mm.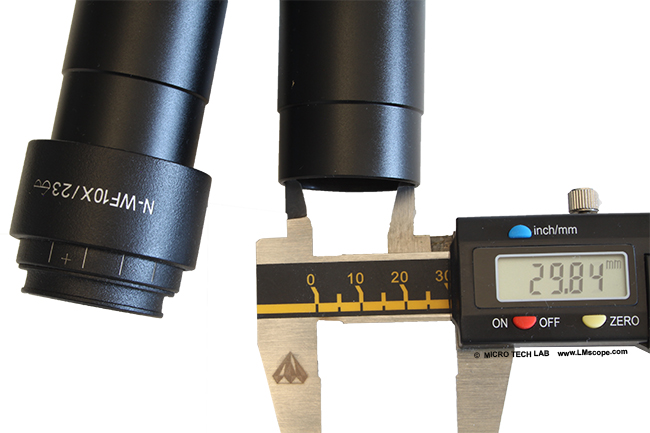 Our DSLR universal adapter is simply inserted into the eyepiece tube. Thanks to its two-part design, the image can be refocused.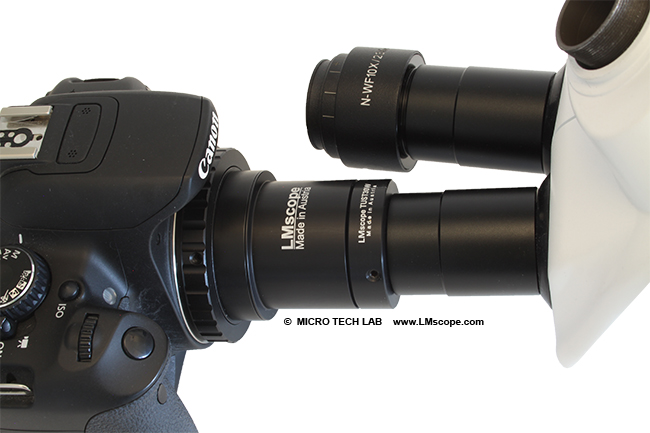 The image shows a Canon DSLR attached to the eyepiece tube using our LM wide-field adapter solution
As mentioned previously, the Bresser Science ETD201 stereo microscope is also available in trinocular format and features a Greenough-type optical system. Microscopes with this optical design produce a very tangible three-dimensional effect. Stereo microscopes have two completely separate optical paths that are offset at an angle.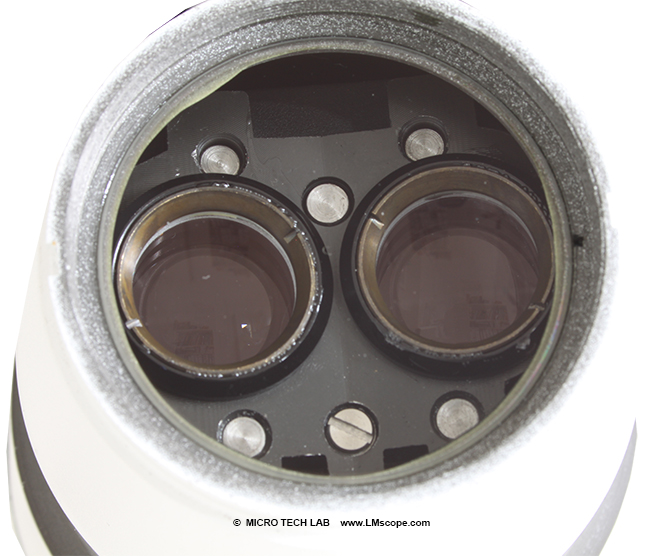 The wide-field adapter solution is fitted to the phototube, and this unit is then attached to the camera.

This setup enables the camera to capture the largest possible field of view (FoV) without any peripheral darkening. Cameras with large sensors, which ideally also have an articulated screen, are excellently suited for photomicrography applications. For comfortable operation, we also recommend connecting the camera to a computer, tablet or smartphone via USB cable or a wireless network (Wi-Fi) and control it remotely using a software or app. This not only improves workflow efficiency, but also allows images to be saved directly to the computer or tablet/smartphone.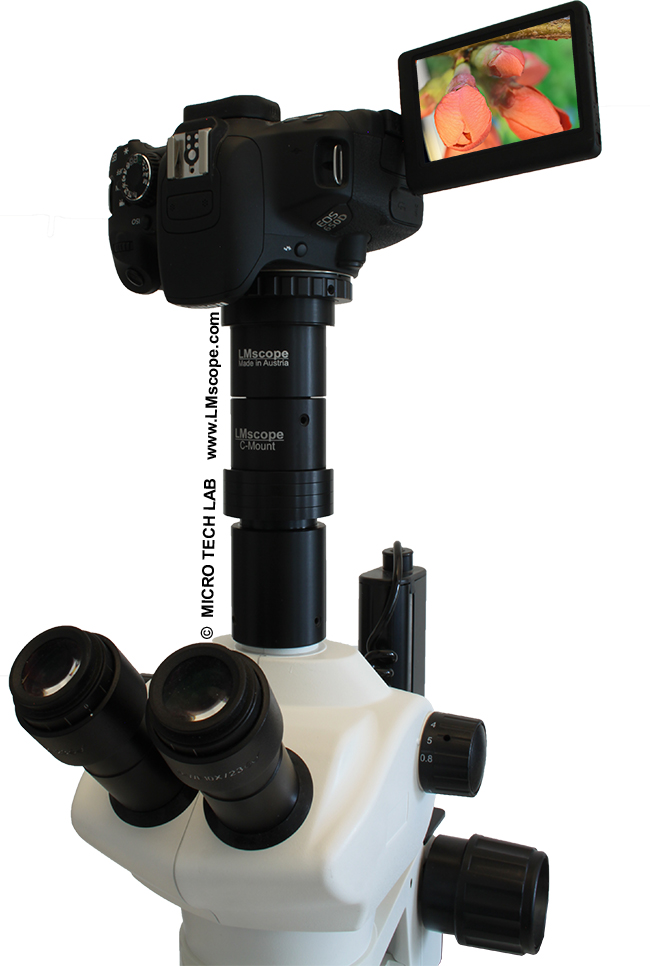 The image shows a Canon DSLR attached to the phototube using our LM wide-field adapter
The Bresser Science ETD201 offers a range of magnification from 8x to 50x. The required magnification can be set with the magnification manipulation knob. It has LED incident and transmitted illumination and a conveniently large working distance of 105 mm.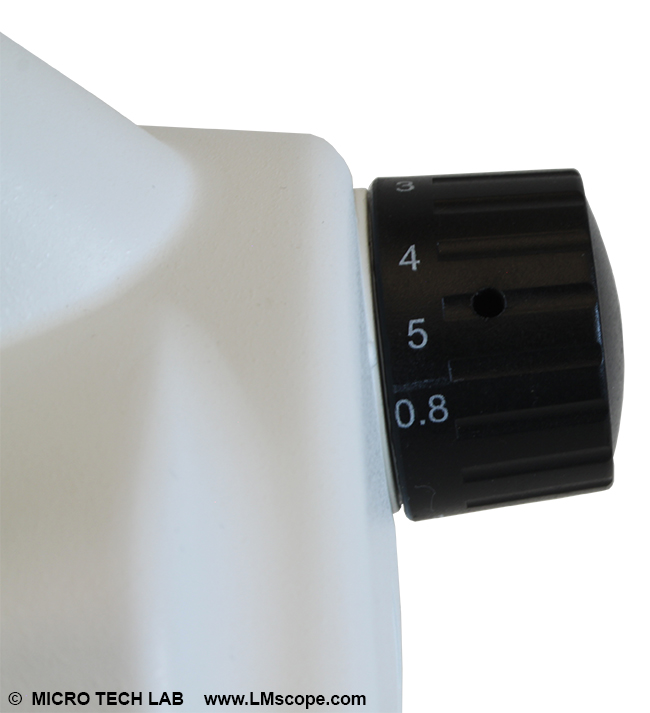 Prices and more detailed information about the microscope adapter are available on request.
In summary, we find that if a good microscope adapter and a large-sensor camera (DSLR or DSLM) are used, high-quality images can be produced even with cheaper microscopes. To help you choose the camera that is best suited for your needs, we have put together a guide and a list of camera rankings.
Photography:
Fitting the microscope to digital single-lens reflex (DSLR), mirrorless interchangeable-lens cameras (MILC ), digital single-lens mirrorless (DSLM) or C-mount cameras is easy with our LM digital SLR adapters, which feature a plan achromatic optical system. Our products make it possible to capture top-quality microscope images. To help you select the adapter that is right for your camera, we have set up an online configurator on our website. You can also email us – ideally with attached photographs of your microscope.
Modern DSLR and single-lens mirrorless (DSLM) offer the latest technology and are generally very well suited for microscopy applications. Most of them can be controlled remotely via PC/Mac. Because of their high sales volumes, they offer an excellent price/performance ratio compared to special-purpose microscope cameras.
Features of top DSLR and single-lens mirrorless cameras (DSLM):
- Large, powerful full-frame sensors (36 x 24 mm)
- Sensor resolution of 61 megapixels or 240 megapixels with Pixel Shift technology
- High light sensitivity (ISO 400,000+)
- Extensive dynamic range (up to 15 aperture stops/f-stops)
- Short exposure times (1/8000 second) up to 1/32,000 seconds using the digital shutter
- 4K Ultra HD or 8K Ultra HD video function
- Live video capture on external monitors in ultra HD quality
In most cases, these cameras are significantly more powerful than microscope cameras with smaller sensors (1/2" or 2/3"). On our website you will find our current camera recommendations and a camera ranking which is specifically tailored to microscopy applications.

| | | | | |
| --- | --- | --- | --- | --- |
| Ordering code | Product description | Price | Price | Available |
| DSLRXTCW_Pro_B_ ETD201 | LM Digital universal SLR Adapter with special hard anti-reflection coating, plan achromatic optics for Bresser Science ETD201 Zoom-stereomicroscope with phototube, with camera lens mount | | | |
For EU (European Union) VAT (IVA, TVA) not included
New LM Digital Adapter for:
Nikon Z9 / Nikon Z8 / Sony Alpha 7R V / Sony Alpha 1 / Sony FX3 Cinema Line / Sony Alpha 9 II (ILCE-9M2) / Sony Alpha 9 / Nikon D6 / Canon EOS R3 / Canon EOS R6 Mark II / Canon EOS R8 / Sony Alpha 7R IV / Canon EOS R5 / Sony Alpha 7S II / Sony Alpha 7S III / Sony Alpha 7R III / Canon EOS R6 / Nikon Z6 / Nikon Z6II / Sony Alpha 7R II / Nikon Z7 / Nikon Z7II / Canon EOS R / Canon EOS Ra (Astro) / Nikon Z5 / Sony Alpha 7C / Canon EOS RP / Sony Alpha 7S / Canon EOS R7 / Leica SL2-S / Canon EOS R10 / Canon EOS 1D X Mark III / Nikon Z50 / Nikon Z30 / Nikon Z fc / Nikon D850 / Canon EOS 1D X Mark II / Nikon D780 / Olympus OM-1 / Sony Alpha 7III / Olympus OM-D E-M1 Mark III / Canon EOS R100 / Sony Alpha 6700 / Nikon D5 / Sony Alpha 6600 / Fujifilm X-H2S / Fujifilm X-S10 / Fujifilm X-E4 / Fujifilm X-Pro3 / Olympus OM-D E-M1X / Sony Alpha 6400 /