626
Upright laboratory microscope Swift Stellar T-1 / Swift Stellar 1 Pro Trinocular Compound: an inexpensive way to get started with photomicrography
The Swift Stellar T-1 is a compact entry-level microscope with an infinity-corrected optical system. We took a closer look to find out whether it is a good fit for modern digital cameras, such as mirrorless system cameras or C-mount cameras.
Key features of the Stellar T-1:
Upright microscope with infinity-corrected optical system

Ergo tube with 30-degree tilt

Quadruple revolving nosepiece for objectives with RMS thread

S Plan Infinity objectives: 4 objectives in a revolving nosepiece: SA Plan Infinity 4X, 10X, 40X (Spring), 100X (Spring, Oil)

Imaging methods: brightfield, darkfield and phase contrast

10X and 25X eyepieces

Adjustable ocular diopter: +/- 5 dp

Interpupillary distance: 48-75 mm

NA 1.25 Abbe condenser with iris diaphragm

Mechanical stage with rack stop, 125 mm x 115 mm

1W LED with intensity control

Power supply: 110-240V power input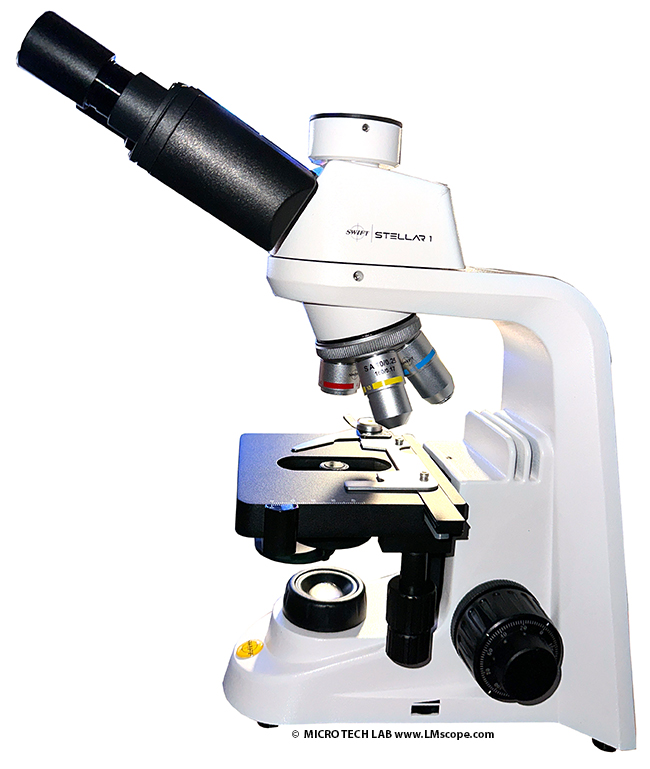 The Stellar T-1 is available – depending on the level of parts and equipment – at a starting price of about EUR 480. It is a trinocular microscope with a 30 degree inclined, rotatable trinocular head and transmitted illumination. It has a quadruple revolving nosepiece and comes with the following achromatic objectives: 4x, 10x, 40x (Spring), 100x (Spring, Oil)
"Spring" means that the front lens features a spring-loaded retraction stopper that allows the lens assembly to be retracted and thus offers protection from damage. "Oil" means that a small drop of immersion oil is placed between the front lens of the objective and the specimen to effectively use the magnification produced.
This microscope still uses the smaller 23.2 mm tube diameter eyepieces and therefore delivers a slightly smaller field of view than that achieved with modern 30 mm eyepieces. The microscope comes with one pair of 25x and one pair of 10x eyepieces, which are classified as widefield by the manufacturer, but can no longer be considered widefield by today's standards. For typical microscope tasks, we recommend using the eyepieces with 10x magnification because this results in a larger field of view. The stronger eyepieces do not offer more resolution in most cases. Although the manufacturer quotes magnification levels of up to 2,500x, the effective usable magnification is around 500x at most.
The stage has a coarse and fine focusing system. The LED bulb provides steady illumination and reduces light fluctuations. It is even possible to connect a portable battery pack to the standard type-C USB plug and a 5V/2A power supply (low-voltage input) and turn the microscope into a fully portable instrument, which can be used away from any power mains.
The microscope is equipped with a standard 23.2 mm internal diameter camera port. With our LM microscope adapter solutions, users can attach almost any type of camera to this port. Modern cameras are capable of sending the live image output to a computer or an external monitor.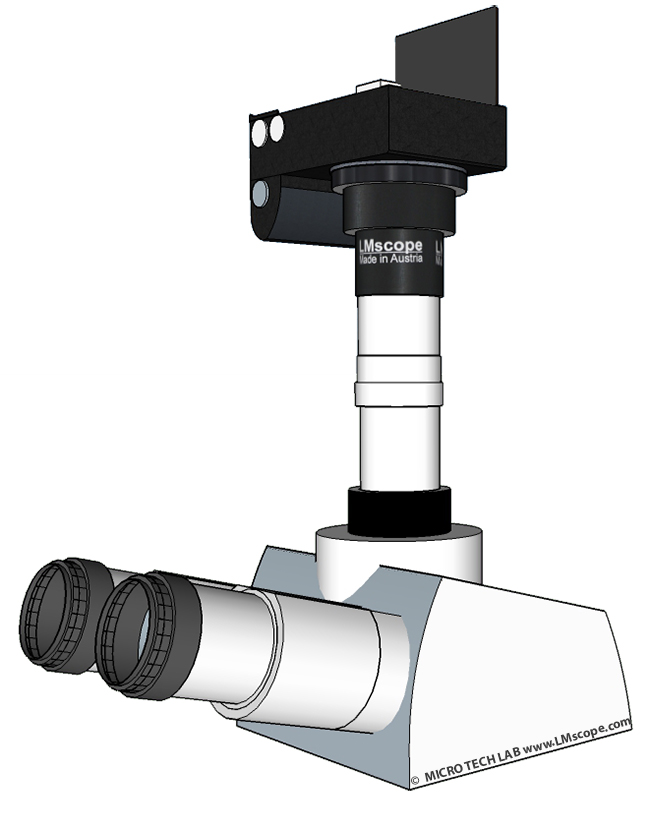 As an alternative, a different adapter solution can be used to attach a camera to the eyepiece tube of the microscope: one eyepiece is removed and the camera, together with the adapter unit, is inserted into the tube where the eyepiece was. The tough and quality-built design of our LM microscope adapters also allows heavier cameras to be attached securely to the eyepiece tube. The integrated precision optical system enables the camera to capture a large field of view with sharp focus all the way to the edges. LM microscope adapters are designed for professional use. Because they feature a modular design, they can be used on other microscope brands as well. If you switch to a more expensive and powerful microscope, for example one from a leading brand such as Zeiss, Nikon or Olympus, you can continue using your existing LM adapter solution with just a few accessory parts.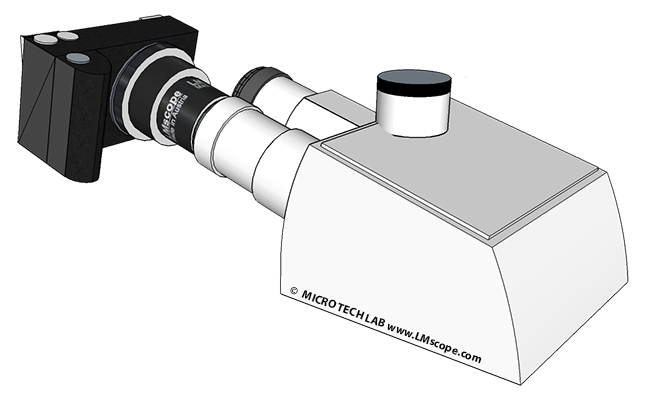 To achieve a high level of image quality, we recommend cameras with large sensors, such as mirrorless system cameras, DSLRs or high-quality C-mount cameras.
As a rule, these cameras can be controlled remotely from a computer, PC or Mac. Mobile devices such as smartphones or tablets can also be used to receive and display live images transmitted from the camera via a wireless (Wi-Fi) connection. The image output can be conveniently viewed on a larger screen, and you can also adjust the focus of your image and release the shutter. This makes for a better workflow and image quality.
You can find more information about cameras on our camera recommendation and camera ranking for microscopy info pages.
01.03.2023
Photography:
Fitting the microscope to digital single-lens reflex (DSLR), mirrorless interchangeable-lens cameras (MILC ), digital single-lens mirrorless (DSLM) or C-mount cameras is easy with our LM digital SLR adapters, which feature a plan achromatic optical system. Our products make it possible to capture top-quality microscope images. To help you select the adapter that is right for your camera, we have set up an online configurator on our website. You can also email us – ideally with attached photographs of your microscope.
Modern DSLR and single-lens mirrorless (DSLM) offer the latest technology and are generally very well suited for microscopy applications. Most of them can be controlled remotely via PC/Mac. Because of their high sales volumes, they offer an excellent price/performance ratio compared to special-purpose microscope cameras.
Features of top DSLR and single-lens mirrorless cameras (DSLM):
- Large, powerful full-frame sensors (36 x 24 mm)
- Sensor resolution of 61 megapixels or 240 megapixels with Pixel Shift technology
- High light sensitivity (ISO 400,000+)
- Extensive dynamic range (up to 15 aperture stops/f-stops)
- Short exposure times (1/8000 second) up to 1/32,000 seconds using the digital shutter
- 4K Ultra HD or 8K Ultra HD video function
- Live video capture on external monitors in ultra HD quality
In most cases, these cameras are significantly more powerful than microscope cameras with smaller sensors (1/2" or 2/3"). On our website you will find our current camera recommendations and a camera ranking which is specifically tailored to microscopy applications.

New LM Digital Adapter for:
Nikon Z7 / Nikon Z7II / Canon EOS R / Canon EOS Ra (Astro) / Nikon Z5 / Sony Alpha 7C / Canon EOS RP / Sony Alpha 7S / Canon EOS R7 / Leica SL2-S / Canon EOS R10 / Canon EOS 1D X Mark III / Nikon Z50 / Nikon Z30 / Nikon Z fc / Nikon D850 / Canon EOS 1D X Mark II / Nikon D780 / Olympus OM-1 / Sony Alpha 7III / Olympus OM-D E-M1 Mark III / Canon EOS R100 / Sony Alpha 6700 / Nikon D5 / Sony Alpha 6600 / Fujifilm X-H2S / Fujifilm X-S10 / Fujifilm X-E4 / Fujifilm X-Pro3 / Olympus OM-D E-M1X / Sony Alpha 6400 / Sony Alpha 6100 / Sony ZV-E10 / Canon EOS 1D X / Nikon D4s / Olympus OM-D E-M5 III / Canon EOS 90D / Canon EOS 5D Mark IV / Nikon D4 / Nikon D750 / Canon EOS 6D Mark II /