631
Get the most out of your Nikon Eclipse Si laboratory microscope with large-sensor cameras!
The Eclipse Si is a versatile microscope for clinical, laboratory and industrial applications, and it is also a great instrument for hobby researchers and students. Our LM microscope adapters with built-in optics allow you to harness the many benefits of modern mirrorless system cameras and SLR cameras with large sensors, which are just as diverse as the uses of this microscope.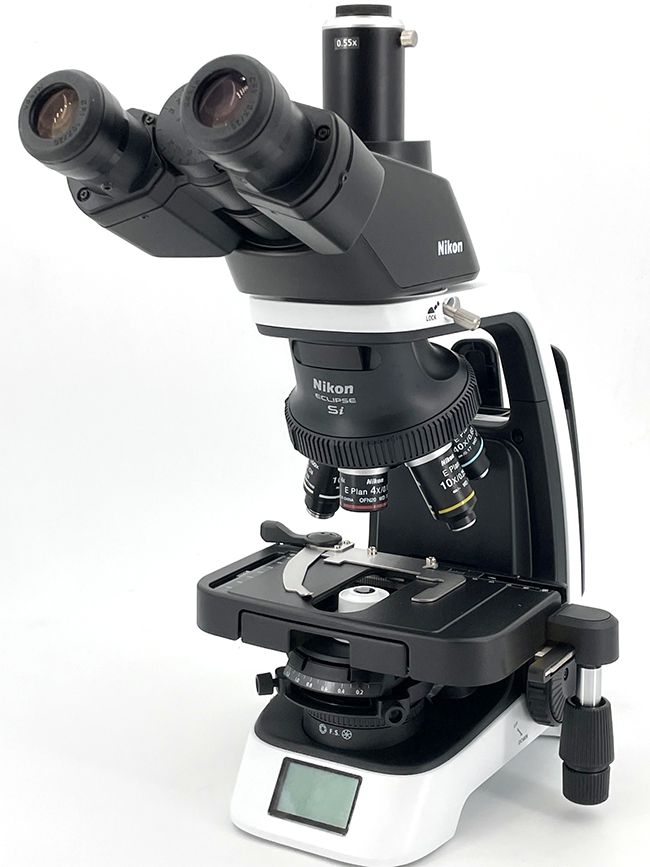 Launched in 2021, the Nikon Eclipse Si is an upright microscope with an infinity-corrected optical system. It features a robust design and supports the following observation methods: transmitted/reflected light, brightfield, phase contrast, darkfield, simple polarisation and diascopic fluorescence. It is equipped with a reversed-type quintuple nosepiece with M25 objective thread size. For optimal performance, CFI E series plan achromat objectives (4x, 10x, 40x, 60x, 100x oil) and CFI achromat objectives (DL 10x, LWD DL 20x, DL 40x, 100x oil) are recommended. They are part of Nikon's acclaimed CFI60 optical system which provides high-quality imaging performance to meet even the most demanding requirements. Achromats for phase contrast observation are also available.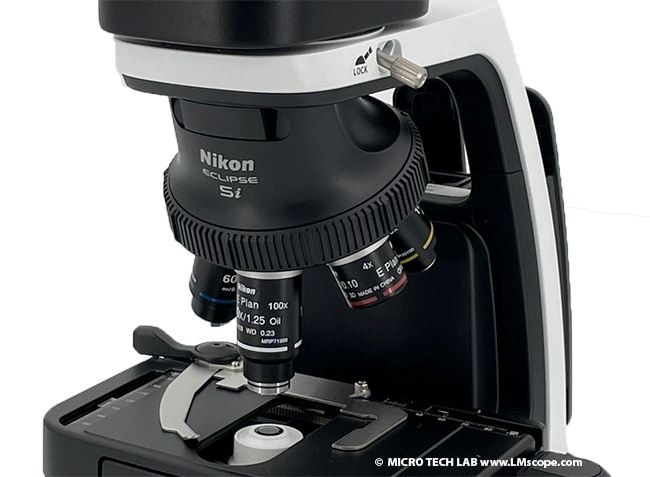 The integrated LCD screen at the front of the microscope provides real-time information on the objective status, magnification and light intensity. This allows you to stay organised even when things get busy. The microscope weighs about 6 kilograms. Illumination is provided by an infinitely adjustable LED light source. It also has an auto power off (ECO mode) feature and a Light Intensity Management system, which automatically remembers and sets the light intensity level for each objective.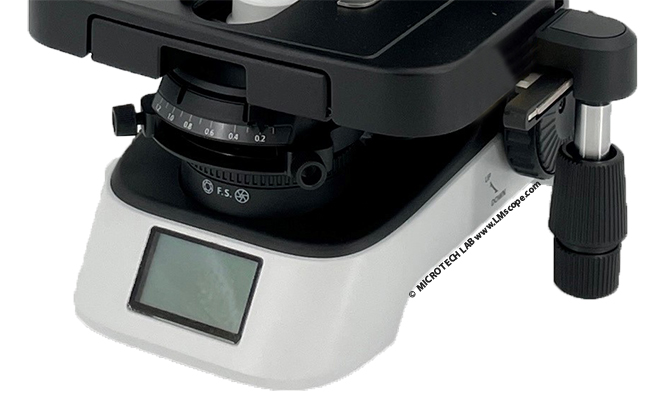 For standard photography tasks, Nikon recommends using the Digital Sight 1000 microscope camera or the DS-Fi3 camera. The trinocular version is preferable, because it has a dedicated phototube. Thanks to the modular design of the Eclipse Si, different tubes are available (EC-T-TF2, C-TF/C-TT + Y-T TV trinocular tube / 0.55x ), to which our flexible adapter solutions can be attached in a few simple steps.
Modern mirrorless system cameras, SLRs, high-speed cameras, fluorescence cameras or C-mount microscope cameras – all of them with large sensors – deliver superior image quality at an excellent price-performance ratio. In most cases, they can be controlled remotely from a computer in Live View.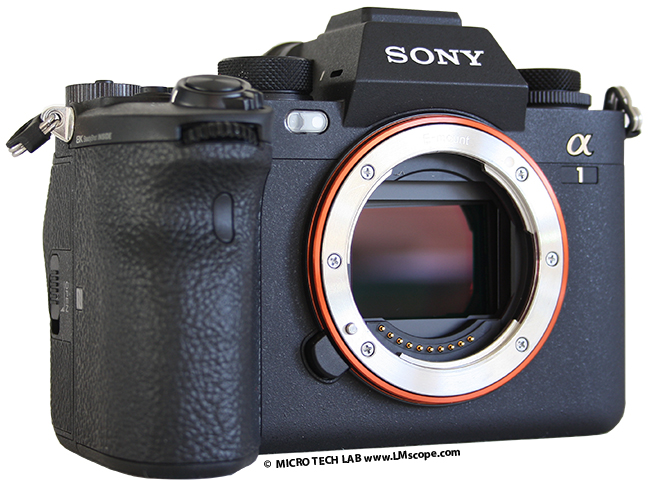 The new Nikon full-frame microscope cameras (e.g. the DS-Qi2, Digital Sight 50M or Digital Sight 100) are usually equipped with an F-mount bayonet, which is compatible with our adapter solutions. They deliver a much better image quality than customary C-mount cameras with small sensor formats. Unlike regular DSLR and mirrorless system cameras, they can be controlled directly with Nikon's imaging microscopy software.
The eyepiece tubes are equipped with standard eyepieces (30 mm external diameter). As an alternative to using the phototube, the camera can also be attached to one of the eyepiece tubes with our eyepiece tube adapter solution. The high-quality design of our eyepiece adapter solution guarantees a solid connection between microscope and camera, even with heavy camera systems.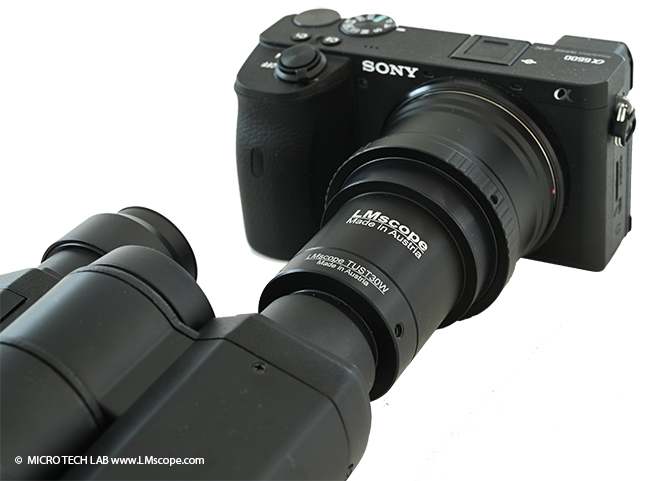 Conclusion: With a powerful modern digital camera, you can unlock the full potential of this affordable Nikon microscope and achieve great photo and video quality. For more information on making a camera selection, please see this info page.
Photography:
Fitting the microscope to digital single-lens reflex (DSLR), mirrorless interchangeable-lens cameras (MILC ), digital single-lens mirrorless (DSLM) or C-mount cameras is easy with our LM digital SLR adapters, which feature a plan achromatic optical system. Our products make it possible to capture top-quality microscope images. To help you select the adapter that is right for your camera, we have set up an online configurator on our website. You can also email us – ideally with attached photographs of your microscope.
Modern DSLR and single-lens mirrorless (DSLM) offer the latest technology and are generally very well suited for microscopy applications. Most of them can be controlled remotely via PC/Mac. Because of their high sales volumes, they offer an excellent price/performance ratio compared to special-purpose microscope cameras.
Features of top DSLR and single-lens mirrorless cameras (DSLM):
- Large, powerful full-frame sensors (36 x 24 mm)
- Sensor resolution of 61 megapixels or 240 megapixels with Pixel Shift technology
- High light sensitivity (ISO 400,000+)
- Extensive dynamic range (up to 15 aperture stops/f-stops)
- Short exposure times (1/8000 second) up to 1/32,000 seconds using the digital shutter
- 4K Ultra HD or 8K Ultra HD video function
- Live video capture on external monitors in ultra HD quality
In most cases, these cameras are significantly more powerful than microscope cameras with smaller sensors (1/2" or 2/3"). On our website you will find our current camera recommendations and a camera ranking which is specifically tailored to microscopy applications.