418
High-end adapter with integrated precision optics: Modern digital microscope cameras on the Olympus IX2 series (IX51, IX71 and IX81)
The highest levels of digital photographic documentation can be achieved using state-of-the-art camera technology, which makes even the smallest details visible! With our LM digital adapters, attaching all current DSLR and system cameras to the IX2 series microscopes is fast and easy – a combination that results in a maximum of image quality.
Olympus introduced its new range of inverted microscopes in 2002, and thanks to their robust, high-quality construction and exceptional flexibility, the IX51, IX71 and IX81 models are still impressive today.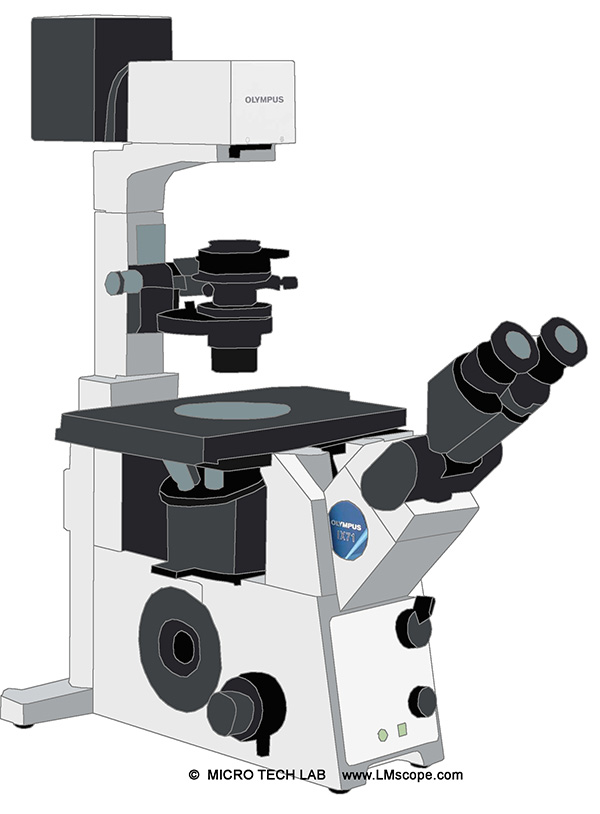 Developed for live cell observation and fluorescence microscopy, the IX51 is the most compact member of the range. Its ergonomic binocular tube (field number 22) can be pivoted between 35 and 85 degrees, thus enabling observation while sitting or standing. The objectives (4x to 40x; pre-centred to improve ease of use) have a large working distance suitable for a multitude of specimen types. For live cell observations, it is especially important that the power supply unit be separate from the stand, since that configuration reduces heat strain and interference from electromagnetic radiation. Heated plate assemblies, a CO2 chamber and incubators are available as separate modules. The 30 watt light source can be replaced with a 100 watt halogen lamp and relief contrast condenser if required. For immersion objectives, protective caps are included in the scope of delivery.
The Olympus IX71 is well-suited for particularly complex tasks, especially epifluorescence and multi-dimensional image processing. A special feature provided by this microscope is simultaneous access to four primary image levels, which is possible due to the multi-port concept (one port on the left and right sides and two more on the rear as well as a port on the bottom). Should more connections be required, an intermediate tube is available on the binocular port. The Olympus IX71 can also be equipped with a comprehensive epifluorescence illumination system. The V-shaped optical path, six-position epifluorescence module turret, aspherical, apochromatic collective lens, epifluorescence condenser with changeable field and aperture diaphragms plus fluorescence filter modules – all these features promise both minimal background noise and extraordinary images. The optimal material characteristics, stability and intelligent shielding of the thermal interference factors on the IX71 are ideal for time-lapse experiments. The front-side function control is very practical, especially during experiments that require a large number of accessories. An extensive range of condenser systems (for electrophysiology, cell injection, etc.) helps address even the most diverse demands on the specimen holders.
Thanks to its modular construction, the capabilities of the Olympus IX71 can also be readily extended. Modules for micromanipulation and TIRF-M (total internal reflection fluorescence microscopy) are available, as is a confocal module.
Olympus's popular UIS objective series offers infinity corrected hardware for bright field, relief contrast, fluorescence, DIC contrast and phase contrast microscopy. The objective turret holds up to six objectives, and a 100 watt halogen lamp provides sufficient illumination.
The fully motorised IX81 offers the greatest range of configuration choices, and its modular motorisation is ideally suited for many different requirements. While all motorised functions can be controlled via computer/control software, freely programmable operating elements can also be found on the stand, and the remote handset is quite capable as well. The IX81 excels in fluorescence applications, and a wide variety of fluorescence modules is available. For live cells, Olympus offers three series of DIC prisms for different specimen structures. Its large, 45-millimetre working distance and high numerical aperture also make the relief contrast condenser ideal for microinjection and micromanipulation techniques. The FluoView confocal system can be added to the IX81 to produce a multi-channel system capable of meeting a multitude of requirements.
A binocular tube with a field number of 22 and a 30-degree tilting angle is available for the IX51. The process of attaching a DSLR camera to the binocular tube is described here. A prism slider provides three observation settings: 100% eyepiece image, 100% documentation output and 80% documentation output/20% eyepiece image. Thanks to the integrated side port, attaching a DSLR, system or C-mount camera to the microscope is incredibly easy using our LM digital adapters. As mentioned above, the IX71 and IX81 also offer a wide variety of connection possibilities.
LM digital adapters in the different ports: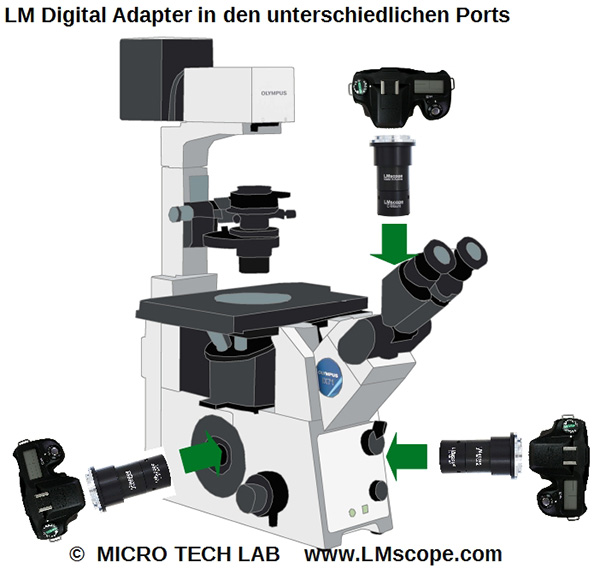 Photography:
Fitting the microscope to digital single-lens reflex (DSLR), mirrorless interchangeable-lens cameras (MILC ), digital single-lens mirrorless (DSLM) or C-mount cameras is easy with our LM digital SLR adapters, which feature a plan achromatic optical system. Our products make it possible to capture top-quality microscope images. To help you select the adapter that is right for your camera, we have set up an online configurator on our website. You can also email us – ideally with attached photographs of your microscope.
Modern DSLR and single-lens mirrorless (DSLM) offer the latest technology and are generally very well suited for microscopy applications. Most of them can be controlled remotely via PC/Mac. Because of their high sales volumes, they offer an excellent price/performance ratio compared to special-purpose microscope cameras.
Features of top DSLR and single-lens mirrorless cameras (DSLM):
- Large, powerful full-frame sensors (36 x 24 mm)
- Sensor resolution of 61 megapixels or 240 megapixels with Pixel Shift technology
- High light sensitivity (ISO 400,000+)
- Extensive dynamic range (up to 15 aperture stops/f-stops)
- Short exposure times (1/8000 second) up to 1/32,000 seconds using the digital shutter
- 4K Ultra HD or 8K Ultra HD video function
- Live video capture on external monitors in ultra HD quality
In most cases, these cameras are significantly more powerful than microscope cameras with smaller sensors (1/2" or 2/3"). On our website you will find our current camera recommendations and a camera ranking which is specifically tailored to microscopy applications.