290
Digital photography using the Nikon Alphaphot 2 microscope
The Nikon Alphaphot 2 is available in four different designs (YS2-HF, YS2-H, YS2-TF and YS2-T). The options described here for connecting the microscope to a camera apply to all four models.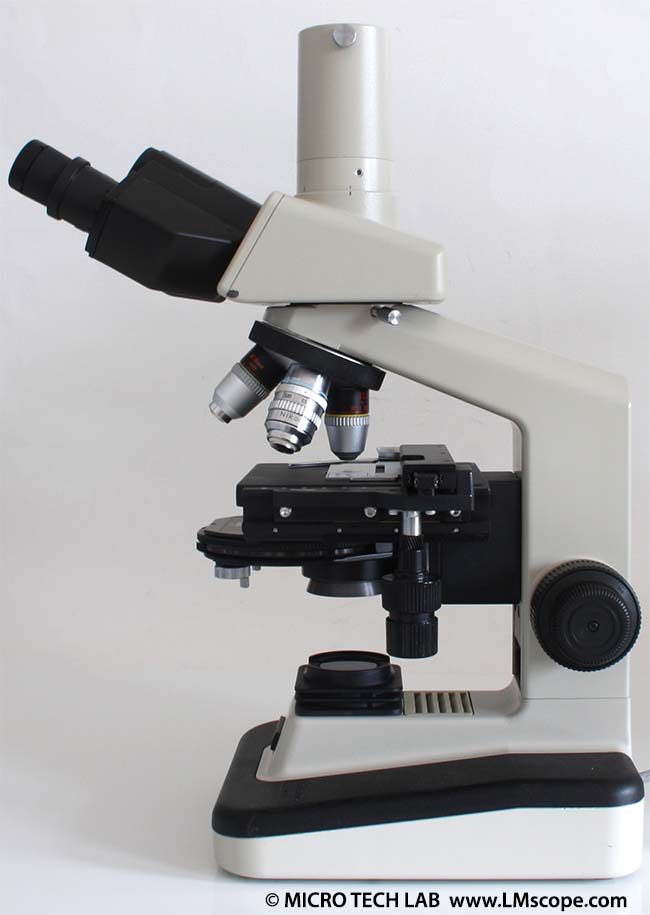 The Nikon Alphaphot 2 is a lower-cost, 1990s-era laboratory microscope that features a finite optical system. The CF lenses (the standard is a quadruple revolver: 4x, 10x, 40x and 100x) with which it is equipped, exhibit a very low degree of chromatic aberrations. In general, the microscope is both extremely sturdy and very well manufactured. The condenser, an Abbe type, additionally features an aspheric lens. The built-in aperture diaphragm allows the user to increase contrast and resolution. Another important benefit is that a wide range of accessories were offered for the Nikon Alphaphot 2 series, some of which are still available (lenses, eyepieces, etc.).
As a result, the Alphaphot 2 can be equipped for a wide range of microscopy techniques, such as phase contrast, dark field, fluorescence, polarized light and epi-illumination microscopy.
Originally, using a trinocular phototube, the microscope could be configured for analogue photography in combination with Nikon Microflex FX series cameras. Optionally, it could also be coupled with analogue video (CCTV) cameras.
Several alternatives are available for connecting a digital camera to the Nikon Alphaphot 2. If the microscope has a phototube, this is the most convenient option for photographic documentation. We used a Canon EOS 650D in our tests. Of note, when attaching the camera to the phototube, the entire eyepiece head needs to be turned to the side.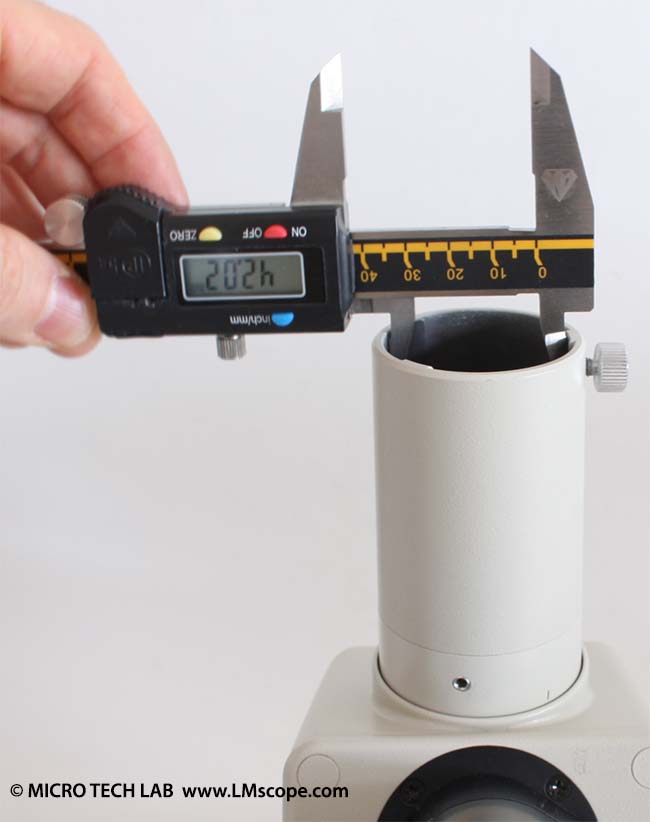 The mounting option using the original Nikon phototube is depicted in the image on the left. In that case, only our DSLRCT LM digital adapter was needed to attach the camera to the microscope.
The mounting option that does not use the original Nikon phototube is shown in the image on the right. In this case, we used our TUST38C and DSLRCC LM digital adapter to attach the Canon EOS 650D to the microscope.
There is no optical difference between the two options.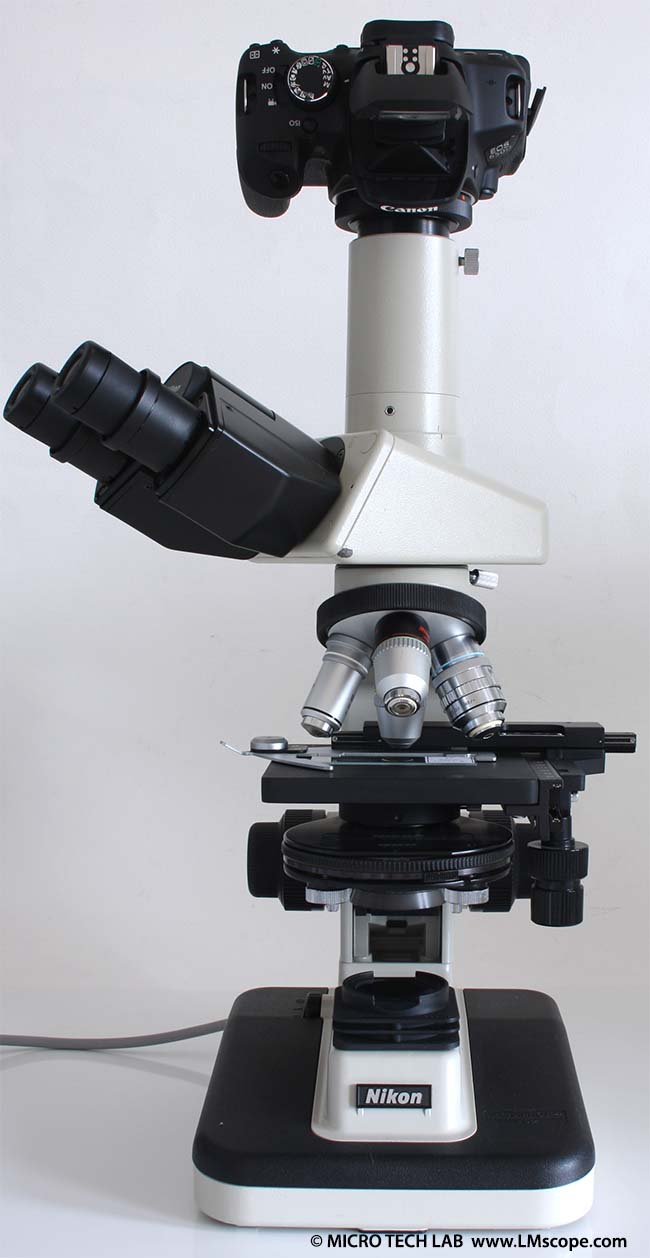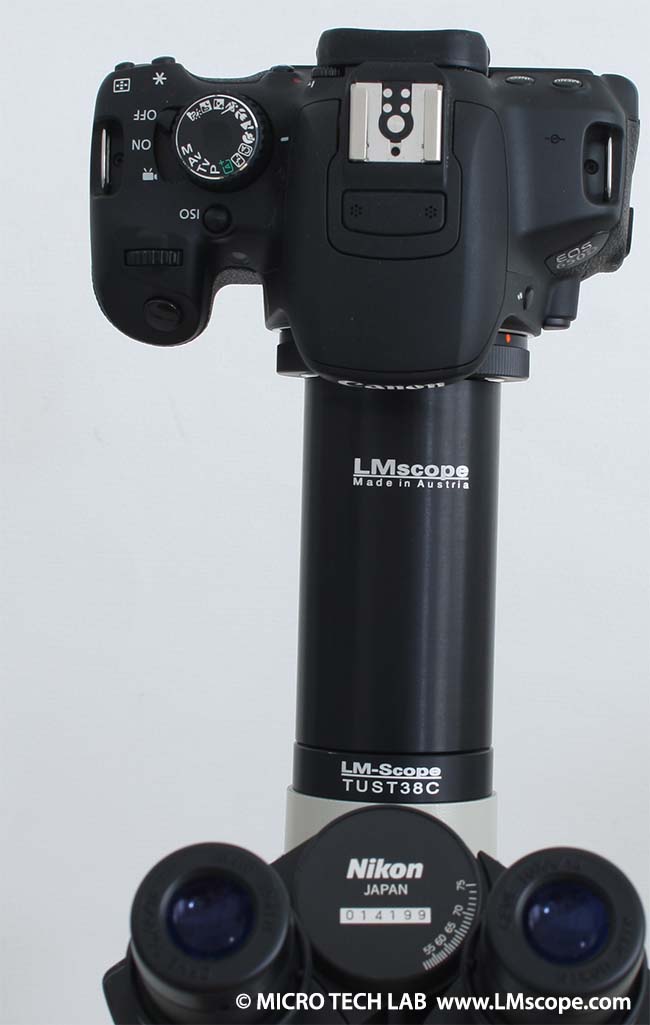 Connecting a C-mount camera to the microscope is also a very simple process. We mounted a USB2 C-mount camera (in this case: the Imaging Source DFK 72BUC02 USB2 C-Mount) to the phototube. To do this, we used our TUST38C and our LM RelayLens05TC.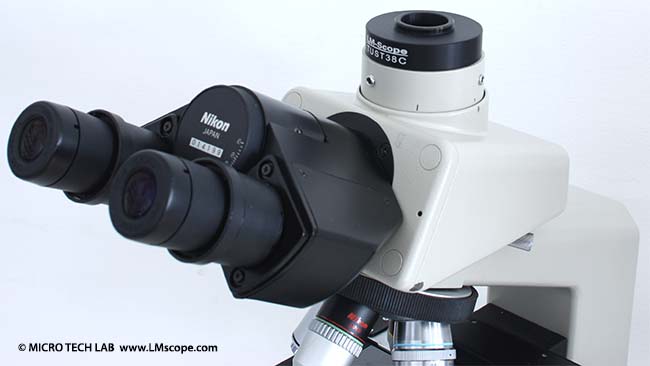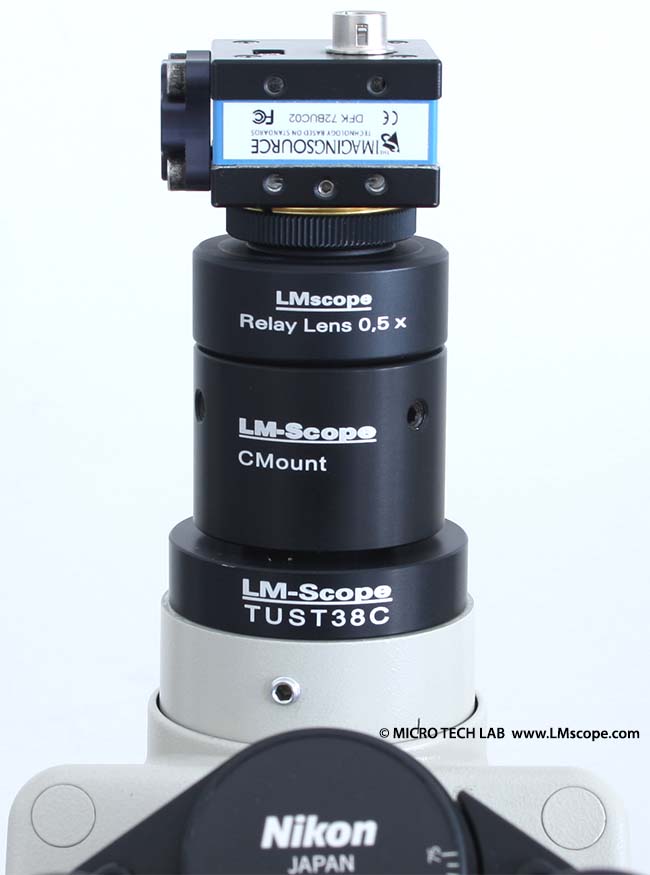 Since LM digital microscope adapters are not equipped with specific corrective optics (optical compensation), the image flaws associated with the microscope's lens also appear in the photographs taken with the camera. Tests we conducted using 10x lenses (10x/0.25x Ph1 DL) produced slight field curvatures around the edges, which are notable in the slightly blurred streaks towards the edges in the image below.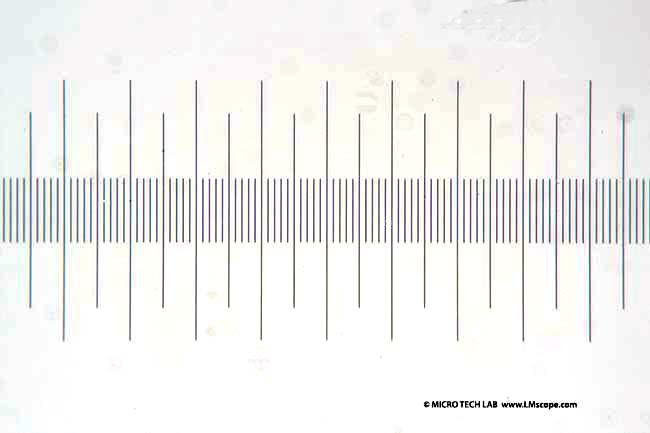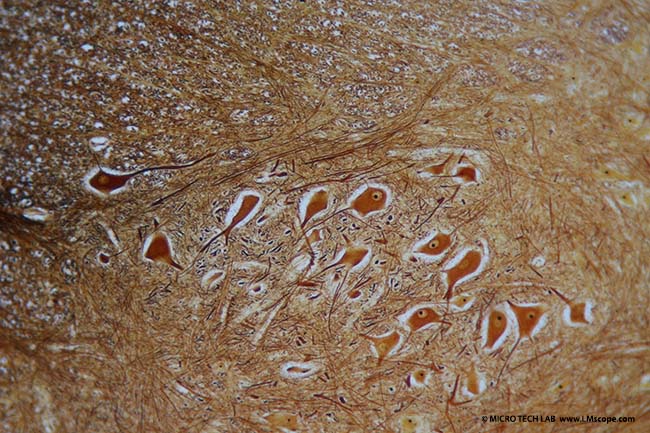 As with all older microscopes that have a finite optical system, the image quality of the Nikon Alphaphot 2 is average. However, truly excellent image quality can be achieved by using branded, infinity-corrected microscopes equipped with high-quality plan objective lenses. In these systems, residual image flaws are corrected by the elements inside the body of the microscope.
Conclusion: The Nikon Alphaphot 2 is a sound-quality laboratory microscope from the 1990s. It is also very suitable for use in schools. Connecting the microscope to camera systems for photographic documentation purposes is also a very simple process. The microscope's image quality is average, a result that derives from its finite optical system design.
16.05.2013
Photography:
Fitting the microscope to digital single-lens reflex (DSLR), mirrorless interchangeable-lens cameras (MILC ), digital single-lens mirrorless (DSLM) or C-mount cameras is easy with our LM digital SLR adapters, which feature a plan achromatic optical system. Our products make it possible to capture top-quality microscope images. To help you select the adapter that is right for your camera, we have set up an online configurator on our website. You can also email us – ideally with attached photographs of your microscope.
Modern DSLR and single-lens mirrorless (DSLM) offer the latest technology and are generally very well suited for microscopy applications. Most of them can be controlled remotely via PC/Mac. Because of their high sales volumes, they offer an excellent price/performance ratio compared to special-purpose microscope cameras.
Features of top DSLR and single-lens mirrorless cameras (DSLM):
- Large, powerful full-frame sensors (36 x 24 mm)
- Sensor resolution of 61 megapixels or 240 megapixels with Pixel Shift technology
- High light sensitivity (ISO 400,000+)
- Extensive dynamic range (up to 15 aperture stops/f-stops)
- Short exposure times (1/8000 second) up to 1/32,000 seconds using the digital shutter
- 4K Ultra HD or 8K Ultra HD video function
- Live video capture on external monitors in ultra HD quality
In most cases, these cameras are significantly more powerful than microscope cameras with smaller sensors (1/2" or 2/3"). On our website you will find our current camera recommendations and a camera ranking which is specifically tailored to microscopy applications.

New LM Digital Adapter for:
Nikon Z9 / Sony Alpha 1 / Sony FX3 Cinema Line / Sony Alpha 9 II (ILCE-9M2) / Sony Alpha 9 / Nikon D6 / Canon EOS R3 / Sony Alpha 7R IV / Canon EOS R5 / Sony Alpha 7S II / Sony Alpha 7S III / Sony Alpha 7R III / Canon EOS R6 / Nikon Z6 / Nikon Z6II / Sony Alpha 7R II / Nikon Z7 / Nikon Z7II / Canon EOS R / Canon EOS Ra (Astro) / Nikon Z5 / Sony Alpha 7C / Canon EOS RP / Sony Alpha 7S / Canon EOS R7 / Leica SL2-S / Canon EOS R10 / Canon EOS 1D X Mark III / Nikon Z50 / Nikon Z30 / Nikon D850 /