288
Placing the Leica M205 C high-performance stereo microscope under "our microscope"
We have been itching to get our hands on the Leica M205 C for a long time now in order to subject it to some extensive tests in our laboratory. And one thing is for sure: we found absolutely nothing to complain about.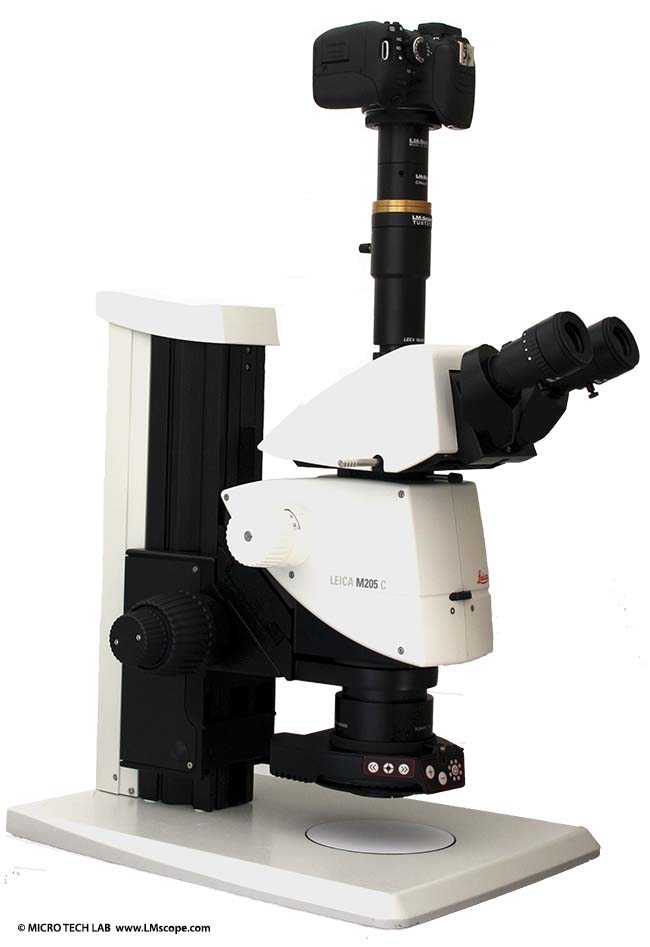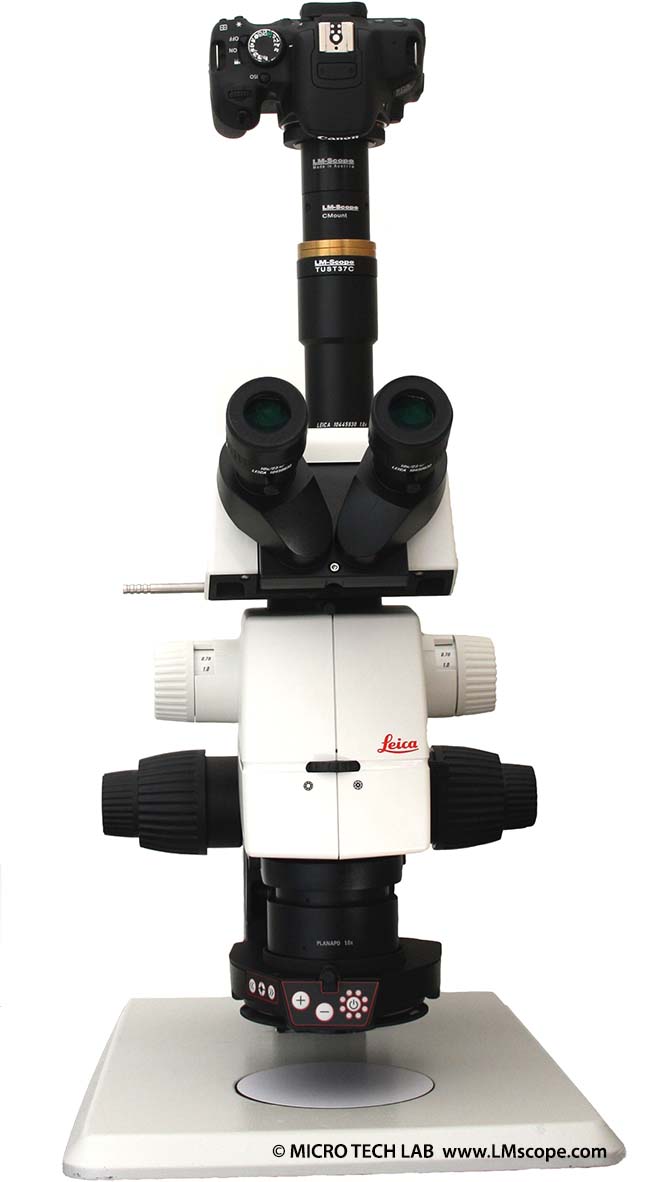 Just out of the box, it is immediately apparent that at 20 kg, the Leica M205 C is a "weighty" instrument. The stand column, in particular, has a remarkably solid design and the 1x apo lens, which weighs in at 1,055 grams, sports an enormous diameter of 80 mm. In comparison, a conventional plan apo lens seems like a toy (see image on the left). The microscope's zoom capability exceeds 20x, which yields a vast choice of magnification that ranges from 7.8x to 160x.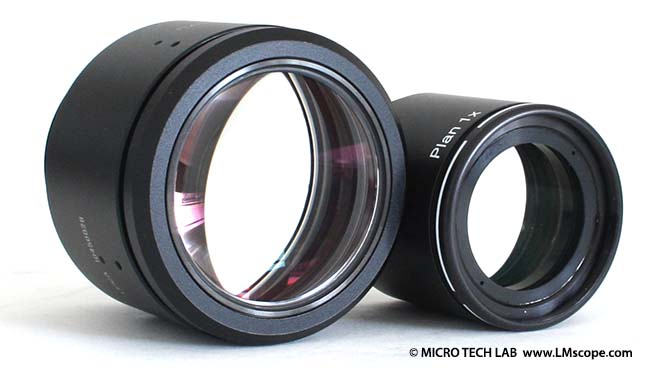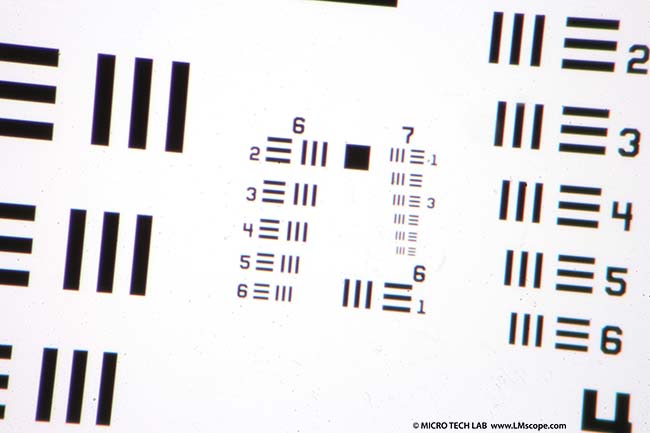 And the most impressive aspect is that the user does not need to change lenses to benefit from this tremendous zoom capability. Another very thoughtful feature is the unit's LED5000 RL ring light. This integrated illuminator can either be controlled directly from the microscope or via the Leica Application Suite.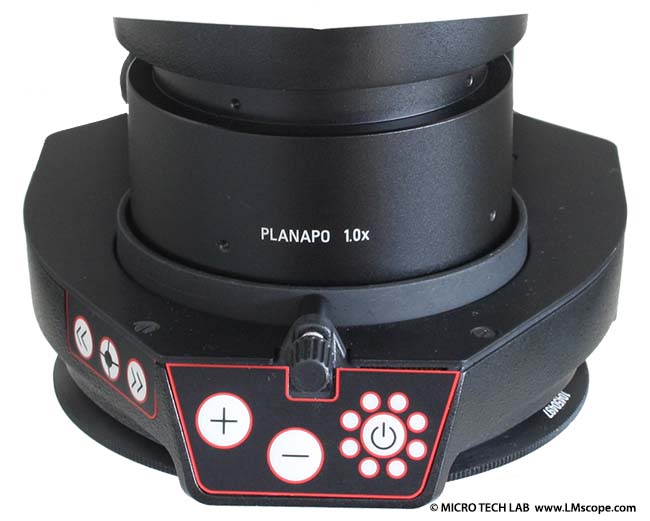 Like all stereo microscopes, the Leica M205 C has two optical paths. But with the addition of its new FusionOpticsTM technology, Leica has leaped well beyond the limits of its previous generation of equipment. In stereo microscopes, the three-dimensional effect is achieved when the human brain compiles the information it receives from the two optical paths into a single image. Yet in the Leica M205 C, the optical paths vary in size, such that the right beam path offers a high-resolution image while the left produces exceptional depth of field. This means that the human brain can combine the highly detailed information it obtains from both channels to produce a single image that offers high depth of field and a high degree of resolution.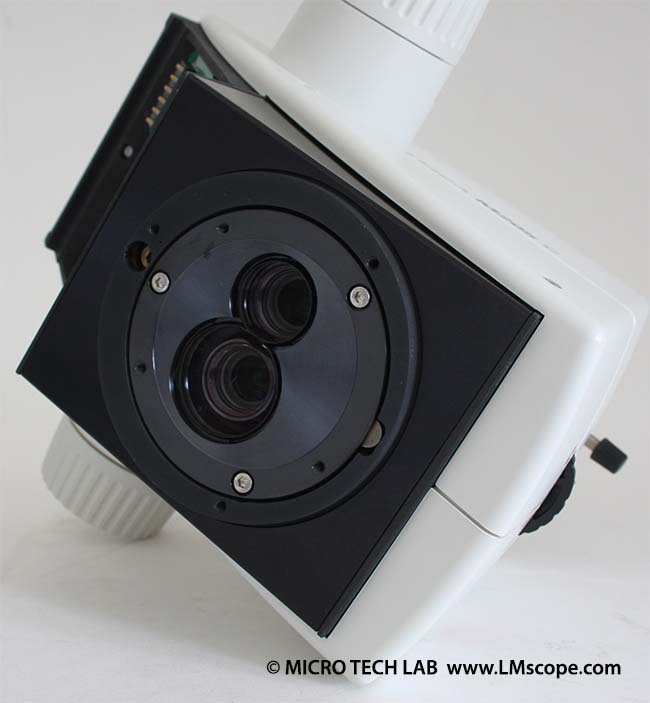 In addition, the Leica M205 C has been optimised for a working distance of approximately 60 mm, thus leaving ample space between the lens and the specimen surface. These specifications make it a highly interesting tool for photographic documentation. During testing, the highest standards were demanded from our LM digital adapter and the camera system being used: while the human brain can use the information it gathers from the two optical paths, the camera system can draw from just one image path, which is why stereo microscope photography is always challenging.
We tested the Leica M205 C with a Pentax K-5 IIs and a Canon EOS 650D. To connect the Canon EOS 650D (image on the left) to the Leica M205 C's phototube, we used a LeicaC1XTH, a TUST37C and a DSLRCTCW_Pro LM digital wide-field adapter. We attached the Pentax K5-IIs (image on the right) to the microscope with a LeicaC1XTH, a TUST37C and a DSLRPTCW_Pro LM digital wide-field adapter.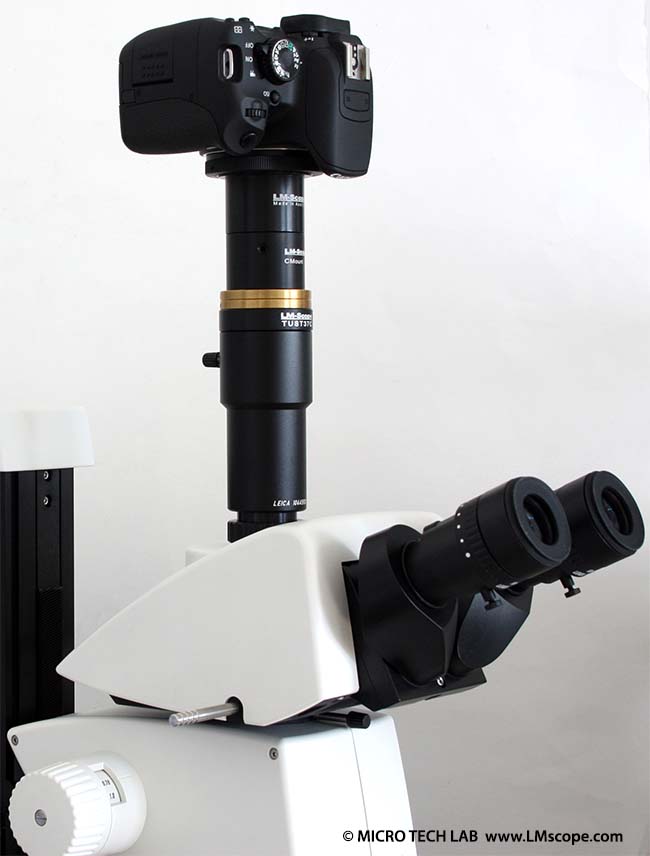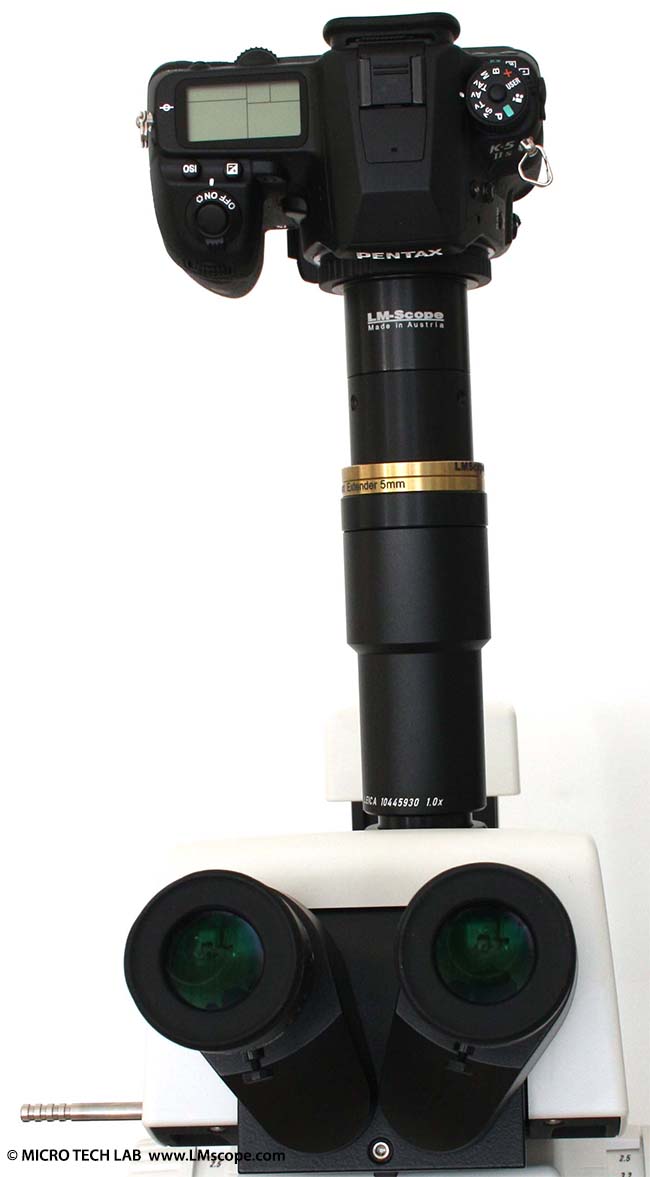 Of course, the cameras can also be connected via the microscope's eyepiece. To do so, simply remove one eyepiece and replace it with the LM digital microscope adapter along with the mounted camera.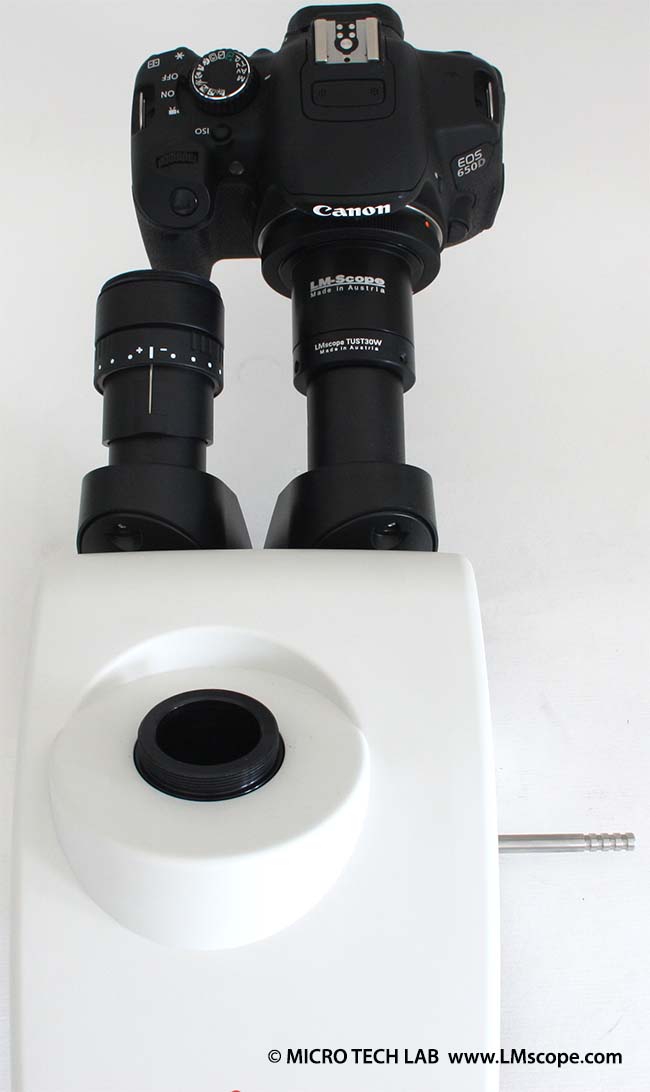 Both of our test cameras held up well despite the rigorous demands to which we subjected them. In fact, cameras with large, high-quality sensors (APS-C or even 36 x 24 mm full-frame sensors) are very well suited to photography with the Leica M205 C as they deliver impressive resolution and colour fidelity (colour depth). Relative to depth of field, capturing truly high-quality shots requires the photographer to dig a bit deeper into his or her bag of tricks. As mentioned previously, since the camera can use just one optical path, the depth of field depicted in photographic images is not the same as what appears when looking through the eyepieces. However, by taking several shots and merging them into one photograph using specialised software (z-stacks), it is still possible to create images with a depth of field that is very high.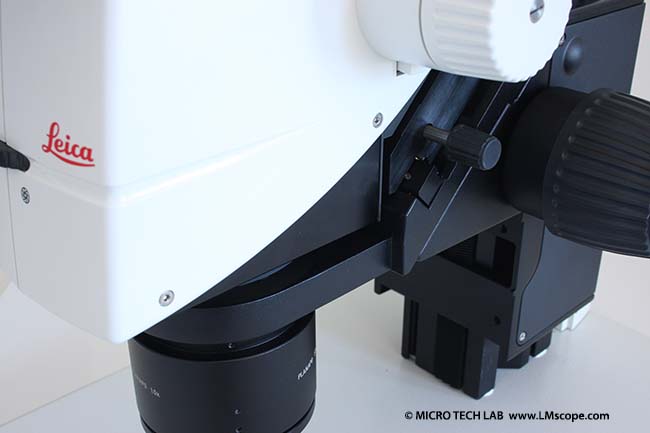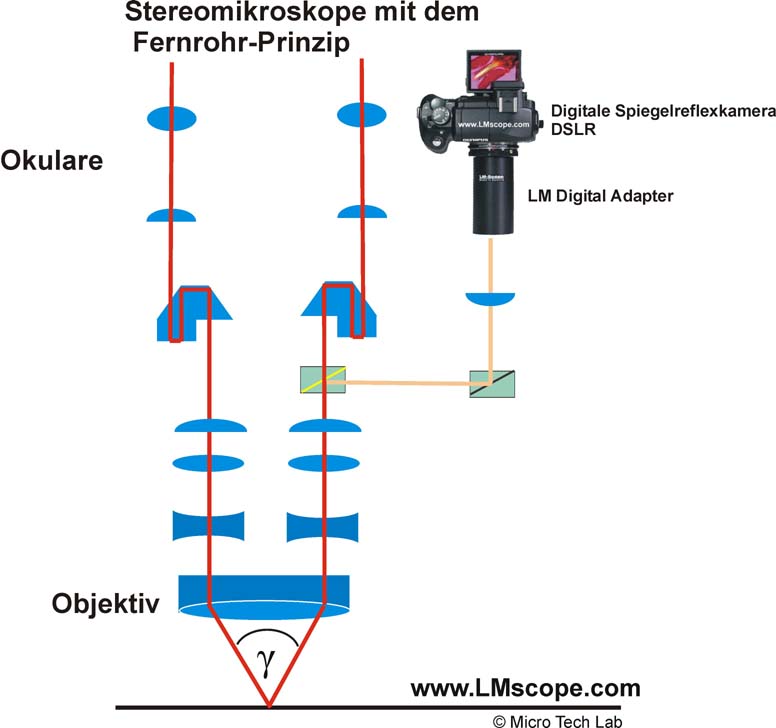 The microscope's camera positioning lever is also very convenient. When taking photographs, it can be used to shift the beam path onto which the camera is mounted such that it travels in an axial direction through the lens. In normal operation, the left and right optical paths pass through the outer areas of the lens (see image on the right). Due to physical constraints, image flaws increase towards the edge of the lens. By shifting the microscope body into the axial position of the lens, the image quality can be enhanced.
Conclusion: The Leica M205 C is an excellent stereo microscope, and its FusionOpticsTM technology makes it a clear standout among conventional stereo microscopes. Its optical properties are indeed noteworthy, and our tests proved that by using correspondingly high-quality cameras, our LM digital adapters and specialised computer software, users can capture brilliant visual effects and preserve them for future use.
16.05.2013
Photography:
Fitting the microscope to digital single-lens reflex (DSLR), mirrorless interchangeable-lens cameras (MILC ), digital single-lens mirrorless (DSLM) or C-mount cameras is easy with our LM digital SLR adapters, which feature a plan achromatic optical system. Our products make it possible to capture top-quality microscope images. To help you select the adapter that is right for your camera, we have set up an online configurator on our website. You can also email us – ideally with attached photographs of your microscope.
Modern DSLR and single-lens mirrorless (DSLM) offer the latest technology and are generally very well suited for microscopy applications. Most of them can be controlled remotely via PC/Mac. Because of their high sales volumes, they offer an excellent price/performance ratio compared to special-purpose microscope cameras.
Features of top DSLR and single-lens mirrorless cameras (DSLM):
- Large, powerful full-frame sensors (36 x 24 mm)
- Sensor resolution of 61 megapixels or 240 megapixels with Pixel Shift technology
- High light sensitivity (ISO 400,000+)
- Extensive dynamic range (up to 15 aperture stops/f-stops)
- Short exposure times (1/8000 second) up to 1/32,000 seconds using the digital shutter
- 4K Ultra HD or 8K Ultra HD video function
- Live video capture on external monitors in ultra HD quality
In most cases, these cameras are significantly more powerful than microscope cameras with smaller sensors (1/2" or 2/3"). On our website you will find our current camera recommendations and a camera ranking which is specifically tailored to microscopy applications.

New LM Digital Adapter for:
Nikon Z9 / Sony Alpha 7R V / Sony Alpha 1 / Sony FX3 Cinema Line / Sony Alpha 9 II (ILCE-9M2) / Sony Alpha 9 / Nikon D6 / Canon EOS R3 / Sony Alpha 7R IV / Canon EOS R5 / Sony Alpha 7S II / Sony Alpha 7S III / Sony Alpha 7R III / Canon EOS R6 / Nikon Z6 / Nikon Z6II / Sony Alpha 7R II / Nikon Z7 / Nikon Z7II / Canon EOS R / Canon EOS Ra (Astro) / Nikon Z5 / Sony Alpha 7C / Canon EOS RP / Sony Alpha 7S / Canon EOS R7 / Leica SL2-S / Canon EOS R10 / Canon EOS 1D X Mark III / Nikon Z50 / Nikon Z30 / Nikon Z fc / Nikon D850 / Canon EOS 1D X Mark II / Nikon D780 / Olympus OM-1 / Sony Alpha 7III / Olympus OM-D E-M1 Mark III / Nikon D5 / Sony Alpha 6600 / Fujifilm X-H2S / Fujifilm X-S10 / Fujifilm X-E4 / Fujifilm X-Pro3 / Olympus OM-D E-M1X / Sony Alpha 6400 / Sony Alpha 6100 / Sony ZV-E10 / Canon EOS 1D X / Nikon D4s / Olympus OM-D E-M5 III /