Converting the Zeiss Axioskop microscope for digital photomicrography in next to no time
Even though it has already been a while since the Zeiss Axioskop microscope was introduced to the market (year of manufacture: 1989), it is still an excellent instrument with an infinity optical system. For this reason it is all the more of an advantage that this microscope can also be equipped with digital cameras (DSLRs, system cameras, etc.).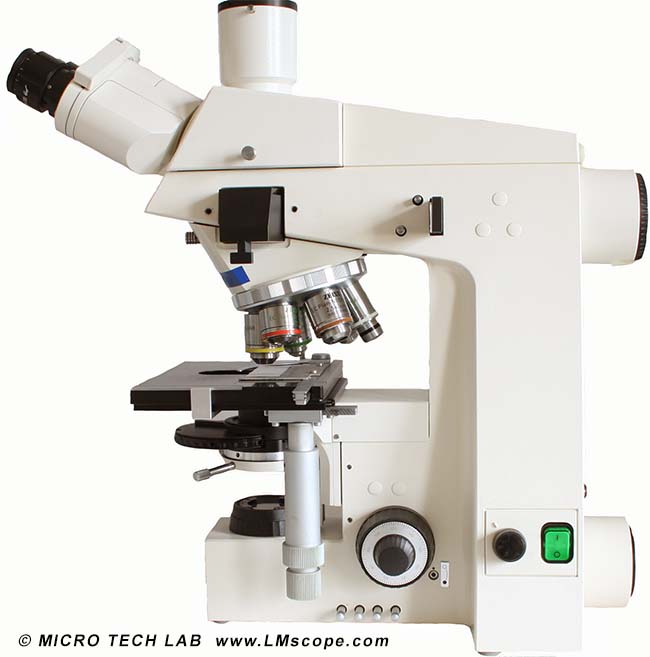 The tripod features a strong, robust build quality. The operating controls are within immediate easy reach. The nosepiece is aligned to the rear for every contrasting technique (transmitted light and incident light illumination) and has space for up to 6 lenses. It has an M27 thread or, if the corresponding adapters are used, a W 0.8 x 1/36" thread.
Various specimen stages are available for the Zeiss Axioskop. Ours has an xy cross table with a coaxial drive.
The Zeiss Axioskop is equipped with an ICS (infinity colour-corrected system) optical system. All objective lenses with this system are infinity corrected in terms of image distance. Image flaws are corrected up to the edge of the visual field. The image quality of these optical systems is very good and, thanks to their modular structure, they are easy to expand. For high-quality photographic documentation we recommend the use of high-grade "Plan Neofluar" or the newer "EC Plan Neofluar" objectives.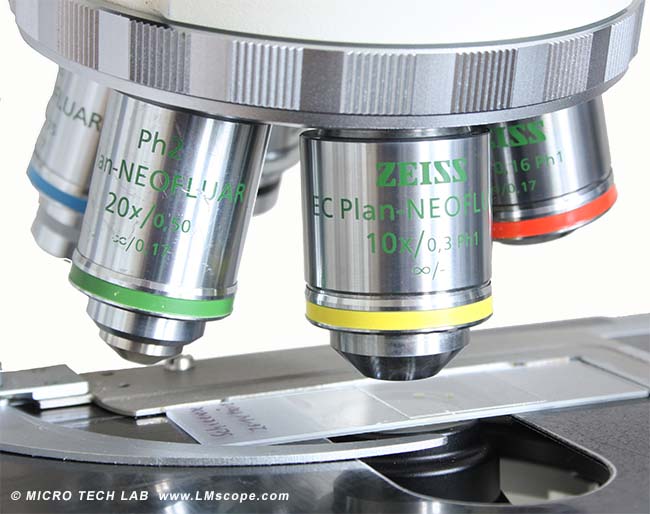 Due to the structural design of the instrument, the fluorescence mechanism is integrated in the stand. This makes it possible to change quickly between transmitted light and incident fluorescence mode. Furthermore, the following techniques can be performed: dark field, DIC (differential interference contrast) and phase contrast.
The observation eyepieces already have a diameter of 30 mm and thus offer a wide view with a field of vision of 20 (PL10x/20). If no photo tube is available, it is also possible to use the eyepiece tube to install a camera unit.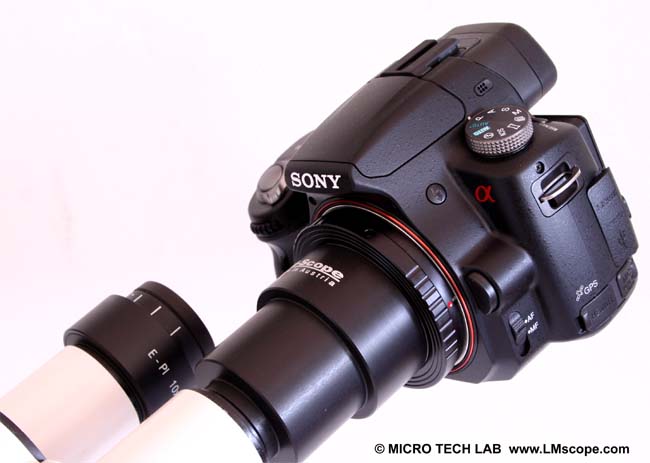 Binocular and trinocular (separation point 44) tubes are available as options. For photography, we recommend the use of a trinocular tube; this makes working much more ergonomic, as the camera can remain permanently mounted to the microscope.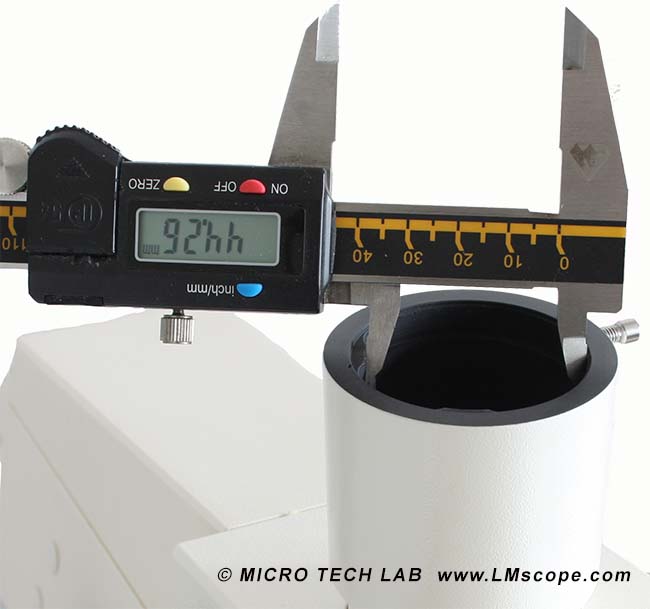 Originally, the photo port of the trinocular tube was designed for analogue photography with microscope cameras (e.g. microscope camera MC63S or analogue video cameras). With our LM digital adapters, however, fitting digital photo systems to the Zeiss Axioskop microscope is as easy as pie. Digital SLR cameras are the most suitable - advantages are described below- , but digital system cameras, C-mount cameras, high speed cameras and 4k/6k video cameras can also be used without any difficulties.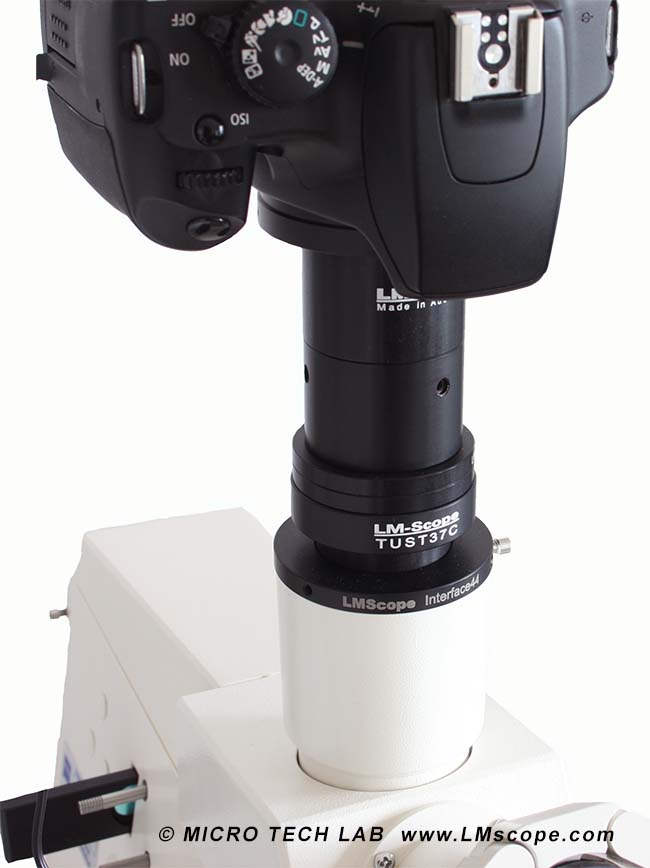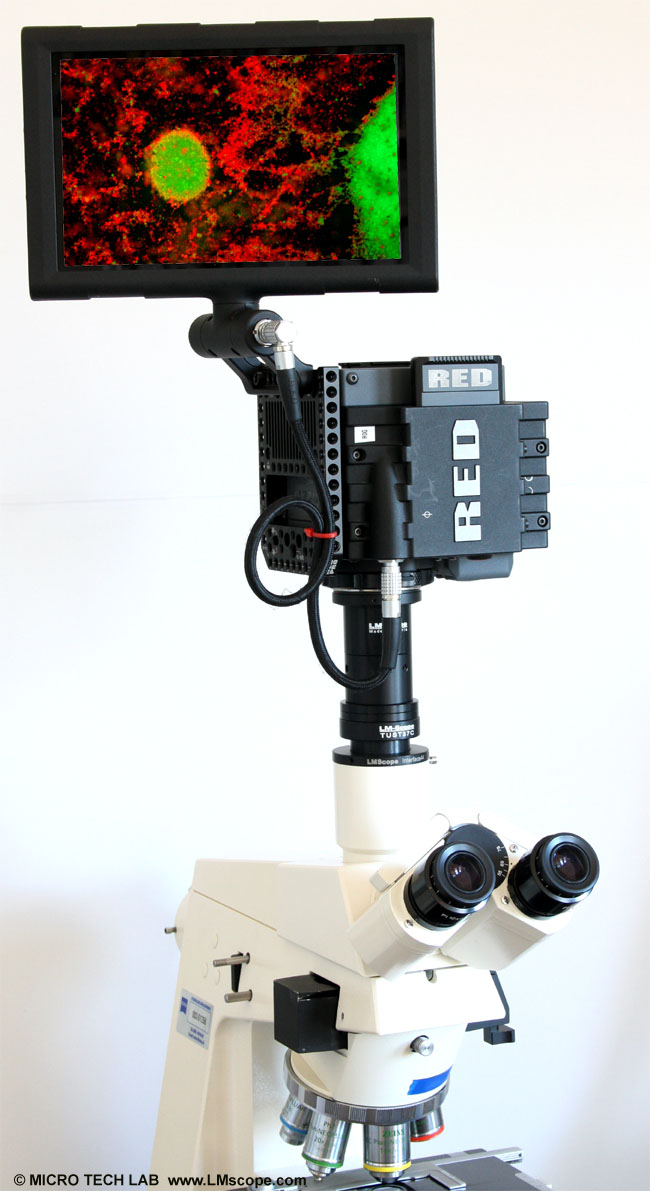 Conclusion:
Although the Zeiss Axioskop microscope is getting a bit long in the tooth, it is still an excellent instrument which delivers first-class photographic documentation. The difference between modern Zeiss microscopes and the Axioskop is not the optical quality, but rather the use of electronic elements (motorised stage, Z-axis, coded objectives, etc.). For this reason, it fulfils all of the requirements for use in photomicrography.
Photography:
Fitting the microscope to digital single-lens reflex (DSLR), system or C-mount cameras is easy with our LM digital SLR adapters, which feature a plan achromatic optical system. Our products make it possible to capture top-quality microscope images. To help you select the adapter that is right for your camera, we have set up an online configurator on our website. You can also email us – ideally with attached photographs of your microscope.
Modern DSLR and system cameras offer the latest technology and are generally very well suited for microscopy applications. Most of them can be controlled remotely via PC/Mac. Because of their high sales volumes, they offer an excellent price/performance ratio compared to special-purpose microscope cameras.
Features of top DSLR and system cameras:
- Large, powerful full-frame sensors (36 x 24 mm)
- Sensor resolution of 50 megapixels
- High light sensitivity (ISO 100,000+)
- Extensive dynamic range (up to 14 aperture stops/f-stops)
- Short exposure times (1/8000 second):
- Full/Ultra HD (4k) video function
- Live video capture on external monitors in ultra HD quality
In most cases, these cameras are significantly more powerful than microscope cameras with smaller sensors (1/2" or 2/3"). On our website you will find our current camera recommendations and a camera ranking which is specifically tailored to microscopy applications.

Related Links
--