224
Easy, quick and simple conversion of older Zeiss microscopes (Axiophot, Axiovert, Axioplan, Axioskop, Axiotron, Axio Imager, etc.) with photo tube (internal diameter 44 mm) to modern, digital camera systems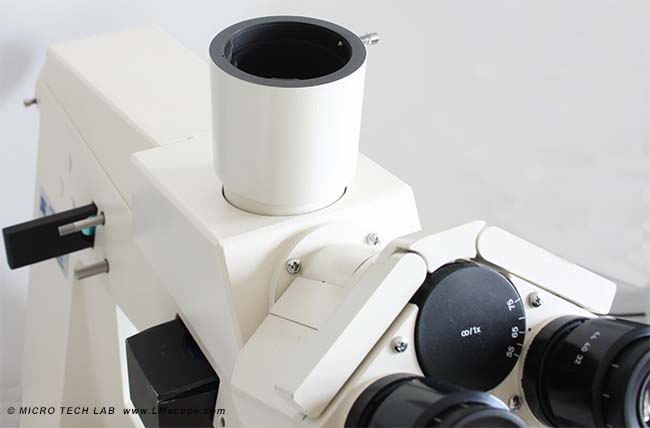 Older Zeiss laboratory microscopes with an infinity optical system are still excellent instruments and can be fitted with first class lenses which are still being manufactured by Zeiss. The optical quality of the instruments can easily keep pace with the more recent Zeiss models.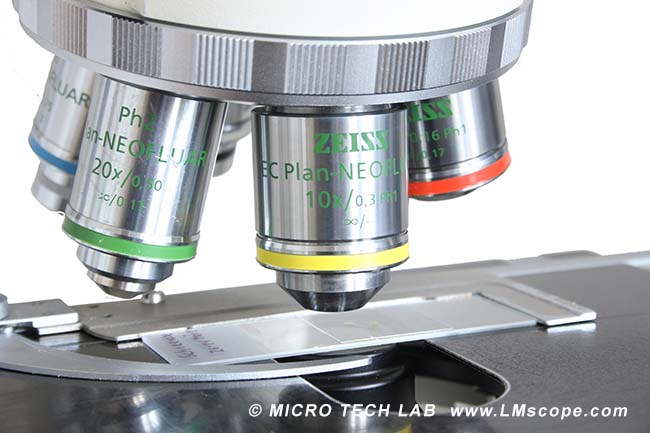 All important microscopy techniques can be performed: phase contrast, polarisation, DIC, dark field or fluorescence microscopy. The difference between the older and the more recent top-range Zeiss models is the use of electronic automation elements (motorised stage, motorised Z-axis, coded objectives, etc.).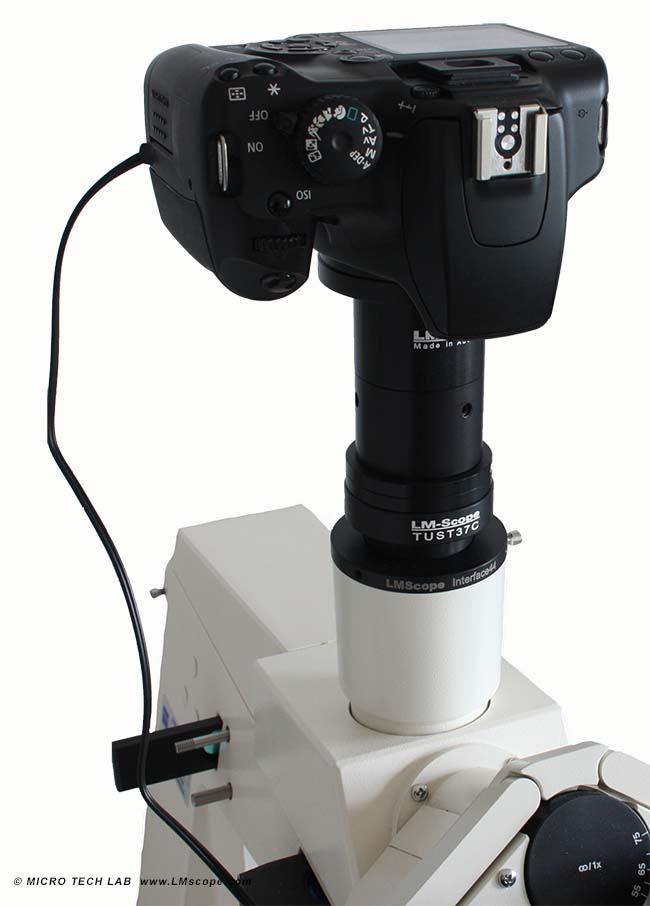 Converting older analogue photography systems to digital setups (DSLR and system cameras) is always sensible and also very easy to do with our LM digital adapters. DSLR cameras with an interchangeable lens mount are best suited for use on the microscope. We recommend Nikon or Canon cameras as they are easy to control via PC or Mac and have a preview image feature with magnification options. The images can be saved directly to the PC. Furthermore, these cameras also have very large, high-grade sensors, which translates into a strong price-performance ratio in comparison to cameras that are specifically designed for microscopy (C-mount cameras). Special-purpose cameras with Canon EF or Nikon F bayonet mounts, for example high-speed cameras, are also very easy to attach to a microscope using our LM digital adapters.
Our LM digital adapter solutions are optimised for the different sensor sizes of the cameras and deliver excellent image quality. In addition, the two-piece design of the LM direct image C-mount port 1x enables easy focussing, thereby achieving a perfect optical alignment between the camera system and the microscope.
Our LM digital adapter solutions are generally in stock and can be shipped immediately upon receipt of your order.
Conclusion: Even infinity-corrected Zeiss microscopes dating back 25 years or more can be adapted for digital cameras without any difficulty. DSLR and system cameras are an excellent alternative to expensive special-purpose microscope cameras. The image quality that can be obtained is excellent, because the optical characteristics of older Zeiss microscopes are in no way inferior to more recent Zeiss models.
Compatible Zeiss microscopes with phototube:
Axiophot, Axioplan, Axioskop, Axioskop 20, Axioskop 50, Axiotron, Axiotron 2, Axiovert 10, Axiovert 35, Axiovert 35 M, Axiovert 405M, Axio Imager,...
Examples: Topcamera Canon EOS 1D-X: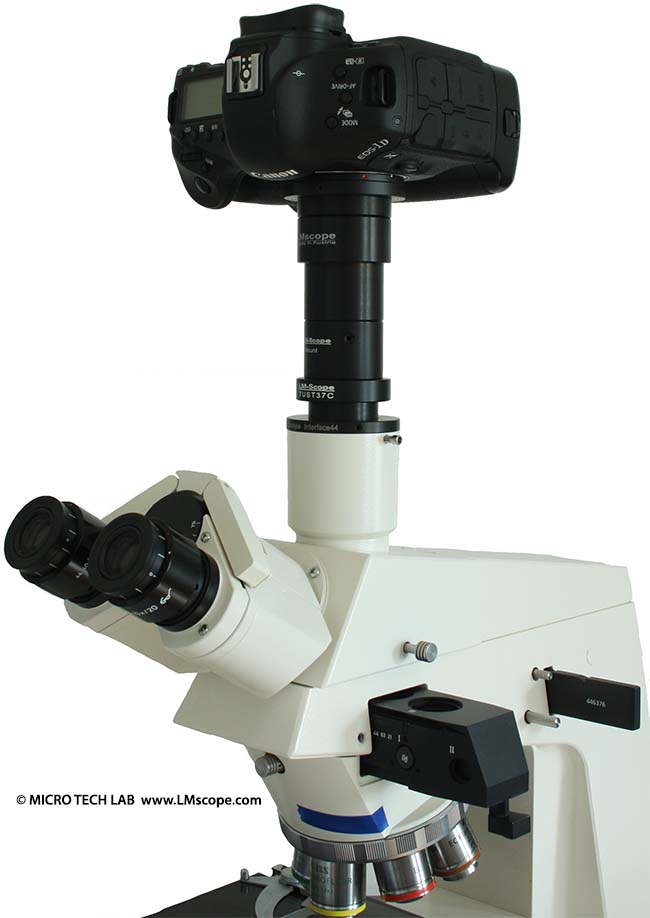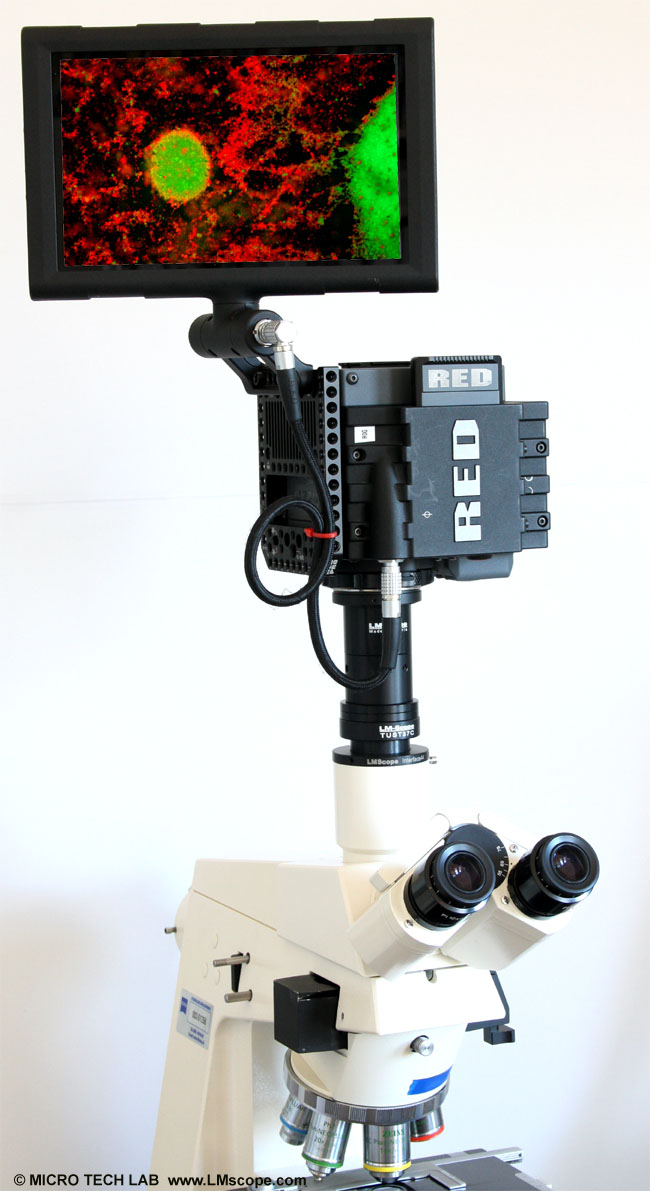 11.09.2014
For further information and prices see our database. Please select a camera model.
New LM Digital Adapter for:
Nikon Z9 / Sony Alpha 7R V / Sony Alpha 1 / Sony FX3 Cinema Line / Sony Alpha 9 II (ILCE-9M2) / Sony Alpha 9 / Nikon D6 / Canon EOS R3 / Canon EOS R6 Mark II / Canon EOS R8 / Sony Alpha 7R IV / Canon EOS R5 / Sony Alpha 7S II / Sony Alpha 7S III / Sony Alpha 7R III / Canon EOS R6 / Nikon Z6 / Nikon Z6II / Sony Alpha 7R II / Nikon Z7 / Nikon Z7II / Canon EOS R / Canon EOS Ra (Astro) / Nikon Z5 / Sony Alpha 7C / Canon EOS RP / Sony Alpha 7S / Canon EOS R7 / Leica SL2-S / Canon EOS R10 / Canon EOS 1D X Mark III / Nikon Z50 / Nikon Z30 / Nikon Z fc / Nikon D850 / Canon EOS 1D X Mark II / Nikon D780 / Olympus OM-1 / Sony Alpha 7III / Olympus OM-D E-M1 Mark III / Nikon D5 /