600
Optika SZM zoom stereo microscopes: upgrading educational microscopes for digital photomicrography
Optika's SZM series microscopes feature a standard phototube, which is ideal for using our LM adapter solutions with built-in plan-achromatic precision optics to combine them with modern digital camera systems (mirrorless system cameras, SLR cameras, C-mount cameras).
All four models of the SZM series (SZM 1-4) share the same Greenough-type optical system consisting of binocular or trinocular heads with zoom objectives. Greenough-type means that the microscope has two separate light transporting optical paths, which direct the light onto the specimen at an angle of about 15 degrees. The human brain fuses these images – identical except for being at slightly different viewing angles – into one three-dimensional image.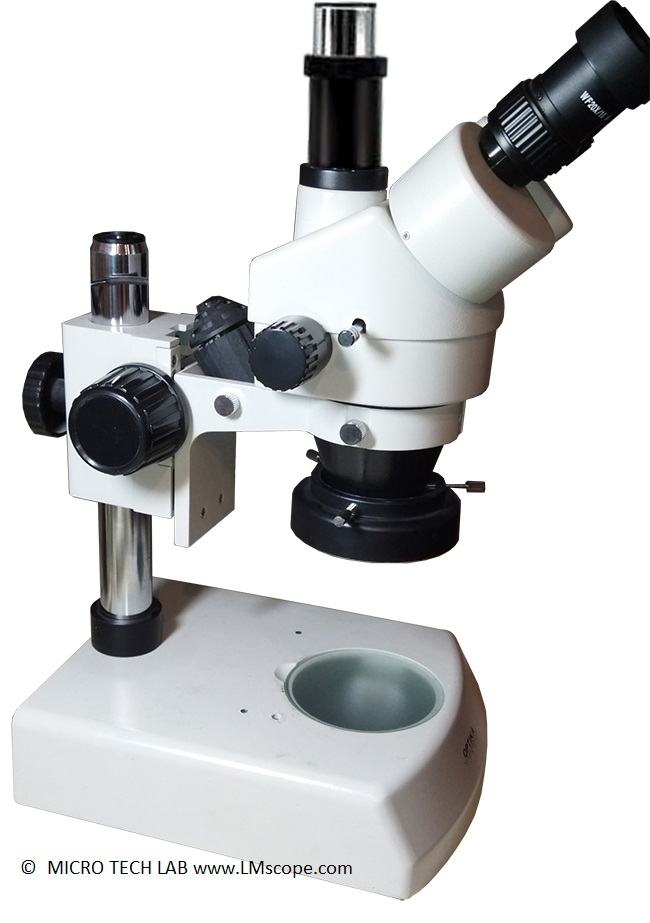 The stereomicroscopes of the SZM series are instruments designed for student education and for laboratory and industry applications. The optical quality they deliver, along with the affordable price tag, make the SZM series microscopes an option in this product category that shouldn't be overlooked.
Several accessories provide a wide choice of configurations and applications. All models have either binocular or trinocular heads that are inclined at 45° and rotate 360°. The interpupillary distance is adjustable (between 51 and 75 mm) and both eyepiece tubes (EWF 10x/20 mm) have a diopter adjustment – these important features for eyeglass wearers are standard on SZM microscopes. The basic equipment includes a pair of 10x eyepieces. 15x and 20x eyepieces are available as optional accessories.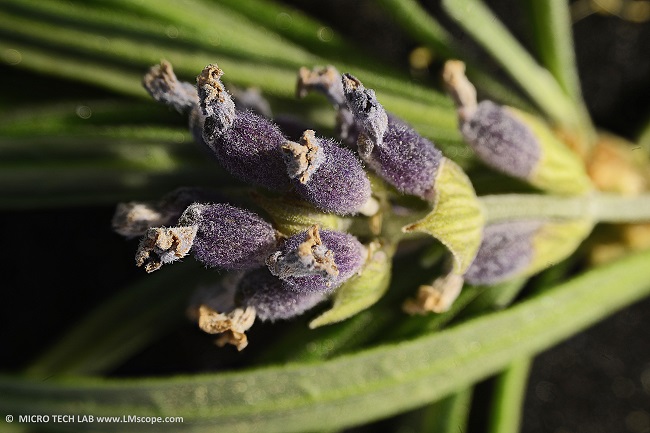 The image above shows a lavender blossom. We manually compiled a stack of ten individual photos and used the Helicon focus stacking software to merge them into this stunning image. The camera we used was a Sony Alpha 6600.
The phototube of the SZM version with the trinocular head has a standard inside diameter of 23.2 mm. Our adapter solution with built-in plan-achromatic precision optics can be attached to this tube. Combined with a modern DSLR or mirrorless system camera, this set-up delivers excellent image quality and a large field of view. Especially for stereo microscopes, which typically provide lower levels of magnification, we recommend cameras with a high pixel count and a large sensor format (APS-C or full-frame).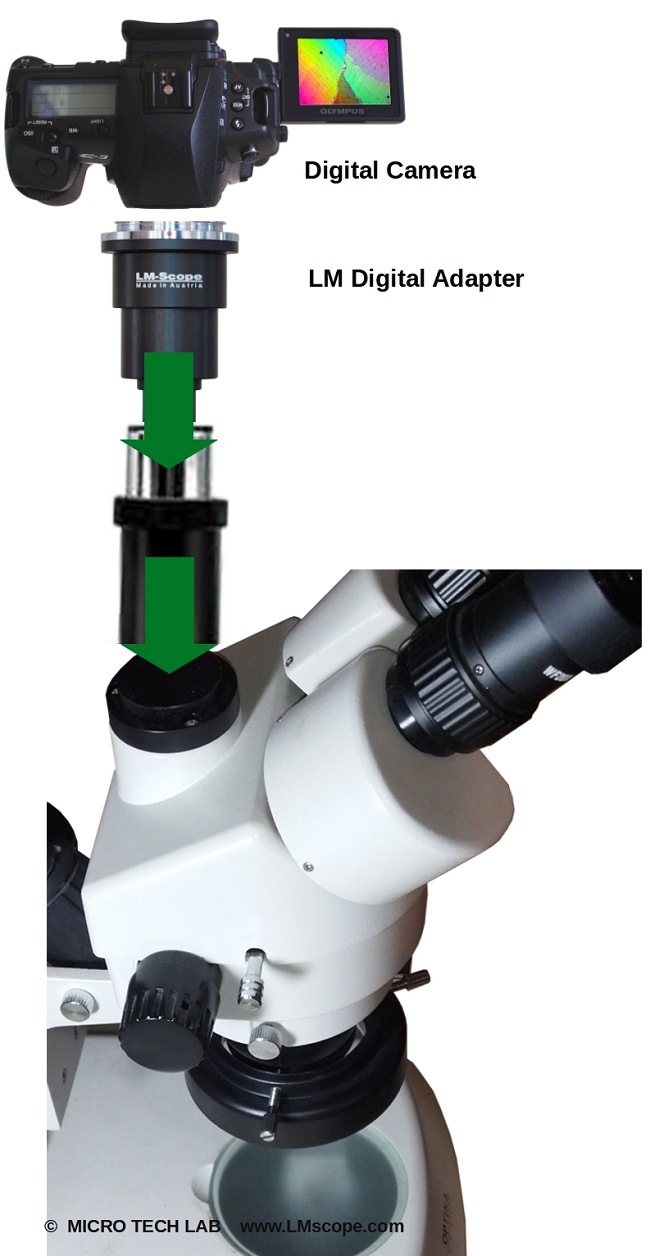 As an alternative to using the phototube, for example when the upper part of the phototube is missing, we can also offer our very popular eyepiece tube adapter solution. Thanks to their modular design, our adapter systems can also be used to attach a camera to the microscope's eyepiece tube. All that's required to create a stable connection between microscope and camera is to remove one eyepiece and put the camera-adapter combination into its place. The adapter is the same as the one used for the phototube connection, so if you ever decide to upgrade, you can still use it on your new microscope.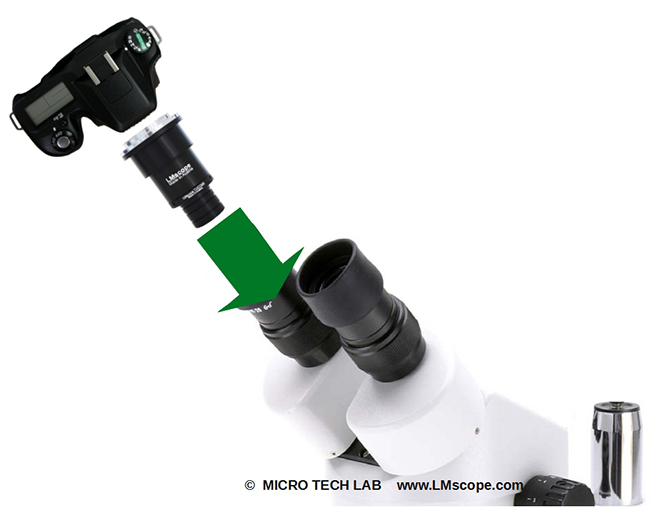 The parfocal, achromatic zoom objective provides magnifications between 7x and 45x. The working distance is 100 mm. The SZM series microscopes support transmitted and reflected light techniques, the darkfield condenser uses transmitted illumination. The only differences between the models of the SZM series are their viewing heads, stand types and illumination systems. The SZM-1 and SZM-2 microscopes, for example, have an incident and transmitted light illumination system. For the models without an illuminator, an external light source can be used.
15.06.2022
Photography:
Fitting the microscope to digital single-lens reflex (DSLR), mirrorless interchangeable-lens cameras (MILC ), digital single-lens mirrorless (DSLM) or C-mount cameras is easy with our LM digital SLR adapters, which feature a plan achromatic optical system. Our products make it possible to capture top-quality microscope images. To help you select the adapter that is right for your camera, we have set up an online configurator on our website. You can also email us – ideally with attached photographs of your microscope.
Modern DSLR and single-lens mirrorless (DSLM) offer the latest technology and are generally very well suited for microscopy applications. Most of them can be controlled remotely via PC/Mac. Because of their high sales volumes, they offer an excellent price/performance ratio compared to special-purpose microscope cameras.
Features of top DSLR and single-lens mirrorless cameras (DSLM):
- Large, powerful full-frame sensors (36 x 24 mm)
- Sensor resolution of 61 megapixels or 240 megapixels with Pixel Shift technology
- High light sensitivity (ISO 400,000+)
- Extensive dynamic range (up to 15 aperture stops/f-stops)
- Short exposure times (1/8000 second) up to 1/32,000 seconds using the digital shutter
- 4K Ultra HD or 8K Ultra HD video function
- Live video capture on external monitors in ultra HD quality
In most cases, these cameras are significantly more powerful than microscope cameras with smaller sensors (1/2" or 2/3"). On our website you will find our current camera recommendations and a camera ranking which is specifically tailored to microscopy applications.