556
Olympus CX33 – upright laboratory microscope for digital photographic documentation at an attractive price
The Olympus CX33 is an affordably priced infinity-corrected routine microscope designed for standard imaging applications in biology and medicine. It is equipped with a trinocular tube and the powerful Olympus UIS2 optical system, which also makes it a good fit for photography applications.
In our digital world, photographic and video documentation has become part of routine work life in many fields. Modern digital cameras are excellent and easy-to-use tools for telemedicine and the professional exchange with colleagues via TeamViewer, Zoom or other software applications. With our LM microscope adapters, a wide range of these powerful cameras can be used to take digital photos though the CX33. The camera can be attached to the phototube or the eyepiece tube of the microscope.
The optical system of a microscope is a key aspect for photographic applications. Here, the CX33 (launched in 2017) scores points with the advanced UIS2 infinity-corrected optical system from Olympus. The microscope employs plan achromat objectives, which provide high-quality images over a wide field of view. The nosepiece supports up to four objectives. The built-in LED light source is maintenance-free and has a life span of up to 60,000 hours. The illumination unit is equipped with an Abbe condenser with a maximum aperture of 1.25 (oil-immersion type).
The following plan achromat objectives are available for the CX33:
4X NA 0.1 W.D. 27.8 mm
10X NA 0.25 W.D. 8.0 mm
20X NA 0.4 W.D. 2.5 mm (optional)
40X NA 0.65 W.D. 0.6 mm
100X NA 1.25 W.D. 0.13 mm (optional)
The objectives are treated with anti-fungal agents to inhibit fungal growth in a hot and humid environment. With a standard 10x eyepiece, the microscope provides a range of overall magnification from 40x to 1,000x.
The concept of the Olympus CX series of microscopes is well thought-out and delivers superior ergonomics and ease-of-use. Well-placed focus knobs (up to 2.5 µm) and a comfortable eyepiece height with a viewing angle of 30 degrees and adjustable interpupillary distance make work easier and more efficient. The eyepieces are available as 10x (field number 20) or 15x (field number 16). A 10x widefield eyepiece provides a field number of 22. With a weight of around 7 kg and a compact size of 430 x 211 x 397 mm, the CX 33 adds flexibility and convenience to microscope work.
An interesting feature for photography is the light path selector lever on the phototube, which enables light path switching between eyepiece tube and phototube. However, there is only a choice between 100/0 and 0/100, i.e. 100% of the light path is directed to either the eyepieces or the phototube, which means that it is not possible to simultaneously view the specimen through the eyepieces and on the camera display.
The CX33 offers brightfield and darkfield modes. If phase contrast or fluorescence are also required, we recommend the slightly more complex sister model of the CX33, the CX43.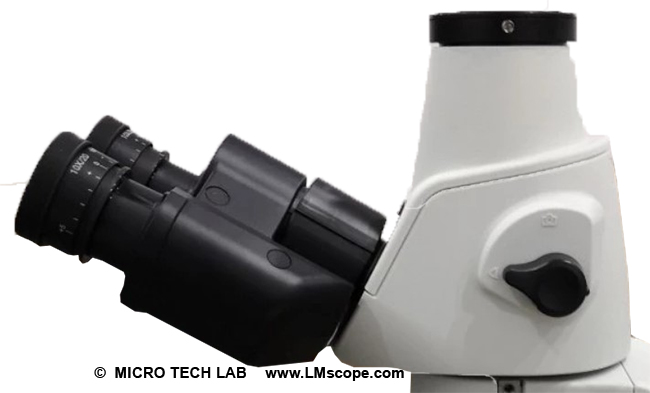 The camera port of the CX33 is positioned slightly higher, but has the same diameter as that of the CX43, meaning that the same adapter solution fits both models.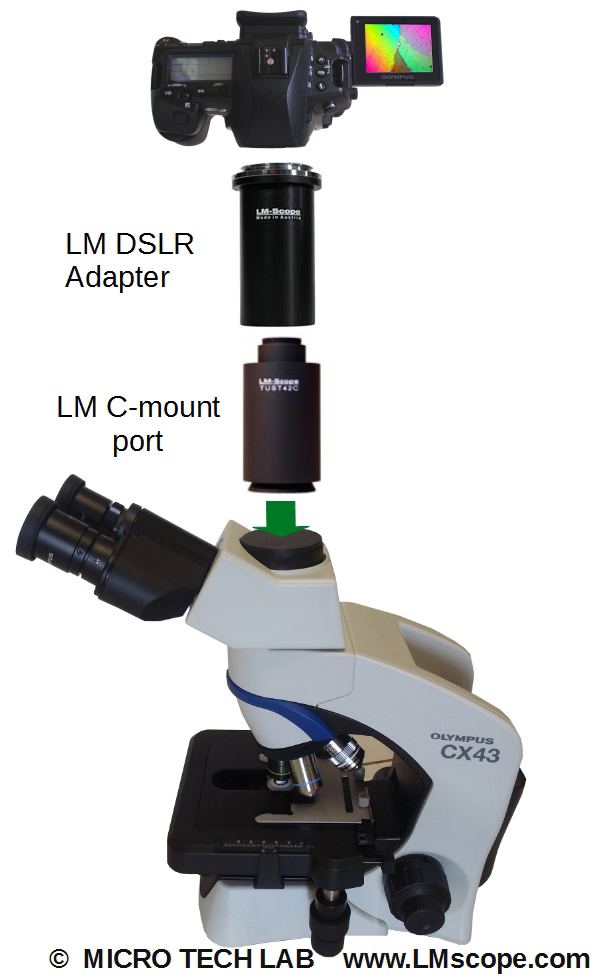 Shown in the image: adapter solution with CX43
As an alternative, the camera can also be attached to the eyepiece tube (30 mm inside diameter) by removing one eyepiece and putting the camera-adapter combination into its place.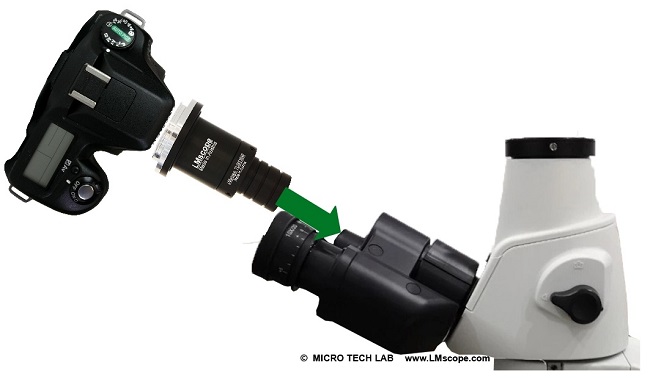 In terms of cameras, there is a wide selection to choose from: Industrial cameras or dedicated microscope C-mount cameras do a good job at less demanding routine tasks. If better image quality is required, we recommend camera systems with large (APS-C or full-frame) sensors that deliver the best possible image quality, i.e. either DSLR or system cameras. They offer an excellent price/performance ratio and are very well suited for microscopy because of their powerful sensors and the possibility to control them remotely from a PC, tablet or smartphone. Further information on making a camera selection can be found on the following info pages: camera recommendations and camera ranking for microscopy
Conclusion: The Olympus CX33 is an affordably priced, lightweight entry-level microscope that is a great fit for microscope photography because it has a trinocular tube. The microscope, including trinocular head, LED illumination and four objectives, is sold in stores for around EUR 2,600 (as of May 2020).
Photography:
Fitting the microscope to digital single-lens reflex (DSLR), mirrorless interchangeable-lens cameras (MILC ), digital single-lens mirrorless (DSLM) or C-mount cameras is easy with our LM digital SLR adapters, which feature a plan achromatic optical system. Our products make it possible to capture top-quality microscope images. To help you select the adapter that is right for your camera, we have set up an online configurator on our website. You can also email us – ideally with attached photographs of your microscope.
Modern DSLR and single-lens mirrorless (DSLM) offer the latest technology and are generally very well suited for microscopy applications. Most of them can be controlled remotely via PC/Mac. Because of their high sales volumes, they offer an excellent price/performance ratio compared to special-purpose microscope cameras.
Features of top DSLR and single-lens mirrorless cameras (DSLM):
- Large, powerful full-frame sensors (36 x 24 mm)
- Sensor resolution of 61 megapixels or 240 megapixels with Pixel Shift technology
- High light sensitivity (ISO 400,000+)
- Extensive dynamic range (up to 15 aperture stops/f-stops)
- Short exposure times (1/8000 second) up to 1/32,000 seconds using the digital shutter
- 4K Ultra HD or 8K Ultra HD video function
- Live video capture on external monitors in ultra HD quality
In most cases, these cameras are significantly more powerful than microscope cameras with smaller sensors (1/2" or 2/3"). On our website you will find our current camera recommendations and a camera ranking which is specifically tailored to microscopy applications.

New LM Digital Adapter for:
Nikon Z9 / Sony Alpha 7R V / Sony Alpha 1 / Sony FX3 Cinema Line / Sony Alpha 9 II (ILCE-9M2) / Sony Alpha 9 / Nikon D6 / Canon EOS R3 / Canon EOS R6 Mark II / Canon EOS R8 / Sony Alpha 7R IV / Canon EOS R5 / Sony Alpha 7S II / Sony Alpha 7S III / Sony Alpha 7R III / Canon EOS R6 / Nikon Z6 / Nikon Z6II / Sony Alpha 7R II / Nikon Z7 / Nikon Z7II / Canon EOS R / Canon EOS Ra (Astro) / Nikon Z5 / Sony Alpha 7C / Canon EOS RP / Sony Alpha 7S / Canon EOS R7 / Leica SL2-S / Canon EOS R10 / Canon EOS 1D X Mark III / Nikon Z50 / Nikon Z30 / Nikon Z fc / Nikon D850 / Canon EOS 1D X Mark II / Nikon D780 / Olympus OM-1 / Sony Alpha 7III / Olympus OM-D E-M1 Mark III / Nikon D5 / Sony Alpha 6600 / Fujifilm X-H2S / Fujifilm X-S10 / Fujifilm X-E4 / Fujifilm X-Pro3 / Olympus OM-D E-M1X / Sony Alpha 6400 / Sony Alpha 6100 / Sony ZV-E10 / Canon EOS 1D X / Nikon D4s / Olympus OM-D E-M5 III / Canon EOS 90D / Canon EOS 5D Mark IV / Nikon D4 / Nikon D750 / Canon EOS 6D Mark II / Fujifilm X-T4 / Fujifilm X-T3 / Sony Alpha 6300 / Sony Alpha 6500 / Nikon D500 / Nikon D810 / Nikon D800 / Canon EOS M6 Mark II / Nikon D800E / Nikon Df / Panasonic Lumix DC-G9 / Nikon D610 / Nikon D600 / Canon EOS 250D / Canon EOS 850D / Rebel T8i / Canon EOS 6D / Sony Alpha 99 II (SLT-A99 II) / Canon EOS M200 / Canon EOS 5DS R ( without low-pass filter) / Olympus OM-D E-M1 Mark II / Canon EOS 80D / Canon EOS M50 Mark II / Canon EOS 5DS / Canon EOS M50 / Sony Alpha 77 II / Canon EOS 70D / Nikon D7200 / Pentax K-1 Mark II / Canon EOS 200D / Canon EOS 800D / Rebel T7i / Canon EOS 77D / Canon EOS 5D Mark III / Canon EOS 60D / Sony Alpha 7R / Sony Alpha 7 / Nikon DS-Qi2 (Microscope Camera) / Olympus OM-D E-M5 II / Nikon D3x / Olympus OM-D E-M1 / Pentax KP / Nikon D3S / Canon EOS 750D / Rebel T6i / Canon EOS 760D / Rebel T6s /