503
Even lower-priced microscopes for everyday use can deliver high-quality microscope photos: test report of the Olympus CH30 and CH40 microscopes
Used in conjunction with our LM digital adapters, the robust routine microscope CH40 from Olympus and its sister model, the educational microscope CH30, can be attached to modern DSLRs and system cameras in no time at all and with highly satisfactory results: perfect for an easy and straightforward start into the world of digital photographic documentation.
The Olympus CH30 and CH40 microscopes have a finite-corrected optical system and were launched to market in 1997.
The CH40 has a number of features that meet the practical needs of routine microscope work. In older microscopes, the objective turret always rotates forward and as a result, the optical parts often get dirty or damaged. The quintuple revolving nosepiece of the CH40/CH30 faces inward, which provides better protection of the objectives and the working area with the specimens. The rigid, easy-to-use design of the frame offers reliability and ergonomic comfort (natural and comfortable arrangement of controls). A 6V30W halogen lamp provides extra-bright illumination.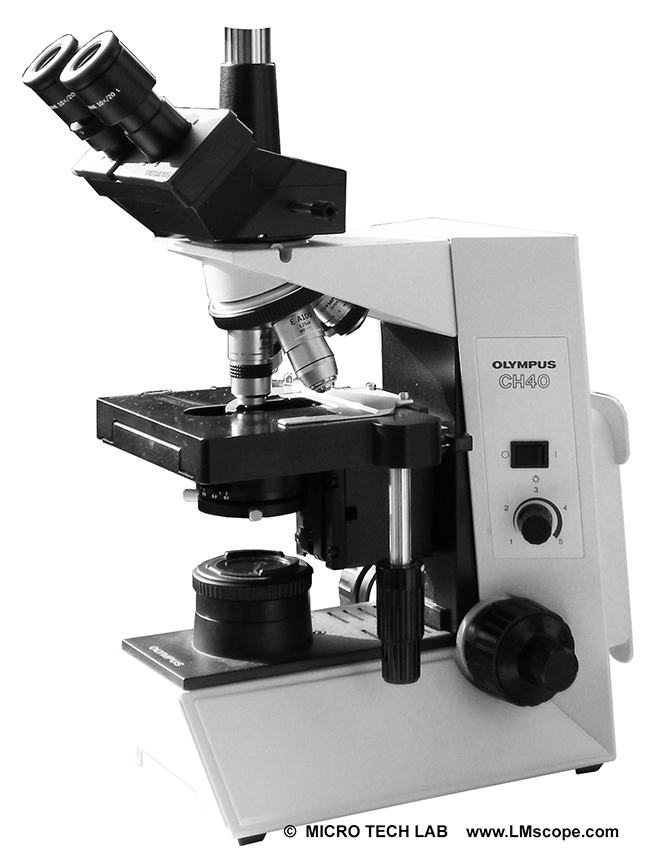 The CH40 accommodates all standard optical techniques except differential interference contrast (DIC). In addition to bright field observation, the CH40 and CH30 offer transmitted light imaging with phase contrast, dark field, polarisation and even fluorescence capabilities (fluorescence module). As with all older microscopes that have a finite optical system, the image quality of the Olympus CH40 is quite satisfactory. For superior image quality, however, we recommend more modern infinity-corrected microscopes combined with plan apochromatic lenses.
The CH 40 can definitely be upgraded for photomicrography. There is a huge range of DSLRs – starting at around EUR 290 – and system cameras available on the market that are excellently suited for use with a microscope. We have compiled a guide to help you choose the camera that best meets your needs. Information about the suitability of different camera models for photomicrography can also be found in our camera ranking. Our LM universal adapter solution mounts directly to the standard 23.2 mm internal diameter phototube of the CH3-TR45 trinocular head.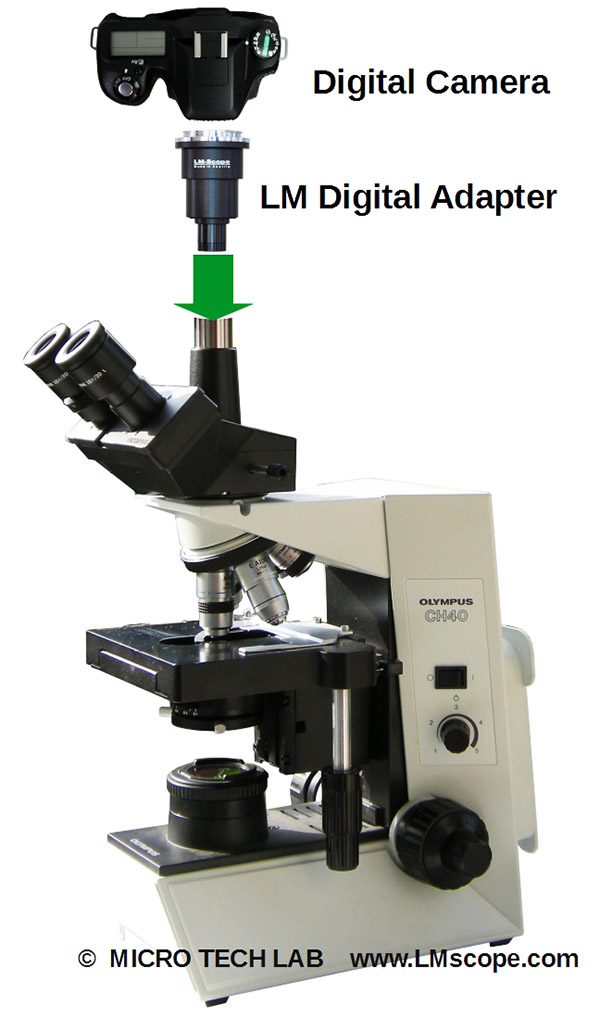 If the microscope only has a binocular observation tube, the eyepiece can be used to attach the camera. The camera's objective is removed, and the body of the DSLR is connected to the adapter. The following eyepieces are offered: WHK 10x/20 and NCWHK 10x/18.
The modular construction of our adapter solutions enables compatibility with almost all major camera brands. Switching to another camera brand later on is also no problem at all – the only thing that needs to be changed out is the bayonet adapter.
A wide range of accessories expand customisation options for the Olympus CH40, including discussion equipment, a drawing attachment or the fluorescence module mentioned above.
The sister model of the CH40, the CH30, is a little more simple in construction. Designed to be used as an educational microscope, it has a quadruple revolving nosepiece and a slightly weaker 20 watt bulb.
Conclusion: The Olympus CH30 and CH40 microscopes feature a good quality, sturdy stand with inward facing revolving nosepiece. Our LM adapter solutions enable these microscopes to be attached to almost all modern digital cameras. We recommend DSLRs and system cameras because they deliver excellent image quality at affordable prices.
Photography:
Fitting the microscope to digital single-lens reflex (DSLR), mirrorless interchangeable-lens cameras (MILC ), digital single-lens mirrorless (DSLM) or C-mount cameras is easy with our LM digital SLR adapters, which feature a plan achromatic optical system. Our products make it possible to capture top-quality microscope images. To help you select the adapter that is right for your camera, we have set up an online configurator on our website. You can also email us – ideally with attached photographs of your microscope.
Modern DSLR and single-lens mirrorless (DSLM) offer the latest technology and are generally very well suited for microscopy applications. Most of them can be controlled remotely via PC/Mac. Because of their high sales volumes, they offer an excellent price/performance ratio compared to special-purpose microscope cameras.
Features of top DSLR and single-lens mirrorless cameras (DSLM):
- Large, powerful full-frame sensors (36 x 24 mm)
- Sensor resolution of 61 megapixels or 240 megapixels with Pixel Shift technology
- High light sensitivity (ISO 400,000+)
- Extensive dynamic range (up to 15 aperture stops/f-stops)
- Short exposure times (1/8000 second) up to 1/32,000 seconds using the digital shutter
- 4K Ultra HD or 8K Ultra HD video function
- Live video capture on external monitors in ultra HD quality
In most cases, these cameras are significantly more powerful than microscope cameras with smaller sensors (1/2" or 2/3"). On our website you will find our current camera recommendations and a camera ranking which is specifically tailored to microscopy applications.

New LM Digital Adapter for:
Nikon Z9 / Nikon Z8 / Sony Alpha 7R V / Sony Alpha 1 / Sony FX3 Cinema Line / Sony Alpha 9 II (ILCE-9M2) / Sony Alpha 9 / Nikon D6 / Canon EOS R3 / Canon EOS R6 Mark II / Canon EOS R8 / Sony Alpha 7R IV / Canon EOS R5 / Sony Alpha 7S II / Sony Alpha 7S III / Sony Alpha 7R III / Canon EOS R6 / Nikon Z6 / Nikon Z6II / Sony Alpha 7R II / Nikon Z7 / Nikon Z7II / Canon EOS R / Canon EOS Ra (Astro) / Nikon Z5 / Sony Alpha 7C / Canon EOS RP / Sony Alpha 7S / Canon EOS R7 / Leica SL2-S / Canon EOS R10 / Canon EOS 1D X Mark III / Nikon Z50 / Nikon Z30 / Nikon Z fc / Nikon D850 / Canon EOS 1D X Mark II / Nikon D780 / Olympus OM-1 / Sony Alpha 7III / Olympus OM-D E-M1 Mark III / Canon EOS R100 / Sony Alpha 6700 / Nikon D5 / Sony Alpha 6600 / Fujifilm X-H2S / Fujifilm X-S10 / Fujifilm X-E4 / Fujifilm X-Pro3 / Olympus OM-D E-M1X / Sony Alpha 6400 /