486
Nikon Eclipse TE200/TE300 – a series of inverted infinity-corrected microscopes whose side photo port makes them an excellent choice for digital photomicrography
Nikon's Eclipse TE200/TE300 inverted microscopes are suitable for use in a broad spectrum of application fields. The two models were developed in the late 1990s but are still a good choice for photomicrography applications when combined with our LM digital adapters with plan achromatic precision optics. The TE300 even features a front port, which the lower-priced TE200 doesn't have. Both models feature a side port, which can be used to attach a DSLR camera, mirrorless system camera or C-mount camera to the microscope.
Illumination with a 30W halogen lamp is standard on the TE200; however, this can be replaced (similar to the TE300) with a 100W illumination pillar. Depending on the model, the light distribution ratio is switchable between 100:0, 20:80 and 0:100.
Both models in the series feature Nikon's powerful infinity CFI60 optical system. The CFI60 lenses have a parfocal distance of 60 mm, a 25 mm thread size and a 22 mm field of view.
Choice of objectives:
Achromats

Plan Fluors

Plan Fluors with extra-long working distance

Plan Apochromats

Hoffman modulation contrast objectives
The well-balanced design of the TE200 and TE300 offers high optical performance, combined with convenient controls for comfortable, fatigue-free operation. In addition to standard observation modes (bright field, dark field and phase contrast), observation techniques such as epi-fluorescence, Hoffman modulation contrast or Nomarski DIC are supported as well. Differential interference contrast (DIC) is a valuable tool for imaging unstained transparent live organisms with high contrast. For cell cultures grown in plastic Petri dishes, the Hoffmann modulation contrast method can be used to produce images with a 3D appearance.
The design is highly modular and provides options for the NT-88NE micromanipulator system, the MHW water-hydraulic micromanipulator for electrophysiology and patchclamp research, an incubator box, discussion equipment, the FX-III series photomicrographic system, a mechanical stage, plate holder, etc.
The sextuple revolving nosepiece of the E600 and E800 microscopes is also compatible with the TE200 and TE300 microscopes. Two mounting options are available: attaching the adapter to the V-T phototube of the side port (option A with 42 mm inner diameter) or removing the V-T phototube and attaching the adapter directly to the tube opening (option B with 38 mm inner diameter). The diagrams below illustrate the two connection methods: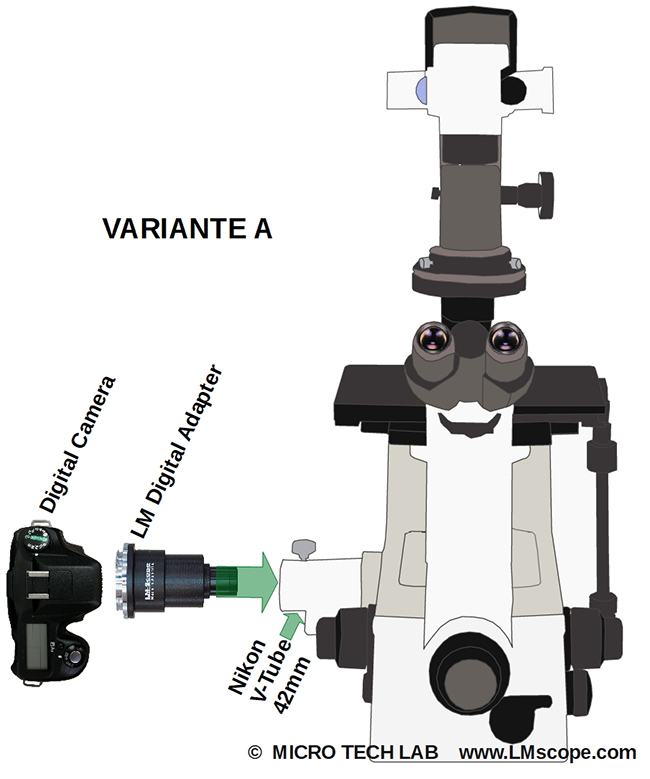 OPTION A: attaching the adapter to the V-T phototube of the side port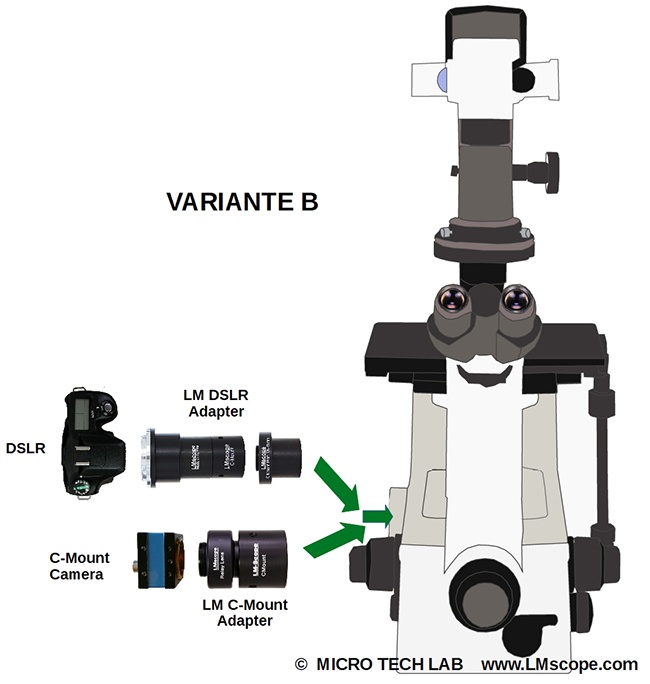 OPTION B: attaching the adapter directly to the tube opening
Available eyepiece tubes are the TE-TL and TE-TS tubes (both are binocular tubes). An intermediate tube (TE-TI) is required for attaching the usual Nikon trinocular tubes (Y-TF and Y-TT). The key to properly attaching a DSLR or system camera to these tubes with our high-quality LM digital adapters is to choose the correct combination: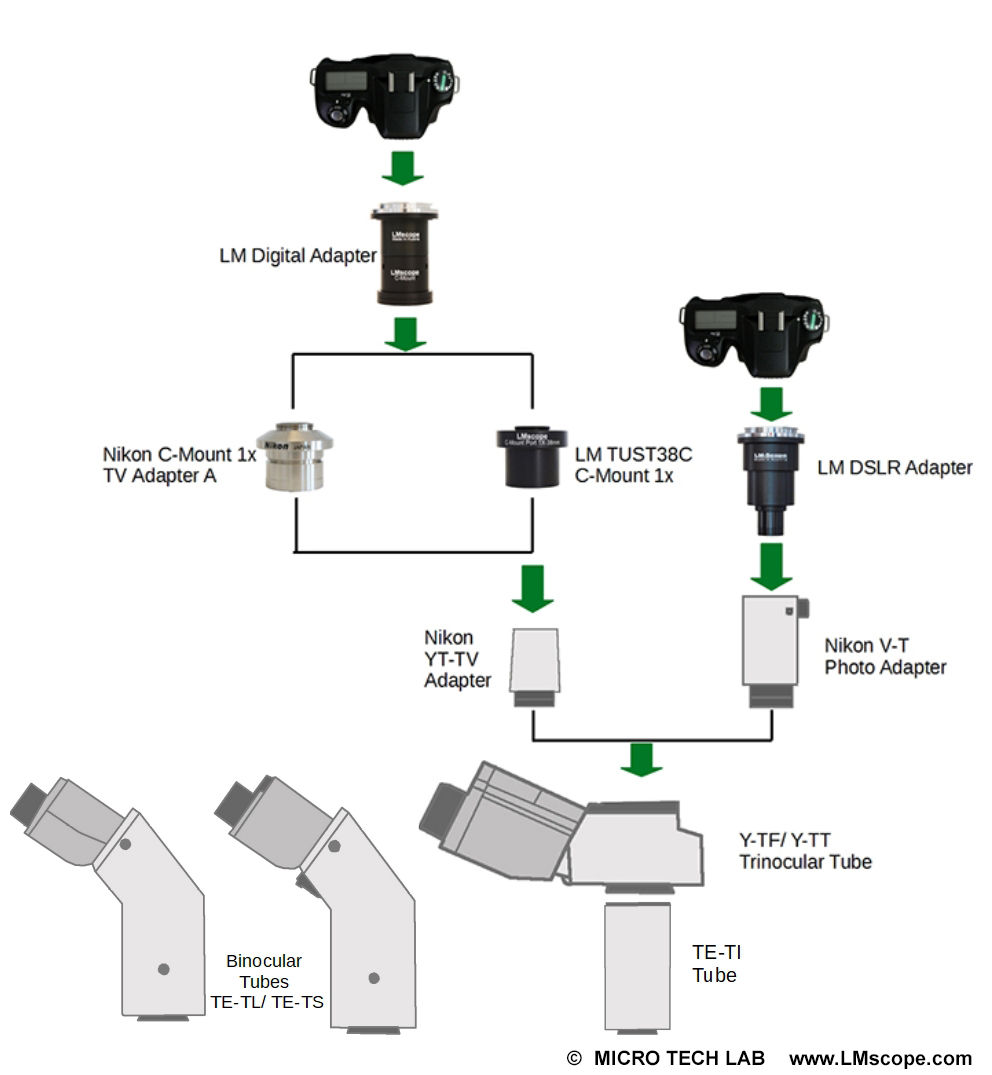 The following considerations need to be taken into account:
Does the tube have a Nikon YT-TV adapter (shorter) or a Nikon V-T photo adapter (longer)? These are essential for attaching a camera to the microscope and cannot be bypassed!

The Nikon YT-TV adapter accepts either the TUST38C LM C-mount adapter or – if you already have one – the Nikon C-mount adapter A (1x). The LM digital adapter, which is connected to the camera, is then added to that combination.

The LM DSLR adapter is directly attached to the Nikon V-T photo adapter.




If the microscope doesn't have a phototube, the camera can also be attached to the eyepiece tube. The image quality is as good as that achieved when attaching the camera to the phototube, and the adapter solution for the eyepiece tube is universal, because it enables compatibility with a wide range of different microscopes. We offer a comprehensive range of products for a large variety of different camera systems.
Conclusion: Equipped with the renowned CFI60 optical system, Nikon's Eclipse TE200 and TE300 models are very well suited for digital photomicrography.
Photography:
Fitting the microscope to digital single-lens reflex (DSLR), system or C-mount cameras is easy with our LM digital SLR adapters, which feature a plan achromatic optical system. Our products make it possible to capture top-quality microscope images. To help you select the adapter that is right for your camera, we have set up an online configurator on our website. You can also email us – ideally with attached photographs of your microscope.
Modern DSLR and system cameras offer the latest technology and are generally very well suited for microscopy applications. Most of them can be controlled remotely via PC/Mac. Because of their high sales volumes, they offer an excellent price/performance ratio compared to special-purpose microscope cameras.
Features of top DSLR and system cameras:
- Large, powerful full-frame sensors (36 x 24 mm)
- Sensor resolution of 50 megapixels
- High light sensitivity (ISO 100,000+)
- Extensive dynamic range (up to 14 aperture stops/f-stops)
- Short exposure times (1/8000 second):
- Full/Ultra HD (4k) video function
- Live video capture on external monitors in ultra HD quality
In most cases, these cameras are significantly more powerful than microscope cameras with smaller sensors (1/2" or 2/3"). On our website you will find our current camera recommendations and a camera ranking which is specifically tailored to microscopy applications.

New LM Digital Adapter for:
Nikon Z9 / Sony Alpha 1 / Sony FX3 Cinema Line / Sony Alpha 9 II (ILCE-9M2) / Sony Alpha 9 / Nikon D6 / Sony Alpha 7R IV / Canon EOS R5 / Sony Alpha 7S II / Sony Alpha 7R III / Canon EOS R6 / Nikon Z6 / Nikon Z6II / Sony Alpha 7R II / Nikon Z7 / Nikon Z7II / Canon EOS R / Canon EOS Ra (Astro) / Nikon Z5 / Sony Alpha 7C / Canon EOS RP / Sony Alpha 7S / Canon EOS 1D X Mark III / Nikon Z50 / Nikon D850 / Canon EOS 1D X Mark II / Nikon D780 / Sony Alpha 7III / Nikon D5 / Sony Alpha 6600 / Sony Alpha 6400 / Sony Alpha 6100 / Sony ZV-E10 / Canon EOS 1D X / Nikon D4s / Olympus OM-D E-M5 III / Canon EOS 90D / Canon EOS 5D Mark IV / Nikon D4 / Nikon D750 / Canon EOS 6D Mark II / Fujifilm X-T4 / Fujifilm X-T3 / Sony Alpha 6300 / Sony Alpha 6500 / Nikon D500 / Nikon D810 / Nikon D800 / Canon EOS M6 Mark II / Nikon D800E / Nikon Df /