571
LM special adapters for connecting digital cameras to Motic research and stereo microscopes
Our LM microscope adapters with plan-achromatic precision optics can be used to attach modern digital cameras (such as DSLRs, mirrorless system cameras, high-speed cameras or C-mount cameras) to a microscope's phototube or eyepiece tube.
Motic makes affordable, yet high-quality stereo and laboratory microscopes that more than hold their own against well-known brands.
For photography applications, the microscope is ideally equipped with a phototube (for solutions using the eyepiece tube, see below). We offer the two adapter solutions described below for Motic microscopes that have a phototube with an inner diameter of 38 mm. Which option is preferable depends on the requirements in each individual case.
1. This is the compact standard option we have specially developed for the Motic microscope group. This adapter solution is equipped with high-quality plan-achromatic optics for matching the size of the camera sensor to the microscope. It also features a compact, short design and provides a large field of view without vignetting. We recommend cameras with sensor formats ranging from full-frame to Micro Four Thirds (MFT/µFT).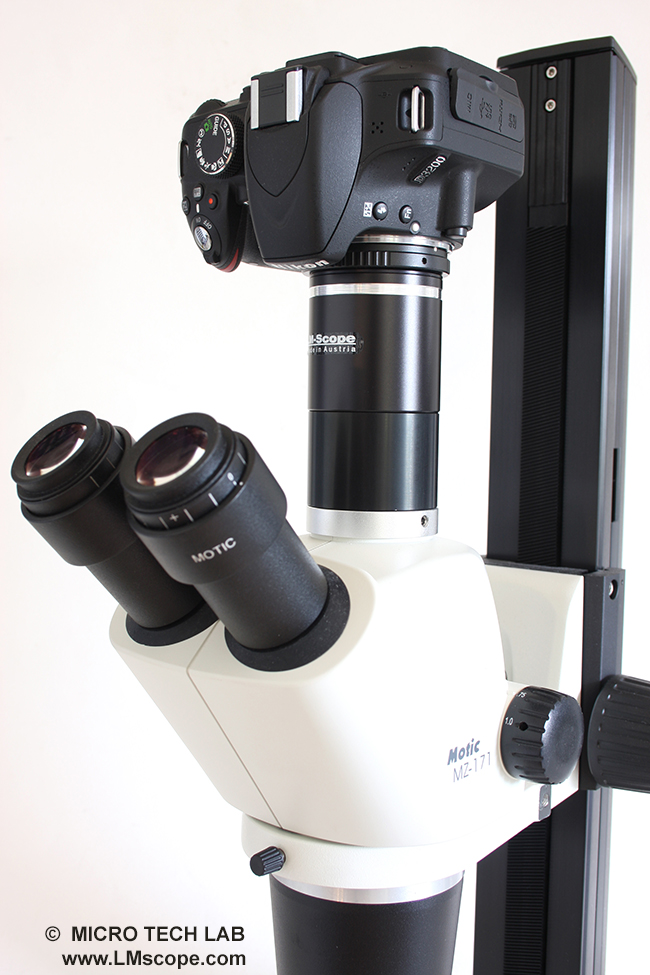 2. The focusable wide-field adapter solution of our "Pro" series is also equipped with plan-achromatic precision optics. Its multi-part, modular construction facilitates maximum flexibility. Combined with individual accessory parts, it can be used on the eyepiece tube or the phototube of a wide range of microscope brands. The adapter is focusable, which enables an optical alignment of the image observed through the eyepiece with the image the camera sees through the phototube. Different magnification factors are available upon request. Depending on the area of application, this adapter solution also includes the option of adding optical filters and/or optical apertures for image optimisation in order to achieve even better image quality and depth of field.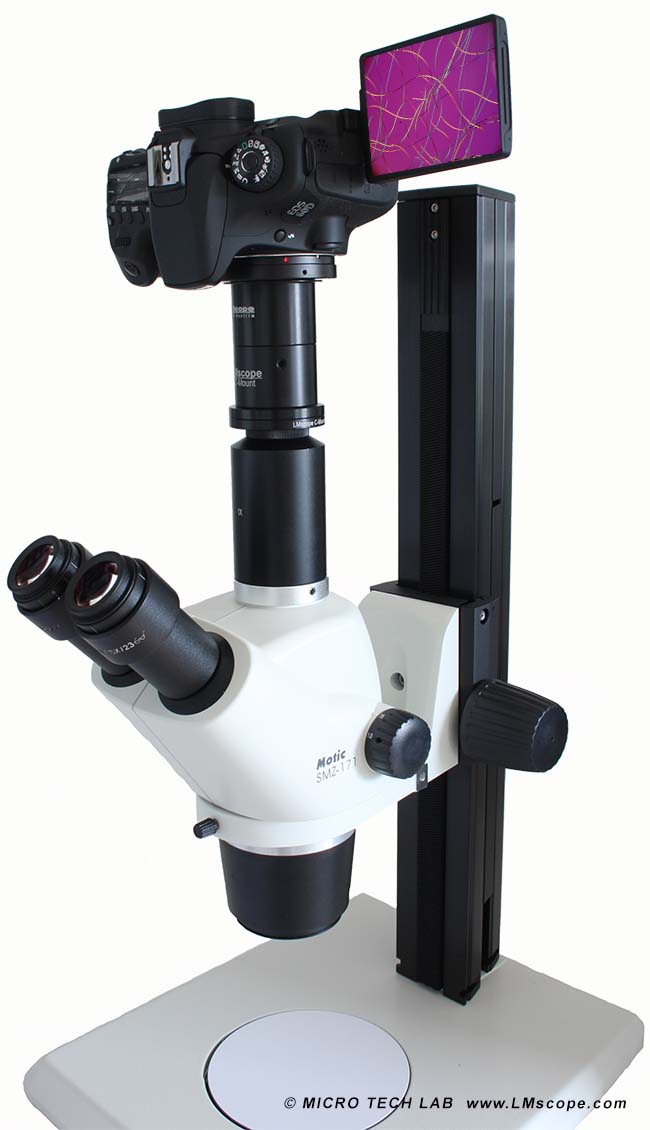 The image below shows a polarisation image captured with the Motic SMZ 171 and a standard DSLR camera with APS-C sensor: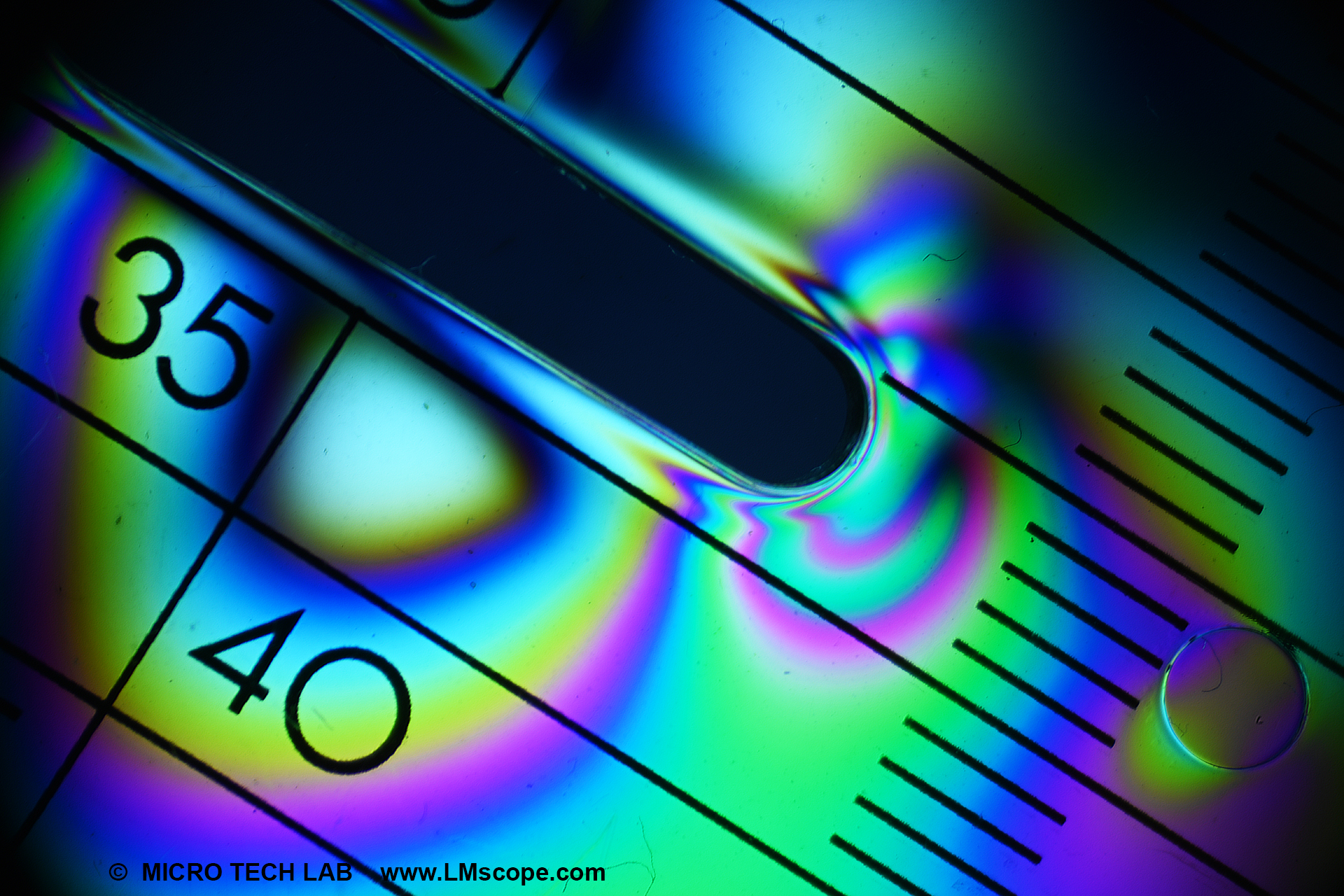 Our adapter solutions are suitable for the following Motic microscopes:
Motic BA210

Motic BA310

Motic AB410

Motic AE2000

Motic AE31E

Motic Panthera

Motic SMZ-161

Motic SMZ-171

Motic GM-171

Motic RED223

Motic RED233

Motic SWIFT223

Motic SWIFT253
3. Adapter solution for the eyepiece tube
If the microscope doesn't have a phototube, or if several cameras need to be attached to the microscope simultaneously, we also offer an adapter solution that works on the eyepiece tube. To attach the camera, one eyepiece is removed and the camera, together with the adapter unit, is inserted into the tube where the eyepiece was. This adapter solution is very flexible and can also be used on other microscopes. The image quality is equally good as that of the phototube solution.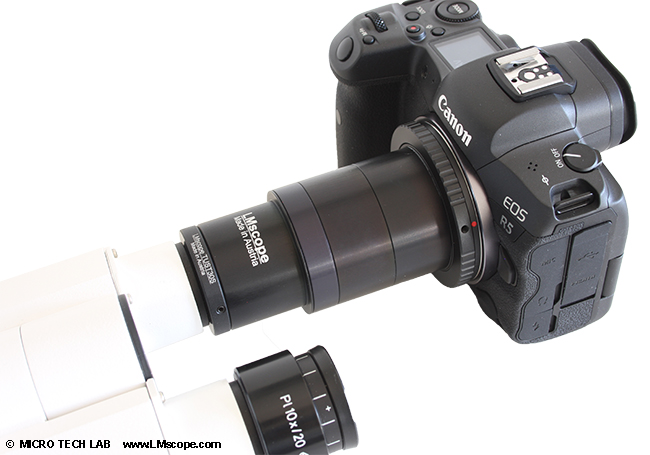 08.04.2021
Photography:
Fitting the microscope to digital single-lens reflex (DSLR), mirrorless interchangeable-lens cameras (MILC ), digital single-lens mirrorless (DSLM) or C-mount cameras is easy with our LM digital SLR adapters, which feature a plan achromatic optical system. Our products make it possible to capture top-quality microscope images. To help you select the adapter that is right for your camera, we have set up an online configurator on our website. You can also email us – ideally with attached photographs of your microscope.
Modern DSLR and single-lens mirrorless (DSLM) offer the latest technology and are generally very well suited for microscopy applications. Most of them can be controlled remotely via PC/Mac. Because of their high sales volumes, they offer an excellent price/performance ratio compared to special-purpose microscope cameras.
Features of top DSLR and single-lens mirrorless cameras (DSLM):
- Large, powerful full-frame sensors (36 x 24 mm)
- Sensor resolution of 61 megapixels or 240 megapixels with Pixel Shift technology
- High light sensitivity (ISO 400,000+)
- Extensive dynamic range (up to 15 aperture stops/f-stops)
- Short exposure times (1/8000 second) up to 1/32,000 seconds using the digital shutter
- 4K Ultra HD or 8K Ultra HD video function
- Live video capture on external monitors in ultra HD quality
In most cases, these cameras are significantly more powerful than microscope cameras with smaller sensors (1/2" or 2/3"). On our website you will find our current camera recommendations and a camera ranking which is specifically tailored to microscopy applications.

Ordering code

Product description

Price

Price

Available




DD2XMO38

LM Digital SLR Adapter with special hard anti-reflection coating, plan achromatic optics for Motic phototubes with an inner diameter of 38 mm, inclusive Camera Lens Mount Adapter



Operating Instructions0
Data Sheet1

For EU (European Union) VAT (IVA, TVA) not included
New LM Digital Adapter for:
Nikon Z9 / Sony Alpha 7R V / Sony Alpha 1 / Sony FX3 Cinema Line / Sony Alpha 9 II (ILCE-9M2) / Sony Alpha 9 / Nikon D6 / Canon EOS R3 / Sony Alpha 7R IV / Canon EOS R5 / Sony Alpha 7S II / Sony Alpha 7S III / Sony Alpha 7R III / Canon EOS R6 / Nikon Z6 / Nikon Z6II / Sony Alpha 7R II / Nikon Z7 / Nikon Z7II / Canon EOS R / Canon EOS Ra (Astro) / Nikon Z5 / Sony Alpha 7C / Canon EOS RP / Sony Alpha 7S / Canon EOS R7 / Leica SL2-S / Canon EOS R10 / Canon EOS 1D X Mark III / Nikon Z50 / Nikon Z30 / Nikon Z fc / Nikon D850 / Canon EOS 1D X Mark II / Nikon D780 / Olympus OM-1 / Sony Alpha 7III / Olympus OM-D E-M1 Mark III / Nikon D5 / Sony Alpha 6600 / Fujifilm X-H2S / Fujifilm X-S10 / Fujifilm X-E4 / Fujifilm X-Pro3 / Olympus OM-D E-M1X / Sony Alpha 6400 / Sony Alpha 6100 / Sony ZV-E10 / Canon EOS 1D X / Nikon D4s / Olympus OM-D E-M5 III / Canon EOS 90D / Canon EOS 5D Mark IV / Nikon D4 / Nikon D750 / Canon EOS 6D Mark II / Fujifilm X-T4 / Fujifilm X-T3 / Sony Alpha 6300 / Sony Alpha 6500 / Nikon D500 / Nikon D810 / Nikon D800 / Canon EOS M6 Mark II / Nikon D800E / Nikon Df / Panasonic Lumix DC-G9 / Nikon D610 / Nikon D600 / Canon EOS 250D / Canon EOS 850D / Rebel T8i / Canon EOS 6D / Sony Alpha 99 II (SLT-A99 II) / Canon EOS M200 / Canon EOS 5DS R ( without low-pass filter) / Olympus OM-D E-M1 Mark II / Canon EOS 80D / Canon EOS M50 Mark II / Canon EOS 5DS / Canon EOS M50 / Sony Alpha 77 II / Canon EOS 70D / Nikon D7200 / Pentax K-1 Mark II / Canon EOS 200D / Canon EOS 800D / Rebel T7i / Canon EOS 77D / Canon EOS 5D Mark III / Canon EOS 60D / Sony Alpha 7R / Sony Alpha 7 / Nikon DS-Qi2 (Microscope Camera) / Olympus OM-D E-M5 II / Nikon D3x / Olympus OM-D E-M1 / Pentax KP / Nikon D3S / Canon EOS 750D / Rebel T6i / Canon EOS 760D / Rebel T6s / Canon EOS 5D Mark II / Nikon D7100 /