The Blackmagic Micro Studio Camera 4K – can this rising new star revolutionise medical practices and lecture halls?
Since we are always on the lookout for new and interesting camera solutions for microscopy and macroscopy applications, the new Blackmagic Micro Studio Camera 4K certainly caught our attention. Promoted by the manufacturer as the world's smallest 4K studio camera, this unique model features an incredible 13 stops of dynamic range and was designed primarily for professional live productions that demand top-notch video performance.
Considering its design characteristics, the Blackmagic Micro Studio Camera 4K can be used for a broad range of applications, especially when the quality of live view images displayed on state-of-the-art ultra HD monitors is of key concern. For instance, the camera can be used in:
- Universities – for discussion of histological or pathological specimens among colleagues or trainees
- Medical practices or hospitals – for discussing a live image with a patient
- Industry – for quality assurance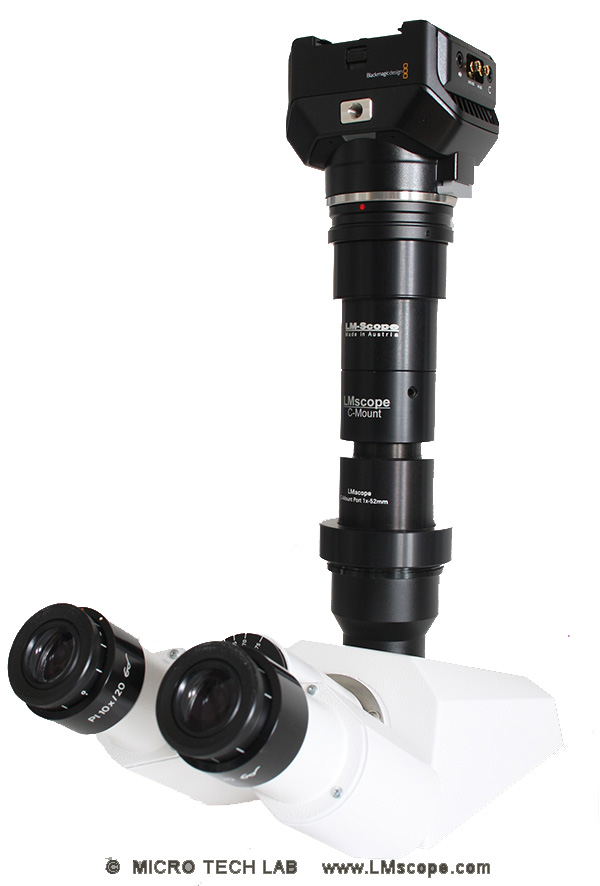 The "4K" cited in the camera's model name signifies that the Blackmagic Micro Studio Camera 4K utilises a high-definition digital video format (ultra HD). With about four times the number of pixels, ultra HD has four times the resolution of normal HD (high definition). This level of pixel density produces clearer, sharper images that bring out more details in the object or specimen. High-resolution images combined with great image quality are particularly interesting considering our interest in microscopy and macroscopy. The basic Blackmagic Micro Studio Camera 4K module is being offered at the very attractive price of about € 1,500.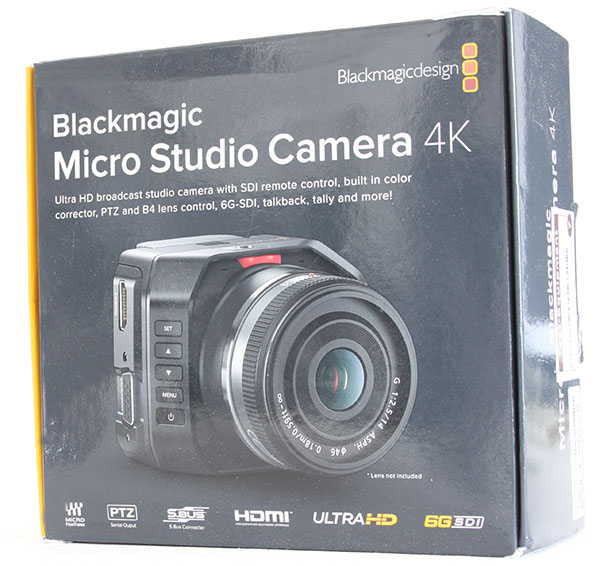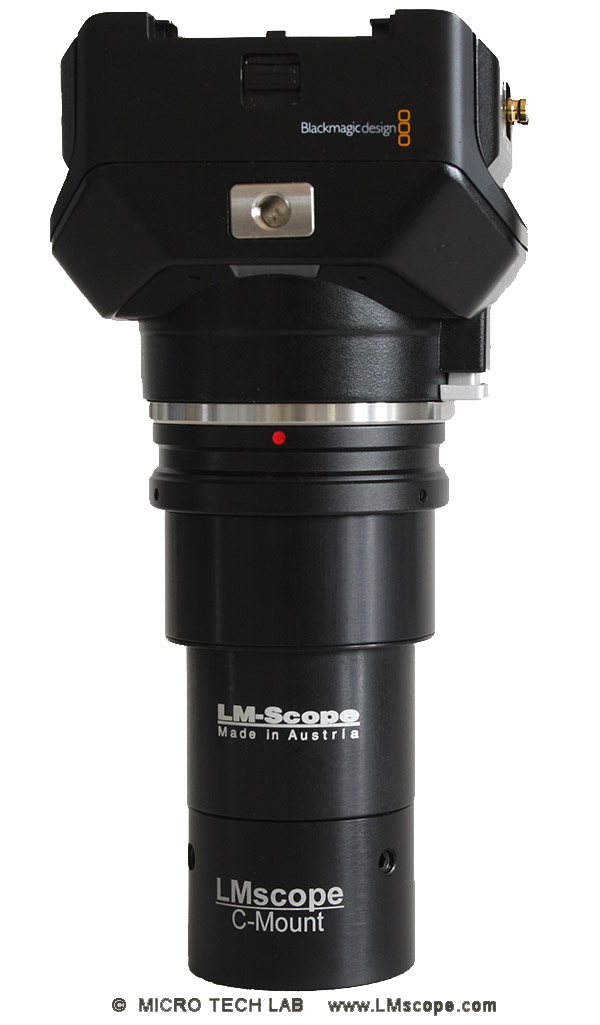 Here's a brief look at the technical aspects of the Blackmagic Micro Studio Camera 4K.
Notably, it is engineered with a tough magnesium alloy that is only slightly larger than the lens mount itself. By simply attaching one of our LM digital adapters to this bayonet lens mount, the camera can be used on almost any microscope. Its small, lightweight design (82.55 mm (W) x 69.6 mm (D) x 65.8 mm (H), approx. 305 g) also makes the camera a superb choice for eyepiece tube connections (no phototube needed).
The Blackmagic Micro Studio Camera 4K is controlled via integrated buttons located on the front of the camera (which, owing to the camera's overall size, are quite small) or via the SDI interface using accessory products, such as camera control protocols and ATEM switchers. The SDI is a serial digital interface, primarily for the transmission of uncompressed and unencrypted video data.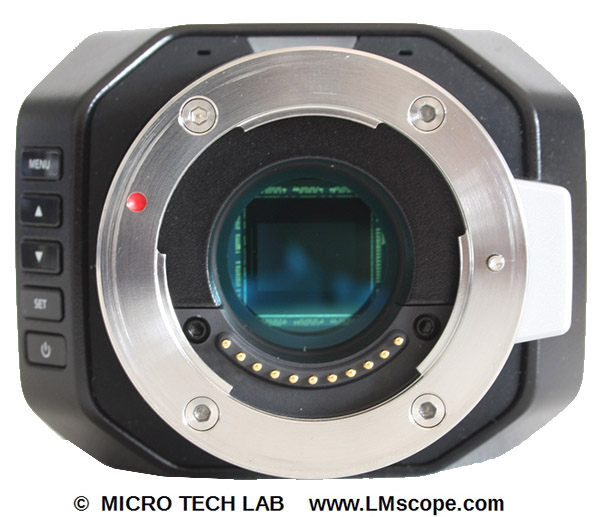 The camera has two digital video outputs: an SDI video output (6G-SDI 10-bit 4:2:2) and a standard HDMI output. Initially, we were very pleased that an affordably priced camera unit capable of delivering ultra HD images to a monitor via HDMI output had finally arrived in the market. However, following our initial tests and after an even closer review of the camera's technical data, we realised that the HDMI output only delivers HD 1080p quality instead of the maximum 2160p resolution. In fact, full ultra HD (4K) video resolution is only available via the SDI output. Yet, since most high-resolution monitors do not have an SDI input, an additional converter is necessary.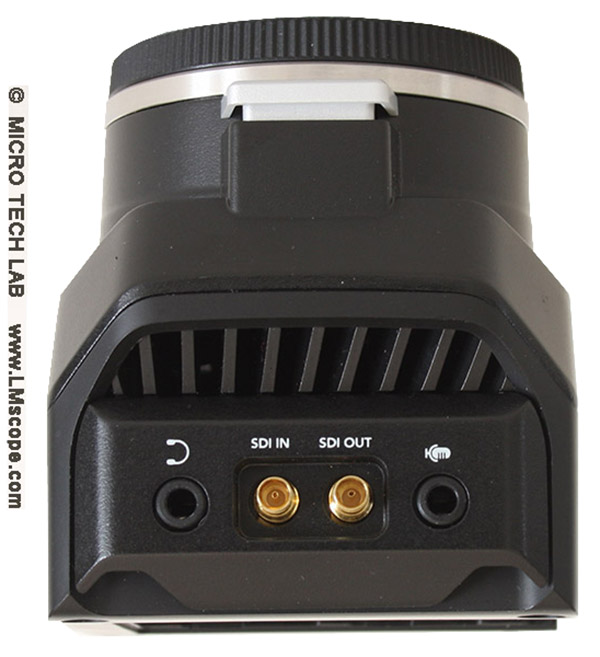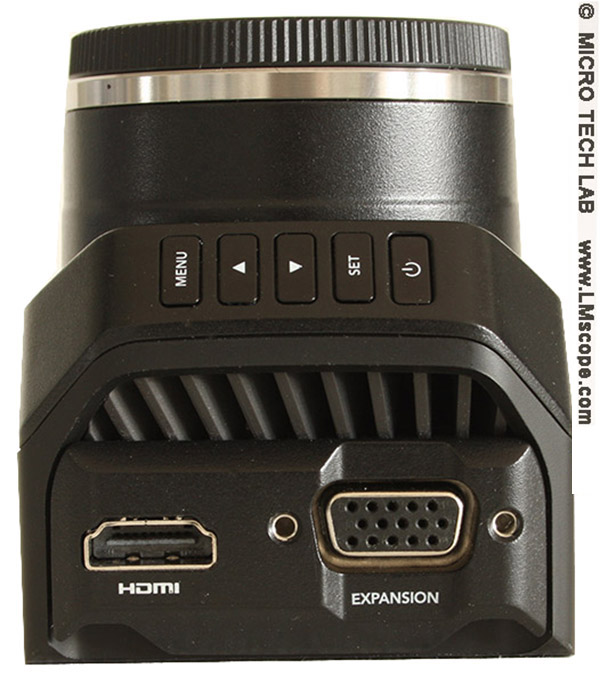 Unfortunately, it is impossible to control the live image transmission via the USB connection alone since the mini USB 2.0 port on the bottom of the camera can be used only for software updates. The camera has no card slot, and additional accessories are needed to shoot videos, such as the HyperDeck Studio Recorder or the Blackmagic Video Assist (available for around € 980). Although the Video Assist recorder is supposed to work with the latest high-performance SD cards, it apparently cannot support all of the SD cards that are widely available. For optimal remote control of the camera and recording video via SDI in and SDI out, additional equipment (ATEM switcher) is required. To make a recording, an SDI connection must be established (cable with SDI connector on one end and mini DIN connector on the other).
The Blackmagic Micro Studio Camera 4K is powered by rechargeable Canon battery packs (LP-E6) that provide about 70 minutes of operating time. As a result, users should either have several battery packs or use an external power supply (external 12–20 V power source).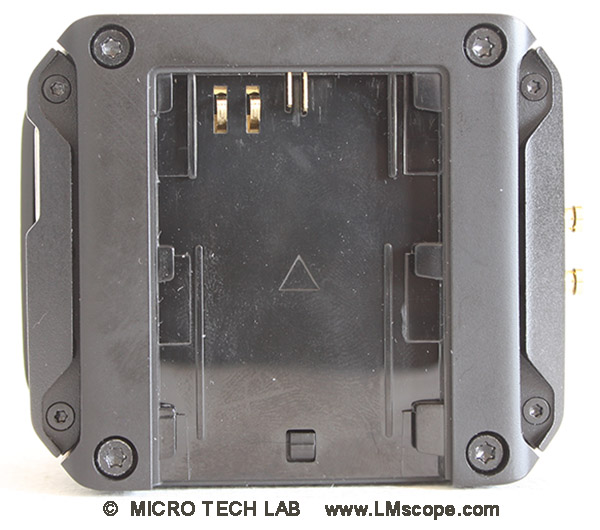 Conclusion: The Blackmagic Micro Studio Camera 4K is a special camera designed for live productions, and it certainly shows off its strengths and versatility in that particular field of application. Our LM digital adapters enable users to attach the camera to almost any microscope. Nevertheless, using the Blackmagic Micro Studio Camera 4K the way we prefer requires additional accessories. It is also a pity that the camera does not have an HDMI2 port capable of transmitting ultra HD images directly to a monitor. The absence of that port means that an additional converter is needed to send the 4K video signal directly to a monitor.
Related Links
--