416
Microscope cameras on the Motic SMZ 168 TP stereo zoom microscope
Thanks to our new, high-quality adapter solution, the routine microscope Motic SMZ 168 is excellently suited for photomicrography tasks. Combined with modern DSLR and system cameras, it is easy to obtain high-quality microscope images. The compact Motic SMZ 168 microscope was developed for educational, laboratory and industrial applications. It is also an affordable instrument for hobby researchers.
The SMZ 168 comes with an infinitely variable zoom lens, and the optical system is designed for parfocality at all magnifications. As a stereo microscope, it uses the Greenough optical system, conditioned on the two parallel light beams. It has a zoom range of 6.7 and can be expanded to a magnification of 320x. With one rotation of the zoom knob, the entire zoom range can be accessed. Five defined click-stop positions allow exact reproduction of the magnification.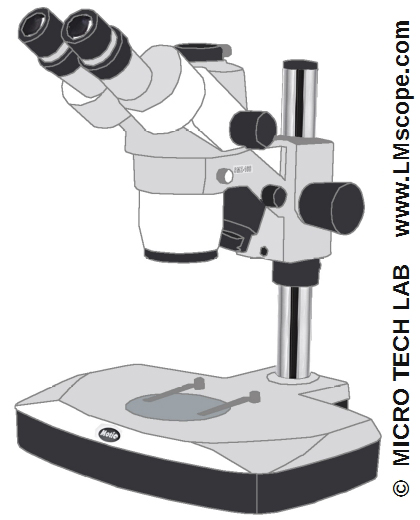 The viewing angle of 35 degrees (360 degrees rotatable) contributes to the ergonomic working position of the trinocular head and the large maximum working distance (without close-up lens) of 113 mm. The SMZ 168 comes with a WF10x/23 eyepiece with eye guards. WF5X/23, WF6.25X/23, WF10X/21, WF15X/17, WF20X/13 and WF30X/8 eyepieces are also available. Adjustable interpupillary distance and dioptre adjustment on the binoculare tubes are standard features anyway.
The SMZ 168 comes equipped with a stand and plexiglass plate, ground steel column and precision gear box as standard. Various illumination methods are available thanks to its modular structure: neon ring illumination, cold light, fluorescence ring light illumination, halogen illumination and LED lamps. An incident light/transmitted light stand, a rotatable specimen stage, as well as dark field and polarisation accessories are also available. This makes the SMZ 168 highly versatile, at an affordable price.
As the Motic SMZ 168 has a photo tube, a camera can be attached to the microscope easily and conveniently with our LM adapter. We also have high-quality solutions for attaching the camera to the eyepiece tube in our product line.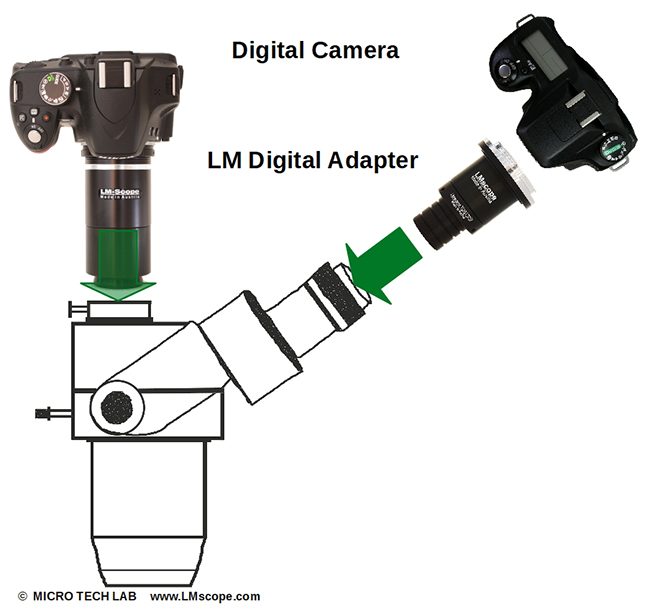 If the photo tube has a C-mount port 1x (without built-in optics), it is also possible to use our universal adapter: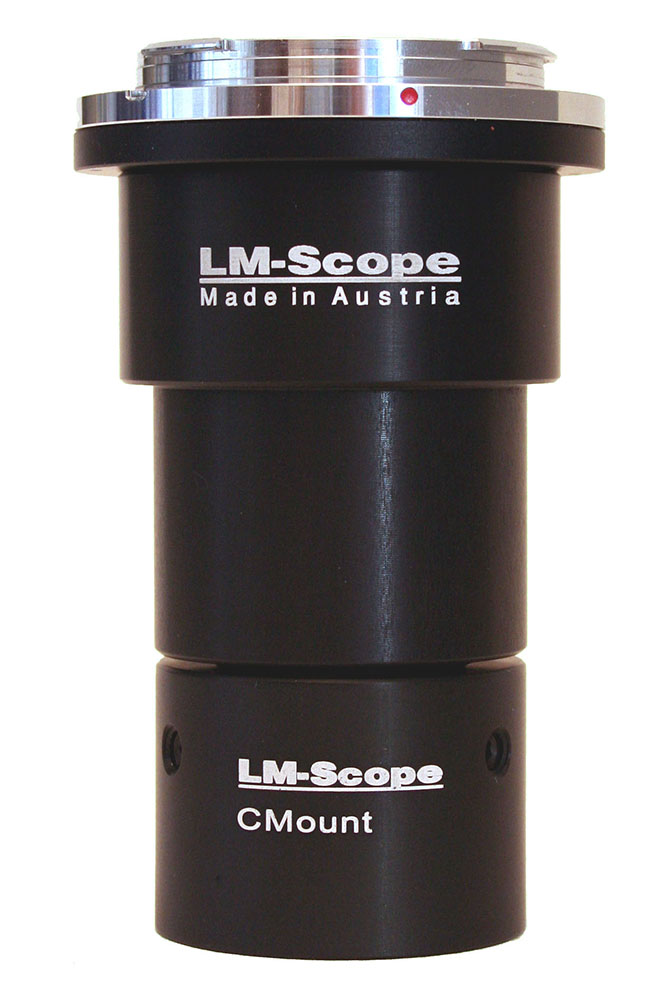 Photography:
Fitting the microscope to digital single-lens reflex (DSLR), system or C-mount cameras is easy with our LM digital SLR adapters, which feature a plan achromatic optical system. Our products make it possible to capture top-quality microscope images. To help you select the adapter that is right for your camera, we have set up an online configurator on our website. You can also email us – ideally with attached photographs of your microscope.
Modern DSLR and system cameras offer the latest technology and are generally very well suited for microscopy applications. Most of them can be controlled remotely via PC/Mac. Because of their high sales volumes, they offer an excellent price/performance ratio compared to special-purpose microscope cameras.
Features of top DSLR and system cameras:
- Large, powerful full-frame sensors (36 x 24 mm)
- Sensor resolution of 50 megapixels
- High light sensitivity (ISO 100,000+)
- Extensive dynamic range (up to 14 aperture stops/f-stops)
- Short exposure times (1/8000 second):
- Full/Ultra HD (4k) video function
- Live video capture on external monitors in ultra HD quality
In most cases, these cameras are significantly more powerful than microscope cameras with smaller sensors (1/2" or 2/3"). On our website you will find our current camera recommendations and a camera ranking which is specifically tailored to microscopy applications.

New LM Digital Adapter for:
Sony Alpha 9 II (ILCE-9M2) / Sony Alpha 9 / Nikon D6 / Sony Alpha 7R IV / Sony Alpha 7S II / Sony Alpha 7R III / Nikon Z6 / Sony Alpha 7R II / Nikon Z7 / Canon EOS R with Canon Adapter EF-EOS R / Canon EOS Ra (Astro) with Canon Adapter EF-EOS R / Canon EOS RP with Canon Adapter EF-EOS R / Sony Alpha 7S / Canon EOS 1D X Mark III / Nikon Z50 / Nikon D850 / Canon EOS 1D X Mark II / Nikon D780 / Sony Alpha 7III / Nikon D5 / Sony Alpha 6600 / Sony Alpha 6400 / Sony Alpha 6100 / Canon EOS 1D X / Nikon D4s / Olympus OM-D E-M5 III / Canon EOS 90D / Canon EOS 5D Mark IV / Nikon D4 / Nikon D750 / Canon EOS 6D Mark II / Fujifilm X-T4 / Fujifilm X-T3 / Sony Alpha 6300 / Sony Alpha 6500 / Nikon D500 / Nikon D810 / Nikon D800 / Nikon D800E / Nikon Df / Panasonic Lumix DC-G9 / Nikon D610 / Nikon D600 / Canon EOS 250D / Canon EOS 850D / Rebel T8i / Canon EOS 6D / Sony Alpha 99 II (SLT-A99 II) / Canon EOS M200 / Canon EOS 5DS R ( without low-pass filter) / Olympus OM-D E-M1 Mark II / Canon EOS 80D / Canon EOS 5DS / Canon EOS M50 / Sony Alpha 77 II / Canon EOS 70D / Nikon D7200 / Pentax K-1 Mark II / Canon EOS 200D / Canon EOS 800D / Rebel T7i / Canon EOS 77D / Canon EOS 5D Mark III / Canon EOS 60D / Sony Alpha 7R / Sony Alpha 7 / Nikon DS-Qi2 (Microscope Camera) / Olympus OM-D E-M5 II / Nikon D3x / Olympus OM-D E-M1 / Pentax KP / Nikon D3S / Canon EOS 750D / Rebel T6i /