303
Microscope photos with the Leica Wild M10 and modern cameras (DSLR, system or USB)
The Wild M10 is the last stereo microscope (Greenough principle) in the M series (WILD M3, WILD M7, WILD M8, etc.) from Leitz. Although a few years have passed since its market introduction (beginning of the 1990s), it is still very easy to connect a digital camera (DSLR, system or USB) to the microscope for professional photographic documentation.
As the Leica WILD M10 was launched on the market as long ago as the 1990s, the photographic unit (Mikrophot: WILD MPS05; Semiphotomat: WILD MPS15/12) was originally designed for analogue cameras (WILD camera body, film, SLR and TV cameras).
The WILD M10 stereo microscope is a high-quality instrument for research, development and education. It has a zoom range of 1:10. Magnifications of 8x to 80x are possible.
The M3Z was unique in the M3 series, in that it offers a continuous zoom from 6.4x to 40x. It is available with achromatic or planapo objectives. The M3Z provides exceptional field flatness with its plan objectives. M3 objectives are interchangeable with the M5 series. Thanks to our LM digital adapters it is very simple to mount a DSLR on the beam splitter of the M3Z, as shown here: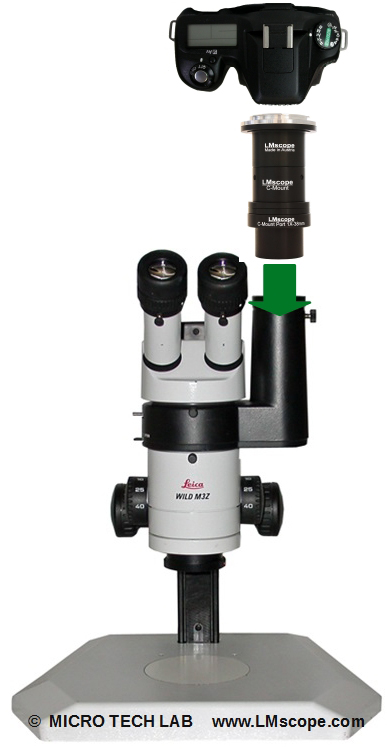 The Wild M10 is available with two different phototube models. In the first version (binocular head on a fixed phototube), the phototube is fitted directly above the two eyepieces.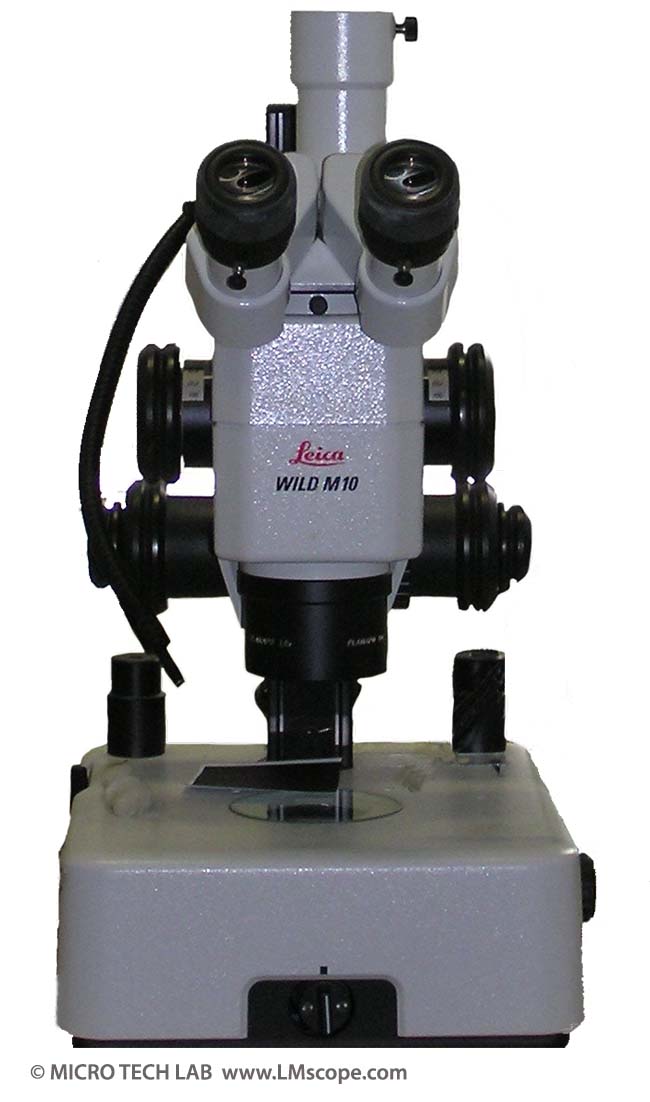 A digital camera (DSLR, system or USB camera) can be attached to this phototube using a C-mount port with a 1x optical factor (TUST38C) and the LM digital adapter tailored to whichever camera is being used.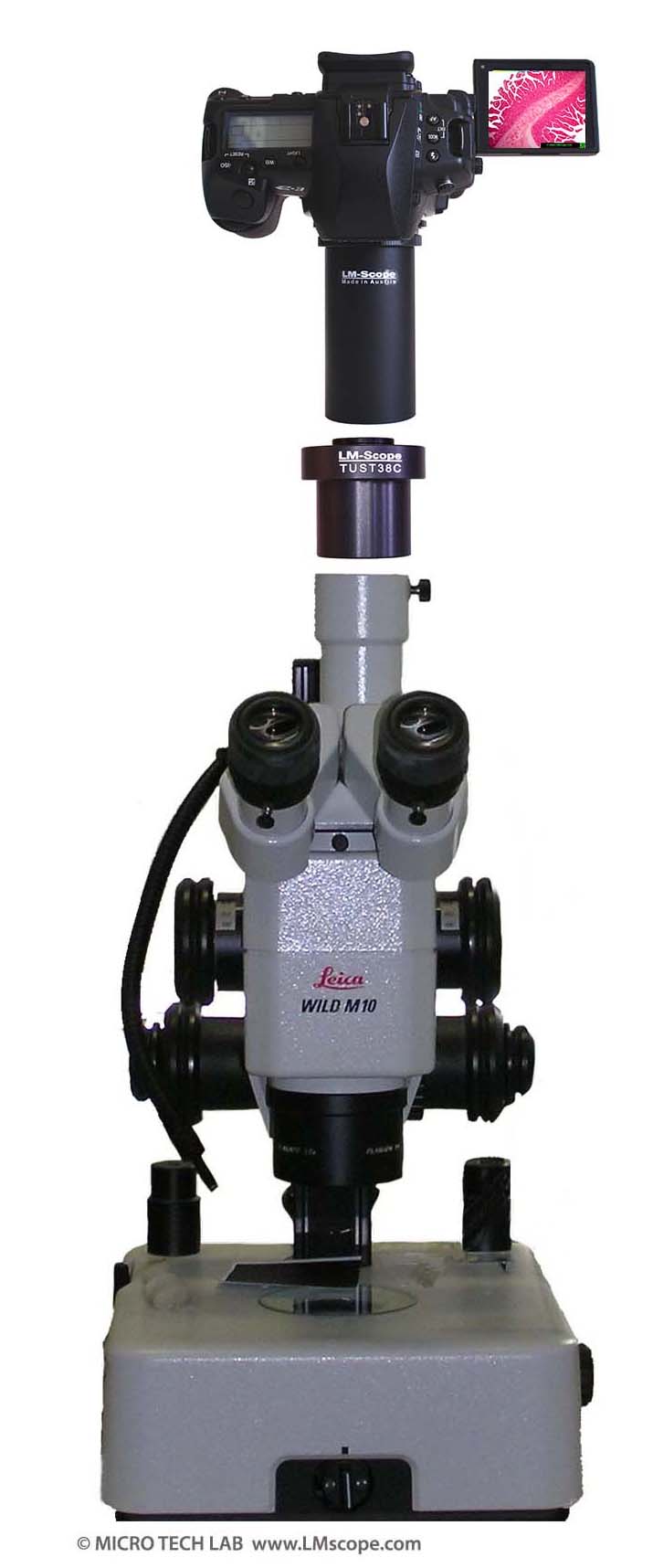 In the second version, the phototube (HV phototube or HU phototube, both with integrated iris diaphragm to optimise image quality) is fitted on the side of the two eyepieces. The HV phototube has a 50%/50% beam splitter; the HU phototube has a 100% beam splitter.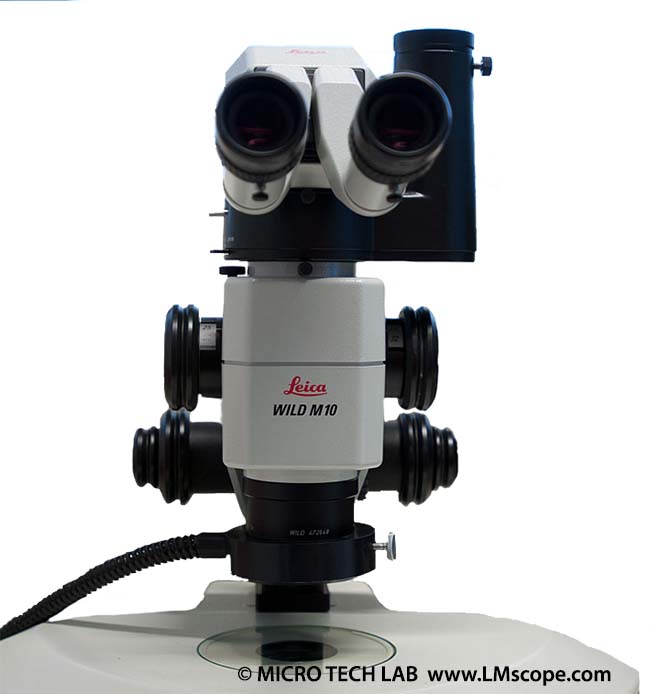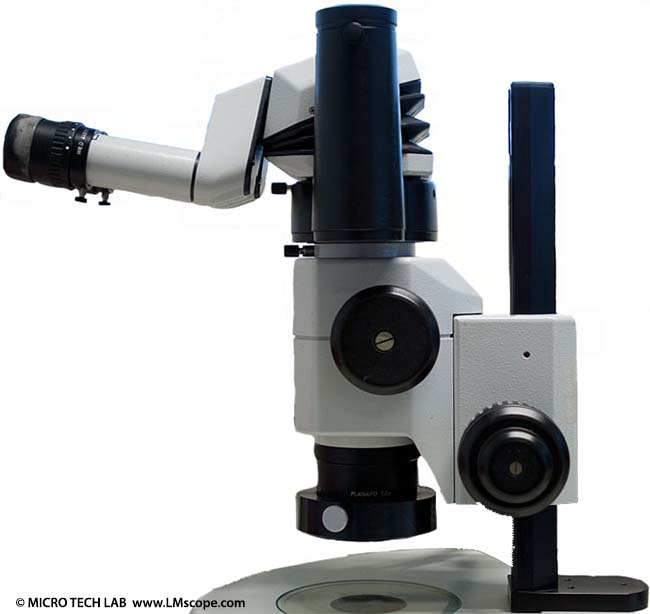 With this model, a camera can be connected in exactly the same way as with the options described above. A C-mount port with a 1x optical factor (TUST38C) is inserted in the phototube and then the LM digital adapter tailored to the camera being used is attached along with the camera.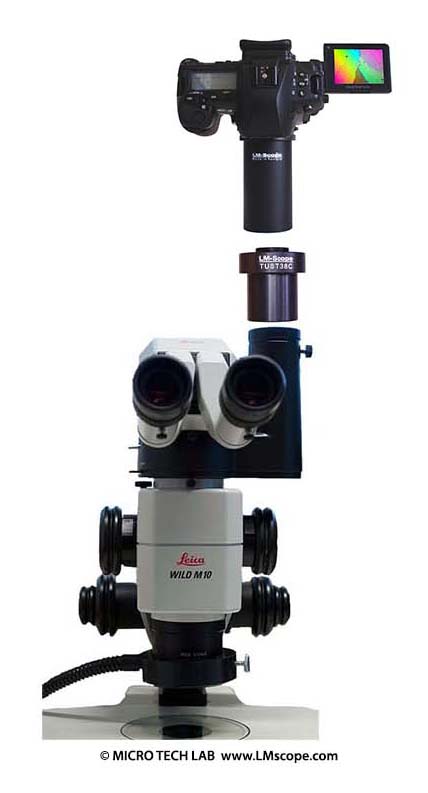 A third option is the A phototube (38 mm), which has no viewing tube and is purely designed for photography.
For further information and prices see our database. Please select a camera model.
| | |
| --- | --- |
| Microscope | Description |
| WILD M3C/M32 | 5-step magnification changer or zoom 1:6 (M32) |
| WILD M3B | 3-step magnification changer |
| WILD M3C | 5-step magnification changer |
| WILD M3Z | zoom |
24.10.2013
Photography:
Fitting the microscope to digital single-lens reflex (DSLR), system or C-mount cameras is easy with our LM digital SLR adapters, which feature a plan achromatic optical system. Our products make it possible to capture top-quality microscope images. To help you select the adapter that is right for your camera, we have set up an online configurator on our website. You can also email us – ideally with attached photographs of your microscope.
Modern DSLR and system cameras offer the latest technology and are generally very well suited for microscopy applications. Most of them can be controlled remotely via PC/Mac. Because of their high sales volumes, they offer an excellent price/performance ratio compared to special-purpose microscope cameras.
Features of top DSLR and system cameras:
- Large, powerful full-frame sensors (36 x 24 mm)
- Sensor resolution of 50 megapixels
- High light sensitivity (ISO 100,000+)
- Extensive dynamic range (up to 14 aperture stops/f-stops)
- Short exposure times (1/8000 second):
- Full/Ultra HD (4k) video function
- Live video capture on external monitors in ultra HD quality
In most cases, these cameras are significantly more powerful than microscope cameras with smaller sensors (1/2" or 2/3"). On our website you will find our current camera recommendations and a camera ranking which is specifically tailored to microscopy applications.

New LM Digital Adapter for:
Nikon Z9 / Sony Alpha 1 / Sony FX3 Cinema Line / Sony Alpha 9 II (ILCE-9M2) / Sony Alpha 9 / Nikon D6 / Sony Alpha 7R IV / Canon EOS R5 / Sony Alpha 7S II / Sony Alpha 7R III / Canon EOS R6 / Nikon Z6 / Nikon Z6II / Sony Alpha 7R II / Nikon Z7 / Nikon Z7II / Canon EOS R / Canon EOS Ra (Astro) / Nikon Z5 / Sony Alpha 7C / Canon EOS RP / Sony Alpha 7S / Canon EOS 1D X Mark III / Nikon Z50 / Nikon D850 / Canon EOS 1D X Mark II / Nikon D780 / Sony Alpha 7III / Nikon D5 / Sony Alpha 6600 / Sony Alpha 6400 / Sony Alpha 6100 / Sony ZV-E10 / Canon EOS 1D X / Nikon D4s / Olympus OM-D E-M5 III / Canon EOS 90D / Canon EOS 5D Mark IV / Nikon D4 / Nikon D750 / Canon EOS 6D Mark II / Fujifilm X-T4 / Fujifilm X-T3 / Sony Alpha 6300 / Sony Alpha 6500 / Nikon D500 / Nikon D810 / Nikon D800 / Canon EOS M6 Mark II / Nikon D800E / Nikon Df /