354
Detailed test report: The Nikon SMZ25 stereo microscope adapted for digital photography
In early summer 2013, Nikon presented its new flagship, the Nikon SMZ25 – a powerful stereo microscope with an incredibly large zoom range of 25x with a 1x objective lens (delivering a zoom range of 6.3x to 157.5x). With its modular design and wide variety of accessories, the SMZ25 can be adapted for many types of application, which enormously increases its range of functionality (incident light microscopy, transmitted light microscopy, axial incident fluorescence microscopy, etc.). We tested the Nikon SMZ25 extensively to determine its suitability for digital photomicrography.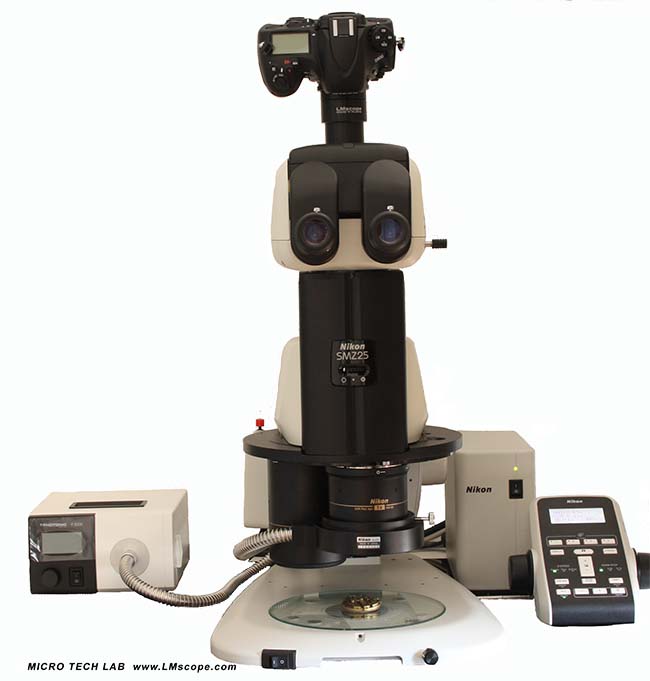 The Nikon SMZ25 is a top-quality, high-performance stereo microscope weighing in at a solid 35 kg. Both the zoom and Z-axis are fully motorised – only the objective lenses need to be changed manually. Everything else is operated by remote control.
The model we used for our tests was fitted with an ergonomic tube, which is very comfortable and enables prolonged periods of observation that are practically fatigue-free. The eyepieces were C-W 10x/22 models. A field number greater than 22 would have the advantage of more specimen area appearing in the field of view, which in turn would enhance the overall quality of the microscope.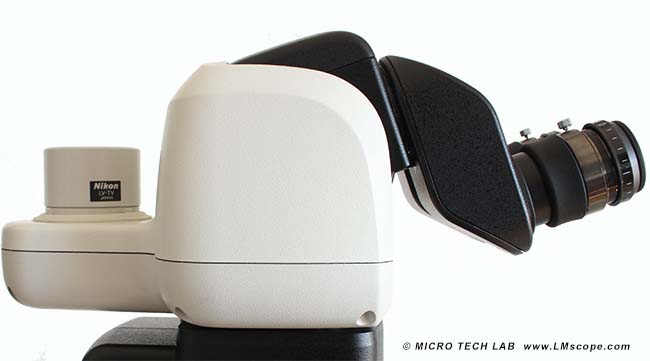 The revolving nosepiece accommodates two objective lenses. As it is very large, there would actually be room for a third objective, which would make the microscope more versatile and extend its range of functionality. The objectives are solid plan apos with a front lens diameter of 56 mm. Currently, four different versions are available: the P2-SHR Plan Apo 0.5x, the P2-SHR Apo 1x, the P2-SHR Apo 1.6x and the P2-SHR Apo 2x.
The Nikon SMZ25 delivers an exceptionally large zoom range of 25x, which makes working with it very convenient because the objective lenses don't have to be changed frequently.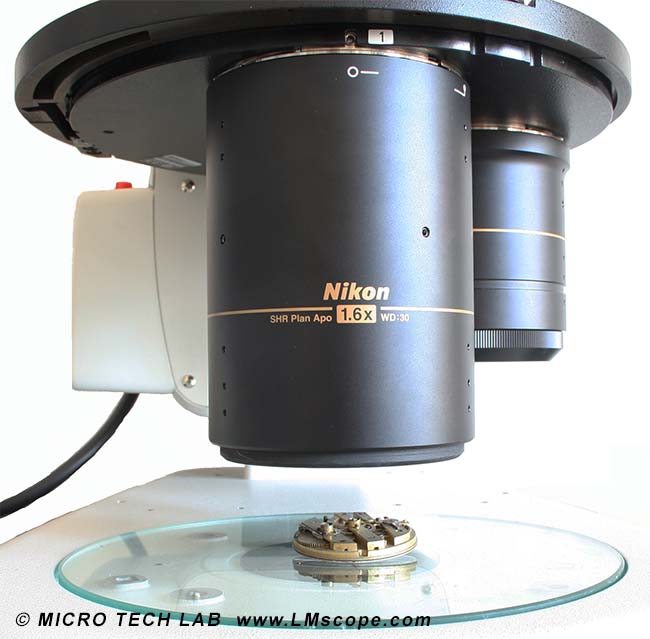 The objective lenses can be switched to photo position (mono position) using the revolving nosepiece. This places the optical path through which the image is being taken in a centric position to the objective lens. The optical quality is highest in the centre of the lens. The image on the left shows the mono position for taking photographs; the image on the right shows the position for stereoscopic viewing through the eyepieces.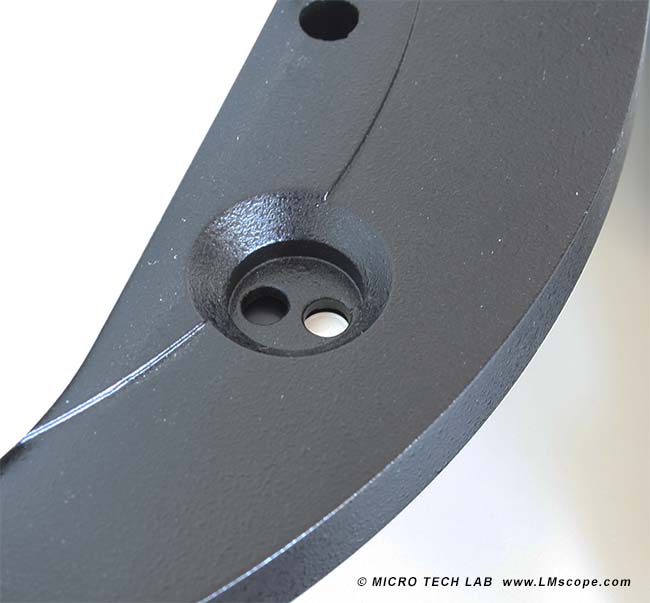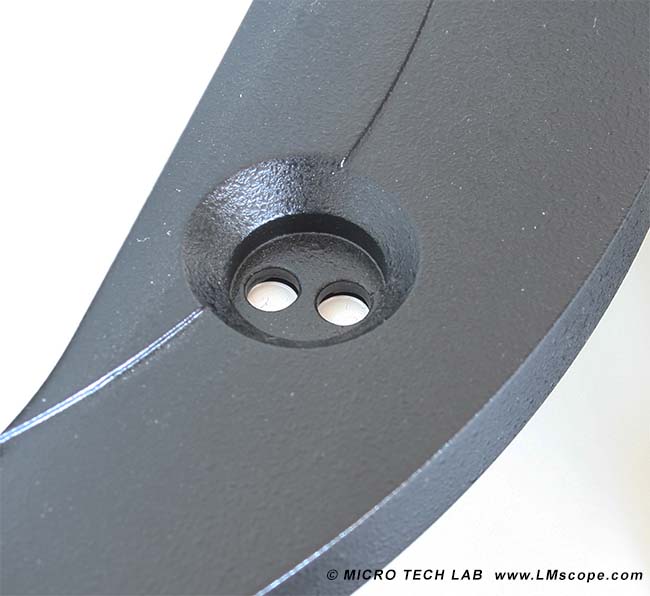 The Nikon SMZ25 also is equipped with an aperture diaphragm. This feature is a particular plus in photomicrography, as better image quality and focus depth can be achieved with the right setting. On many entry-level microscope models, the aperture cannot be controlled manually.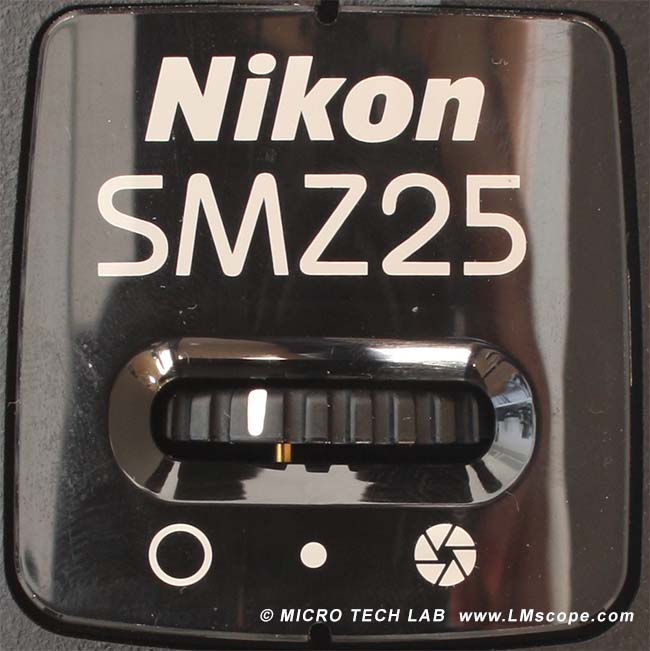 The optical system on which the microscope is based is the telescope principle developed by Ernst Abbe: Two separate, equal-length optical paths converge to pass through the objective lens.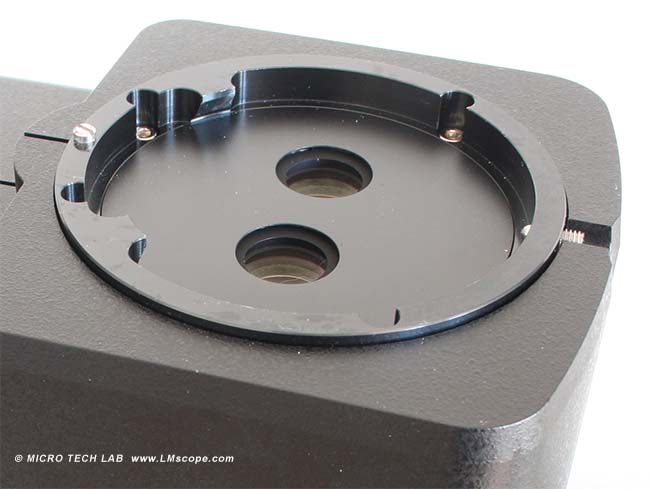 Apart from the process of changing objectives, the Nikon SMZ25 is fully motorised. All operations are controlled by a remote control unit. This does take some getting used to for users accustomed to manual microscopy, but is an important feature for remote control automation via the computer.
When working at low magnifications, full frame DSLRs and other full frame (small image format 36 x 24 mm) camera systems produce the best results. Commercially available DSLR, system and USB cameras can easily be attached to the Nikon SMZ25 photo tube. We recommend staying away from eyepiece adapter solutions, as the eyepiece tube could be damaged by the extra weight of the camera and adapter. We offer adapter solutions for all sensor sizes.
Commercially available DSLR and system cameras are the most cost-effective way of taking photographs and recording videos through the Nikon SMZ25. Combined with the right adapter solutions, DSLR and system cameras are excellent choices for photomicrography applications. Advantages of those cameras are described below.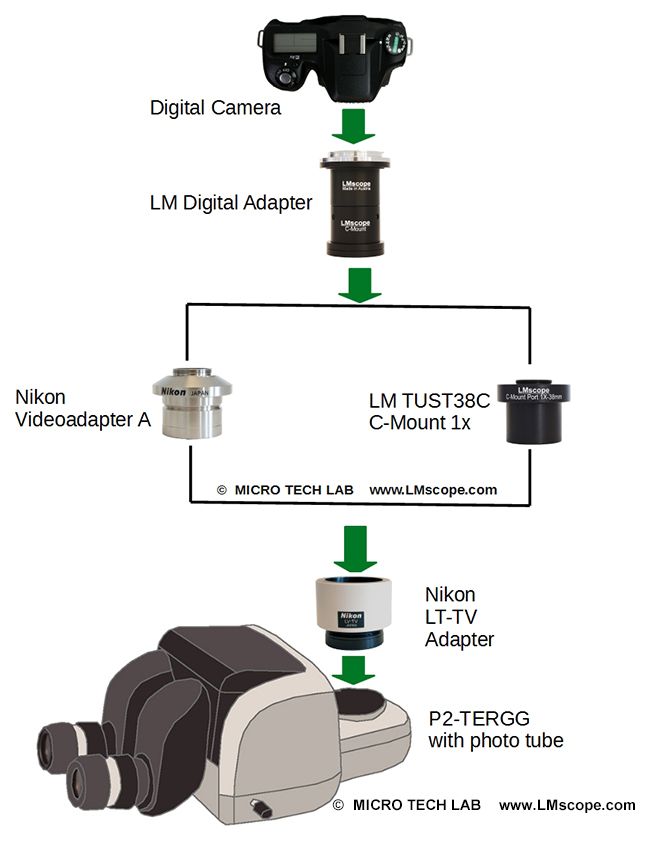 If there is no original LT-TV adapter available, we will be happy to offer you the appropriate C-mount connection (CMount1x_N_39mm). This is precisely matched to the photo tube.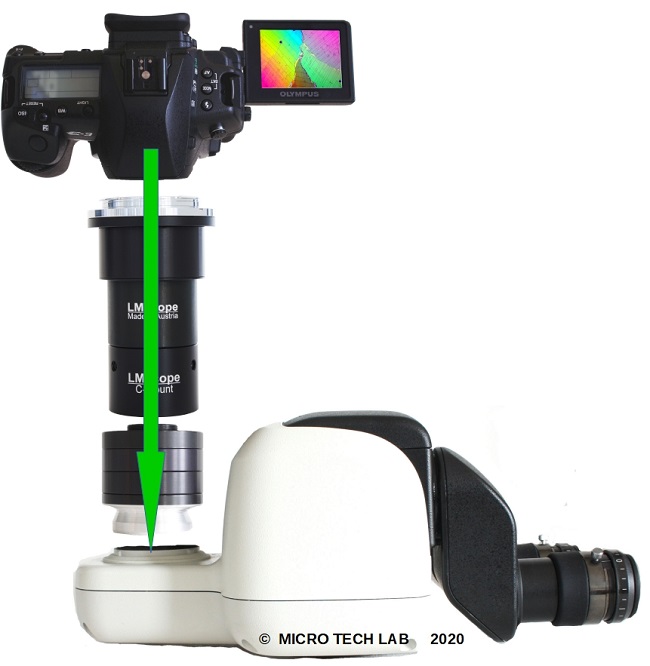 Very important is the Nikon LT-TV Adapter, which is usually included in delivery. On this adapter you can mount either the original Nikon Videoadapter A, or our LM c-mount 1x adapter (TUST38C). The main adapter has to be installed on the c-mount 1x.
The only disadvantage of using DSLR and system cameras is that they cannot be integrated with the Nikon NIS-Elements imaging software. According to the data sheet, these cameras are not supported, which means that fully automated shooting (e.g. stacking/capturing continuous series of images) is not possible.
An alternative solution is the low-priced digital image processing tool Helicon Focus. It comes in handy for occasional use, but is too inconvenient for routine work because the Z-drive needs to be operated manually. Nikon offers a wide range of cameras for its microscopes.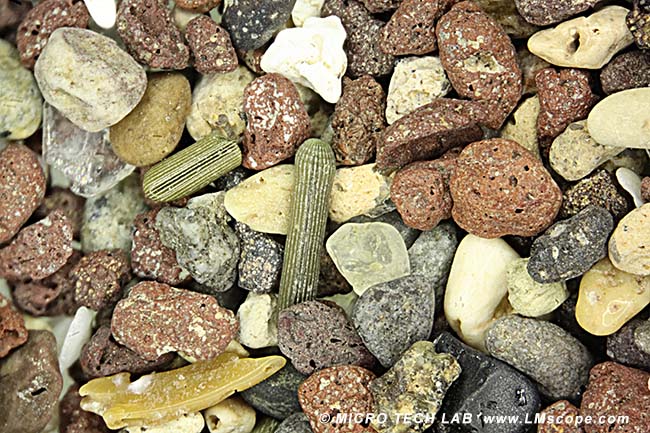 Beachsand: Objectiv: Plan Apo 1x, Zoom 1x
The broad spectrum of applications offered by the SMZ25 also results in some weaknesses. Over the entire zoom range, there is a slight spherical distortion (test with Plan Apo 1x, 1x zoom position):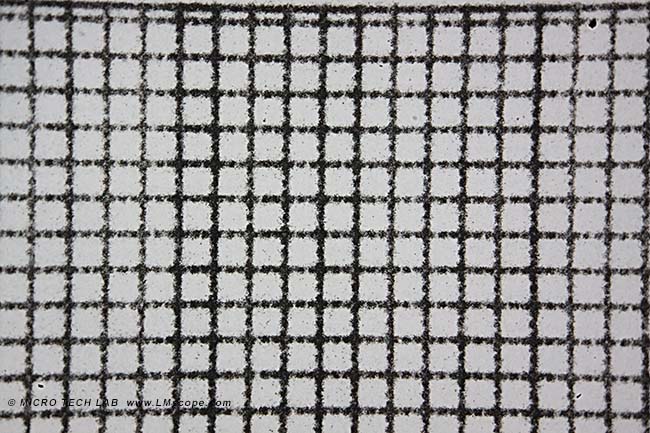 Zoom 1x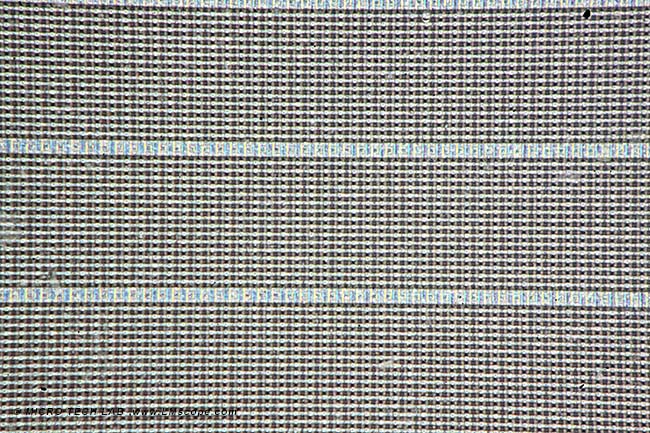 Zoom 15,75
In normal specimens, this distortion is not noticeable (see beach sand above), but in geometric subjects and optical image measurements, these aberrations become obvious.
Conclusion: The Nikon SMZ25 is a top-quality stereo microscope with an extremely large zoom range. It is sturdily built and fully motorised, has a solid base and is designed for use with a PC. Working with the SMZ25 is definitely fun. There is a wide range of accessories available. Particularly when it comes to fluorescence microscopy, the SMZ25 offers interesting possibilities for application in medicine and biology. It also has some settings that are important in photomicrography, for example the aperture diaphragm and the photo position (mono and stereo position). Producing photographic documentation is easy with both DSLR and C-mount cameras. Unfortunately, however, the large zoom range also has some drawbacks for photomicrography. Particularly in the case of geometric specimens and optical image measurement tasks, distortions may appear.
Photography:
Fitting the microscope to digital single-lens reflex (DSLR), system or C-mount cameras is easy with our LM digital SLR adapters, which feature a plan achromatic optical system. Our products make it possible to capture top-quality microscope images. To help you select the adapter that is right for your camera, we have set up an online configurator on our website. You can also email us – ideally with attached photographs of your microscope.
Modern DSLR and system cameras offer the latest technology and are generally very well suited for microscopy applications. Most of them can be controlled remotely via PC/Mac. Because of their high sales volumes, they offer an excellent price/performance ratio compared to special-purpose microscope cameras.
Features of top DSLR and system cameras:
- Large, powerful full-frame sensors (36 x 24 mm)
- Sensor resolution of 50 megapixels
- High light sensitivity (ISO 100,000+)
- Extensive dynamic range (up to 14 aperture stops/f-stops)
- Short exposure times (1/8000 second):
- Full/Ultra HD (4k) video function
- Live video capture on external monitors in ultra HD quality
In most cases, these cameras are significantly more powerful than microscope cameras with smaller sensors (1/2" or 2/3"). On our website you will find our current camera recommendations and a camera ranking which is specifically tailored to microscopy applications.

New LM Digital Adapter for:
Nikon Z9 / Sony Alpha 1 / Sony FX3 Cinema Line / Sony Alpha 9 II (ILCE-9M2) / Sony Alpha 9 / Nikon D6 / Sony Alpha 7R IV / Canon EOS R5 / Sony Alpha 7S II / Sony Alpha 7R III / Canon EOS R6 / Nikon Z6 / Nikon Z6II / Sony Alpha 7R II / Nikon Z7 / Nikon Z7II / Canon EOS R / Canon EOS Ra (Astro) / Nikon Z5 / Sony Alpha 7C / Canon EOS RP / Sony Alpha 7S / Canon EOS 1D X Mark III / Nikon Z50 / Nikon D850 / Canon EOS 1D X Mark II / Nikon D780 / Sony Alpha 7III / Nikon D5 / Sony Alpha 6600 / Sony Alpha 6400 / Sony Alpha 6100 / Sony ZV-E10 / Canon EOS 1D X / Nikon D4s / Olympus OM-D E-M5 III / Canon EOS 90D / Canon EOS 5D Mark IV / Nikon D4 / Nikon D750 / Canon EOS 6D Mark II / Fujifilm X-T4 / Fujifilm X-T3 / Sony Alpha 6300 / Sony Alpha 6500 / Nikon D500 / Nikon D810 / Nikon D800 / Canon EOS M6 Mark II / Nikon D800E / Nikon Df /