597
Upgrade the Leitz/Leica DMRB research microscope with modern digital cameras
With our LM microscope adapters, the latest and most advanced digital cameras can be attached to the Leitz/Leica DMRB research microscope in just a few simple and easy steps.
These days, the market offers a huge selection of cameras, with even lower-budget models providing impressive image quality. Our camera advice is impartial, independent, based on your needs and not tied to any particular brand, as we don't sell cameras ourselves. For more information on making a camera selection, please see this info page.
The Leica DMRB – also sold under the label of "Leitz DMRB" – is a venerable, all-around research microscope with infinity optics from the 1990s that provides high-performance microscope imaging.
Highlights and key features of the Leitz/Leica DMRB at a glance:
Top-performing research microscope from the 1990s

Suitable for transmitted light, brightfield, darkfield, fluorescence, phase contrast, polarisation and interference contrast microscopy

6x objective turret

Ideally suited for digital photography

Modern infinity-corrected optics

Large selection of objective lenses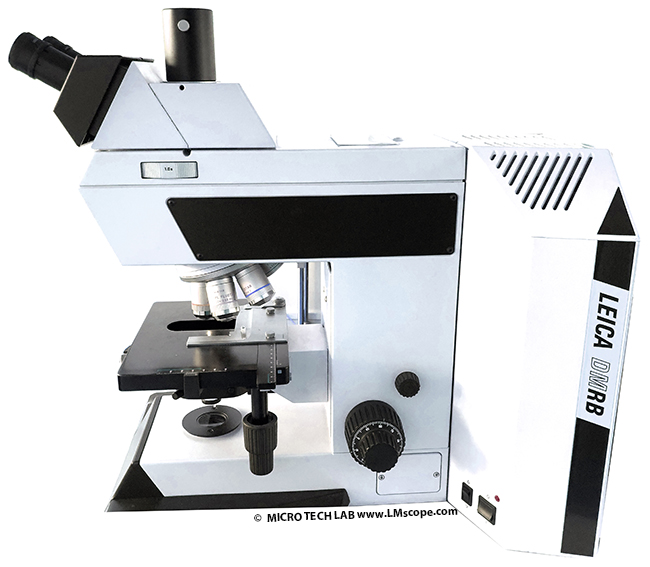 The high-quality optical elements of the Leitz/Leica DMRB support the following observation methods: incident light, transmitted light, brightfield, darkfield, fluorescence, phase contrast, polarisation and interference contrast.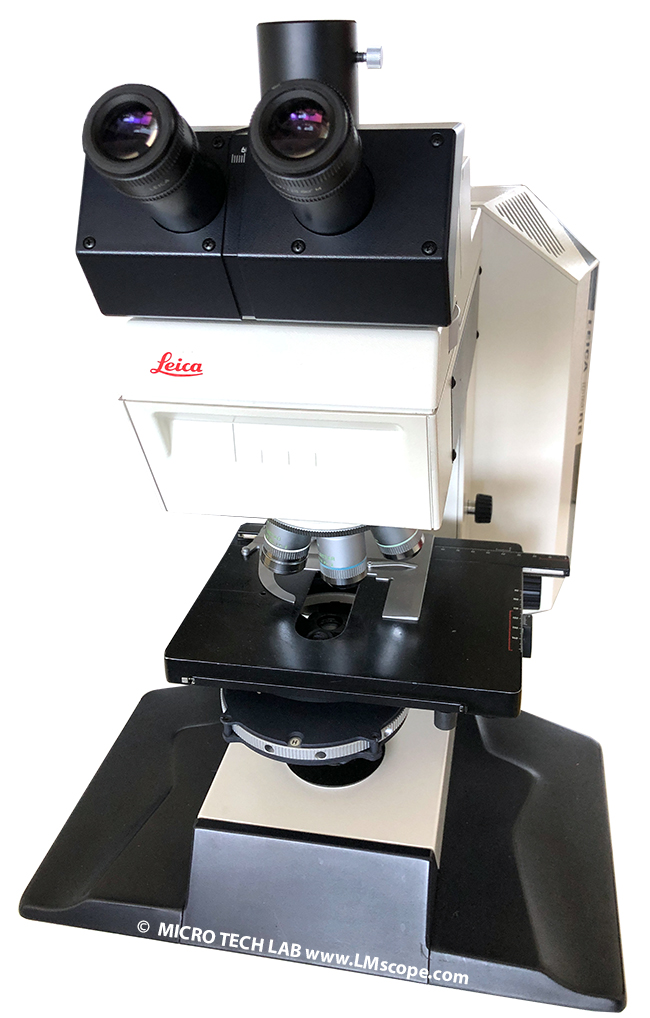 The Leitz/Leica DMRB has a trinocular head which can be used to add modern digital cameras to the microscope. All you need is one of our adapter solutions with built-in plan-achromatic precision optics. The size and weight of the camera are not an issue with this microscope: at around 40 kilos, it is a real heavyweight that supports almost any camera system, from large digital SLR cameras and mirrorless system cameras to C-mount microscope cameras or industrial cameras. Attaching the camera to the vertical trinocular tube is a quick and easy process: the camera is fitted directly onto the tube which has an inside diameter of 37 mm.
The optical system of our adapter solution is matched exactly to the sensor size of the camera and ensures that the camera can capture the largest possible field of view without any peripheral darkening.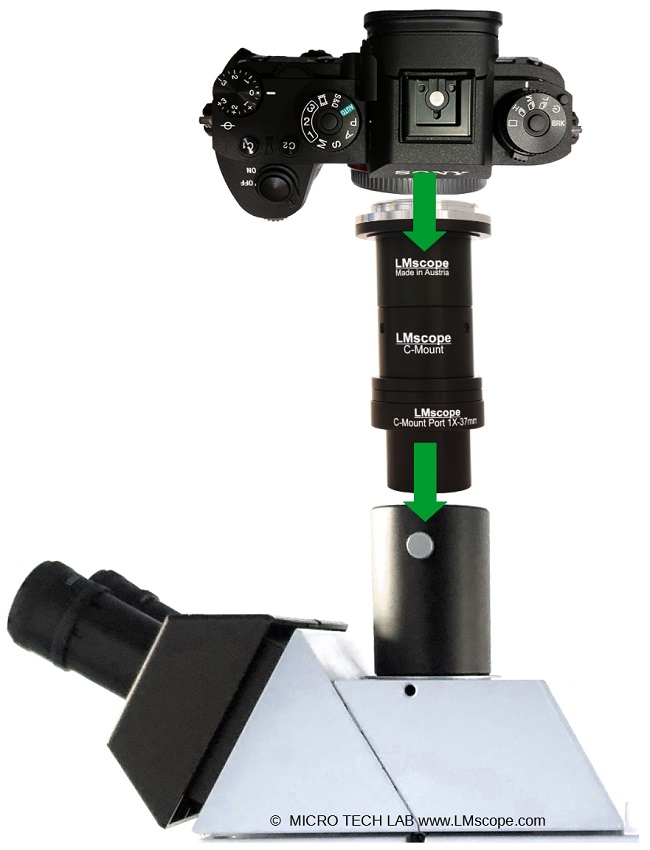 In most cases, the Leitz/Leica DMRB is equipped with a 6x objective turret which accommodates a wide range of high-quality objectives. The rotatable X/Y cross stage allows efficient and precise work. The microscope also has a built-in five-position condenser turret, which is height-adjustable. A 12V/100W halogen lamp provides sufficient illumination.
If the phototube method is not an option, we can also provide a high-quality adapter for attaching the camera to the eyepiece tube of the microscope. It works by removing one of the standard (for example 10x/25) eyepieces and putting the camera-adapter combination into its place. The image quality of this solution is equally good as that produced when attaching the camera to the phototube. Thanks to the modular design of our adapter systems, the basic adapter can also be converted for use on the phototube with a few accessory parts.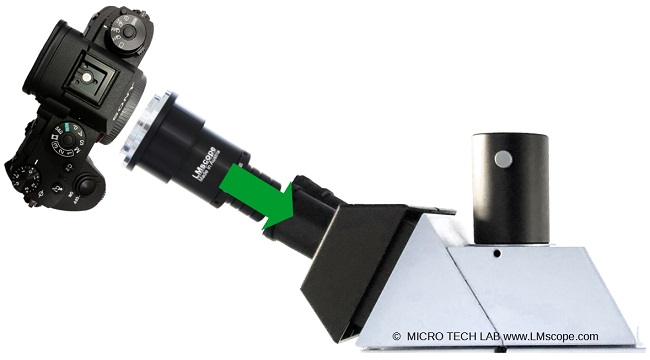 Conclusion: The Leitz/Leica DMRB is a high-quality microscope and very well suited for photomicrography. Using high-quality objectives is a crucial factor for good image quality. Our LM digital adapters make it possible to create stunning photos and video recordings of microscopic images using DSLR cameras, mirrorless system cameras and C-mount cameras.
02.09.2022
Photography:
Fitting the microscope to digital single-lens reflex (DSLR), mirrorless interchangeable-lens cameras (MILC ), digital single-lens mirrorless (DSLM) or C-mount cameras is easy with our LM digital SLR adapters, which feature a plan achromatic optical system. Our products make it possible to capture top-quality microscope images. To help you select the adapter that is right for your camera, we have set up an online configurator on our website. You can also email us – ideally with attached photographs of your microscope.
Modern DSLR and single-lens mirrorless (DSLM) offer the latest technology and are generally very well suited for microscopy applications. Most of them can be controlled remotely via PC/Mac. Because of their high sales volumes, they offer an excellent price/performance ratio compared to special-purpose microscope cameras.
Features of top DSLR and single-lens mirrorless cameras (DSLM):
- Large, powerful full-frame sensors (36 x 24 mm)
- Sensor resolution of 61 megapixels or 240 megapixels with Pixel Shift technology
- High light sensitivity (ISO 400,000+)
- Extensive dynamic range (up to 15 aperture stops/f-stops)
- Short exposure times (1/8000 second) up to 1/32,000 seconds using the digital shutter
- 4K Ultra HD or 8K Ultra HD video function
- Live video capture on external monitors in ultra HD quality
In most cases, these cameras are significantly more powerful than microscope cameras with smaller sensors (1/2" or 2/3"). On our website you will find our current camera recommendations and a camera ranking which is specifically tailored to microscopy applications.

New LM Digital Adapter for:
Nikon Z9 / Nikon Z8 / Sony Alpha 7R V / Sony Alpha 1 / Sony FX3 Cinema Line / Sony Alpha 9 II (ILCE-9M2) / Sony Alpha 9 / Nikon D6 / Canon EOS R3 / Canon EOS R6 Mark II / Canon EOS R8 / Sony Alpha 7R IV / Canon EOS R5 / Sony Alpha 7S II / Sony Alpha 7S III / Sony Alpha 7R III / Canon EOS R6 / Nikon Z6 / Nikon Z6II / Sony Alpha 7R II / Nikon Z7 / Nikon Z7II / Canon EOS R / Canon EOS Ra (Astro) / Nikon Z5 / Sony Alpha 7C / Canon EOS RP / Sony Alpha 7S / Canon EOS R7 / Leica SL2-S / Canon EOS R10 / Canon EOS 1D X Mark III / Nikon Z50 / Nikon Z30 / Nikon Z fc / Nikon D850 / Canon EOS 1D X Mark II / Nikon D780 / Olympus OM-1 / Sony Alpha 7III / Olympus OM-D E-M1 Mark III / Canon EOS R100 / Sony Alpha 6700 / Nikon D5 / Sony Alpha 6600 / Fujifilm X-H2S / Fujifilm X-S10 / Fujifilm X-E4 / Fujifilm X-Pro3 / Olympus OM-D E-M1X / Sony Alpha 6400 /