In microscopy, digital SLR cameras are the better video cameras!
Digital
single lens reflex (DSLR) cameras are the better video cameras thanks to their
HDMI
video output and "Live View" function.
Modern DSLR cameras with HDMI output (High Definition Multimedia Interface) and Live View function are ideally suited to presentations and discussions using large HD monitors and projectors.
Old analogue NTSC or
PAL
video cameras only have a maximum resolution of 768 x 576 pixels.
With the aid of the digital HDMI output, a maximum resolution of 1920 x 1080 (FULL HD) is possible.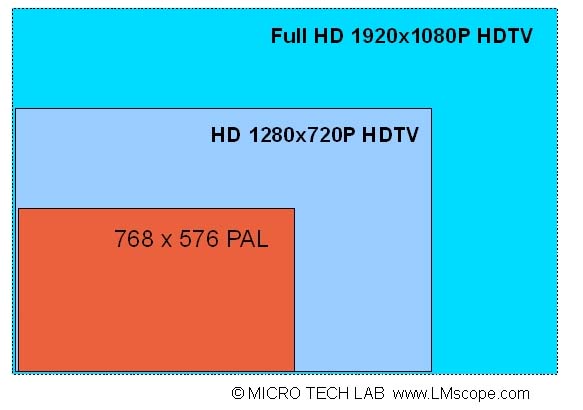 Using large-area sensors (36 mm x 24 mm "full frame") results in a much better signal to noise ratio than is the case with the majority of video cameras (CCD and CMOS), which generally only use small sensors.
Camera type

Sensor size

[inches]

Sensor size

[mm]
Video camera

¼" sensor

3.2 mm x 2.4 mm

Video camera

½" sensor

6.4 mm x 4.8 mm

Video camera

2

/

3

" sensor

8.8 mm x 6.6 mm

Video camera

1" sensor

12.8 mm x 9.6 mm

DSLR Four Thirds




17.3 mm x 13 mm

DSLR AP-C




23.6 mm x 15.8 mm

DSLR AP-H




28.7 mm x 19 mm

DSLR "

full frame"




36

mm x 24 mm

Medium format



50.7

mm x 39 mm
A far superior ima
ge quality is achieved through the digital transfer.
The high data transfer rate (10.2 Gbit/s) of the HDMI 1.3 connection permits colour depths and 30 to 48 bits for each pixel.
The versatility of digital SLR cameras and the superior image quality at very reasonable prices make them indispensable for many applications.
Large batch sizes result in an unbeatable price/performance ratio.
Unfortunately, HDMI output is not yet the standard video output for all digital cameras.
In most cases, only analogue video output (TV out) is available.
However, with the better DSLRs, HDMI output is available.
New LM Digital Adapter for:
Nikon D850 / Sony Alpha 7III / Sony Alpha 9 / Nikon D5 / Sony Alpha 7S II / Sony Alpha 7R II / Sony Alpha 7R III / Sony Alpha 7S / Canon EOS 5D Mark IV / Nikon D750 / Canon EOS 6D Mark II / Sony Alpha 6300 / Sony Alpha 6500 / Nikon D500 / Canon EOS 1D X / Nikon D810 / Nikon D4s / Nikon D800 / Nikon D800E / Nikon D4 / Nikon Df / Nikon D610 / Nikon D600 / Canon EOS 6D / Canon EOS 5DS R ( without low-pass filter) / Olympus OM-D E-M1 Mark II / Canon EOS 80D / Canon EOS 5DS / Sony Alpha 77 II / Canon EOS 70D / Nikon D7200 / Canon EOS 200D / Canon EOS 800D / Rebel T7i / Canon EOS 77D / Canon EOS 5D Mark III / Canon EOS 60D / Sony Alpha 7R / Sony Alpha 7 / Nikon DS-Qi2 (Microscope Camera) / Nikon D3x / Olympus OM-D E-M1 /

Related Links

--