Top
of the range analogue models from the 1980s and 1990s can be found at bargain prices on the second hand market.
These lenses perform especially well in macrophotography in combination with modern digital SLR cameras.
The one-time top of the range models are extremely well made and have very good optical characteristics.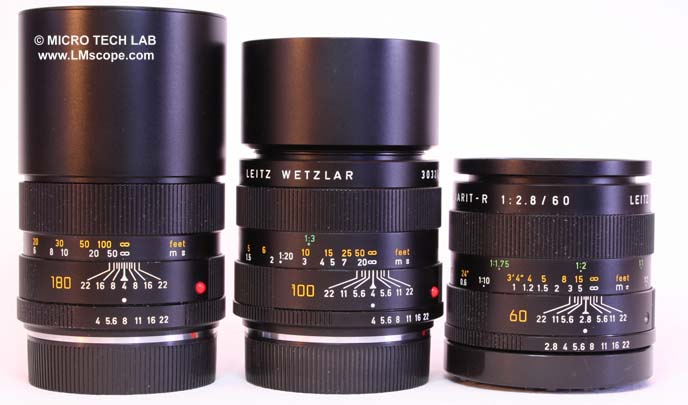 Many new digital lenses appear inferior in comparison.
In the extreme macro range, the auto focus is generally overtaxed and has to be deactivated.
With some subjects, the auto focus is unable to manage at all or is simply too inconvenient.
Because of the auto focus there is always a certain shutter lag, and in extreme cases the camera completely refuses to release the shutter.
In nature photography, when photographing living insects, every millimetre counts, and so w
hen using strong conversion lenses such as the LM macro lens in particular, another exposure method should be used.
By using the conversion lens, the working distance is reduced from one metre to just a few centimetres.
The focal plane is set through the working distance.
It is only here – plus or minus a few millimetres – that it will be possible to clearly reproduce the object. The entire camera-lens unit moves backwards and forwards until the object is in sharp focus.
.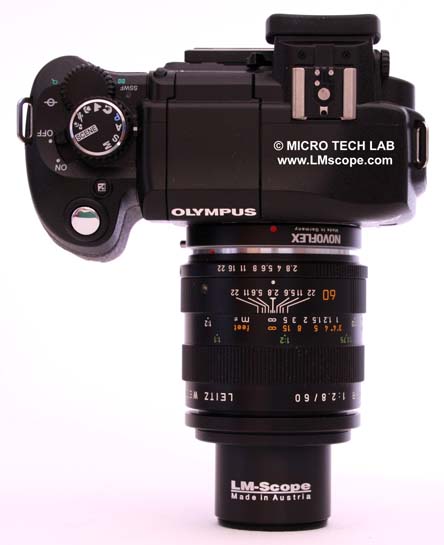 When using analogue lenses on digital SLRs it should be ensured that the camera has fully automatic exposure control. Caution!
Nikon's low priced beginners' cameras (D40/D50/D60/D80/D90/D500) can only carry out an exposure using digital lenses.
With other manufacturers' digital lenses or analogue lenses, it is necessary to carry out a laborious manual exposure.
In the case of other manufacturers such as Canon and Olympus, the low price beginners' cameras also have fully automatic exposure control.
When testing with our LM macro lenses we achieved very good results with the classic analogue lenses.
There was a high level of detail with optimum colour reproduction.
On the whole, new digital lenses do not produce better results, although
they are lighter due to the use of plastics.
In our tests we used the following lenses:
Leitz Wetzlar Elmar-R 1:4 / 180 mm, Leitz Wetzlar Elmar-R 1:4 / 100 mm, Leitz Wetzlar Macro Elmarit-R 1:2.8 / 60 mm
Conclusion: In the extreme macro range, top of the range analogue models easily keep pace with digital lenses, or are even superior, providing solid handling and top quality at bargain prices! Our tip: Buy an expensive camera body and look around for a classic lens from a dealer or on eBay.
New LM Digital Adapter for:
Nikon D850 / Sony Alpha 7III / Sony Alpha 9 / Nikon D5 / Sony Alpha 7S II / Sony Alpha 7R II / Sony Alpha 7R III / Sony Alpha 7S / Canon EOS 5D Mark IV / Nikon D750 / Canon EOS 6D Mark II / Sony Alpha 6300 / Sony Alpha 6500 / Nikon D500 / Canon EOS 1D X / Nikon D810 / Nikon D4s / Nikon D800 / Nikon D800E / Nikon D4 / Nikon Df / Nikon D610 / Nikon D600 / Canon EOS 6D / Canon EOS 5DS R ( without low-pass filter) / Olympus OM-D E-M1 Mark II / Canon EOS 80D / Canon EOS 5DS / Sony Alpha 77 II / Canon EOS 70D / Nikon D7200 / Canon EOS 200D / Canon EOS 800D / Rebel T7i / Canon EOS 77D / Canon EOS 5D Mark III / Canon EOS 60D / Sony Alpha 7R / Sony Alpha 7 / Nikon DS-Qi2 (Microscope Camera) / Nikon D3x / Olympus OM-D E-M1 /

Related Links

--