332
A classic that just won't go out of fashion – the Zeiss Axiolab
Although the Zeiss Axiolab microscope has a number of years under its belt (it was first introduced to the market around 1990), it is still among the first-rate laboratory microscopes with an infinity optical system! A few simple steps and our LM digital adapters make it also a perfect choice for photomicrography.

The Zeiss Axiolab microscope has a solid, pyramid-shaped stand column with a low centre of gravity. As a result, it is able to dampen vibrations quite well. It is a very robust instrument and weighs around 8 kg.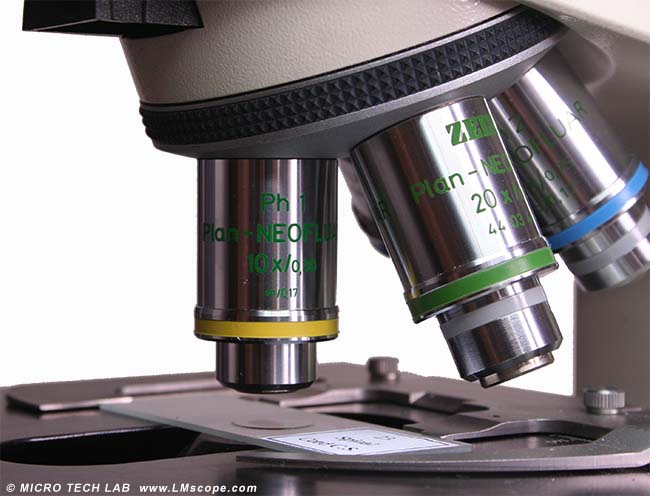 The Axiolab has a 5-fold objective revolver with a W08x1/36" thread, which inclines rearwards. The specimen holder can be operated without any obstructions, which allows a comfortable, ergonomic work position.
The cross table is built to a high standard and features a long-lasting design. Provided it is properly maintained, it will continue to be fully operational for decades. It has a ceramic coating and an adjustment range of 75 x 30 mm; optionally, a rotating cross table is also available.
For illumination, the Zeiss Axiolab is fitted with a 6V/25W halogen lamp.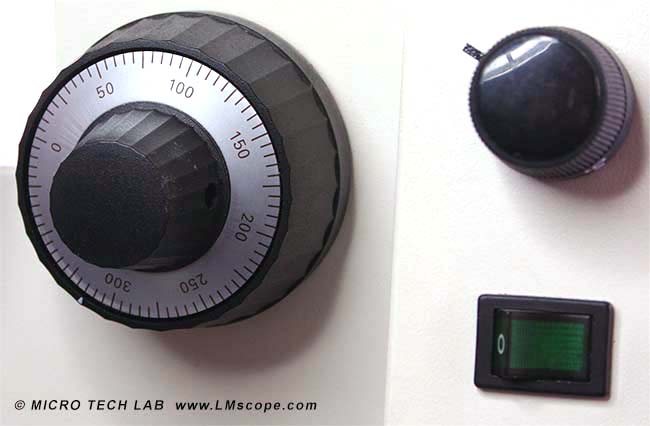 The Zeiss Axiolab has a control wheel for coarse and fine focus adjustment.
Depending on the configuration, the following microscopy techniques can be performed: transmitted light, phase contrast, dark field, incident light, fluorescence (with HBO 50 lamp).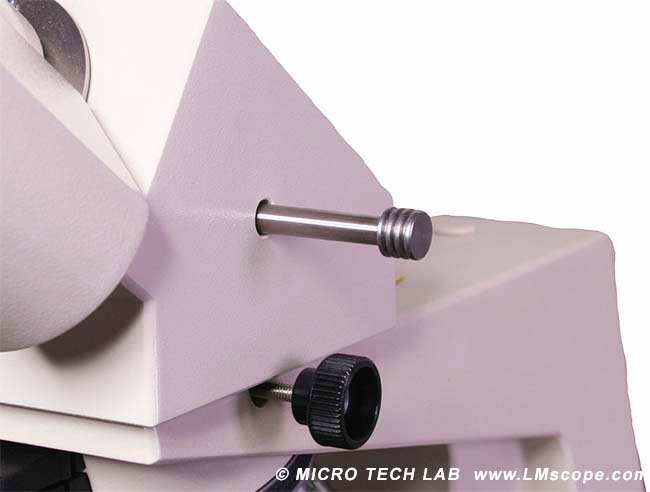 The beam splitter of the Zeiss Axiolab.
The Zeiss Axiolab is equipped with an ICS (infinity colour-corrected system) optical system as standard. Through the combination of objective and tube lenses, the intermediate image is already corrected. This is also known as "infinity-corrected" optics. The new, modern Zeiss microscopes have the same optical system. Originally, the following types of objective were available for the Axiolab: CP-Achromat, A-Plan, Achroplan and Plan-Neofluar.
If the microscope is also intended for photographic documentation, we recommend the use of "Plan Neofluar" or the newer "EC Plan Neofluar" objectives. These deliver an excellent image quality and a high resolution, are high in contrast and have a semi-apochromat/achromat correction. Zeiss also uses these two objective types on its newer, more modern microscope models.
As the Zeiss Axiolab was designed in the 1990s, it was originally configured for analogue photography (large format MC 80 DX or small format 24 x 36 mm).
The photo tube of the microscope generally has an internal diameter of 30 mm and can be fitted very easily and well with modern camera systems using our LM digital adapters.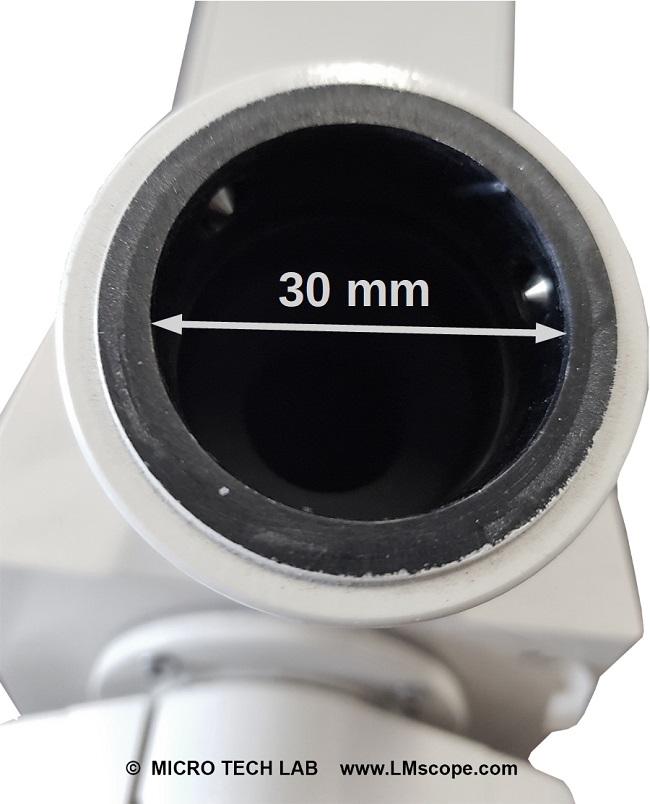 As a result, the Zeiss Axiolab is still a viable option for modern laboratories. We recommend using digital SLR cameras - advantages are described below. To help you choose the camera that is best suited for your needs, we have posted a camera guide on our website.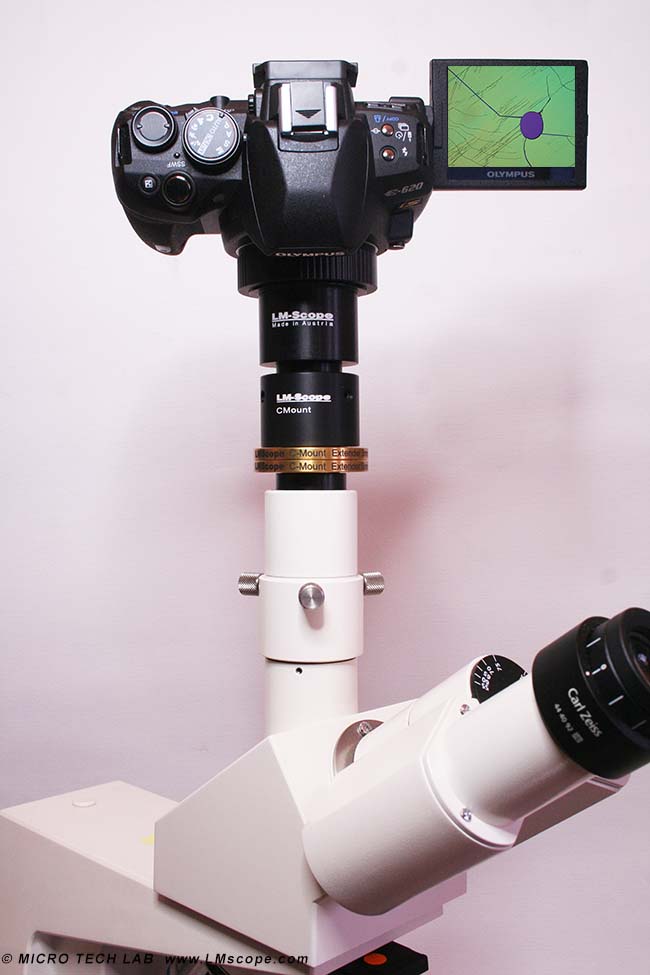 Even if you have a Zeiss Axiolab model without a photo tube, it is very easy to connect a camera to the microscope by using one of the two eyepieces. The optics and quality of the images are the same for both solutions; however, the eyepiece method is somewhat less comfortable.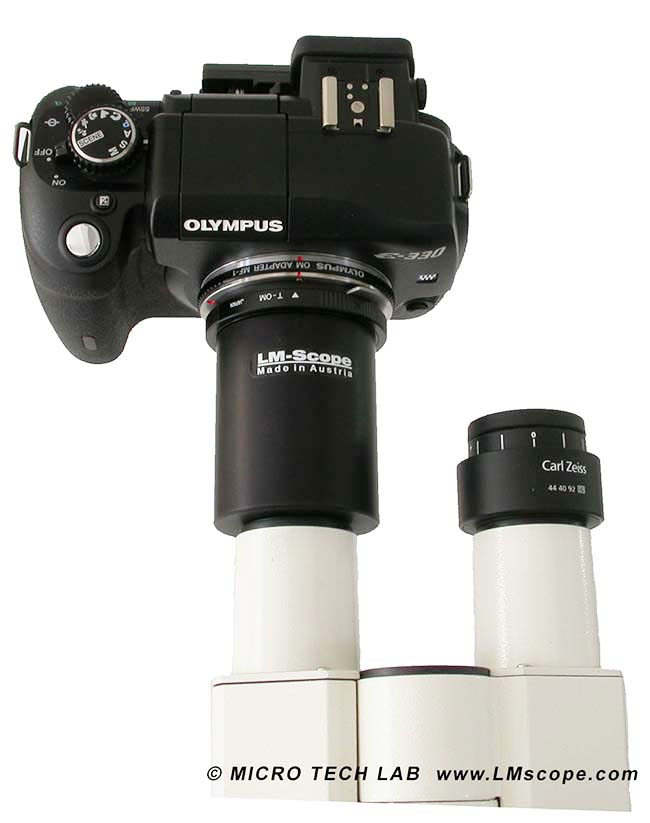 Conclusion:
As the Zeiss Axiolab is an excellent laboratory microscope, it definitely makes sense to upgrade it with a high-grade digital camera system. The optical quality of this instrument is on the same level as that of the successor model, the Zeiss Axiolab A1. The only difference is that the newer models offer more possibilities in terms of motorisation and control via PC. With a little luck it is possible to get hold of a Zeiss Axiolab at a very reasonable price on various auction platforms.
Photography:
Fitting the microscope to digital single-lens reflex (DSLR), mirrorless interchangeable-lens cameras (MILC ), digital single-lens mirrorless (DSLM) or C-mount cameras is easy with our LM digital SLR adapters, which feature a plan achromatic optical system. Our products make it possible to capture top-quality microscope images. To help you select the adapter that is right for your camera, we have set up an online configurator on our website. You can also email us – ideally with attached photographs of your microscope.
Modern DSLR and single-lens mirrorless (DSLM) offer the latest technology and are generally very well suited for microscopy applications. Most of them can be controlled remotely via PC/Mac. Because of their high sales volumes, they offer an excellent price/performance ratio compared to special-purpose microscope cameras.
Features of top DSLR and single-lens mirrorless cameras (DSLM):
- Large, powerful full-frame sensors (36 x 24 mm)
- Sensor resolution of 61 megapixels or 240 megapixels with Pixel Shift technology
- High light sensitivity (ISO 400,000+)
- Extensive dynamic range (up to 15 aperture stops/f-stops)
- Short exposure times (1/8000 second) up to 1/32,000 seconds using the digital shutter
- 4K Ultra HD or 8K Ultra HD video function
- Live video capture on external monitors in ultra HD quality
In most cases, these cameras are significantly more powerful than microscope cameras with smaller sensors (1/2" or 2/3"). On our website you will find our current camera recommendations and a camera ranking which is specifically tailored to microscopy applications.