557
The Zeiss Stemi SV6 and SV11/SV11 Apo stereo microscopes: a great choice for digital photomicrography.
With our LM digital adapters, users can attach all types of digital cameras to their microscopes and thus benefit from state-of-the-art camera technology to create exceptional digital photographic results.
The Stemi SV6 and SV11 are established stereo microscopes that were first introduced by microscope developer Carl Zeiss in 1999. They are designed on the basis of the telescope (or common main objective – CMO) principle and have a magnification range of 9.6x to 105.6x (SV 11, standard version). Compared to lower-priced Greenough-type stereo microscopes, these Zeiss microscopes deliver significantly better image quality. The company offers three different objective lens lines:
- Achromats
- Plan achromats
- Plan apochromats
Because they provide very good optical quality, the Zeiss Stemi SV6 and SV11 are excellently suited for producing high-grade digital photographic documentation. As there is a virtually limitless array of cameras to choose from – from DSLR or DSLM cameras to C-mount microscope cameras and C-mount industrial cameras – you can be sure to find the right camera for every application. If image quality is your priority, we recommend cameras with large sensors and high pixel counts. Compared to small-sensor cameras, they have a larger resolution capacity due to the higher pixel count and offer an extensive dynamic range and high light sensitivity. Further information on making a camera selection can be found on the following two info pages: camera recommendations and camera ranking.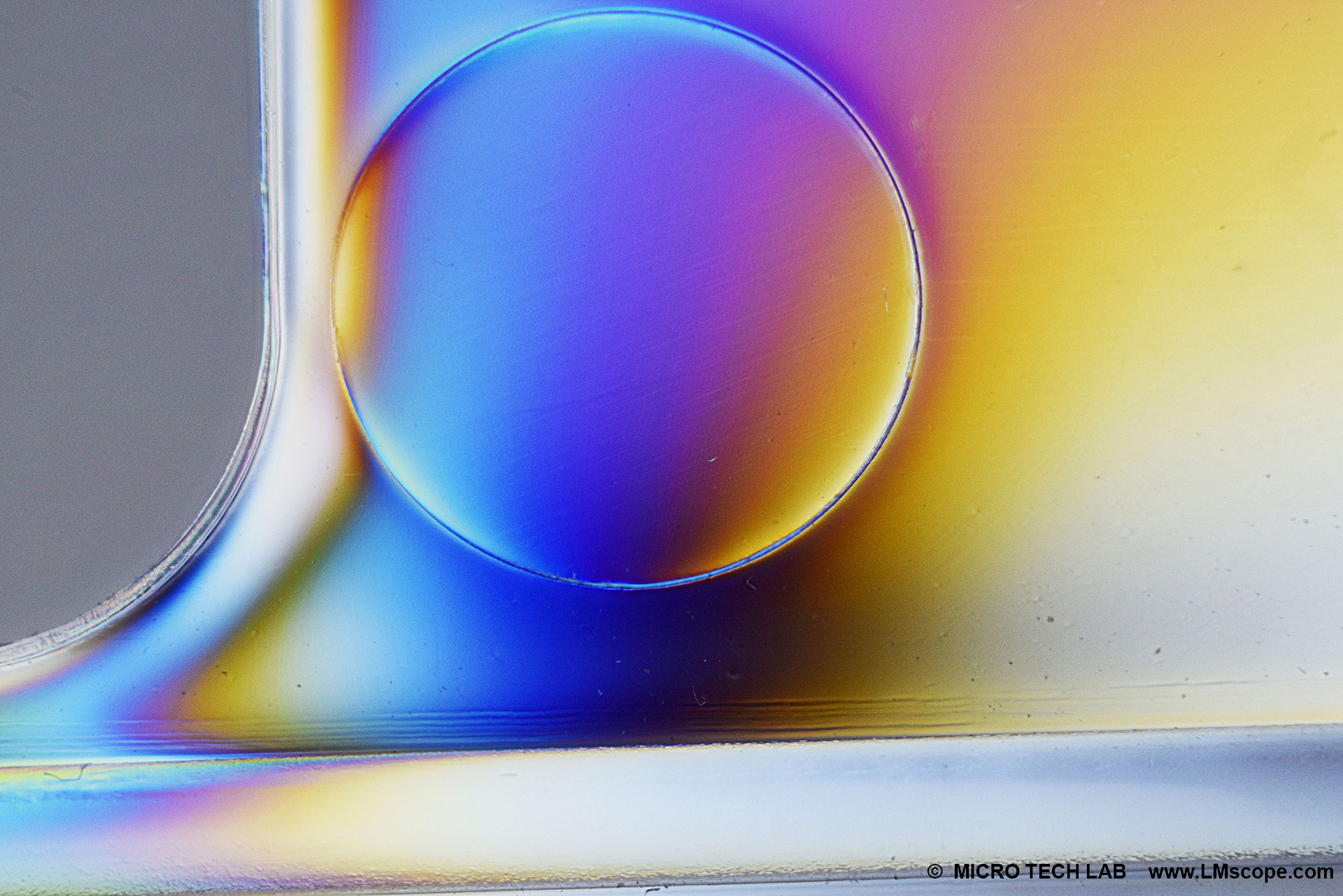 The Stemi SV6 and SV11 microscopes have a modular design and can therefore be adapted to the requirements of any given application. Depending on the modules selected, they support transmitted and incident light observation techniques (bright field, dark field, polarisation, oblique illumination). A range of different light sources, tables, polarisers and filters is available to adapt the microscopes to the particular observation method being used.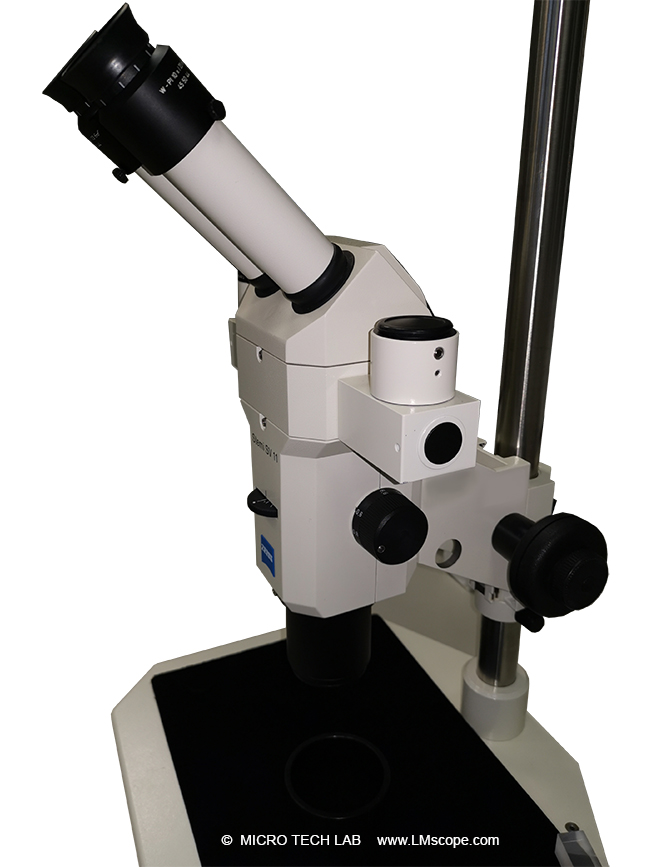 Two phototubes are available for photomicrography (single or double tube).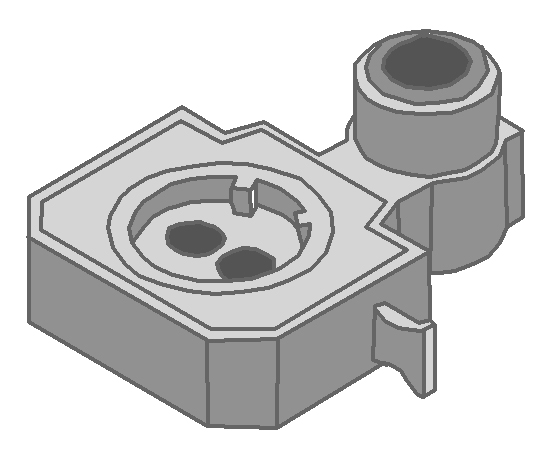 Art.Nr. 455081-0000-000 TV-tube S single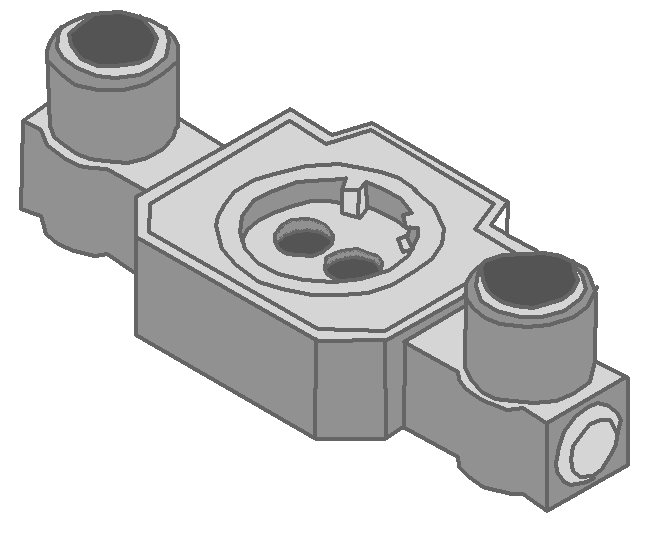 Art.Nr. 455082-0000-000 TV-/Phototube S double
They have an inside diameter of 30 mm (interface 60) and can be fitted with DSLR or DSLM cameras in a few easy steps. These cameras are excellently suited for use on a microscope and deliver high-quality images at an unbeatable price/performance ratio. Another advantage is that they can be controlled remotely from a PC/Mac.We offer two LM adapter solutions for attaching a digital camera to the Stemi SV6 and SV11 microscopes:
(1) Using the LM standard or wide-field adapter: The modular construction of these adapter types facilitates maximum flexibility. A C-mount port 1x (TUST30C) coupler is attached to the Zeiss photo port, and the LM adapter with plan-achromatic precision optics along with the camera is then attached to that coupler. The main advantage of this solution is that it can be used with the majority of conventional microscopes and therefore also works with other microscope types or brands. The adapter is focusable and the field of view can be individually adjusted. This adapter is available as a standard or wide-field version.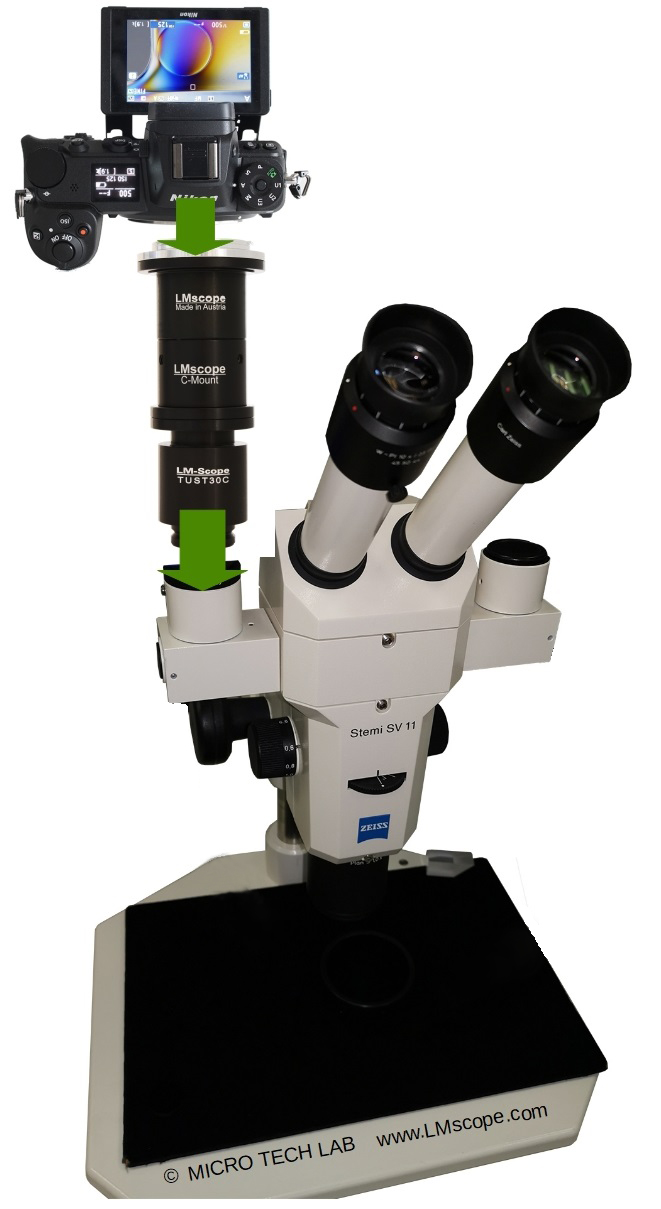 (2) Using the LM direct SLR adapter: This compact, short adapter is attached directly to the photo port of the microscope. It is very reasonably priced, but not as flexible as adapter solution (1) above, because it only fits Zeiss microscopes with interface 60. Use this adapter solution if you only want to attach a camera to one particular microscope.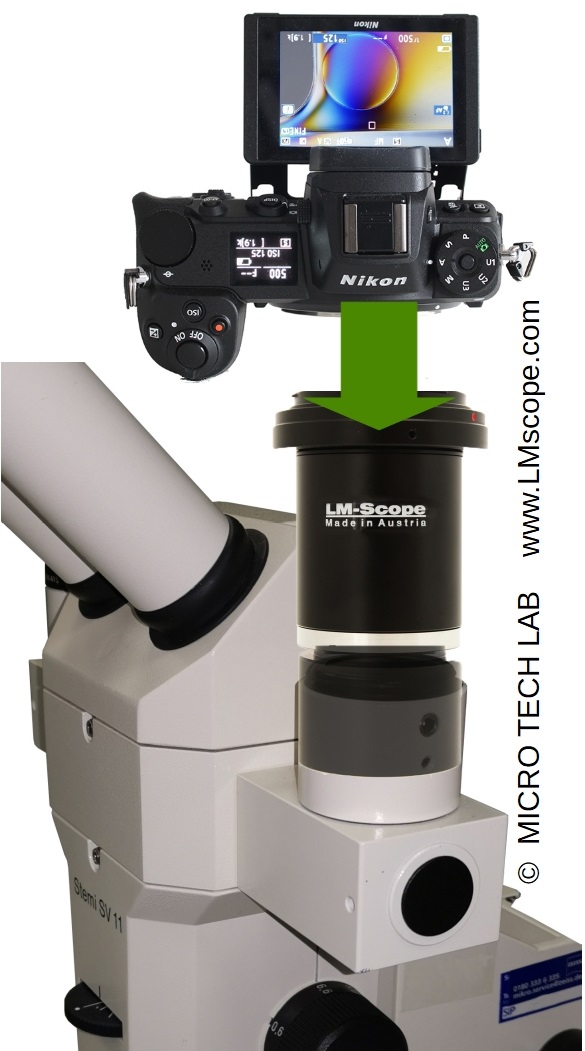 The Zeiss Stemi SV6 has a 6:1 zoom factor and is a high-quality entry-level microscope. The SV11 offers a higher zoom factor of 11:1. For truly top-quality images we recommend achromatic and – if your budget permits – plan-apochromatic objective lenses. The SV11 Apo is specially designed for these. Combined with the S1.6x plan apochromat objective, optical magnification ranges from 9.6x to 105.6x.
Conclusion: Both microscopes, the SV6 and the SV11, are excellent devices and can be equipped with modern digital cameras in a few easy steps. In terms of optical quality, they can still hold their own against current stereo microscopes. If you're searching for a used stereo microscope to purchase, we recommend that you try for the SV11, the top model with plan-apochromatic objective lenses. If the phototube is part of the offering, it is advisable that you get it together with the microscope. If only the microscope (without phototube) is available, we can offer an adapter solution for connection to the eyepiece tube. The image quality is as good as that achieved using the phototube solution, and if you purchase the beam splitter with phototube later on, you can still use the same adapter solution and just need to add a few accessory parts.
Further information on making a camera selection can be found on the following two info pages: camera recommendations and camera ranking
12.03.2020
Photography:
Fitting the microscope to digital single-lens reflex (DSLR), mirrorless interchangeable-lens cameras (MILC ), digital single-lens mirrorless (DSLM) or C-mount cameras is easy with our LM digital SLR adapters, which feature a plan achromatic optical system. Our products make it possible to capture top-quality microscope images. To help you select the adapter that is right for your camera, we have set up an online configurator on our website. You can also email us – ideally with attached photographs of your microscope.
Modern DSLR and single-lens mirrorless (DSLM) offer the latest technology and are generally very well suited for microscopy applications. Most of them can be controlled remotely via PC/Mac. Because of their high sales volumes, they offer an excellent price/performance ratio compared to special-purpose microscope cameras.
Features of top DSLR and single-lens mirrorless cameras (DSLM):
- Large, powerful full-frame sensors (36 x 24 mm)
- Sensor resolution of 61 megapixels or 240 megapixels with Pixel Shift technology
- High light sensitivity (ISO 400,000+)
- Extensive dynamic range (up to 15 aperture stops/f-stops)
- Short exposure times (1/8000 second) up to 1/32,000 seconds using the digital shutter
- 4K Ultra HD or 8K Ultra HD video function
- Live video capture on external monitors in ultra HD quality
In most cases, these cameras are significantly more powerful than microscope cameras with smaller sensors (1/2" or 2/3"). On our website you will find our current camera recommendations and a camera ranking which is specifically tailored to microscopy applications.